UNITED STATES
台灣 (TAIWAN)
TÜRKIYE (TURKEY)
Academic Editing Services
- Research Paper
- Journal Manuscript
- Dissertation
- College & University Assignments
Admissions Editing Services
- Application Essay
- Personal Statement
- Recommendation Letter
- Cover Letter
- CV/Resume
Business Editing Services
- Business Documents
- Report & Brochure
- Website & Blog
Writer Editing Services
Our Editors
Client reviews.
Editing & Proofreading Prices
Wordvice Points
Partner Discount
Plagiarism Checker
APA Citation Generator
MLA Citation Generator
Chicago Citation Generator
Vancouver Citation Generator
- APA Style
- MLA Style
- Chicago Style
- Vancouver Style
Writing & Editing Guide
Academic Resources
Admissions Resources
How to Introduce Evidence: 41 Effective Phrases & Examples
Research requires us to scrutinize information and assess its credibility. Accordingly, when we think about various phenomena, we examine empirical data and craft detailed explanations justifying our interpretations. An essential component of constructing our research narratives is thus providing supporting evidence and examples.
The type of proof we provide can either bolster our claims or leave readers confused or skeptical of our analysis. Therefore, it's crucial that we use appropriate, logical phrases that guide readers clearly from one idea to the next. In this article, we explain how evidence and examples should be introduced according to different contexts in academic writing and catalog effective language you can use to support your arguments, examples included.
When to Introduce Evidence and Examples in a Paper
Evidence and examples create the foundation upon which your claims can stand firm. Without proof, your arguments lack credibility and teeth. However, laundry listing evidence is as bad as failing to provide any materials or information that can substantiate your conclusions. Therefore, when you introduce examples, make sure to judiciously provide evidence when needed and use phrases that will appropriately and clearly explain how the proof supports your argument.
There are different types of claims and different types of evidence in writing. You should introduce and link your arguments to evidence when you
state information that is not "common knowledge";
draw conclusions, make inferences, or suggest implications based on specific data;
need to clarify a prior statement, and it would be more effectively done with an illustration;
need to identify representative examples of a category;
desire to distinguish concepts; and
emphasize a point by highlighting a specific situation.
Introductory Phrases to Use and Their Contexts
To assist you with effectively supporting your statements, we have organized the introductory phrases below according to their function. This list is not exhaustive but will provide you with ideas of the types of phrases you can use.
Although any research author can make use of these helpful phrases and bolster their academic writing by entering them into their work, before submitting to a journal, it is a good idea to let a professional English editing service take a look to ensure that all terms and phrases make sense in the given research context. Wordvice offers paper editing , thesis editing , and dissertation editing services that help elevate your academic language and make your writing more compelling to journal authors and researchers alike.
For more examples of strong verbs for research writing , effective transition words for academic papers , or commonly confused words , head over to the Wordvice Academic Resources website.
Use These Sentence Starter Tips to Strengthen Your Writing
In general, a sentence starter is a quick word or phrase at the beginning of a sentence to help the reader transition, such as the phrase "in general." Without them, writing can be disorganized, disconnected, and therefore hard to read. But knowing which ones to add—and when —is not always obvious. 
In this article, we discuss sentence starters quite similar to "in this article." We explain a bit about when and how to use them, and then give specific examples of sentence starters you can use in your writing, divided into categories for quick reference like "topic sentence starters for essays" or "good sentence starters for emphasis." 
Here's a tip: Want to make sure your writing shines? Grammarly can check your spelling and save you from grammar and punctuation mistakes. It even proofreads your text, so your work is extra polished wherever you write.
Your writing, at its best Grammarly helps strengthen your academic writing Write with Grammarly
What is a sentence starter?
Sentence starters are the words or phrases that introduce the rest of the sentence, typically set apart by commas. The words that start a sentence are some of the most important in writing: They introduce what the sentence is about so the reader knows what to expect. 
In longer academic writing texts, sentence starters are essential for unifying the entire work. Because each sentence essentially has its own individual topic, these writings frequently jump from point to point, sometimes abruptly. Sentence starters help ease the process for the reader by smoothing over jarring transitions and preparing the reader for the next topic. 
That principle also applies to paragraphs , which jump from topic to topic. Paragraph starters fulfill that same role, typically providing an organizational signpost via introduction sentence starters to bridge the gap between the previous and current topics. 
Although they're common in fiction, sentence starters are most useful for nonfiction, in particular essay writing . While fiction unifies the writing through the narrative, nonfiction often incorporates a variety of facts, which sentence starters coalesce for the reader. In other words, if you think nonfiction is dry, imagine if it were merely a list of facts! 
When to use sentence starters
Sentence starters are not necessary for every sentence. In fact, using them too much can distract your reader. Here are some situations where a sentence starter works best: 
It's unclear how one sentence is connected to others.
You're introducing a new idea, such as at the beginning of an essay or of a paragraph
You're presenting a conclusion or summary, for instance at the end of an essay.
You want to add emphasis to a particular sentence or point.
You want to write a hook to captivate readers.
The sentence requires certain context, such as background information.
There's no hard rule for when to use sentence starters and when to avoid them. If you're having trouble deciding, try rereading your last few lines and see how they sound. If your sentences flow together nicely, you don't need sentence starters. If something seems off, jarring, or missing, try adding one to see if it helps. 
Below you'll find examples of sentence starters relevant to specific contexts.
Topic sentence starters for essays
Topic sentences are like the sentence starters of an entire essay—they introduce what the paragraph or entire text is about so the readers know what to expect. 
This paper discusses . . .
In this paper . . .
Here, we discuss . . .
Below, you will find . . .
Conclusion sentence starters for essays
Conclusions and summaries always act a little differently than other sentences and paragraphs because they don't present new information. When you're writing a conclusion , remember that sentence starters can cue the reader that you're about to "wrap things up" so they don't expect any new points or evidence. 
In summary . . .
To summarize . . . 
Putting it all together . . .
In conclusion . . .
To wrap things up . . .
To review . . .
In short . . . 
All in all . . .
All things considered . . .
By and large . . .
Overall . . .
On the whole . . .
Good sentence starters for sequences or lists
Sentence starters are quite useful for lists of instructions or explaining a series of events. These items aren't always related in obvious ways, but sentence starters link them together, and in the right order, so that your reader can organize them properly in their head. 
First . . ., Second . . ., Third . . ., etc. 
Subsequently . . .
After that . . .
Afterwards . . .
Eventually . . . 
Later . . .
Moving on . . .
Good sentence starters for comparisons
Use sentence starters to show that two things are related or alike. Although the topics may be similar to yours, your reader may not yet understand the connection. 
Similarly . . .
In the same way . . .
Along those lines . . .
Likewise . . .
Again . . .
Good sentence starters for elaboration or adding new points
For times when one sentence isn't enough to fully explain your point, adding sentence starters to the subsequent sentences can tie them all together. 
Additionally . . .
Moreover . . .
Furthermore . . .
Even more important . . .
Just as important . . .
Good sentence starters for introducing examples
Especially for essays, you want to use evidence to support your claims. Sentence starters ease the transition from explaining the big picture to showing those same ideas at work in the real world. 
For example . . .
For instance . . .
To illustrate . . .
Specifically . . .
We can see this in . . .
This is evidenced by . . .
Consider the [case/example] of . . .
Good sentence starters for contrasts and abrupt transitions
Sentence starters work best at times when you must change topics abruptly. Without them, the text becomes jarring and scattered, so use them to keep your reader on the right path, especially when contrasting topics. 
However . . .
Although . . .
Otherwise . . .
On the other hand . . .
On the contrary . . .
Nevertheless . . .
Then again . . .
Conversely . . .
Notwithstanding . . .
In contrast . . .
Despite that . . .
Rather . . .
Still . . .
Instead . . .
Good sentence starters to establish cause and effect
It's common to use two different sentences to discuss a cause-and-effect relationship, as in something making something else happen. Sentence starters can make this relationship clear and show which sentence is the cause and which is the effect. 
As a result . . .
Accordingly . . .
Consequently . . .
Due to . . .
For this reason . . .
Hence . . .
Therefore . . .
This means that . . .
That is why . . .
Good sentence starters for emphasis
In some situations, sentence starters aren't necessary, but they help make a point stand out. Save these for the sentences you really want your readers to remember above all else. 
Above all . . .
As usual . . .
Certainly . . .
Indeed . . .
Undoubtedly . . .
Of course . . .
Obviously . . .
Namely . . .
Generally speaking . . .
Good sentence starters for references
If you're citing an idea other than your own, like in research papers, it saves space to put the attribution in the words to start a sentence. Use these sentence starters before a quote or concept from another work. 
According to . . .
Based on the findings of . . .
As seen by . . .
As explained by . . .
With regards to . . .
Good sentence starters for historical or generally accepted concepts
Some sentences don't make sense without context. This could be a popular, mainstream idea that the reader is unaware of, or some historical background that is not common knowledge. In these instances, sentence starters can provide that context without becoming a tangent. 
Traditionally . . .
Historically . . .
Customarily . . .
In the past . . .
Conventionally . . .
Initially . . .
Recently . . .
Until now . . .
Good sentence starters to show uncertainty or doubt
If you're writing about facts, your reader will assume everything you write is a fact. In situations where something is unproven or uncertain, it helps to mention that there's room for doubt so as not to misinform the reader. 
Perhaps . . .
Although not proven . . .
It's possible that . . .
It may be that . . .
Arguably . . .
While debatable . . .
Ensure your sentences flow
In addition to using strong sentence starters, you want your entire essay to read smoothly and coherently. Grammarly can help. Our writing suggestions flag confusing sentences and provide feedback on how to make your writing clearer, helping you put your best ideas forward.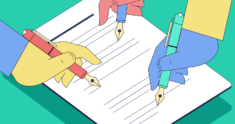 Features for Creative Writers
Features for Work
Features for Higher Education
Features for Teachers
Features for Non-Native Speakers
Learn Blog Grammar Guide Events Community Academy eBooks Free Grammar Checker
Grammar Guide
Sentence Starters: Ultimate List to Improve Your Essays and Writing

Ashley Shaw
Editor, teacher, PhD candidate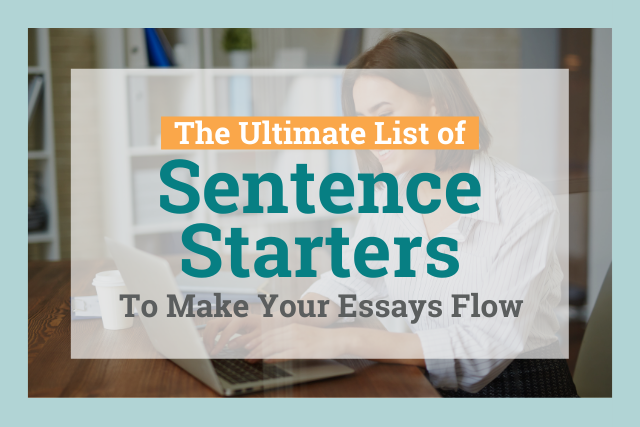 This blog post is going to be about … No. Too boring.
Today, I am going to talk to you about ... No. Too specific.
This is a blog post for all writers ... Nope. Too generic.
Has this ever been you while writing? I get it. Writing a good sentence can be hard, and when you have to string a whole lot of them together, the task can become daunting. So what do you do?
From the first sentence you write to the very last, you want each one to show your style and motivate your reader to keep reading. In this post, we are going to think about how you start your sentences.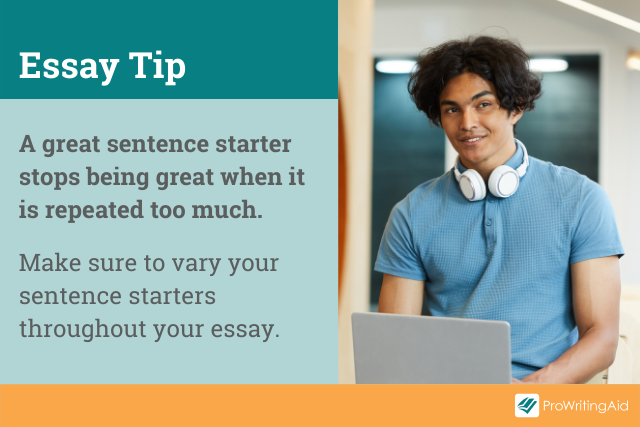 What Is a Good Sentence Starter for an Essay Introduction?
What is a good sentence starter for a body paragraph, 25 useful transitions, can i repeat a sentence starter, how can i rephrase "in conclusion".
The first paragraph of a paper can make or break your grade. It is what gets your audience into the topic and sets the whole stage. Because of this, it is important to get your readers hooked early.
The first sentence of a paper is often called the hook. It shouldn't be anything ordinary. It should have strong language and be a little surprising, with an interesting fact, story, statistic, or quote on the topic.
Because it is designed to pull the reader in and surprise them a little, it is often good to avoid pre-written sentence starter examples when writing your hook. Just get into it here, and worry about the flow later.
Here are some examples:
Spider webs were once used as bandages.
I taught myself to read when I was three. At least, that's the story my parents tell.
Recent studies suggest that the average person lies at least once in every conversation.
"The world is bleeding and humans wield the knife," or so says environmental scientist So Andso.
(P.S. Except for example 1, which is true, I just made all of these up to demonstrate my point. So, please don't quote me on these!)
Once you jump right in with your hook, it is time to start working on ways to move sentences along. Here is where you may need some sentence starter examples.
In your first paragraph, you basically want to connect your hook to your thesis. You'll do this with a few sentences setting up the stage for your topic and the claim you will make about it. To do that, follow the tips found in the next section on body paragraphs and general sentence starter tips.
Many of the tips I am about to discuss can be used anywhere in a paper, but they are especially helpful when writing body paragraphs.
Let's start with one of the most important types of sentence starter in essay writing: transition words.
How Do I Use Transitions in an Essay?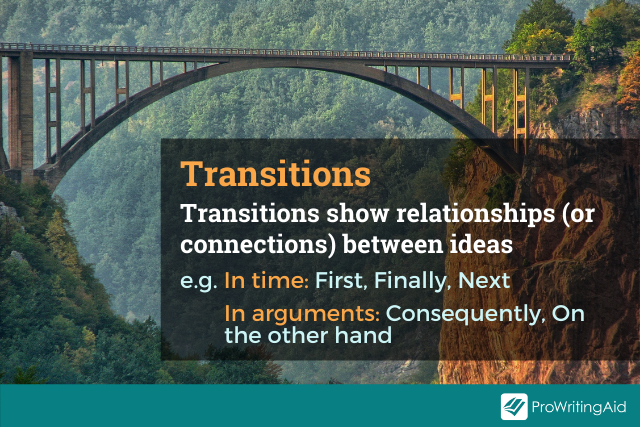 If you want to start writing terrific sentences (and improve your essay structure), the first thing you should do is start using transition words.
Transition words are those words or phrases that help connect thoughts and ideas. They move one sentence or paragraph into another, and they make things feel less abrupt.
The good thing about transition words is that you probably know a lot of them already and currently use them in your speech. Now, you just need to transition them into your writing. (See what I did there?)
Before we get into examples of what a good transition word is, let's look at a paragraph without any transitions:
I went to the store. I bought bacon and eggs. I saw someone I knew. I said hello. I went to the cashier. They checked me out. I paid. I got my groceries. I went to my car. I returned home.
Yikes! That is some boring writing. It was painful to write, and I am sure it is even worse to read. There are two reasons for this:
I start every sentence with the same word (more on this later)
There are no signposts showing me how the ideas in the paragraph connect.
In an essay, you need to show how each of your ideas relate to each other to build your argument. If you just make a series of statements one after the other, you're not showing your instructor that you actually understand those statements, or your topic.
How do we fix this? Transition words. Roughly 25% of your sentences should start with a transition word. If you can hit that number in your essay, you'll know that you've made meaningful steps towards demonstrating your understanding.
Of course, hitting that number isn't enough—those transitions need to be meaningful. Let's look at the different types of transitions and how you can use them.
What Are Words Like First , Next , and Last Called?
You probably already use some transitions in your essays. For example, if you start a paragraph with firstly , you've used a transition word. But transitions can do so much more!
Here are 25 common transitional words and phrases that you could use in your essay:
Additionally / In Addition
Alternatively / Conversely
As a result of
At this time
Consequently
Contrary to
First(ly), Second(ly), etc.
In contrast
Nonetheless
On the other hand
Particularly / In particular
In other words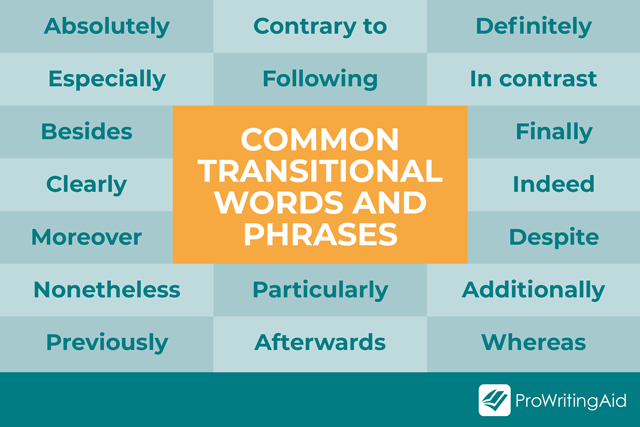 This list isn't exhaustive, but it is a good start.
These words show different types of relationships between ideas. These relationships fall into four main categories: Emphasis , Contrast , Addition , and Order .
What Are Emphasis Transition Words?
These phrases are used when you want to highlight a point. Examples from my above list include clearly , particularly , and indeed . Want to see some more? Follow my bolded transitions: Undoubtedly , you understand now. It should be noted that you don't need to worry.
How Do You Use Addition Transitions?
These words add on to what you just said. These are words like along with , moreover , and also . Here are some more: Not only are you going to be great at transitions after this, but you will also be good at writing sentences. Furthermore , everyone is excited to see what you have to say.
How Can I Use Transitions to Contrast Ideas?
This is the opposite of addition, and you use it when you want to show an alternative view or to compare things. Examples from my list include words like nonetheless , contrary to , and besides .
Here are some more: Unlike people who haven't read this article, you are going to be really prepared to write great sentences. Even so , there is still a lot more about writing to learn.
How Do I Order Ideas in My Essay?
A good first step is using order transition words.
This set of transitions helps mark the passage of time or gives an order to events. From the list, think of things like first and finally . Now for some extras: At this time yesterday , you were worried about starting sentences. Following this , though, you will be an expert.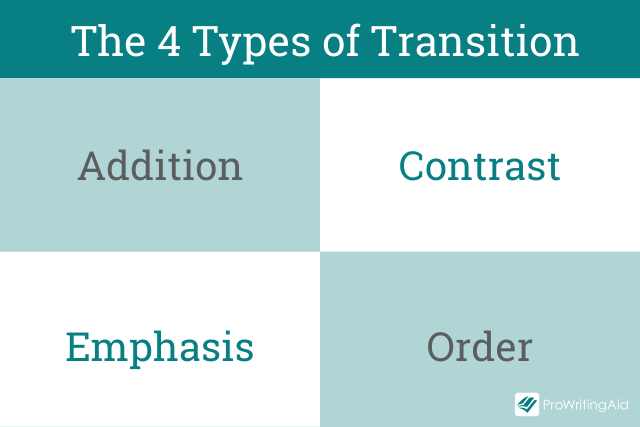 Now that you get the concept of transitions, let's go back to that poorly written paragraph above and add some in to see what happens:
This morning , I went to the store. While I was there, I bought bacon and eggs. Then I saw someone I knew. So I said hello. After that , I went to the cashier. At that time , they checked me out. First , I paid. Next , I got my groceries. Following that , I went to my car. Finally , I returned home.
(Notice the use of commas after most of these transitions!)
This isn't the best paragraph I've ever written. It still needs a lot of work. However, notice what a difference just adding transitions makes. This is something simple but effective you can start doing to make your sentences better today.
If you want to check your transition usage, try ProWritingAid's Transitions report . You'll see how many of each type of transition word you've used so you can pin-point where you might be losing your reader.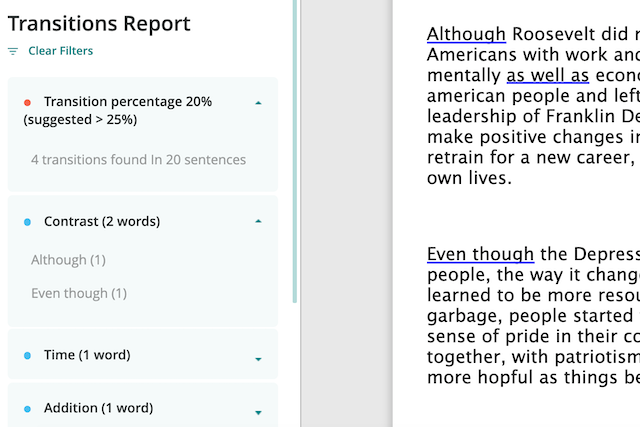 Sign up for a free ProWritingAid account to try it out.
A grammar guru, style editor, and writing mentor in one package.
What Are Some Linking Phrases I Can Use in My Essay?
As well as individual words, you can also use short phrases at the beginning of your sentences to transition between ideas. I just did it there— "As well as individual words" shows you how this section of the article is related to the last.
Here are some more phrases like this:
As shown in the example,
As a result of this,
After the meeting,
While this may be true,
Though researchers suggest X,
Before the war began,
Until we answer this question,
Since we cannot assume this to be true,
While some may claim Y,
Because we know that Z is true,
These short phrases are called dependent clauses . See how they all end with a comma? That's because they need you to add more information to make them into complete sentences.
While some may claim that chocolate is bad for you, data from a recent study suggests that it may have untapped health benefits .
Since we cannot assume that test conditions were consistent, it is impossible to reach a solid conclusion via this experiment .
As a result of this, critics disagree as to the symbolism of the yellow car in The Great Gatsby .
The bolded text in each example could stand on its own as a complete sentence. However, if we take away the first part of each sentence, we lose our connection to the other ideas in the essay.
These phrases are called dependent clauses : they depend on you adding another statement to the sentence to complete them. When you use a sentence starter phrase like the ones above in your writing, you signal that the new idea you have introduced completes (or disrupts) the idea before it.
Note: While some very short dependent clauses don't need a comma, most do. Since it is not wrong to use one on even short ones (depending on the style guide being used), it is a good idea to include one every time.
Along with missing transitions and repeating sentence structure, another thing that stops sentences from being great is too much repetition. Keep your sentences sharp and poignant by mixing up word choices to start your sentences.
You might start your sentence with a great word, but then you use that same word 17 sentences in a row. After the first couple, your sentences don't sound as great. So, whether it is varying the transitional phrases you use or just mixing up the sentence openers in general, putting in some variety will only improve your sentences.
ProWritingAid lets you know if you've used the same word repeatedly at the start of your sentences so you can change it.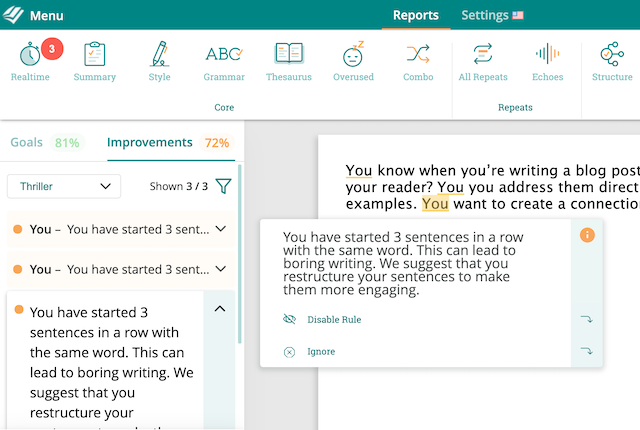 The Repeats Report also shows you all of the repeats in your document. If you've used a sentence starter and then repeated it a couple of paragraphs down, the report will highlight it for you.
Try the Repeats Report with a free ProWritingAid account.
Now that you have your introduction sentences and body sentences taken care of, let's talk a little about conclusion sentences. While you will still use transitions and clauses as in the body, there are some special considerations here.
Your conclusion is what people will remember most after they finish reading your paper. So, you want to make it stand out. Don't just repeat yourself; tell them what they should do with what you just told them!
Use the tips from above, but also remember the following:
Be unique. Not only should you vary the words you use to start different sentences, but you should also think outside of the box. If you use the same conclusion sentence starter everyone else is using, your ideas will blend in too.
Be natural. Some of the best writing out there is writing that sounds natural. This goes for academic writing, too. While you won't use phrases like "at the end of the day" in essay writing, stilted phrases like "in conclusion" can disrupt the flow you've created earlier on.
Here are some alternatives to "in conclusion" you could use in an essay:
To review, ... (best for scientific papers where you need to restate your key points before making your final statement)
As has been shown, ...
In the final analysis, ...
Taking everything into account, ...
On the whole, ...
Generally speaking, ...
If you're looking for more ways to rephrase "in conclusion," take a look at our complete list of synonyms you can use.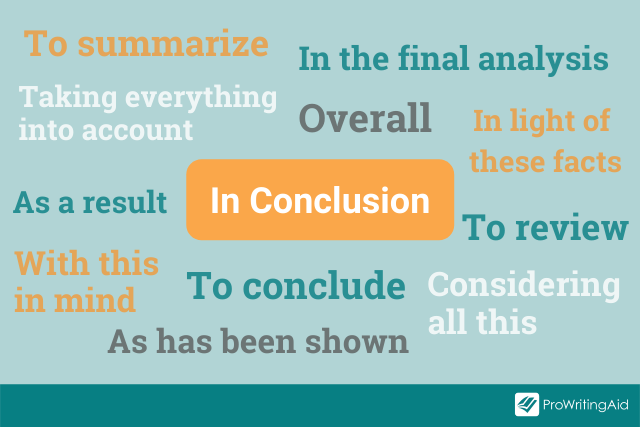 There may not be a set word or words that you can use to make your sentences perfect. However, when you start using these tips, you'll start to see noticeable improvement in your writing.
If you've ever heard people talk about pacing and flow in academic writing, and you have no idea what they mean or how to improve yours, then this is your answer. These tips will help your writing sound more natural, which is how you help your ideas flow.
Take your writing to the next level: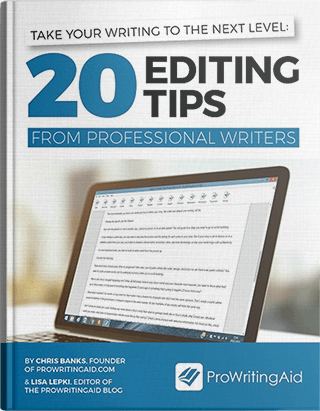 20 Editing Tips from Professional Writers
Whether you are writing a novel, essay, article, or email, good writing is an essential part of communicating your ideas., this guide contains the 20 most important writing tips and techniques from a wide range of professional writers..
Ashley Shaw is a former editor and marketer/current PhD student and teacher. When she isn't studying con artists for her dissertation, she's thinking of new ways to help college students better understand and love the writing process. You can follow her on Twitter , or, if you prefer animal accounts, follow her rabbits, Audrey Hopbun and Fredra StaHare, on Instagram .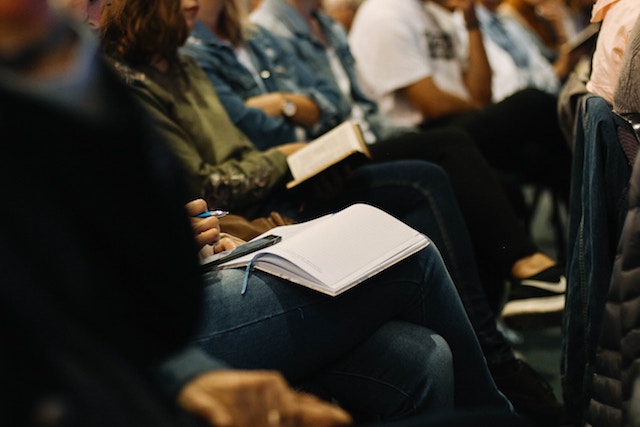 Learn everything you need to know about grammar.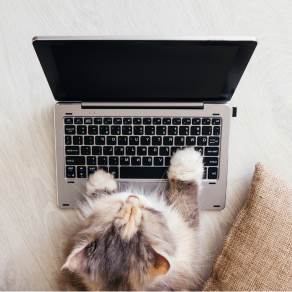 Great Writing, Made Easier.
A grammar checker, style editor, and writing mentor in one package.
Try it for free today.
Drop us a line or let's stay in touch via :
Teaching in the Heart of Florida
How To Cite Text Evidence with Sentence Starters
Do you  dread  teaching students how to cite text evidence when responding to text? It can be  challenging  – but it doesn't have to be! If you teach students how to  cite text evidence with sentence starters,  it will make this difficult skill SO MUCH EASIER. Beginning in third grade – students learn how to respond to fiction and non-fiction text in writing. Doing this correctly and effectively requires them to learn how to use text evidence to support their responses . They have to learn and do so many things at once – it can be confusing! Reading for comprehension, choosing the correct answer or focus (i.e., main idea, etc.), restating the question, and then citing the text evidence that supports our answer. It's a lot of moving parts – and each is important for sure. In this post, I will focus on just one of those elements – citing text evidence.
Table of Contents
How to Teach Students to Cite Text Evidence
First, I teach my class how to use sentence starters when they cite text evidence.
More specifically, I teach them one sentence starter at the beginning.
For example, I choose one sentence starter and model it every day for one week. During whole group instruction, I will explicitly model answering a text-dependent question using this sentence starter:
According to the text, …………………………
This particular sentence starter is the easiest one to teach first.
Here's what I do:
Examples of Questions, Answers, Text Evidence Citations
Question: The author uses definitions as context clues to help the reader understand what friction means. What did the author define friction as?
The answer should be: According to the text, "Friction is a force between two surfaces that slows objects down or stops them from moving."
3 Things My Students Learn About Citing Text Evidence
In this response, my students learn 3 things:
Text evidence means using the exact words from the text.
Those words must have quotation marks.
Using sentence starters makes responses easier
While they are learning, I ask them to highlight the quotation marks and underline the sentence starter. Doing this brings attention to the elements that I want them to remember.
During that week, I ask my students to use that particular sentence starter anytime they are citing text evidence. This permits them to use it over and over, and  more importantly  – they learn how to focus on all three elements of their response:
Correctly answering the question
Using the author's exact words
Citing it correctly using quotation marks
Once they can successfully respond to the text with all of these elements using the first sentence starter – I let them loose to pick the ones they like to use!
How to Cite Text Evidence Anchor Chart
I'm a massive fan of anchor charts in the classroom, so I use them extensively for sentence starters – but I also like for my students to have an individual anchor chart that they can pull out whenever they need it. This reference sheet will help them cite text evidence correctly every time they respond to text!
>>> Free Download >>> I want you to have this How to Cite Text Evidence Anchor Chart that has reminders and sentence starter examples for your students! It's perfect for students reading notebooks and to place in your reading center baskets!
CLICK HERE to download this FREEBIE!
Try it my way if you want to teach students how to cite text evidence with sentence starters but are worried that it will be hard! Just start with one . Your students will get it much quicker, and then you can set them free to use whichever sentence starter they like!
Here are reading resources that will save you time planning reading instruction and help you give students practice citing text evidence:
Character Traits Close Reading – 3rd Grade
Character Traits Close Reading – 4th Grade
Theme Close Reading – 3rd Grade
Theme Close Reading – 4th Grade
The most valuable resource that all teachers have is each other. Without collaboration our growth is limited to our own perspectives. Robert John Meehan
Interested in signing up for my email list?
It's easy.
• Get valuable resources and teaching tips delivered straight to your inbox • Exclusive deals and discounts only available to email list subscribers • Be the first to know about new products • Share your ideas and feedback with me directly, I love hearing from my readers!
Leave a Reply Cancel reply
Your email address will not be published. Required fields are marked *
Save my name, email, and website in this browser for the next time I comment.
Close Reading
Social Studies
Goal Setting