The Year of Endurance
Hope and uncertainty amid a pandemic that wouldn't end.
In 2021, the pandemic forced us all to think hard about who we do and don't trust
Introduction by david rowell.
As a nation, we are supposed to be built around trust. Look at the back of the bills in your wallet. "In God We Trust."
Trust the system.
Trust yourself.
Trust but verify.
Trust your instincts.
Love may be the emotion we like to think ultimately propels us, but it's trust that informs how we go about our daily lives. And yet. Our level of trust, our very foundation, has been crumbling for a long time now. Scandals, abuse and corruption in the major pillars of our society — religious institutions, education, business, military, government, health care, law enforcement, even the sports world — have made us a wary people.
When the pandemic came, first as murmurs that were easy to tune out, then as an unbounded crisis we couldn't tune into enough, our relationship to trust was newly infected with something we didn't fully understand. And before long, who and what we trusted — or didn't — in the form of elected leaders, scientists and doctors became one more cause of death here and all over the world. In this way, distrust was a kind of pandemic itself: widely contagious and passed by the mouth.
As the first American casualties of covid-19 were announced, President Trump kept insisting it would disappear "with the heat" or "at the end of the month" or "without a vaccine." Like a disgraced, fringe science teacher, he entertained this idea at one coronavirus news conference: "I see the disinfectant that knocks it out in a minute, one minute. And is there a way we can do something like that by injection inside, or almost a cleaning?" With leadership like this, the country was receiving an injection — of chaos.
The pandemic ripped through the rest of 2020, and America was not only more splintered than ever, but also a dangerous place to be. Some politicians declared to the public, "I trust the science," as if that were an unprecedented and heroic stance.
As we navigated our way into 2021, questions about what to believe led — painfully and predictably — to doubts about the most reliable way we had to stay safe: wearing masks. With the return to schools looming, the debate about masks and children — masks as protectors, or masks as educational folly — played out like a plague of rants. No one seemed to trust others to do the right thing anymore, whatever that was. By summer's end, trust felt like the latest variant to avoid.
Trust takes lots of forms, but can we actually see it in a photograph the way we can identify a cloud or a wave, or an overt moment of joy or sadness? The photo essays that follow capture a full tableau of human responses in year two of the pandemic — trepidation, but also a sense of renewal; celebration, but caution as well. And despite rancor and confusion still being in as steady supply as the vaccine itself, the permutations of trust have their own presence here, too, if we're open enough to seeing them.
When Jay Wescott went on tour with rock band Candlebox, he was documenting one of the many performing acts that returned to the road this summer, after the long hiatus. On tour there's a lot variables you can control, and just as many, if not more, that you can't — and in the time of covid, control and trust form their own essential but perilous interplay. The picture of the band's drummer, Robin Diaz, who is vaccinated but unmasked, setting up his kit in such proximity to road manager Carlos Novais, vaccinated and masked, not only captures that still-odd dynamic that goes into making any live performance happen right now; it is also a welcome contrast to all the images of masked and unmasked protesters screaming at each other about what and whom to trust. On tour with Candlebox, Westcott observed how trust is carrying the band forward, creating harmonies on and off the stage.
Much farther away, in Michael Robinson Chavez's pictures from Sicily, we bear witness to religious celebrations as part of saint's days, which were canceled last year because of the pandemic. The celebrations resumed, though stripped down, this September, with vaccines readily available, but then, as Chavez notes, the people of Sicily were vaccinated at lower numbers than those in other regions of the country. In one image, we see a tuba player, his mask down below his chin as he blows his notes out into the world. Behind him are masked adults and maskless children. And, perhaps all through the festival, a trust in God to watch over them.
Lucía Vázquez trained her lens on the eager crowds of young women who descended upon Miami, a city known for its own style of carnival-type celebrations, though decidedly less holy ones. These women have left masks out of their outfits and are trusting something not quite scientific and not quite political, but more personal: their guts. Such a calculation comes down to a conviction that either you won't get the coronavirus, or, if you do, you'll survive. It means placing a lot of trust in yourself.
As a visual meditation, the pictures in this issue offer a portrait of a historical moment in which trust and distrust have defined us. Ultimately, the photographs that follow, reflecting various realities of the pandemic, are tinted with hope that we can reclaim our lives. Not exactly as they were in the past, but in a way that still resembles how we had once imagined them for the future. These images remind us that even in our fractured, confused and suffering world, it remains possible that where we can find trust again, we can be healed.
Ready to Rock
Unmasked fans and mayflies: on tour with the band candlebox, text and photographs by jay westcott.
I n February 2020, after a dear friend passed away (not from covid), all I could think about was getting on the road with a band so I could lose myself in the work and create something that would bring joy to people. The world had other plans, though.
Sixteen months later, I headed out on tour with Candlebox. Almost 30 years has passed since the Seattle hard-rock group released its debut album and saw it sell more than 4 million copies. Frontman Kevin Martin and his current lineup invited me along to document the first part of their tour. I packed up my gear, drove west, and met the band at Soundcheck, a rehearsal and gear storage facility in Nashville, as they prepared for the tour.
Whenever people learn that I photograph musicians, inevitably they ask me what it's like on a tour bus. I tell people it's like camping with your co-workers from the office where you all sleep in the same tent. For weeks on end. That sours their midlife fantasies about digging out that guitar from the garage and hitting the road to become a rock star.
The people who do tour and play music, build the sets, mix the sound, sell the merch and lug the gear night after night are some of the hardest-working people I've ever met. They are a special breed of artists, deep thinkers, poets, masters of their instruments. Music has the ability to make you move and stop you in your tracks, to change your mood, make you smile, cry, think. The goal is the same: Put on a great show. Every night. Play like it could be your last show.
It's easy to sit back and armchair quarterback on social media about the risks of holding festivals and rock concerts amid the pandemic, but this is what people do for a living. Few people buy albums or CDs or even download music anymore. It's all about streaming and grabbing viewers on social media now. Touring and merch sales are about the only way musicians have to make money these days. Music is meant to be performed in front of people, a shared experience. With everybody on the bus vaccinated and ready to go, we headed to Louisville for the first of a 49-show run.
The crowd of mostly older millennials and GenXers were ready for a rock show. They knew all the words to the hits in the set — especially Candlebox's mega-hit from the '90s, "Far Behind" — and were into the band's new songs too. It felt good. Then came the mayflies, in massive swarms.
The next stop on the tour was a festival along the Mississippi River in Iowa. I was up early, and as soon as we pulled in you could see mayflies dancing in the air all around us. As the day wore on, the flies intensified, and by nightfall any kind of light revealed hundreds upon hundreds of them, dancing in their own way like the crowd of unmasked fans below them. Also there were Confederate flags everywhere. Boats tied together on the river flew Trump flags in the warm summer breeze.
I was asleep when we crossed the river and made our way to St. Louis, the third stop on the tour and my last with the band. A great crowd: Close your eyes and you can easily picture yourself at Woodstock '94. But it's 2021 and Kevin Martin and company are still here.
Jay Westcott is a photographer in Arlington.
'He Gave Me Life'
A cuban single mother reflects on isolation with her son, text and photographs by natalia favre.
S ingle mother Ara Santana Romero, 30, and her 11-year-old son, Camilo, have spent the past year and a half practically isolated in their Havana apartment. Just before the pandemic started, Camilo had achieved his biggest dream, getting accepted into music school. Two weeks after classes began, the schools closed and his classes were only televised. A return to the classroom was expected for mid-November, at which point all the children were scheduled to be vaccinated. According to a UNICEF analysis, since the beginning of the pandemic, 139 million children around the world have lived under compulsory home confinement for at least nine months.
Before the pandemic, Ara had undertaken several projects organizing literary events for students. After Havana went into quarantine and Camilo had to stay home, her days consisted mainly of getting food, looking after her son and doing housework. As a single mother with no help, she has put aside her wishes and aspirations. But Ara told me she never regretted having her son: "He gave me life."
Natalia Favre is a photographer based in Havana.
Life After War in Gaza
A healing period of picnics, weddings and vaccinations, text and photographs by salwan georges.
A s I went from Israel into the Gaza Strip, I realized I was the only person crossing the border checkpoint that day. But I immediately saw that streets were vibrant with people shopping and wending through heavy traffic. There are hardly any working traffic lights in Gaza City, so drivers wave their hands out their windows to alert others to let them pass.
Despite the liveliness, recent trauma lingered in the air: In May, Israeli airstrikes destroyed several buildings and at least 264 Palestinians died. The fighting came after thousands of rockets were fired from Gaza into Israel, where at least 16 people died. Workers were still cleaning up when I visited in late August, some of them recycling rubble — such as metal from foundations — to use for rebuilding.
I visited the city of Beit Hanoun, which was heavily damaged. I met Ibrahim, whose apartment was nearly destroyed, and as I looked out from a hole in his living room, I saw children gathered to play a game. Nearby there is a sports complex next to a school. Young people were playing soccer.
Back in Gaza City, families come every night to Union Soldier Park to eat, shop and play. Children and their parents were awaiting their turn to pay for a ride on an electric bike decorated with LED lights. In another part of town, not too far away, the bazaar and the markets were filled ahead of the weekend.
The beach in Gaza City is the most popular destination for locals, particularly because the Israeli government, which occupies the territory, generally does not allow them to leave Gaza. Families picnicked in the late afternoon and then stayed to watch their kids swim until after sunset. One of the local traditions when someone gets married is to parade down the middle of a beachfront road so the groom can dance with relatives and friends.
Amid the activities, I noticed that many people were not wearing face coverings, and I learned that the coronavirus vaccination rate is low. The health department started placing posters around the city to urge vaccination and set up a weekly lottery to award money to those who get immunized.
I also attended the funeral of a boy named Omar Abu al-Nil, who was wounded by the Israeli army — probably by a bullet — during one of the frequent protests at the border. He later died at the hospital from his wounds. More than 100 people attended, mainly men. They carried Omar to the cemetery and buried him as his father watched.
Salwan Georges is a Washington Post staff photographer.
Beyond the Numbers
At home, i constructed a photo diary to show the pandemic's human toll, text and photographs by beth galton.
I n March 2020, while the coronavirus began its universal spread, my world in New York City became my apartment. I knew that to keep safe I wouldn't be able to access my studio, so I brought my camera home and constructed a small studio next to a window.
I began my days looking at the New York Times and The Washington Post online, hoping to find a glimmer of positive news. What I found and became obsessed with were the maps, charts and headlines, all of which were tracking the coronavirus's spread. I printed them out to see how the disease had multiplied and moved, soon realizing that each of these little visual changes affected millions of people. With time, photographs of people who had died began to appear in the news. Grids of faces filled the screen; many died alone, without family or friends beside them.
This series reflects my emotions and thoughts through the past year and a half. By photographing data and images, combined with botanicals, my intent was to speak to the humanity of those affected by this pandemic. I used motion in the images to help convey the chaos and apprehensions we were all experiencing. I now see that this assemblage is a visual diary of my life during the pandemic.
Beth Galton is a photographer in New York.
Finding Hope in Seclusion
A self-described sickle cell warrior must stay home to keep safe, text and photographs by endia beal.
O nyekachukwu Onochie, who goes by Onyeka, is a 28-year-old African American woman born with sickle cell anemia. She describes herself as a sickle cell warrior who lives each day like it's her last. "When I was younger," she told me, "I thought I would live until my mid-20s because I knew other people with sickle cell that died in their 20s."
The Centers for Disease Control and Prevention describes sickle cell anemia as an inherited red blood cell disorder that causes those cells to become hard and sticky, and appear C-shaped. Healthy red blood cells are round and move through small blood vessels to carry oxygen, whereas sickle cells die earlier and transport less oxygen. The disorder can cause debilitating pain and organ failure.
In June 2020, Onyeka began preparing her body for a stem cell transplant — a new treatment — and underwent the procedure in April. She is now home in Winston-Salem, N.C., recovering from the transplant. Despite the positive results thus far, Onyeka's immune system is compromised and she is at greater risk of severe illness or death from viruses.
I asked about her life during the pandemic. She told me: "My new normal includes video chat lunch dates. I have more energy now than ever before, but I have to stay indoors to protect myself from airborne viruses, among other things." Onyeka believes she has been given a new life with endless possibilities — even though she is temporarily homebound.
Endia Beal is an artist based in Winston-Salem, N.C.
Baker's Choice
A fun-loving, self-taught baker decides to open her shop despite the pandemic, text and photographs by marvin joseph.
T iffany Lightfoot is the owner and founder of My Cake Theory, where she merges her love of fashion with her gifts as a baker. Undaunted by the pandemic, she opened her first brick-and-mortar shop on Capitol Hill last year. Lightfoot, 41, combined the skills she learned as a student at the Fashion Institute of Technology with dozens of hours watching the Food Network and YouTube videos — and spun her self-taught baking into a business. With these photographs I wanted to show how much fun she has baking — while building a career she clearly loves.
Marvin Joseph is a Washington Post staff photographer.
Leap of Faith
Despite low vaccination rates, sicilians resume religious parades, text and photographs by michael robinson chavez.
T he island of Sicily has been overrun and conquered by numerous empires and civilizations. The year 2020 brought a new and deadly conqueror, the coronavirus. The lockdown was absolute — even church doors were shut tight. But in 2021, Sicilians brought life and traditions back to their streets.
Saint's days, or festas, are important events on the Sicilian calendar. Last year, for the first time in more than a century, some towns canceled their festas. The arrival of vaccines this year seemed to offer hope that the processions would once again march down the ancient streets. However, a surge in summer tourism, while helping the local economy, also boosted the coronavirus infection rate.
Sicily has the lowest vaccination rate in Italy. Nevertheless, scaled-down celebrations have reappeared in the island's streets. In the capital city of Palermo, residents gathered for the festa honoring the Maria della Mercede (Madonna of Mercy), which dates to the 16th century. Children were hoisted aloft to be blessed by the Virgin as a marching band played in a small piazza fronting the church that bears her name. Local bishops did not permit the normal procession because of the pandemic, so local children had their own, carrying a cardboard re-creation of the Virgin through the labyrinth of the famous Il Capo district's narrow streets.
As the fireworks blossomed overhead and the marching band played on, it was easy to see that Sicilians were embracing a centuries-old tradition that seems certain to last for many more to come.
Michael Robinson Chavez is a Washington Post staff photographer.
Defiant Glamour
After long months of covid confinement, a fearless return to 2019 in miami beach, text and photographs by lucía vázquez.
O n Miami Beach's Ocean Drive I've seen drunk girls hitting other drunk girls, and I've seen men high on whatever they could afford, zombie-walking with their mouths and eyes wide open amid the tourists. I've seen partyers sprawled on the pavement just a few feet from the Villa Casa Casuarina, the former Versace mansion.
I've seen groups of women wearing fake eyelashes as long and thick as a broom, and flashing miniature bras, and smoking marijuana by a palm tree in the park, next to families going to the beach. I've seen five girls standing on the back of a white open-air Jeep twerking in their underwear toward the street.
My photographs, taken in August, capture South Beach immersed in this untamed party mood with the menace of the delta variant as backdrop. They document young women enjoying the summer after more than a year of confinement. Traveling from around the country, they made the most of their return to social life by showing off their style and skin, wearing their boldest party attire. I was drawn to the fearlessness of their outfits and their confidence; I wanted to show how these women identify themselves and wish to be perceived, a year and a half after covid-19 changed the world.
Lucía Vázquez is a journalist and photographer based in New York and Buenos Aires.
A Giving Spirit
'this pandemic has taught me to be even closer to my family and friends', text and photographs by octavio jones.
M arlise Tolbert-Jones, who works part time for an air conditioning company in Tampa, spends most of her time caring for her 91-year-old father, Rudolph Tolbert, and her aunt Frances Pascoe, who is 89. Marlise visits them daily to make sure they're eating a good breakfast and taking their medications. In addition to being a caregiver, Marlise, 57, volunteers for a local nonprofit food pantry, where she helps distribute groceries for families. Also, she volunteers at her church's food pantry, where food is distributed every Saturday morning.
"I'm doing this because of my [late] mother, who would want me to be there for the family and the community," she told me. "I've had my struggles. I've been down before, but God has just kept me stable and given me the strength to keep going. This pandemic has taught me to be even closer to my family and friends."
Octavio Jones is an independent photojournalist based in Tampa.
First, people paused. Then they took stock. Then they persevered.
Text and photographs by anastassia whitty.
W e all know the pandemic has challenged people and altered daily routines. I created this photo essay to highlight the perspectives and experiences of everyday people, specifically African Americans: What does their "new normal" look like? I also wanted to demonstrate how they were able to persevere. One such person is Maria J. Hackett, 30, a Brooklyn photographer, dancer and mother of a daughter, NiNi. Both are featured on the cover.
I asked Maria her thoughts on what the pandemic has meant for her. "Quarantine opened up an opportunity to live in a way that was more healthy while taking on much-needed deep healing," she told me. "It was my mental and emotional health that began breaking me down physically. ... I put things to a stop as my health began to deteriorate. I decided I will no longer chase money — but stay true to my art, plan and trust that things will come together in a healthier way for us. I focused more on letting my daughter guide us and on her remaining happy with her activities and social life."
"Enrolling her in camps and classes like dance and gymnastics led me to develop a schedule and routine," Maria explained, "opening room for me to complete my first dance residency in my return to exploration of movement. I made time to share what I know with her and what she knows with me."
Jasmine Hamilton of Long Island, 32, talked in similiar terms. She too became more focused on mental health and fitness. She told me: "The pandemic has demonstrated that life is short and valuable, so I'm more open to creating new experiences."
Anastassia Whitty is a photographer based in New York.
About this story
Photo editing by Dudley M. Brooks and Chloe Coleman. Design and development by Audrey Valbuena. Design editing by Suzette Moyer and Christian Font. Editing by Rich Leiby. Copy editing by Jennifer Abella and Angie Wu.
High contrast
Press Centre
Search UNICEF
Photo essays, stories of our work for children told through visually compelling narratives..
Photo exhibition: #SuppliesSaveLives
Reaching children in Haiti with vital health services
Kangaroo mother care ensures premature babies thrive in Iraq
A polio vaccine campaign is protecting children in Malawi
Rebuilding the lives of Ukrainian refugees in Poland
Reaching displaced people in Uganda with COVID-19 vaccines
Children are facing deadly drought in the Horn of Africa
Crossing a desert on foot with a newborn baby
Refugee children carry memories of home
Mobile teams provide support to traumatized families
Stopping one of the biggest threats to child survival
Transformation in Tajikistan
More unicef to explore, about unicef.
Learn about UNICEF, our partners and the people who join with us to fight for the rights of every child.
Explore UNICEF's work on behalf of children.
Where we work
Explore UNICEF's work in over 190 countries and territories.
Work with us
Want to change the world? Work with UNICEF.
University of Notre Dame
Photo Essays
Collections of photos that show the breadth and depth of the Notre Dame experience
February 2023: Halfway Between Winter and Spring
2023 Walk the Walk Week
2022 Year in Pictures
Christmas at Notre Dame
November 2022: Service, Snow, and a Salute
October 2022: Month in Photos
Sacred, Summer
Women, Past and Present
Honoring Achievement
Preparing for Commencement 2022
Traditions of Springtime
Reflection, Celebration, and Calls for Action
One Month, Many Seasons
New Year, Enduring Commitments
A Space for the Extraordinary
Fall Settles In
To learn, honor, serve
Fr. Jenkins in Rome
What a Year! Photo Essay Captures an Extraordinary 2021
From remote learning to the return to campus life this fall, a year unlike any other in BU history
Bu today staff.
Before we get too far into 2022, we wanted to take a look back at 2021. It was a remarkable year by any measure, overshadowed by the ongoing COVID-19 pandemic, which by December had claimed more than 800,000 lives in the United States.
2021 marked year two of mandatory mask-wearing and social distancing on BU's campuses, but also heralded the arrival of coronavirus vaccines and boosters. And it was a year that saw not one, but two Commencement ceremonies: the first, in May, for the Class of 2021 without family members or guests present, and another in October for the Class of 2020, whose ceremony was delayed 17 months because of the pandemic.
This photo essay from BU Today photographers Janice Checchio, Jackie Ricciardi, and Cydney Scott, and others, captures how the year played out on campus, tracing the transition from remote learning to the resumption of residential life, live performances, and fans in the bleachers.
Below, take a look back chronologically at an unforgettable year.
Ayush Kadakia (ENG'24) moves back into his West Campus digs for the spring 2021 semester on January 21. The weather was anything but springlike. Photo by Cydney Scott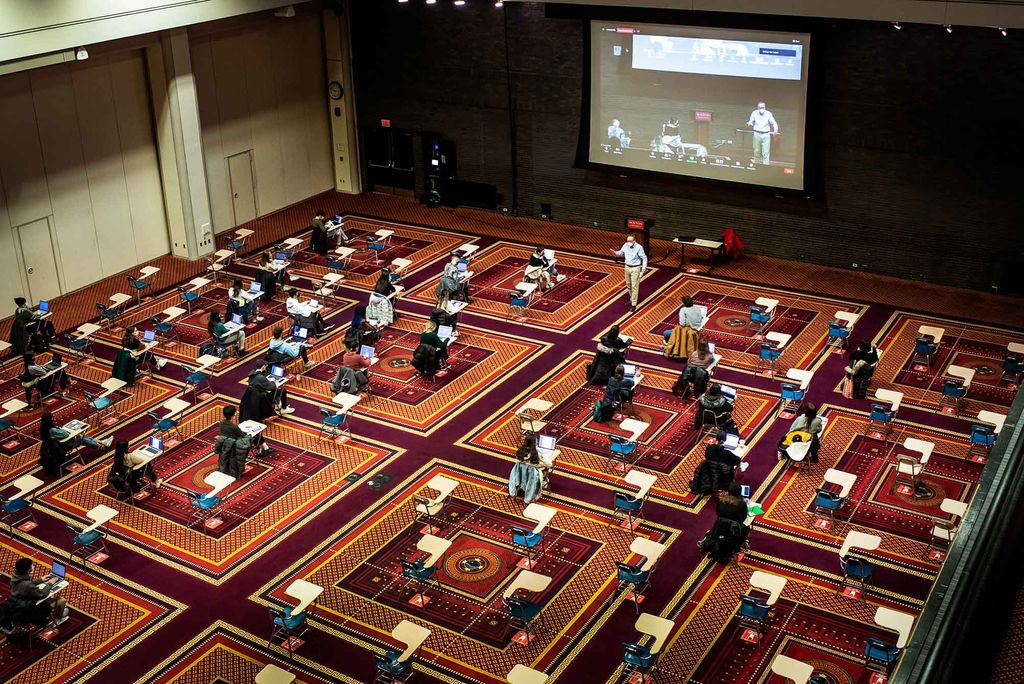 Instead of its usual role of hosting large University gatherings, such as celebrations and appearances by well-known speakers, on January 25, the Metcalf Ballroom was the site of the semester's first History of International Relations Since 1945 class, taught by Igor Lukes, a CAS professor of history and international relations. Photo by Jackie Ricciardi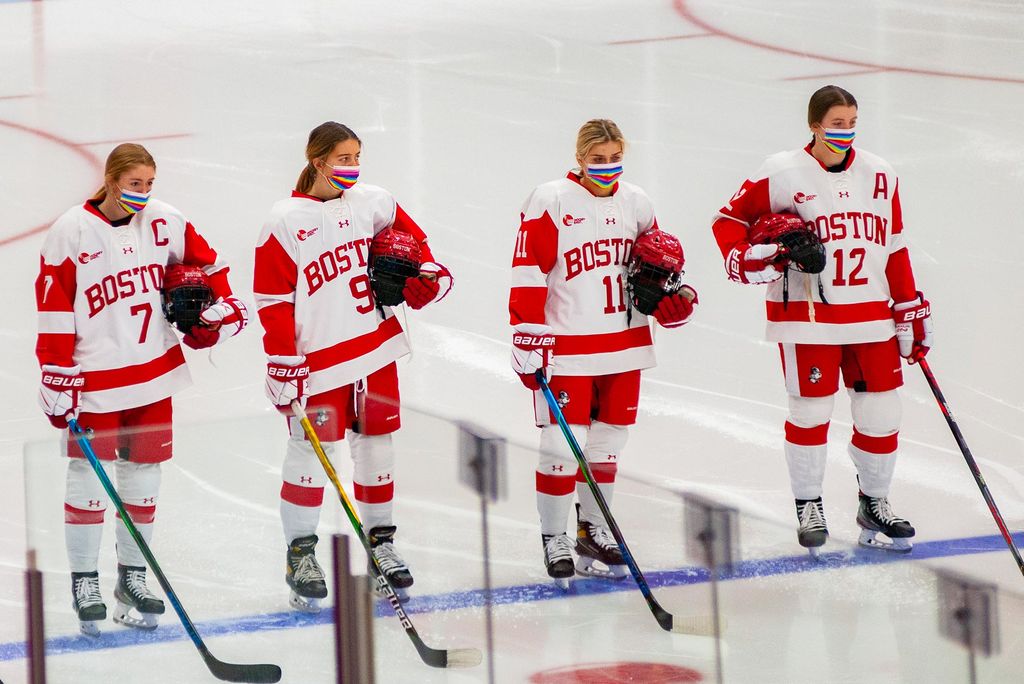 BU Athletics annual Pride Week Celebration supporting the LBGTQIA+ community was held January 31 through February 6, with various panels and events hosted via Zoom by Athlete Ally, the Athletics student-led organization that fosters an inclusive environment for LGBTQIA+ student-athletes and allies. The women's hockey Terriers—among them Jesse Compher (SHA'21) (from left), Clare O'Leary (CAS'24), Mackenna Parker (CAS'22), and Kaleigh Donnelly (CAS'22)—wore rainbow masks to show support before their February 5 game against Merrimack. Photo courtesy of Patrick Donnelly
When club sports started back up at FitRec in February, there was much rejoicing. Water polo club members, among them Laith Hijazi (CGS'21), on February 21 follow University-approved health and safety protocols, including distancing during practice, but are able to go mask-free while in the water. Photo by Cydney Scott
A cross? A lowercase "t"? No, it's the COM Lawn, viewed from the Kilachand Center top floor, with some additions—Adirondack chairs placed around campus by the University so everyone can enjoy the much-anticipated, much-longed-for spring weather (while social distancing) on March 23. Photo by Cydney Scott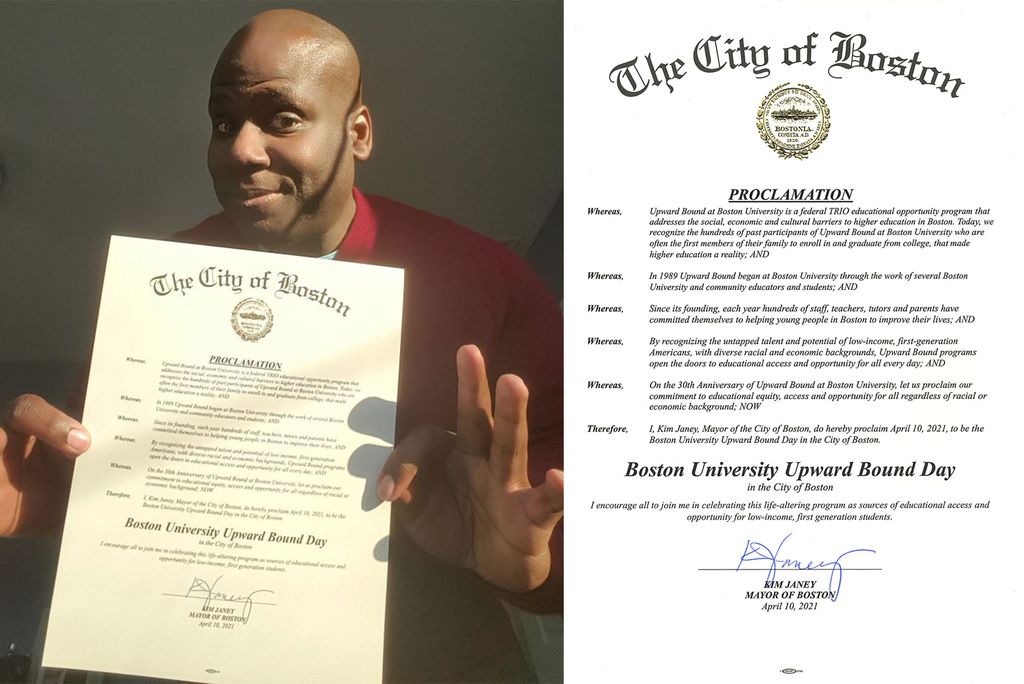 On April 10, Boston University Upward Bound, a federally funded TRIO Program providing outreach and student services to low-income and first-generation college students from Boston Public Schools, celebrated its 30th anniversary. Former Upward Bound student William Onuoha, executive director of Boston's Office of Fair Housing and Equity, read a proclamation from Boston Mayor Kim Janey declaring April 10 Upward Bound Day. The proclamation recognizes "30 years of collective work of helping students access educational opportunity and [celebrates] being part of this family," said Upward Bound director Reggie Jean (CAS'95, Wheelock'04) (holding proclamation). Photo courtesy of Wheelock College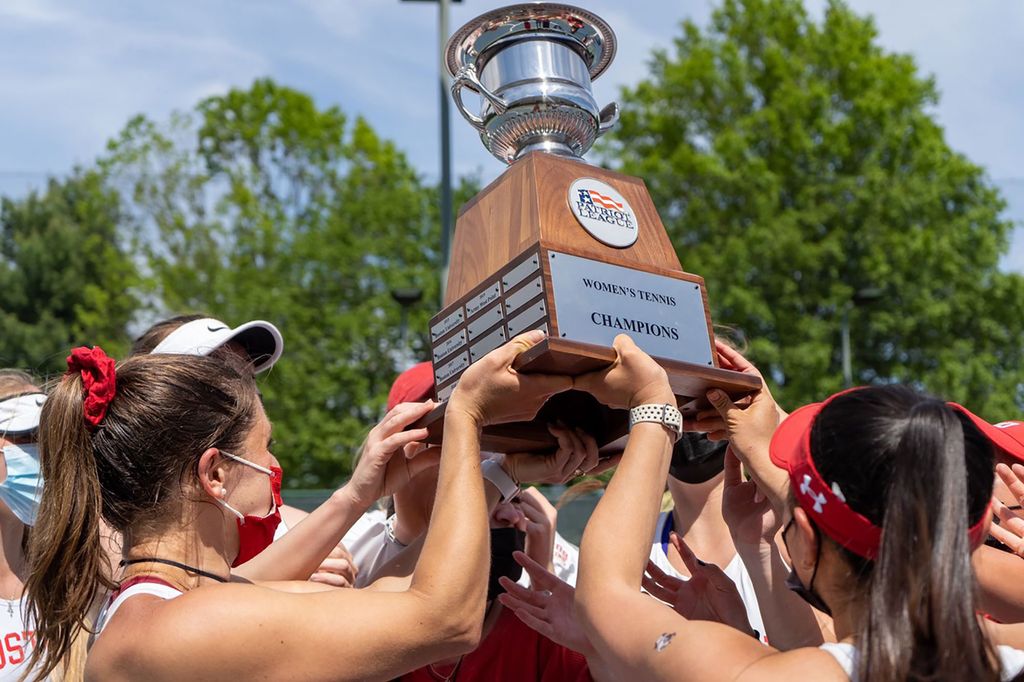 The BU women's tennis team won their fifth Patriot League championship in eight seasons on Sunday, May 2, beating Navy 4-3 and earning them a spot in the 2021 NCAA Tournament. Photo courtesy of BU Athletics
Yuqing Wu (COM'23) receives a COVID-19 vaccine shot from Healthway RN Kristin Lopes at FitRec May 4. Boston Medical Center had provided the University with several thousand doses of Moderna's COVID-19 vaccine for BU students, faculty, and staff needing their first or second shot. Photo by Cydney Scott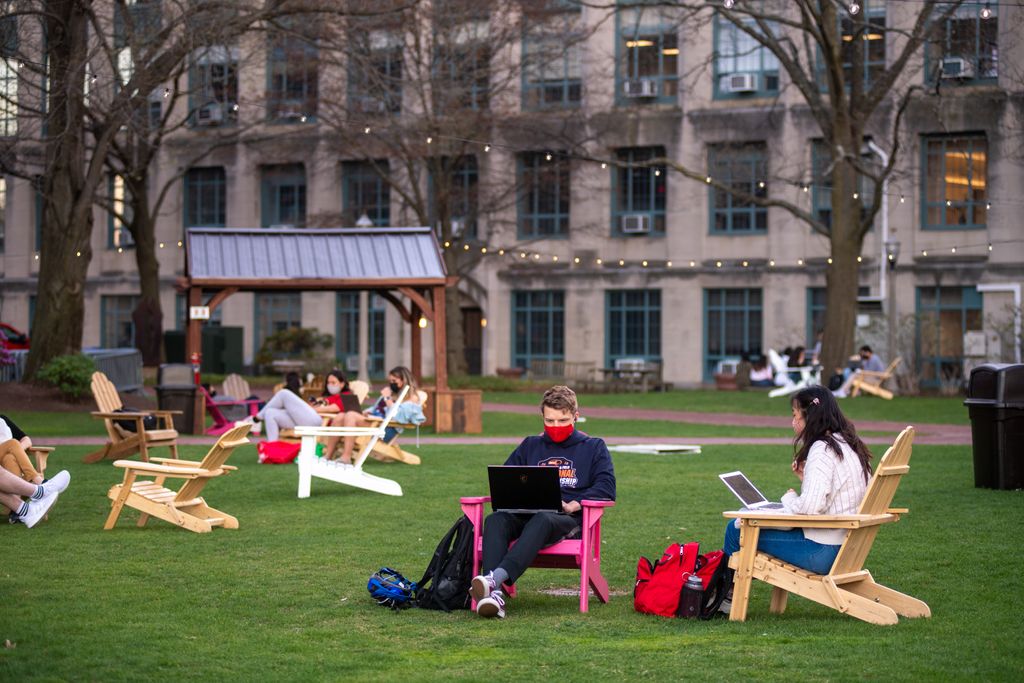 Whole lotta studyin' goin' on: Jack Gardiner (Sargent'22) (left) and Julia Lee (Sargent'22) are among the finals-minded Terriers working on the BU Beach outdoor village April 20. Photo by Cydney Scott
Seniors Camden Kronhaus (ENG'21) (standing) and Mrinal Ghosh (ENG'21) having fun on the BU seal on Marsh Plaza, May 11, ahead of their Commencement. Photo by Cydney Scott
As BU graduates do every year, the 2021 grads participated in a more than century-old tradition at the 148th Commencement on Nickerson Field, May 16. But, in an effort to provide adequate social distancing, the ceremony was broken into two separate events: one for graduate students in the morning, and one for undergraduates (above) in the afternoon. And families and friends were unable to attend due to the pandemic. Photo by Cydney Scott
Seniors Camden Kronhaus (ENG'21) (standing) and Mrinal Ghosh (ENG'21) having fun on the BU seal on Marsh Plaza, May 11, ahead of their Commencement. As BU graduates do every year, the 2021 grads participated in a more than century-old tradition at the 148th Commencement on Nickerson Field, May 16. But, in an effort to provide adequate social distancing, the ceremony was broken into two separate events: one for graduate students in the morning, and one for undergraduates (above) in the afternoon. And families and friends were unable to attend due to the pandemic. Photos by Cydney Scott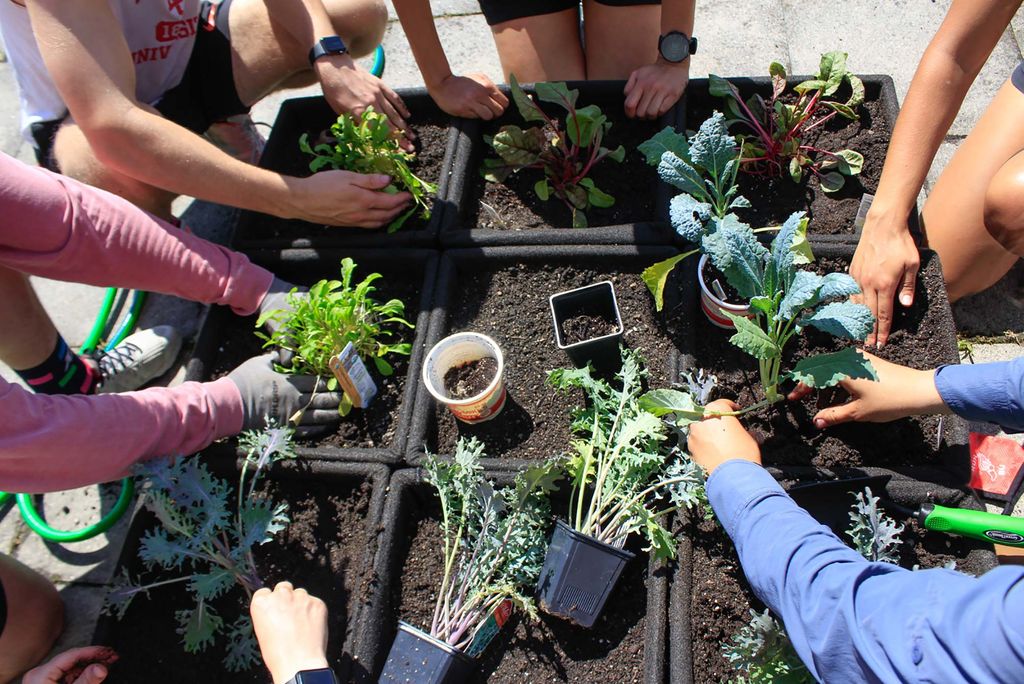 On June 13, a Campus Climate Lab team installed an herb garden on the Warren Towers fourth floor patio, with the intention of creating a living-learning lab for students to better understand the importance of urban gardening. Sidney Hare (CAS'22), who has worked on the idea for some time, and nine other students brought in crates, dirt, herbs, and flowers and got to work. Photo by Lauren Richards (COM'22)
Celebrating a partnership: On July 12, Boston University and Steward Health Care's St. Elizabeth's Medical Center (SEMC) held a ribbon-cutting ceremony marking the new five-year affiliation between BU and SEMC, which went into effect July 1. Helping to wield the scissors: Anna Hohler, SEMC chair of neurology (from left); Harrison Bane, president of Steward Health Care North Region; James Terwilliger, SEMC president; Karen Antman, MED dean and Medical Campus provost; Sanjay Shetty, Steward North America president; and Frank Pomposelli, SEMC chair of surgery. Photo by Cydney Scott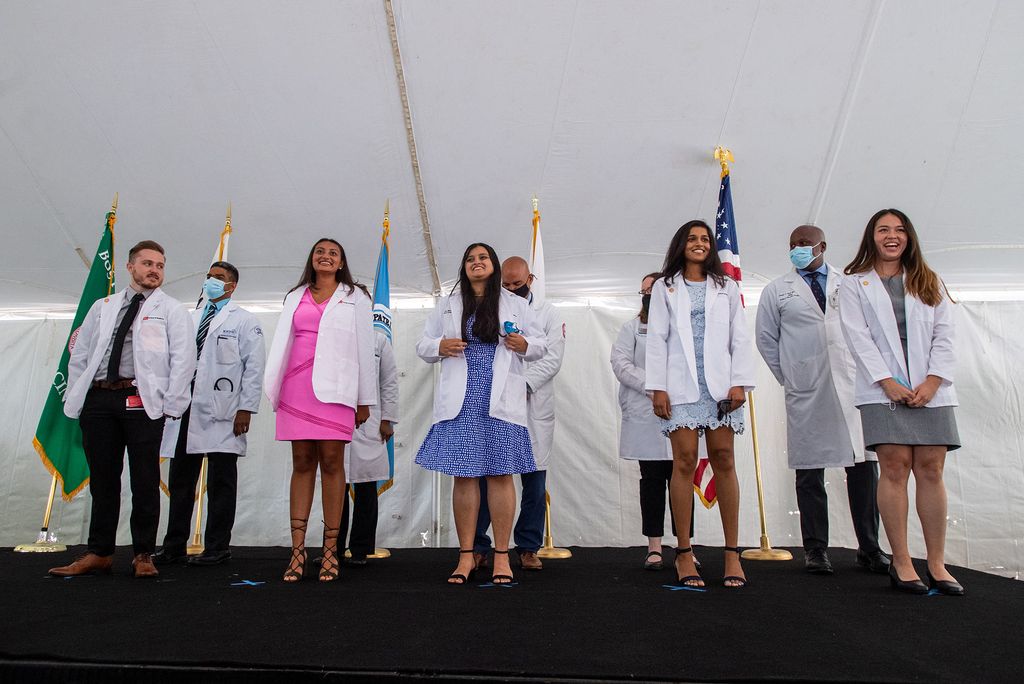 Members of BU School of Medicine's Class of 2025, Austen Mauch (from left), Nisha Mathur, Saaz Mantri, Avni Madhani, and Kendra Lujan, embark on their medical careers at MED's annual White Coat Ceremony on Talbot Green, August 2. Photo by Cydney Scott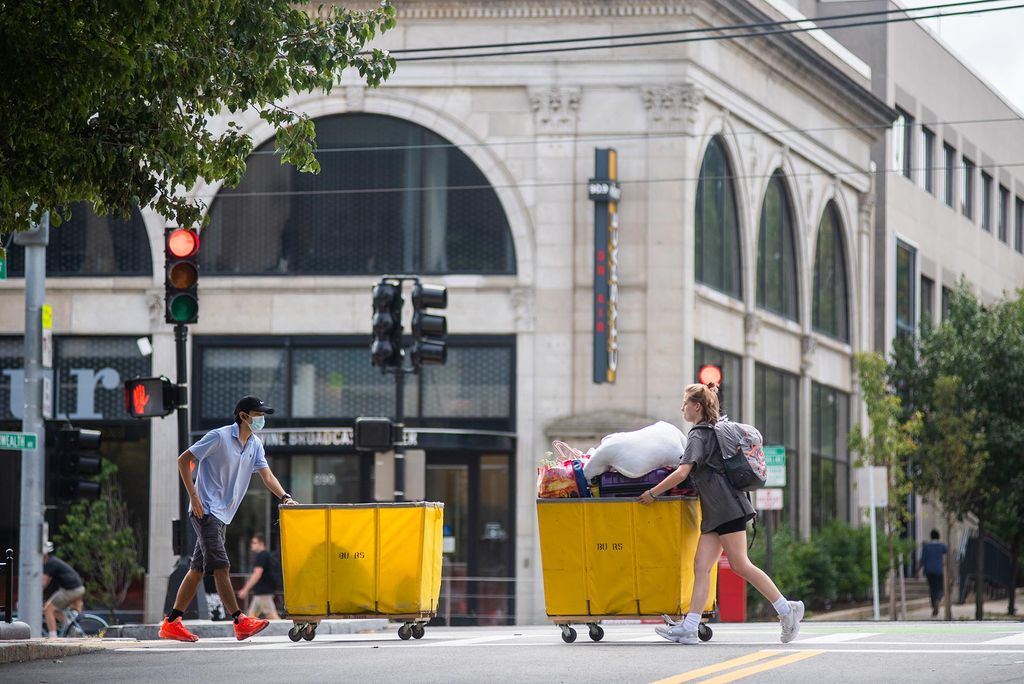 An annual sight: students rolling yellow bins up and down Comm Ave during Move-In. August 16 presaged the return of a fully occupied campus, albeit with pandemic-necessitated safety protocols in place. Photo by Cydney Scott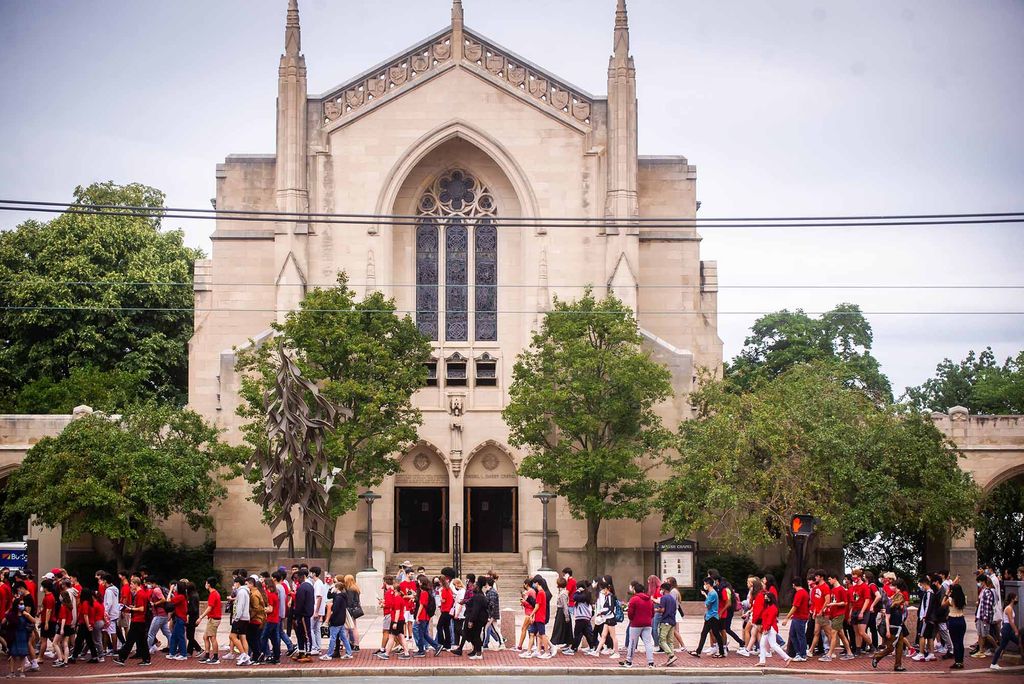 The BU Class of 2025 Matriculation procession, August 29: In a long-standing tradition, incoming class members march to their welcome and initiation ceremony. Photo by Jackie Ricciardi
BU's ceremony honoring 2021's 27 Thomas M. Menino Scholars and 57 BU Community Service Award scholarship recipients, all graduates of Boston Public Schools (BPS), was held August 31 at the Questrom School of Business. Robert A. Brown (left), BU president, Brenda Cassellius (center), BPS superintendent, and 2018 Menino Scholar Jami Huang (CAS'22) spoke at the ceremony. Bumping elbows with Cassellius is 2021 recipient and Boston Latin School grad Christian Badawi (CAS'25). Photo by Jake Belcher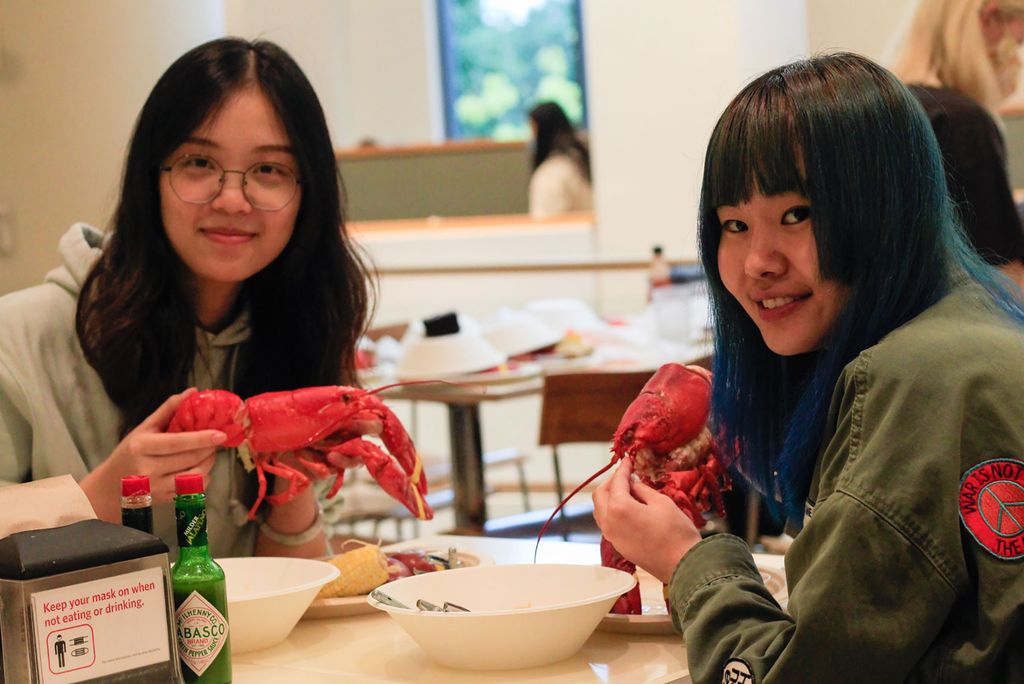 What's a sure sign of a new BU school year? Correct—it's Lobster Night! The annual event has become a wildly popular tradition. Yan Huang (Questrom'22) (left) and Zitong Zhao (Questrom'22) enjoyed their lobsters at Marciano September 9. Photo by Lauren Richards (COM'22)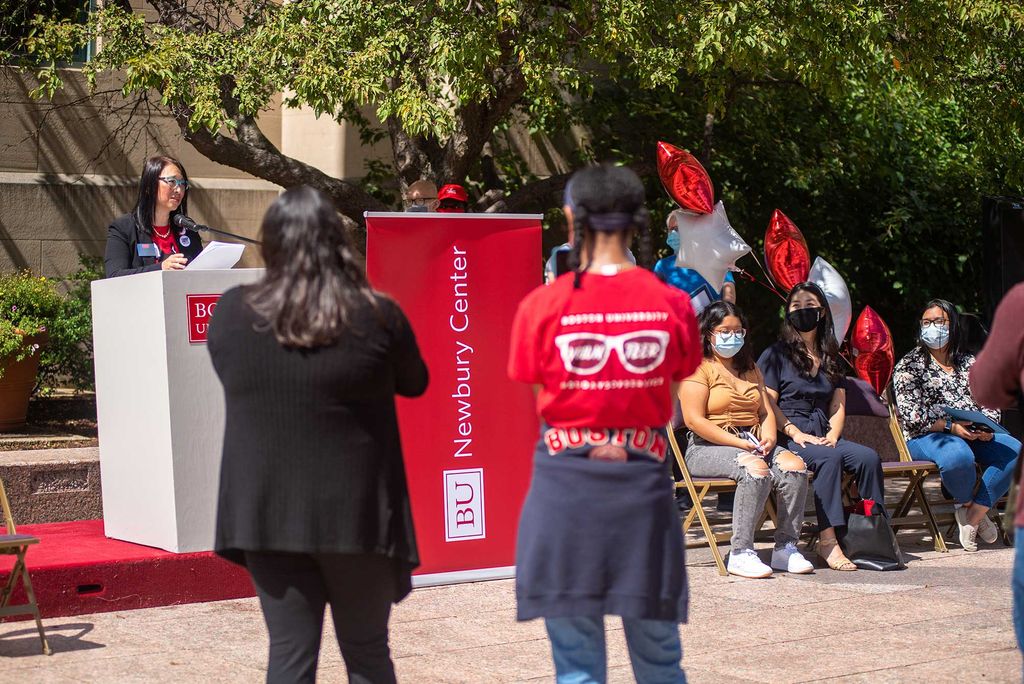 The Newbury Center, BU's support hub for first-generation students—undergrad, grad, and nontraditional—held a grand opening and open house for the BU community on September 3. Maria Dykema Erb, center director (at podium), welcomed guests on Marsh Plaza. Jean Morrison, University provost and chief academic officer, and Crystal Williams, former vice president and associate provost for community and inclusion, were among the speakers. Photo by Cydney Scott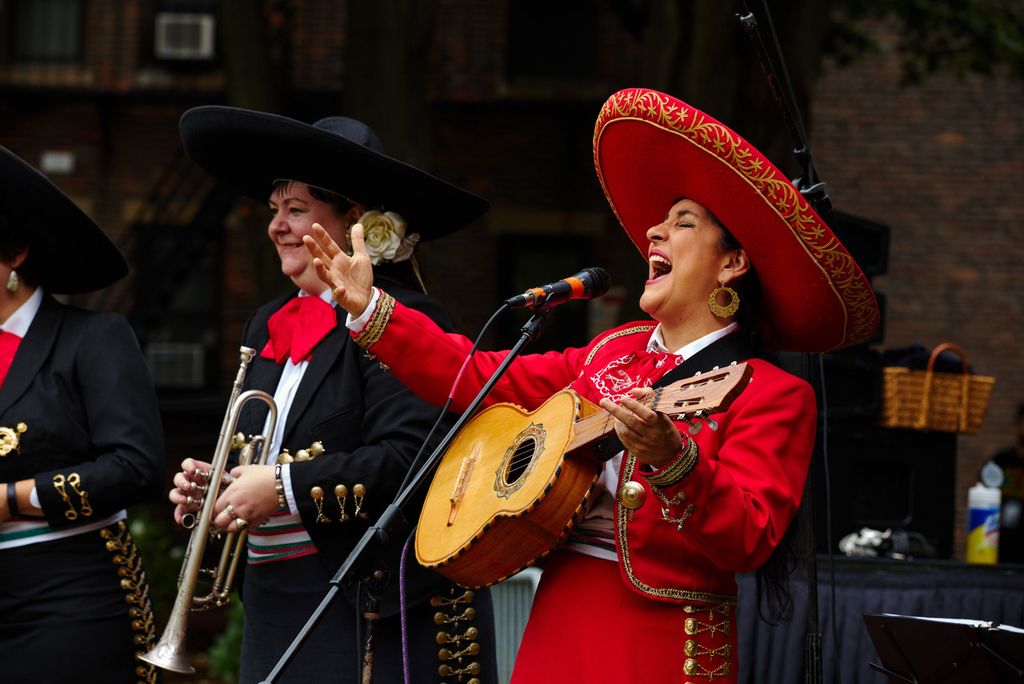 The all-female Veronica Robles Mariachi Quartet was among the vibrant performers at the fourth annual BU Global Music Festival on September 18. Because of COVID, the performances were outdoors, at the BU Beach and on Marsh Plaza—"a silver lining" to the event, according to CFA's Marié Abe, festival artistic director. Photo by David Green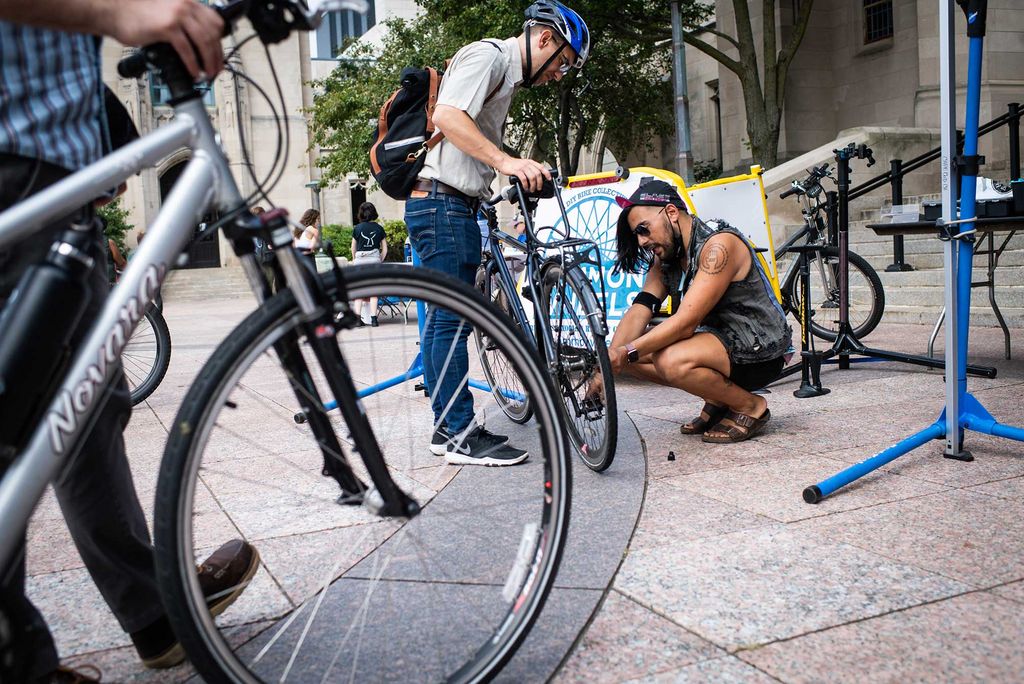 Teddy Heinrich, a BU Environmental Health & Safety senior specialist, takes advantage of one of the many free offerings at the September 23 Sustainability Festival on Marsh Plaza: a bike safety check from Tristan Djaafar of CommonWheels, a do-it-yourself community bike organization. Photo by Jackie Ricciardi
The final beam for the Center for Computing & Data Sciences building on Comm Ave was put in place September 30. After a lunch on the COM Lawn for about 350 people, who were able to sign the beam, it was moved to the project site to be hoisted. Among those at the momentous occasion: Robert A. Brown, BU president (from right to left), Jean Morrison, University provost and chief academic officer, and Azer Bestavros, associate provost for computing and data sciences. In the photo at right, the final beam, covered in signatures, is in place. The event celebrated the "topping-off" tradition milestone and was a thank-you to the workers. Photos by Cydney Scott
A history-making Commencement: on Sunday, October (not May) 3, the BU Class of 2020, and the University, celebrated a pandemic-postponed graduation ceremony on Nickerson Field. The exuberant grads were unfazed by a bit of afternoon drizzle. Photo by Janice Checchio
When Ethan Wang left for a BU Study Abroad semester in Sydney in 2019, it was with anticipation and excitement. A few weeks later, a surfing accident made it look like he would never walk again. But with grit, determination, his family's support and encouragement, and the best medical care in Singapore and Boston, Wang (CAS'20) (front right) on October 2 walked across the stage at the Class of 2020 College of Arts & Sciences Recognition Event, and was handed his diploma by his father, Willis Wang, BU vice president and associate provost for global programs. The event was held in Agganis Arena as part of BU's historic delayed 2020 Commencement. Photo by Cydney Scott
On October 2, Wheelock Family Theatre celebrated four decades of entertaining families with a 40th Family Reunion held on the Fenway Campus green. Billed as "part picnic, part performance, part creative playground," the reunion included performances from past productions. Actor, director, and composer Jane Staab (center), a theater cofounder and co–artistic director for 33 years, was among the celebrants. Photo by Michael D. Spencer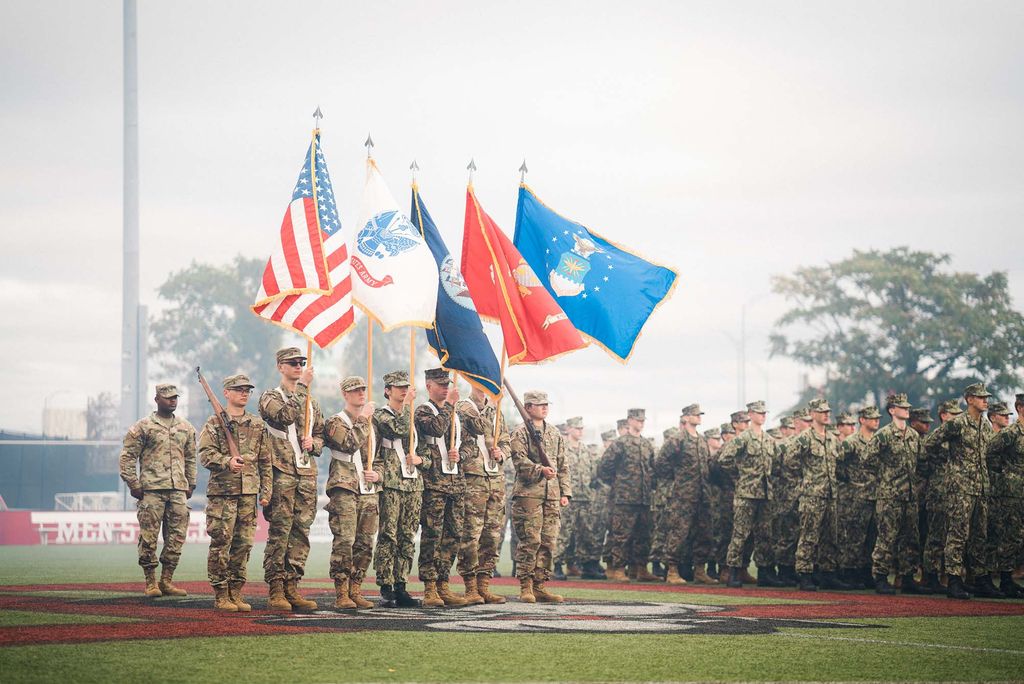 Boston University's 39th annual Joint Service Pass-in-Review was held on Nickerson Field October 23. Each year, cadets from BU's Division of Military Education Army, Navy, Air Force, and Marine Corps ROTC programs, consisting of cadets from several area schools, join together for the ceremony, one of the Army's long-standing traditions. Pictured above: Color Guard Commander Cadet Nathan Tadigiri of UMass Boston (from left), Cadet Kenneth Ziniti (Questrom'24), Cadet Salem Adda-Berkane (CAS'23, ENG'23), Cadet Joseph Carey (CGS'22), Midshipman Sasha Wong, Midshipman Ian Benitez-Rio, Cadet Jacob Bresnahan, and Cadet Ju Young Kang (Questrom'24). Photo by Chris McIntosh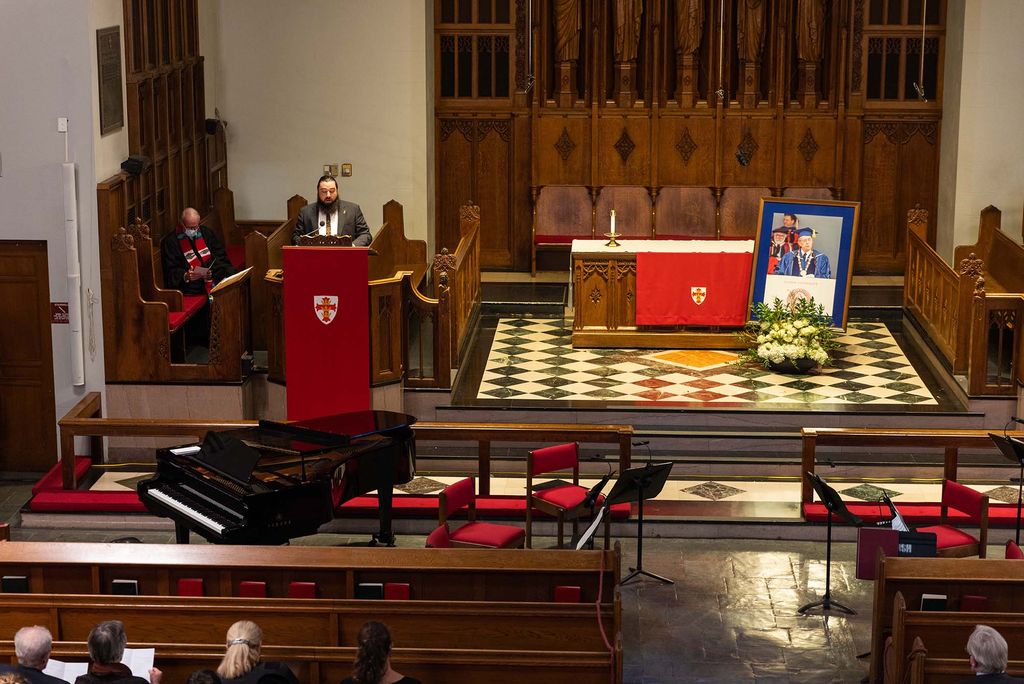 A memorial service for BU President Emeritus Jon Westling (Hon.'03), BU's eighth president, was held at Marsh Chapel on October 27. Westling came to the University in 1974 and his career at BU spanned 46 years and included several top leadership posts. His son, Matthew Westling (CGS'04, CAS'06), read the Wallace Stevens poem, "Invective against Swans," during the service. Photo by Jacob Chang-Rascle (COM'22)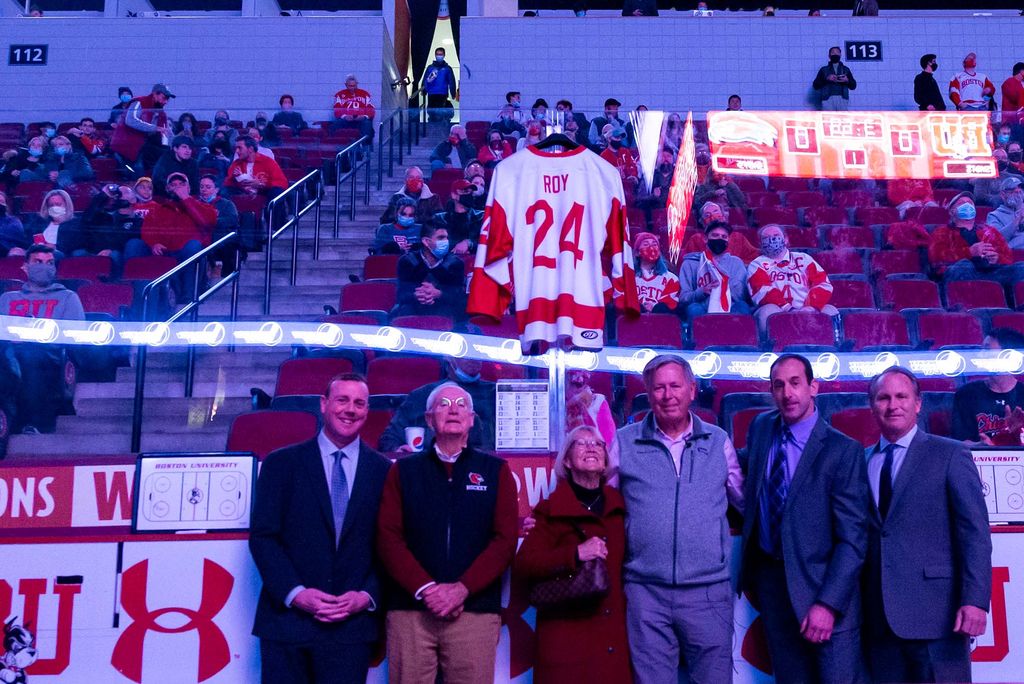 After Travis Roy was paralyzed from the neck down in his first BU hockey game in 1995, he went on to establish the Travis Roy Foundation, which helps those with similar injuries and has donated millions in grants for spinal cord research. On October 29, the one-year anniversary of his death, BU honored Roy (COM'00, Hon.'16) at Agganis Arena. Pictured are: Albie O'Connell (CAS'99), men's hockey head coach (from left); Jack Parker (Questrom'68, Hon.'97), former head coach; Roy's parents, Brenda and Lee; Jay Pandolfo (CAS'96), associate head coach; and Drew Marrochello, assistant vice president and athletics director. Photo by Chris Lyons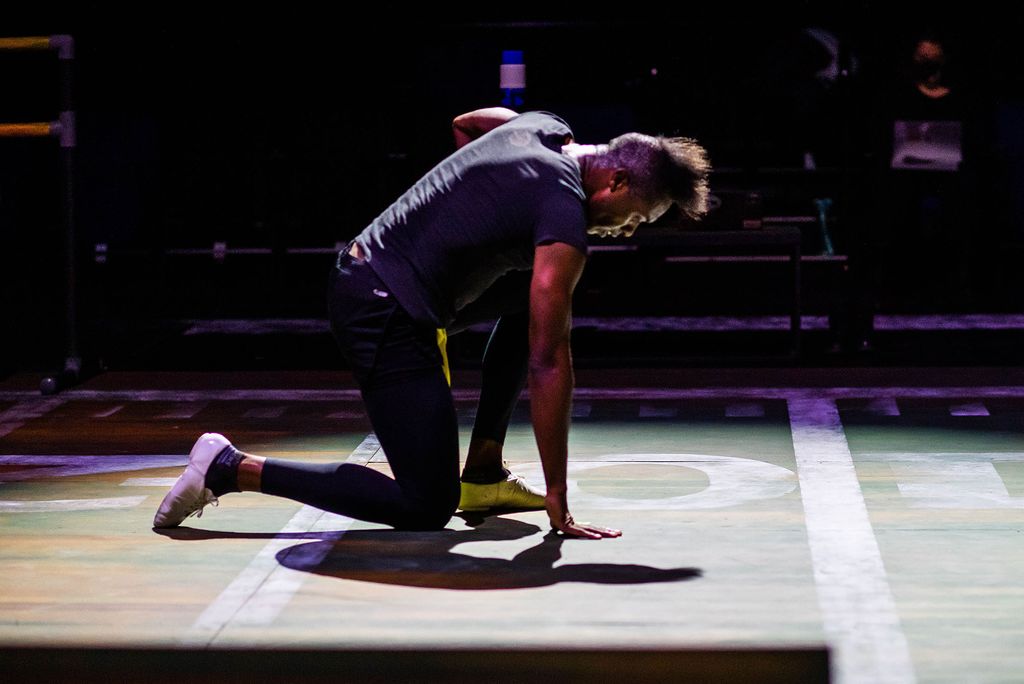 A scene from Colossal , a movement-heavy piece following a star college football player in the wake of a spinal cord injury, tackles themes of love, ability, masculinity, and how we use our bodies to communicate along the way. The piece was part of CFA's annual Fringe Festival. Rehearsing (above): Donovan Black (CFA'22). Photo by Jackie Ricciardi
MBTA Green Line B Branch's Amory Street Station Ribbon-Cutting Ceremony, November 16: Andres Achury, senior director, project, Green Line Transformation (GLT) (from left); Desiree Patrice, GLT senior director, project; Angel Peña, chief of capital transformation programs; Steve Poftak, MBTA general manager; Kenneth Green, chief, MBTA Transit Police; Derek Howe, BU senior vice president of operations; and Shauna Connelly, GLT senior project coordinator. Photo by Janice Checchio
Trans Listening Circle treasurer Kaiden Kane (Sargent'21) (center) and circle members placed 400 trans flags on Alpert Mall (aka the BU Beach) November 19 in remembrance of the 375 transgender people reported murdered internationally within the last year. They did so in observance of the Transgender Day of Remembrance, held annually on November 20. Photo by Jake Belcher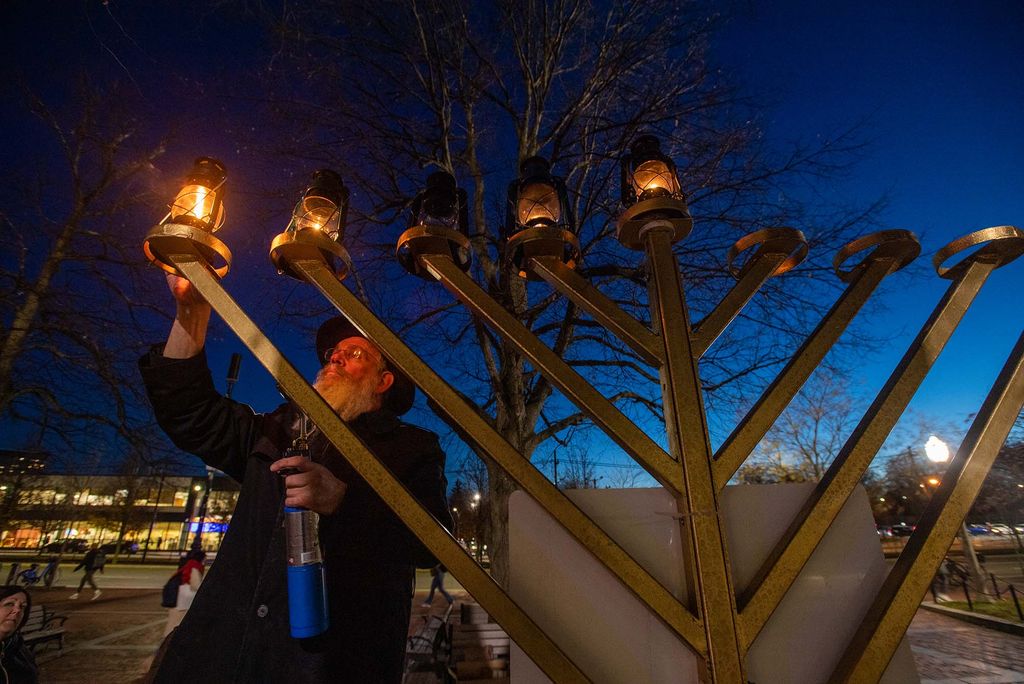 Rabbi Shmuel Posner of Chabad House of Greater Boston lights the menorah outside the George Sherman Union during the fourth night of Hanukkah, the Jewish Festival of Lights, on December 1. Photo by Cydney Scott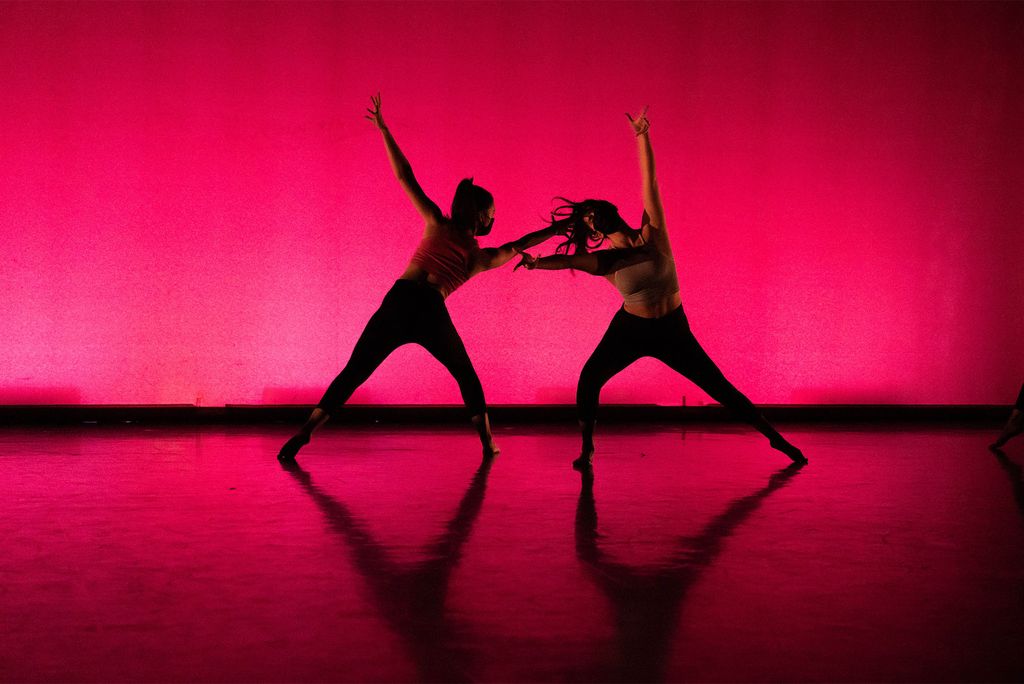 The 20th Aurora Borealis: A Festival of Light and Dance was performed at the BU Dance Theater December 6, presented by the CFA School of Theatre and the Department of Physical Education, Recreation & Dance. The annual event features dance and movement pieces by faculty and students in a vibrant exploration of the relationship between light and form. Photo by Jacob Chang-Rascle (COM'22)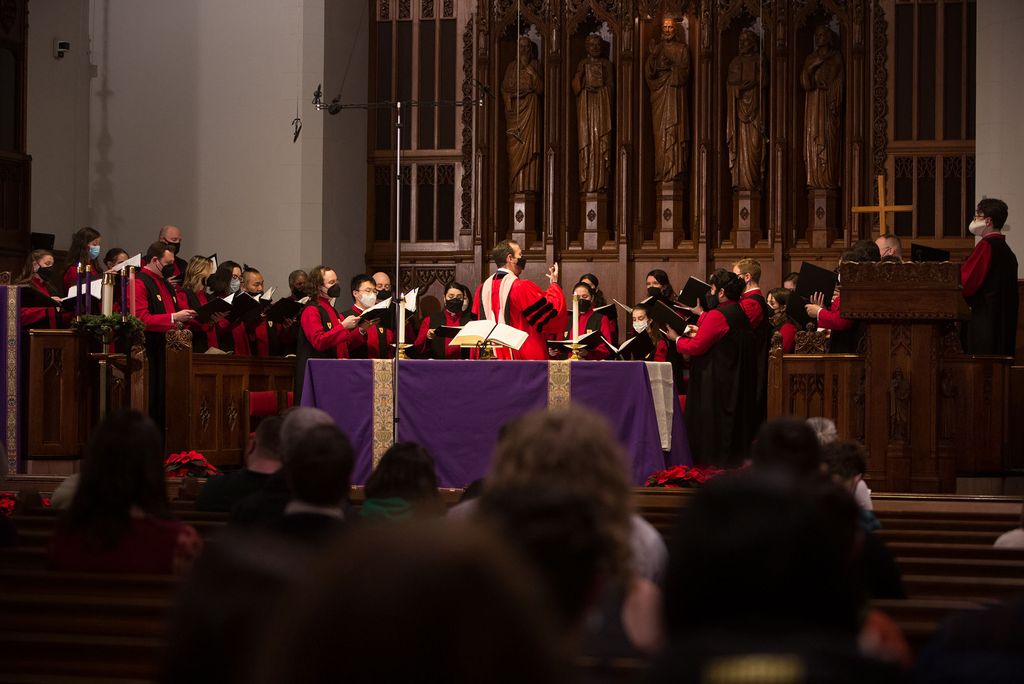 Another revered and much-anticipated University tradition was held in person on December 10: Marsh Chapel's 48th annual Service of Christmas Lessons and Carols. The liturgy, based on the University of Cambridge King's College iconic century-old Festival of Nine Lessons and Carols, included a selection of Christmas carols, motets, and anthems. Photo by Jake Belcher
Each year around the holidays, Terrier student-athletes visit Boston public elementary schools to read to students and give them a book. BU soccer player Claire Orson (Questrom'22) and several fellow athletes were able to visit in person this year on December 13, much to the enjoyment of Blackstone School students. Last year's visit had to be virtual because of the pandemic. Photo by Jackie Ricciardi
Explore Related Topics:
Photography
Share this story
0 Comments Add
BU Today staff Profile
Comments & Discussion
Boston University moderates comments to facilitate an informed, substantive, civil conversation. Abusive, profane, self-promotional, misleading, incoherent or off-topic comments will be rejected. Moderators are staffed during regular business hours (EST) and can only accept comments written in English. Statistics or facts must include a citation or a link to the citation.
Post a comment. Cancel reply
Your email address will not be published. Required fields are marked *
Related Stories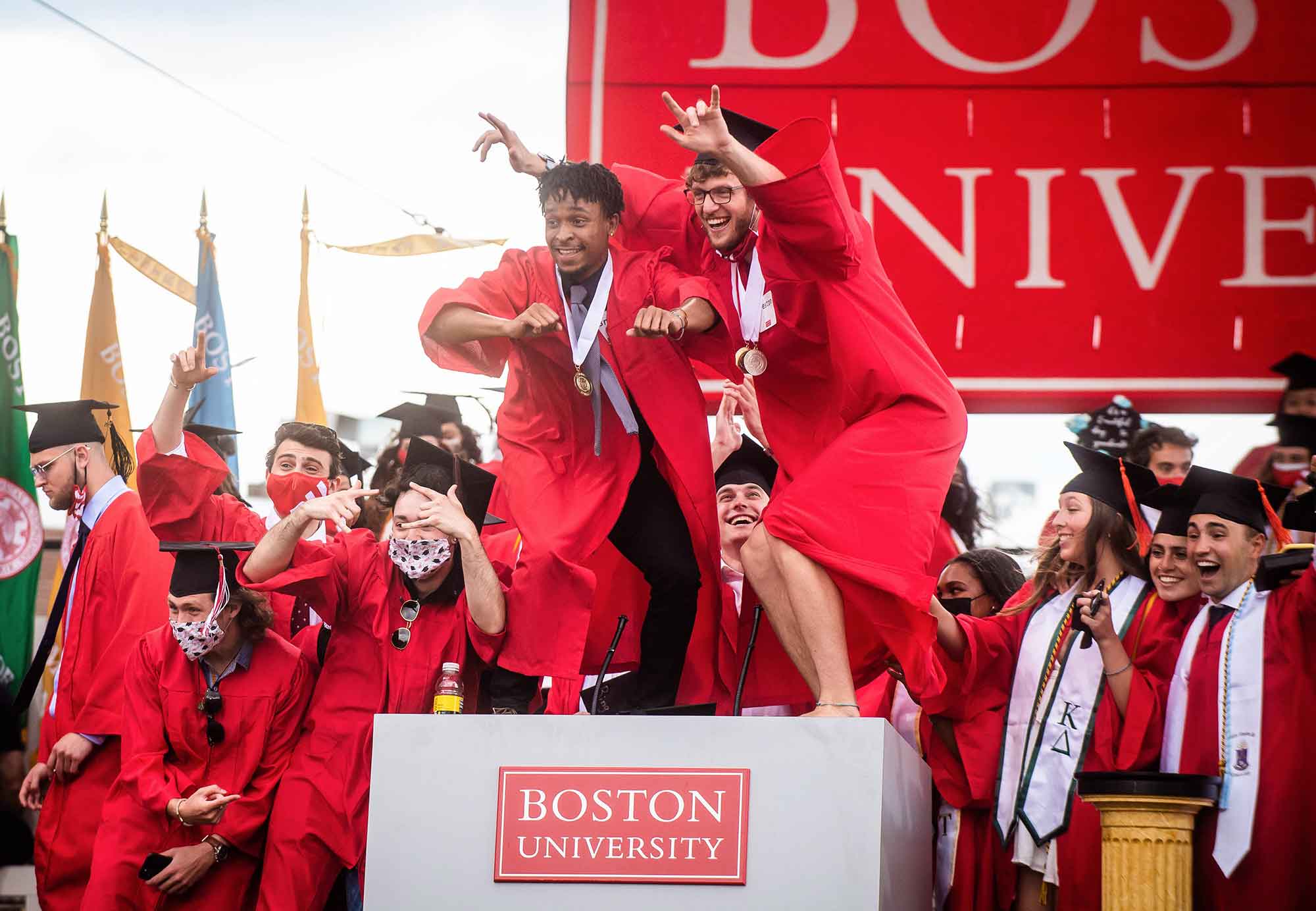 Photo Gallery Captures BU's One-of-a-Kind 148th Commencement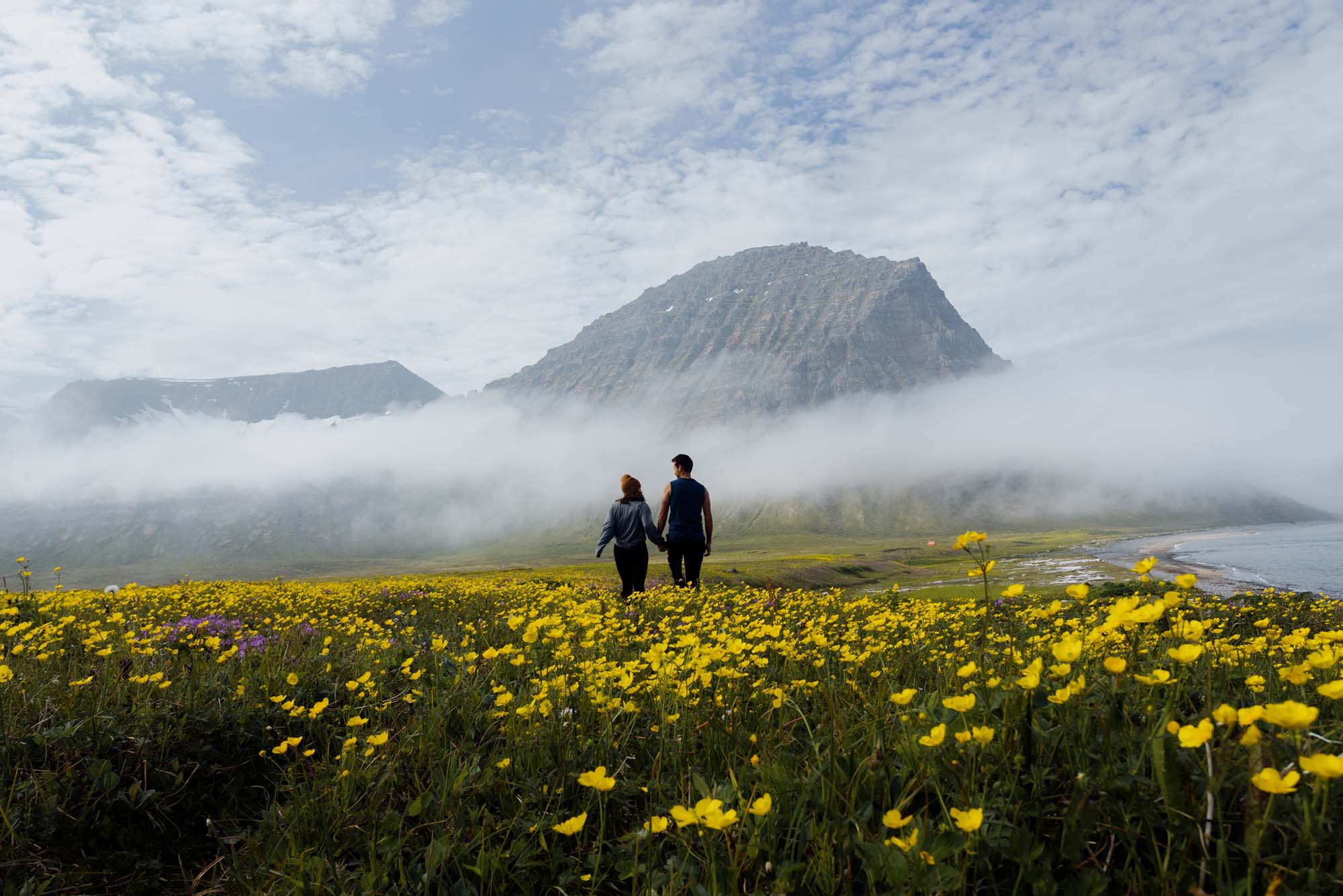 Global Programs Annual Photo Contest Captures Moments of Joy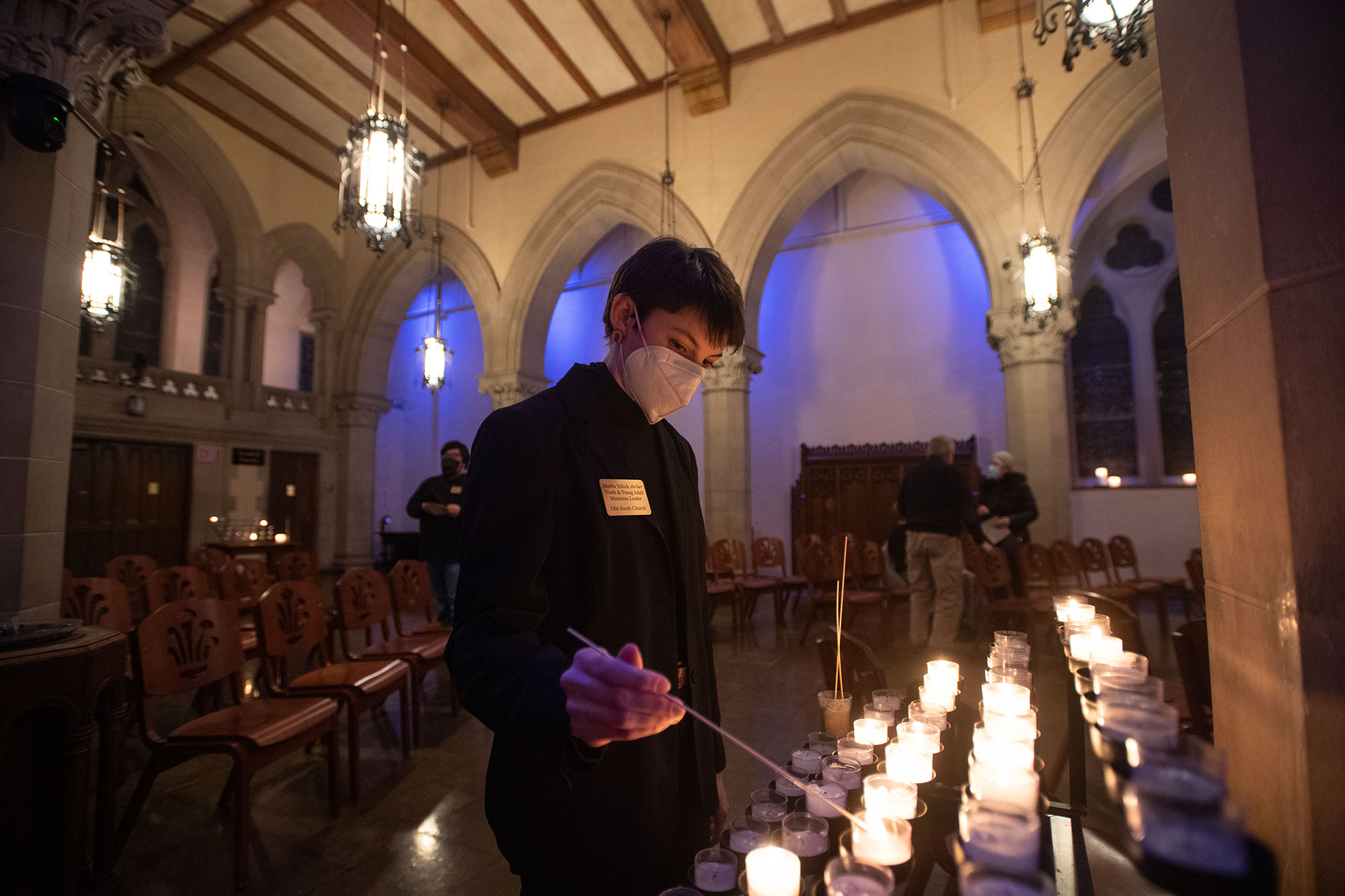 Photo Essay: What My Faith Means to Me
What Juneteenth Means to Me: a Photo Essay
Latest from bu today, 2023 academic advising awards go to christopher schmitt and matt bae, men's lacrosse looks to defend patriot league title, alternative service break trips return to normal after three years, getting to know your neighborhood: jamaica plain, lgbtqia+ bu student task force report makes recommendations for achieving a more inclusive bu, staying in boston for spring break there's plenty to do, the mystery behind bu's record-breaking indoor track, bu opts against forswearing investments in gun manufacturers, 11 books to read in celebration of women's history month, today i learned: the smell of formaldehyde makes you hungry, new music march 2023: local boston concerts, new album releases, comics artist joel christian gill launches bu's new visual narrative mfa degree, lincoln struggled with depression. what we can learn from it today, biden's legal strategy could result in supreme court scuttling his student loan cancellation program, study abroad planning: a bu student offers tips, tricks, and insights, the week ahead: february 27 to march 5, should tech companies be held accountable for letting terrorists on their sites, one year after the invasion of ukraine, the war has transformed life for this bu couple, in aftermath of stuvi 2 tragedy, bu begins review of security and alert system, bu's newbury center hosts sixth annual first-gen graduate student symposium.
Ten examples of immersive photo essays
Marissa Sapega
Photo essays are one of the most powerful forms of storytelling in the last century. From the great depression photographer W. Eugene Smith to the photojournalism of National Geographic or Life Magazine , the best photo essays entertain, educate, and move readers more than words alone ever could.
But photo essays have changed. Over the last decade, web publishing technologies — including web browsers and file formats — have improved by leaps and bounds. A good photo essays today is more than a collection of images. It's a truly interactive, immersive, and multimedia experiences.
In this guide, we introduce 10 stunning examples of visually arresting interactive photo essays to fuel your creative juices.
Now, let's set the scene with a short introduction to immersive, interactive photo essays on the web.
Publish stunning photo essays for free. Build immersive photo essays with Shorthand. No code, no credit card, and no commitment required. Start publishing.
The rise of immersive, interactive photo essays
What is an immersive, interactive photo essay? Let's take these terms one at a time.
An immersive photo essay uses rich media and story design to capture and keep the reader's attention. Immersive content is typically free of the most distracting elements of the web, such as pop-ups, skyscrapers, and other intrusions on the reading experience.
As a basic rule of thumb, immersive content respects the reader's attention.
An interactive photo essay is one that allows the reader to control how the content appears. It may include interactive elements, like maps and embedded applications.
More commonly, modern interactive photo stories use a technique known as scrollytelling . Scrollytelling stories allow the reader to trigger animations and other visual effects as they scroll. Many of the examples in this guide use scrollytelling techniques. Read more scrollytelling examples .
Until relatively recently, immersive, interactive photo essays could only be created with the help of a designer or web developer. But with the rise of digital storytelling platforms , anyone can create compelling, dynamic stories without writing a single line of code.
If you're looking to learn more about how to create a photo essay — or are looking for more photo essay ideas — check out our introduction to photo essays .
Photo essay topics
If you're looking for photo essay examples, chances are you're looking to create a photo essay for yourself. If you're just getting started, you might want some guidance on exactly what kinds of topics make for great photo essays.
More experienced photographers — feel free to skip this section. But for those who are just starting out, here's a quick list of classic photo essay subject matter, for all types of photo essays.
Local events. A great way to start out is photograph local events in your community, such as a high school fundraiser. A bonus is that you'll have a ready
Historic sites. Another classic photo essay topic is an exploration of a historic site. This could be a building, a monument, or even just a specific location that has significance.
Profile of a person. A great way to get to know someone is to profile them in a photo essay. This could be a family member, friend, or even just someone you've met.
Animals in captivity. Another popular subject matter for photo essays is animals in captivity, whether that's at a zoo or elsewhere.
A day in the life. Have you ever wondered what it's like to live someone else's life for a day? Why not find out and document it in a photo essay?
Street photography. Another great way to practice your photography skills is to head out into the streets and photograph the everyday lives of people around you. The world has plenty of photo essays of cities like New York and London. But what about street photography in your own backyard?
Still life photography. Still life photography is all about capturing inanimate objects on film. This could be anything from flowers to furniture to food. It's a great way to practice your photography skills and learn about composition
Landscapes . Landscape photography is one of the most popular genres, and for good reason. There are endless possibilities when it comes to finding interesting subjects to shoot. So get out there and start exploring!
Abandoned buildings. There's something fascinating about abandoned buildings. They offer a glimpse into the past, and can be eerily beautiful. If you have any in your area, they make for great photo essay subjects.
Lifestyles. Document someone who lives a lifestyle that's different from your own. This could be a portrayal of an everyday person, or it could be someone with an unusual job or hobby.
Social issues. Take photos depicting significant social issues in your community, remembering to respect your subjects.
Ten inspiring photo essay examples
Pink lagoon and peculiar galaxies — July's best science images
In Pink lagoon and peculiar galaxies , Nature present a mesmerising series of images from the natural world. Highlights include:
a blink-and-you'll-miss-it photo of rare albino orcas performing feats of synchronized swimming;
an arresting aerial view of the aftermath of the flash floods in Germany; and,
a scarlet gawping Venus flytrap sea anemone.
The best part? Nature publishes similarly powerful photo essays every month, showcasing some of the best and most creative photography of the natural world anywhere on the web.
Vanishing Lands
Vanishing lands — an ominously interesting photo essay from media company Stuff — opens with a bucolic visual featuring meandering sheep flanked by breathtaking mountains that blur into obscurity.
Soon, more awe-inspiring photos of breathtaking New Zealand farmland appear, accompanied by expressive prose whose tone matches the visuals' stark beauty.
In this unflinchingly honest photographic essay, Stuff takes the viewer behind the scenes with a day in the life of a high country sheep farmer facing an uncertain future. One stunning photo fades into the next as you scroll through, broken only by the occasional noteworthy quote and accompanying narrative.
Olympic photos: Emotion runs high
This emotionally wrought sports story from NBC begins with a close-up of an anxious Simone Biles, her expression exemplifying the tension and frustration echoed on so many of her fellow athletes' faces.
The subtitle puts it perfectly: "The agony—and thrill—of competition at the Olympics is written all over their faces."
Devastation, disappointment, and defeat take centre stage in this piece — but not all the subjects of the photos in this compelling photography essay depict misery. Some of the images, like that taken of the gold medal-winning Russian artistic gymnasts, manage to project the athletes' joy almost beyond the edges of the screen.
The NBC editors who created this visual story chose to display the series of photos using the entire screen width and limit the copy to simple captions, letting the visuals speak for themselves. The result is a riveting montage of photographs that manage to capture the overarching sentiment of the 2020 Olympic Games.
James Epp: A Twist of the Hand
In A Twist of the Hand , the Museum of Classical Archaeology at the University of Cambridge have produced a gorgeous photo essay. This online art show showcases artist James Epp's installation, combining photographs of the exhibit with images of museum prints and authentic artefacts.
As you scroll down, close-up shots of the installation make you feel like you're physically wandering among the ancient sculptures, able to examine hairline spider cracks and tiny divots marking the surface of every antiquated figure. In between the photos—and often flanked by museum prints—are James Epp's musings about what inspired him to create the pieces. It's an absorbing virtual gallery that will no doubt inspire real life visits to the exhibition.
The Café Racer Revolution
Though it's a cleverly built piece of interactive content marketing , Honda's " Café Racer Revolution " is also a great photo essay. Alongside information about the latest and greatest motorcycles Honda has to offer, it details the history of the bikers who sought to employ motorcycles (specifically "café racers") as a way to forge an identity for themselves and project a "statement of individuality."
Scroll down, and nostalgic black-and-white photos give way to contemporary action shots featuring fully decked-out motorcyclists on various Honda models.
Dynamic photos of bikes rotate them 360 degrees when you mouse over them, and text superimposed over flashy shots rolls smoothly down the screen as you scroll. This photo essay will stir a longing to hit the open road for anyone who has ever dreamed of owning one of Honda's zippy bikes.
Built to keep Black from white
In Built to keep Black from white , NBC News and BridgeDetroit have built a stunning narrative photo essay that encapsulates the history of Detroit's Birwood Wall — a literal dividing line intended to separate neighborhoods inhabited by people of different races.
The piece begins with a brief history of the concrete barrier. Between paragraphs of text, it weaves in quotes from residents who grew up as the wall was erected and a short video. Animated maps highlighting the affected neighborhoods unspool across the screen as you scroll down, accompanied by brief explanations of what the maps represent.
In the series of photographs that follow, contemporary images transition into decades-old shots of the wall when it was newly constructed. This is followed by images of original real estate documents, resident portraits, and additional animated maps — each considering the issue from different angles.
The piece ends with an interactive display of how Detroit's racial makeup has changed over the past several decades, from majority white to black, and how the wall has impacted the lives of its residents who lived (and died) within its borders.
The story of Black Lives Matter in sport
The BBC pairs illustrations and bold imagery in this photo essay on how athletes participated in the Black Lives Matter movement . At the start, a narrow column of text leads into an iconic image of American football players kneeling during the pre-game national anthem in a solemn protest against police brutality.
The first excerpt, a summary of Trayvon Martin's death in 2012, draws you in with piercing prose capped off with photographs that bleed into one another. Every account in the photo essay follows this layout.
WaterAid Climate Stories
Climate change affects everyone on the planet, but some people are feeling the effects more than others. WaterAid's scrollytelling photo essay illuminates the plight of individuals living in areas where extreme weather conditions — caused by climate change — have drastically impacted the water supply and environment, endangering their livelihoods and ability to survive.
This climate change story starts with an engrossing video that provides an up-close and personal look at the devastation that climate change-induced droughts have wreaked on people and the environment. As you scroll down, images of massively depleted bodies of water with superimposed text and quotes unfold before your eyes. It's an efficient way to drive home the critical message WaterAid wants to convey: climate change is real, and it's harming real people.
Each extreme weather story focuses on an individual to help viewers empathise and understand that climate change has real, drastic consequences for millions of people worldwide. The piece ends with a call to action to learn more about and financially support WaterAid's fight to assist people living in the desperate situations depicted in the essay.
28 Days in Afghanistan
In this piece, Australian photo-journalist Andrew Quilty tells the story of the four weeks he spent in Afghanistan . He captures daily events ranging from the mundane—like a casual visit to his barber—to jarring. More than one photo documents blood-spattered victims of violence.
Viewers must scroll through the piece to follow Andrew's daily musings and the striking photos that accompany them. His photo essay is a powerful example of how scrollytelling is transforming the art of long-form journalism .
La carrera lunática de Musk y Bezos (Musk and Bezos' lunatic careers)
Billionaires Elon Musk and Jeff Bezos are angling to conquer the final frontier: space.
El Periódico captures their story via a whimsically illustrated photo essay, filled with neon line drawings and bold photos of the massive spaceships, the hangars that house them, and footprints on the moon. La carrera lunática de Musk y Bezos describes the battle between the two titans' space companies (Blue Origin and SpaceX) for the honor of partially funding NASA's next mission to the moon.
As you scroll down, white and fluorescent yellow words on a black background roll smoothly over images. The team at El Periódico slips in stylistic animations to break up the text—such as rocket ships with shimmering "vapour trails"—then ups the ante with a series of moon images that transition into portraits of the 12 U.S. astronauts who visited the celestial body.
The photo essay ends with the question: "Who will be the next to leave their footprints on the dusty lunar soil?" At the time of publishing, NASA had not yet decided between the two companies. (Spoiler alert: SpaceX won .)
Marissa Sapega is a seasoned writer, editor, and digital marketer with a background in web and graphic design.
Publish three free stories with Shorthand
Create and share beautiful web content for free. No code, no credit card, and no commitment required.
Share your Views
Submit a Contest
Recommend Contest
Terms of Service
Testimonials
Photo Contests – Photography competitions
Filter Photo Contests
All Photo Contests
Get FREE Contests Updates
Photo Contest Tips
Photography Deals
What is a Photo Essay? 9 Photo Essay Examples You Can Recreate
A photo essay is a series of photographs that tell a story. Unlike a written essay, a photo essay focuses on visuals instead of words. With a photo essay, you can stretch your creative limits and explore new ways to connect with your audience. Whatever your photography skill level, you can recreate your own fun and creative photo essay.
9 Photo Essay Examples You Can Recreate
Photowalk Photo Essay
Transformation Photo Essay
Day in the Life Photo Essay
Event Photo Essay
Building Photo Essay
Historic Site or Landmark Photo Essay
Behind the Scenes Photo Essay
Family Photo Essay
Education Photo Essay
Stories are important to all of us. While some people gravitate to written stories, others are much more attuned to visual imagery. With a photo essay, you can tell a story without writing a word. Your use of composition, contrast, color, and perspective in photography will convey ideas and evoke emotions.
To explore narrative photography, you can use basic photographic equipment. You can buy a camera or even use your smartphone to get started. While lighting, lenses, and post-processing software can enhance your photos, they aren't necessary to achieve good results.
Whether you need to complete a photo essay assignment or want to pursue one for fun or professional purposes, you can use these photo essay ideas for your photography inspiration . Once you know the answer to "what is a photo essay?" and find out how fun it is to create one, you'll likely be motivated to continue your forays into photographic storytelling.
1 . Photowalk Photo Essay
One popular photo essay example is a photowalk. Simply put, a photowalk is time you set aside to walk around a city, town, or a natural site and take photos. Some cities even have photowalk tours led by professional photographers. On these tours, you can learn the basics about how to operate your camera, practice photography composition techniques, and understand how to look for unique shots that help tell your story.
Set aside at least two to three hours for your photowalk. Even if you're photographing a familiar place—like your own home town—try to look at it through new eyes. Imagine yourself as a first-time visitor or pretend you're trying to educate a tourist about the area.
Walk around slowly and look for different ways to capture the mood and energy of your location. If you're in a city, capture wide shots of streets, close-ups of interesting features on buildings, street signs, and candid shots of people. Look for small details that give the city character and life. And try some new concepts—like reflection picture ideas—by looking for opportunities to photographs reflections in mirrored buildings, puddles, fountains, or bodies of water.
2 . Transformation Photo Essay
With a transformation photography essay, you can tell the story about change over time. One of the most popular photostory examples, a transformation essay can document a mom-to-be's pregnancy or a child's growth from infancy into the toddler years. But people don't need to be the focus of a transformation essay. You can take photos of a house that is being built or an urban area undergoing revitalization.
You can also create a photo narrative to document a short-term change. Maybe you want to capture images of your growing garden or your move from one home to another. These examples of photo essays are powerful ways of telling the story of life's changes—both large and small.
3 . Day in the Life Photo Essay
Want a unique way to tell a person's story? Or, perhaps you want to introduce people to a career or activity. You may want to consider a day in the life essay.
With this photostory example, your narrative focuses on a specific subject for an entire day. For example, if you are photographing a farmer, you'll want to arrive early in the morning and shadow the farmer as he or she performs daily tasks. Capture a mix of candid shots of the farmer at work and add landscapes and still life of equipment for added context. And if you are at a farm, don't forget to get a few shots of the animals for added character, charm, or even a dose of humor. These types of photography essay examples are great practice if you are considering pursuing photojournalism. They also help you learn and improve your candid portrait skills.
4 . Event Photo Essay
Events are happening in your local area all the time, and they can make great photo essays. With a little research, you can quickly find many events that you could photograph. There may be bake sales, fundraisers, concerts, art shows, farm markets, block parties, and other non profit event ideas . You could also focus on a personal event, such as a birthday or graduation.
At most events, your primary emphasis will be on capturing candid photos of people in action. You can also capture backgrounds or objects to set the scene. For example, at a birthday party, you'll want to take photos of the cake and presents.
For a local or community event, you can share your photos with the event organizer. Or, you may be able to post them on social media and tag the event sponsor. This is a great way to gain recognition and build your reputation as a talented photographer.
5. Building Photo Essay
Many buildings can be a compelling subject for a photographic essay. Always make sure that you have permission to enter and photograph the building. Once you do, look for interesting shots and angles that convey the personality, purpose, and history of the building. You may also be able to photograph the comings and goings of people that visit or work in the building during the day.
Some photographers love to explore and photograph abandoned buildings. With these types of photos, you can provide a window into the past. Definitely make sure you gain permission before entering an abandoned building and take caution since some can have unsafe elements and structures.
6. Historic Site or Landmark Photo Essay
Taking a series of photos of a historic site or landmark can be a great experience. You can learn to capture the same site from different angles to help portray its character and tell its story. And you can also photograph how people visit and engage with the site or landmark. Take photos at different times of day and in varied lighting to capture all its nuances and moods.
You can also use your photographic essay to help your audience understand the history of your chosen location. For example, if you want to provide perspective on the Civil War, a visit to a battleground can be meaningful. You can also visit a site when reenactors are present to share insight on how life used to be in days gone by.
7 . Behind the Scenes Photo Essay
Another fun essay idea is taking photos "behind the scenes" at an event. Maybe you can chronicle all the work that goes into a holiday festival from the early morning set-up to the late-night teardown. Think of the lead event planner as the main character of your story and build the story about him or her.
Or, you can go backstage at a drama production. Capture photos of actors and actresses as they transform their looks with costuming and makeup. Show the lead nervously pacing in the wings before taking center stage. Focus the work of stagehands, lighting designers, and makeup artists who never see the spotlight but bring a vital role in bringing the play to life.
8. Family Photo Essay
If you enjoy photographing people, why not explore photo story ideas about families and relationships? You can focus on interactions between two family members—such as a father and a daughter—or convey a message about a family as a whole.
Sometimes these type of photo essays can be all about the fun and joy of living in a close-knit family. But sometimes they can be powerful portraits of challenging social topics. Images of a family from another country can be a meaningful photo essay on immigration. You could also create a photo essay on depression by capturing families who are coping with one member's illness.
For these projects on difficult topics, you may want to compose a photo essay with captions. These captions can feature quotes from family members or document your own observations. Although approaching hard topics isn't easy, these types of photos can have lasting impact and value.
9. Education Photo Essay
Opportunities for education photo essays are everywhere—from small preschools to community colleges and universities. You can seek permission to take photos at public or private schools or even focus on alternative educational paths, like homeschooling.
Your education photo essay can take many forms. For example, you can design a photo essay of an experienced teacher at a high school. Take photos of him or her in action in the classroom, show quiet moments grading papers, and capture a shared laugh between colleagues in the teacher's lounge.
Alternatively, you can focus on a specific subject—such as science and technology. Or aim to portray a specific grade level, document activities club or sport, or portray the social environment. A photo essay on food choices in the cafeteria can be thought-provoking or even funny. There are many potential directions to pursue and many great essay examples.
While education is an excellent topic for a photo essay for students, education can be a great source of inspiration for any photographer.
Why Should You Create a Photo Essay?
Ultimately, photographers are storytellers. Think of what a photographer does during a typical photo shoot. He or she will take a series of photos that helps convey the essence of the subject—whether that is a person, location, or inanimate object. For example, a family portrait session tells the story of a family—who they are, their personalities, and the closeness of their relationship.
Learning how to make a photo essay can help you become a better storyteller—and a better photographer. You'll cultivate key photography skills that you can carry with you no matter where your photography journey leads.
If you simply want to document life's moments on social media, you may find that a single picture doesn't always tell the full story. Reviewing photo essay examples and experimenting with your own essay ideas can help you choose meaningful collections of photos to share with friends and family online.
Learning how to create photo essays can also help you work towards professional photography ambitions. You'll often find that bloggers tell photographic stories. For example, think of cooking blogs that show you each step in making a recipe. Photo essays are also a mainstay of journalism. You'll often find photo essays examples in many media outlets—everywhere from national magazines to local community newspapers. And the best travel photographers on Instagram tell great stories with their photos, too.
With a photo essay, you can explore many moods and emotions. Some of the best photo essays tell serious stories, but some are humorous, and others aim to evoke action.
You can raise awareness with a photo essay on racism or a photo essay on poverty. A photo essay on bullying can help change the social climate for students at a school. Or, you can document a fun day at the beach or an amusement park. You have control of the themes, photographic elements, and the story you want to tell.
5 Steps to Create a Photo Essay
Every photo essay will be different, but you can use a standard process. Following these five steps will guide you through every phase of your photo essay project—from brainstorming creative essay topics to creating a photo essay to share with others.
Step 1: Choose Your Photo Essay Topics
Just about any topic you can imagine can form the foundation for a photo essay. You may choose to focus on a specific event, such as a wedding, performance, or festival. Or you may want to cover a topic over a set span of time, such as documenting a child's first year. You could also focus on a city or natural area across the seasons to tell a story of changing activities or landscapes.
Since the best photo essays convey meaning and emotion, choose a topic of interest. Your passion for the subject matter will shine through each photograph and touch your viewer's hearts and minds.
Step 2: Conduct Upfront Research
Much of the work in a good-quality photo essay begins before you take your first photo. It's always a good idea to do some research on your planned topic.
Imagine you're going to take photos of a downtown area throughout the year. You should spend some time learning the history of the area. Talk with local residents and business owners and find out about planned events. With these insights, you'll be able to plan ahead and be prepared to take photos that reflect the area's unique personality and lifestyles.
For any topic you choose, gather information first. This may involve internet searches, library research, interviews, or spending time observing your subject.
Step 3: Storyboard Your Ideas
After you have done some research and have a good sense of the story you want to tell, you can create a storyboard. With a storyboard, you can write or sketch out the ideal pictures you want to capture to convey your message.
You can turn your storyboard into a "shot list" that you can bring with you on site. A shot list can be especially helpful when you are at a one-time event and want to capture specific shots for your photo essay. If you've never created a photo essay before, start with ten shot ideas. Think of each shot as a sentence in your story. And aim to make each shot evoke specific ideas or emotions.
Step 4: Capture Images
Your storyboard and shot list will be important guides to help you make the most of each shoot. Be sure to set aside enough time to capture all the shots you need—especially if you are photographing a one-time event. And allow yourself to explore your ideas using different photography composition, perspective, and color contrast techniques.
You may need to take a hundred images or more to get ten perfect ones for your photographic essay. Or, you may find that you want to add more photos to your story and expand your picture essay concept.
Also, remember to look for special unplanned, moments that help tell your story. Sometimes, spontaneous photos that aren't on your shot list can be full of meaning. A mix of planning and flexibility almost always yields the best results.
Step 5: Edit and Organize Photos to Tell Your Story
After capturing your images, you can work on compiling your photo story. To create your photo essay, you will need to make decisions about which images portray your themes and messages. At times, this can mean setting aside beautiful images that aren't a perfect fit. You can use your shot list and storyboard as a guide but be open to including photos that weren't in your original plans.
You may want to use photo editing software—such as Adobe Lightroom or Photoshop— to enhance and change photographs. With these tools, you can adjust lighting and white balance, perform color corrections, crop, or perform other edits. If you have a signature photo editing style, you may want to use Photoshop Actions or Lightroom Presets to give all your photos a consistent look and feel.
You order a photo book from one of the best photo printing websites to publish your photo story. You can add them to an album on a photo sharing site, such as Flickr or Google Photos. Also, you could focus on building a website dedicated to documenting your concepts through visual photo essays. If so, you may want to use SEO for photographers to improve your website's ranking in search engine results. You could even publish your photo essay on social media. Another thing to consider is whether you want to include text captures or simply tell your story through photographs.
Choose the medium that feels like the best space to share your photo essay ideas and vision with your audiences. You should think of your photo essay as your own personal form of art and expression when deciding where and how to publish it.
Photo Essays Can Help You Become a Better Photographer
Whatever your photography ambitions may be, learning to take a photo essay can help you grow. Even simple essay topics can help you gain skills and stretch your photographic limits. With a photo essay, you start to think about how a series of photographs work together to tell a complete story. You'll consider how different shots work together, explore options for perspective and composition, and change the way you look at the world.
Before you start taking photos, you should review photo essay examples. You can find interesting pictures to analyze and photo story examples online, in books, or in classic publications, like Life Magazine . Don't forget to look at news websites for photojournalism examples to broaden your perspective. This review process will help you in brainstorming simple essay topics for your first photo story and give you ideas for the future as well.
Ideas and inspiration for photo essay topics are everywhere. You can visit a park or go out into your own backyard to pursue a photo essay on nature. Or, you can focus on the day in the life of someone you admire with a photo essay of a teacher, fireman, or community leader. Buildings, events, families, and landmarks are all great subjects for concept essay topics. If you are feeling stuck coming up with ideas for essays, just set aside a few hours to walk around your city or town and take photos. This type of photowalk can be a great source of material.
You'll soon find that advanced planning is critical to your success. Brainstorming topics, conducting research, creating a storyboard, and outlining a shot list can help ensure you capture the photos you need to tell your story. After you've finished shooting, you'll need to decide where to house your photo essay. You may need to come up with photo album title ideas, write captions, and choose the best medium and layout.
Without question, creating a photo essay can be a valuable experience for any photographer. That's true whether you're an amateur completing a high school assignment or a pro looking to hone new skills. You can start small with an essay on a subject you know well and then move into conquering difficult ideas. Maybe you'll want to create a photo essay on mental illness or a photo essay on climate change. Or maybe there's another cause that is close to your heart.
Whatever your passion, you can bring it to life with a photo essay.
JOIN OVER 88,175 and receive weekly updates!
Comments are closed.

Photo Contest Insider
The world's largest collection of photo contests.
Photo contests are manually reviewed by our team to ensure only the very best make it on to our website. It's our policy to only list photo contests that are fair.

Subscription
Register now to get updates on promotions and offers
DISCLAIMER:
Photo Contest Filter
Get FREE Contest Updates
Photo Contest Insider © 2009 - 2023
Advertise Submit Badges Help Terms Privacy Unsubscribe Do Not Sell My Information
Meet the three winners of the UN Day 2022 essay/photo essay contest!
On today's UN Day, we are proud to announce the three winners of our essay/photo essay contest.
Congratulations to:
Rani Salsabila Effendi from Aceh Besar
Irene Bougenville Martin from Pontianak
And Hofi Hannan Ar Rosyid from Jember
We are thankful for the many submissions we have received, and we will be in touch with many of you over the next few weeks to extract a soundbite or a paragraph from your essays for our social media channels. The three winning submissions were selected based on the originality of the ideas, the power of the explanation and the personal experience shared. These submissions also managed to distinctively explain how the United Nations has impacted the authors in a compelling manner.
Meet the winners:
Rani, in her submission entitled, "A Belated Thank You to the UN" shared her personal story of how the devastating Indian Ocean Tsunami has turned her life upside down when she was only four years old. She witnessed firsthand how resilient the Acehnese people were and how the world, including the United Nations has extended its arm, jointly responding to the disasters as one.
Irene, a Bachelor of Pharmacy graduate and a former victim of gender-based violence has shared her story on how, through the support of UN-led programmes, she overcame her trauma and has joined an NGO offering support to people who have gone through similar experience. She is determined to also bring other social issues in her community such as stigmatization towards racial minorities into the public spotlight and help spread the awareness.
Hofi, in his photo essay talks about the significance of "gotong royong" (community work) in curbing the climate crisis. The photos collated depict the harsh truth of our daily lives and how comfortable we are in polluting the environment and co-exist with plastic pollution. Inspired by the work of the UN on fighting pollution and climate change, Hofi worked to amplify the urgency of the problem and convince others to collectively stand up and fight the race against climate crisis. He documented the work of the World Clean Up Day International 2022 – cleaning up the Bedadung River. With this photo essay, Hofi is calling his peers and the general public to do their part in fighting pollution and the climate crisis.
Congratulations to the winners. Our team will be in touch shortly and arrange for your visit to UN Headquarters in Jakarta!
Communications
Un entities involved in this initiative, goals we are supporting through this initiative.