How to write an essay
More often than not essay writing is an essential part of university life. To impress your tutors and achieve top marks you need to know how to successfully plan and execute your work
You might think you know how to write a good essay from your time at school but writing an essay at undergraduate level is a whole other ball game. Taking the time to properly plan your work can lead to higher grades, with lecturers welcoming a logical structure that clearly demonstrates your understanding of the subject.
However, knowing where to begin and how to go about completing the assignment is not always easy - especially if you've not had to write at undergraduate level before and are still adjusting to  university life .
Dr Amanda Tinker, academic skills tutor at the University of Huddersfield, agrees that although daunting and challenging for many students, 'essay writing is a complex and valuable skill of many facets'.
'It provides an opportunity for you to express your own opinion and to debate, by presenting and supporting an argument to engage and persuade the reader. Beyond university - in our information, communication and social media age - developing effective graduate writing skills is ever more important for many areas of employment.'
Mastering how to write an essay early on will also help you prepare for  writing your dissertation  in your final year.
Understand the question
The first step in tackling an essay is to make sure that you understand what is being asked of you.
'Take time to read (and re-read) the question closely and carefully, breaking this down into its component parts,' advises Dr Tinker. 'Read the question aloud and pay particular attention to any instruction words, for example, 'explain', 'discuss', 'outline' - what do these actually mean in practice? What are you being asked to do? Essays can take several different forms and a 'compare and contrast' essay would take a different approach to an analytical ('analyse') or argumentative ('critically examine') essay.'
You may need to approach the lecturer who devised the essay to understand what is being asked and the complexity of the response expected from you, so don't be afraid to ask for clarification if you need it.
A good tip to figure the question out is to break up the title. For example, the question, 'Compare and contrast the representation of masculinity in two James Bond films from the 1960s and 2000s', can be classified like this:
instruction (i.e. compare and contrast)
topic (i.e. the representation of masculinity)
focus (i.e. in two James Bond films)
further information (i.e. from the 1960s and 2000s).
Place the question and these individual components in the context of your subject's key issues, then create a list, diagram or mind map collating your ideas and thoughts on the essay topic. Ask yourself:
What is significant about the question and its topic?
What existing knowledge do you have that will help you answer this question?
What do you need to find out?
How are you going to successfully address this question?
What logical sequence will your ideas appear in?
Gather resources
With so much information available, it's vital that you only look for directly relevant material when researching. Decide where the gaps in your knowledge and understanding are, and identify the areas where you need more supporting evidence. Make a list of keywords that describe the topic and use them to search with.
Useful resources include:
course material
lecture notes
library books
journal articles
Once you've done your research, create another mind map. Carefully note the key theories, information and quotes that will help you to answer all components of the question. Consider grouping these into three or four main themes, including only the most significant points. You must be ruthless and exclude ideas that don't fit in seamlessly with your essay's focus.
Create an essay plan
When you have a good idea of what points you're going to address in your discussion, and a rough idea of the order in which these will appear, you're ready to start planning. There are two main ways to do this:
Linear plans  are useful for essays requiring a rigid structure. They provide a chronological breakdown of the key points you're going to address. This means that, when writing your essay, you can progress through these points.
Tabular plans  are best for comparative assignments. You'll be able to better visualise how the points you're contrasting differ across several aspects. This should hopefully give you a clearer picture of how your discussion will progress.
Scrutinise the notes that you've already made - including those from your evaluation of relevant materials from your literature search - and ensure that they're placed into a logical order.
Dr Tinker identifies five key stages in planning and essay writing:
Clarifying the task - 'Examine, understand and break down the essay question, mind map or make lists of what you know already to identify what you need to find out to develop a working plan.'
Finding, evaluating and recording information - 'Write questions to guide your research, generate keywords (broader, narrower terms and synonyms) for searching, identify types of information sources that might be useful, engage in active reading and note-making using a strategy that works for you and keep organised with good records.'
Reflect and evaluate - 'Revisit your initial working plan and consider what you have discovered and identify any gaps. Start to think about the key message of your essay and your overarching argument.'
Planning and drafting - 'Develop your working plan by starting to order your ideas. There are different ways to structure an essay, so explore different orders to see which is most logical for you and best responds to your essay question. Will this order provide a clear line of argument for both you and your reader? One helpful strategy is to talk yourself through each part of the essay by asking: 'What's the story I am trying to tell here?' Note down possible paragraphs for each main point/topic, which you could then develop further with your notes and own ideas.  Use this more detailed plan to help you begin writing.
Final draft and reviewing.
'There are different approaches to planning an essay and it can be helpful for students to reflect upon and gain an awareness of how they approach different writing tasks,' explains Dr Tinker.
'Some students prefer a step-by-step, structured approach, similar to that described above. Others might find it helpful to begin in a more fluid way, without a clear plan, beginning with some free-writing, jotting down keywords, ideas and sentences, which they later develop with evidence and examples into a more structured working plan and written essay. Essay planning can take several forms, including visual mind maps, bullet-point lists and tables.'
Tackle the introduction and conclusion
You might find it useful to outline your introduction during the early stages of writing your essay. You can then use this a frame of reference for your writing. If you adopt this approach, Dr Tinker stresses 'you should recongise that your ideas may develop or even change when you start to write. It's therefore important to revisit and review your introduction in later stages to ensure that it reflects the content and direction of your final essay.'
Logically, while the conclusion may not be the first thing that you write, it's still helpful to consider the end point of your essay so that you develop a clear and consistent argument.
'Leave enough time to write your conclusion. It needs to do justice to your essay and have impact, as it is the final element and will leave the greatest impression on your reader,' says Dr Tinker.
If you're unsure what shape your argument may take, it's best to leave both your introduction and conclusion until last.
Evaluate what you've written
Once you've written your first draft, leave it for a couple of days if possible. When you return, edit its ideas and how you've organised your thoughts if you need to.
Dr Tinker recommends:
Checking that your introduction provides a clear purpose and remit for your essay.
Ensuring that the conclusion provides a clear response or answer to the essay question, summarising your key findings/argument. 
Signposting. Check the structure of your paragraphs for clear topic and link sentences. Are the paragraphs in a logical order with a clear and consistent line of argument that a reader can follow?
Reading your essay slowly and carefully. Try reading aloud so that you can 'hear' your writing. Writing has a rhythm - does your writing flow and is it correctly punctuated?
Checking for unnecessary repetition.
Reviewing the examples and evidence that you've used. Is there enough to support your argument?
Remembering to spell check and be aware of any common mistakes.
Checking your in-text citation and corresponding references for accuracy.
Once you've completed your second edit, proofread it for any spelling or grammar errors and ensure that you've not inadvertently plagiarised.
'A good essay is a pleasure to read, with a real sense of the student's own academic voice and an awareness of the reader in the writing, which is effectively supported by relevant, published evidence that is critically analysed, integrated and acknowledged through effective referencing,' adds Dr Tinker.
Find out more
Struggling with your workload? Here are  5 ways to manage student stress .
If you need to make a change read up on  changing or leaving your course .
Discover how to revise for exams .
How would you rate this page?
On a scale where 1 is dislike and 5 is like
Dislike 1 unhappy-very
Like 5 happy-very
Thank you for rating the page
Academic writing
Advice and resources to support you with effective academic writing.
Approaches to writing
Assignment writing is a process which involves planning, drafting and reviewing what you are going to say. You will find you need to review your initial plan and edit it as you go along. You should expect to have to redraft some sections of writing.
You should also check any guidance given to you as part of your course course, as conventions vary between subject areas.
One of the hardest things can be to get started writing an assignment. Sometimes this is a question of taking the time to reflect on what you are being asked to do in the assignment brief. 
Getting started with an assignment
The handout Getting started suggests a way in which you can break down your task, think about aspects of it and commit some of your initial ideas to paper. It also suggests ways you can start to adapt this method to suit you. Alternatively you may prefer to use a prompt list to start to analyse your title.
Getting started (pdf)       Getting started (Word rtf)
Essay title prompts (pdf)       Essay title prompts (Word rtf)
You will want to respond to the assignments you have been set as well as you can. This means paying attention to key words in the question or assignment brief. These are sometimes known as command or directive words because they tell you what to do. The document Directive words provides definitions of some of the commonly used words.
Directive words (pdf)       Directive words (Word rtf)   Directive words – British Sign Language translation (Media Hopper video)
Getting your ideas in order
In any written assignment you will be expected to organise and structure information which is synthesised from a range of sources. You will need to make notes from your readings to help you consolidate and connect your research to your question. The Reading at university page has strategies to help you develop effective skills for making notes from reading.
Reading at university
Making notes means you end up with lots of bits of writing which you need to link together for your reader. Sometimes it can be hard to know what to select and how to identify relationships between ideas and concepts.
There are suggestions in the Getting your ideas in order handout of practical ways in which you might reorganise your material in response to the task set. Playing around with the order can help you arrive at a line reasoning that will convince the reader. Aim to experiment and find out what works for you.
Getting your ideas in order (pdf)           Getting your ideas in order (Word rtf)
Essay parts and paragraphs
If you have been asked to write an academic essay, and you haven't done this before, you may be unsure of what is expected. The Parts of an essay handout gives a brief introductory overview of the component parts of an essay.
Parts of an essay (pdf)           Parts of an essay (Word rtf)
Paragraphs are the building blocks of an essay and are a way of organising your thinking and making your meaning clear in your writing for your reader . The handout Developing writing in paragraphs encourages you to think about the way you shape your paragraphs and when to move on to a new one.
Developing writing in paragraphs (pdf)          Developing writing in paragraphs (Word rtf) 
Build an argument as you go
Identifying and writing about good evidence is not enough. You need to build an argument. An argument is:
Using reasons to support a point of view, so that known or unknown audiences may be persuaded to agree. Cottrell, S. (2011) Critical thinking skills: developing effective analysis and argument. 2nd edn. Basingstoke: Palgrave Macmillan, p52.
You can develop your argument as you read and write by creating a working hypothesis or basic answer in response to the assignment brief.  
Building an argument as you go (pdf)            Building an argument as you go (Word rtf)
As you move through your studies lecturers will expect more from your written work. They will expect the accurate attribution of ideas from others (including academic and other authors, and the ideas of those who teach you). There is general advice and resources for referencing and citations (and avoiding plagiarism) on the Referencing and citations page.
Referencing and citations
Your marker(s) will expect written pieces to be logically structured with fluid expression of thought, and with deeper and more critical engagement with the subjects and ideas you are reading and learning about. 
Aim to become familiar with the level of writing required by reading good quality examples.  At an advanced level you are aiming to write to the style you read in academic journals. 
As your written tasks become longer and more complex it can be helpful to reflect on your own writing process.
Reflect on your writing process (pdf)            Reflect on your writing process (Word rtf)
Different types of academic writing
Academic writing is much more than just an essay. You might be asked to write a lab or business report, a policy brief, a blog post, a journal article or a reflection piece for example. These tend to be subject and task specific so you need to check the assignment brief and any criteria for details of their purpose, formatting, structure, things to include etc.
Reflective academic writing
In some subjects, assessment may be based on critical reflection. This can be a challenge as it is a very particular style and form of writing which you may not have come across before. As well as check your assignment brief for specifics, the University's Employability Consultancy have created a Reflection Toolkit of resources, models and questions to help you develop your reflective writing skills.
The Reflection Toolkit
School-level support
Take advantage of any writing development sessions organised through or learning materials offered by your School, Deanery or course. These will help you develop the specific writing skills you need for your discipline or subject area.
Writing your own title
If you have to write your own title in response to the brief you have been set, you need to think about how to frame this.  The Formulating your own title handout suggests some aspects to consider.
Formulating your own title (pdf)          Formulating your own title (Word rtf)
Differences from non-academic writing
If you are studying during a career break, or part-time while still working, you need to be aware that academic writing is a very different skill from other forms of writing you may have done in the workplace. Academic writing tends to be more formal, requiring succinct prose rather than bullet points, and it is more about the argument than simply conveying, or describing, information. Writing for assessment requires you to think carefully about your assignment and criteria, your argument and content, use of your subject specific conventions (e.g. language, style etc.), and your audience.
Your written work needs to be grounded in and backed up by appropriate and informed opinion and sources, rather than solely by personal opinion and experience. Academic written work will also make fewer absolute statements. Language is often more tentative or cautious.
Academic Phrasebank is a collection of general phrases taken from academic sources created by John Morley at the University of Manchester. The phrases are sorted into writing and assignment themes such as being critical and writing conclusions.

UCL Accommodation
Prospective residents
Students with Additional Requirements
Current residents
Alternative Accommodation
Fees, guidance and payment

Top tips for writing your first university essay
28 October 2021
Moving from A-level (or equivalent) standard of writing to the expectations required for a degree might seem a little daunting, so to help, UCL student Saumark Bhaumick lists her top tips for writing effective essays.
1. Set the standard 
Understanding your academic discipline in relation to your year is the first step to writing a great university essay.  A final-year history essay is going to be very different from a biology essay set for a first-year student.
You should identify what the basic requirements of essays in your field are. This includes common essay structure, tone, and referencing.
If you're not sure on the answers to these, ask your module tutor for essay examples from previous first year students with similar work from relevant sources. 
2. Understand structuring
Now that you've identified what the expectation is for your first essay, you can begin to think about your structure.  To do this, consider what the word limit is. Using essay examples from step 1, allocate a rough percentage for each section in your structure.
For example, you may decide to give 20% of the word count for each main body paragraph, and 10% each to the introduction and conclusion.
3. Plan your essay
At this stage, creating a plan and allocating the appropriate time for each of the stages will really help you. Here's an example:
Research two points for my main argument (3 days)
Research two points for my counter argument (3 days)
Write the main argument (1 day)
Write up the counter argument (1 day)
Write my introduction and conclusion (1 day)
Referencing and asking someone for feedback (1 day)
4. Research your sources
The research stage will most probably be the most interesting, and the most time-consuming.  Here you should focus on learning and building up your notes, so that when it comes to writing, you can simply reword what you've already found.
To do this, know which websites to use for sources (journals, papers etc.) such as UCL Explore , Google Scholar , JSTOR . You can also do this by asking your Module Tutor for recommended sites and databases.
Make sure to read through sources efficiently and track what parts are relevant to your essay question by making your own notes from these sources.
5. Write from your sources and reference correctly
Now you can use the most relevant parts of your research notes to write the essay.
Make sure you don't copy your notes (created from the sources) word for word! You don't want to plagiarise for a number of reasons, and UCL's Turnitin System will find out. 
Add in the sources for each relevant idea to get references. You can reference properly at the end or as you go – both are fine – but make sure you have a rough way to keep track of which sources you've used!
Having identified which style of referencing you should use (e.g. Harvard, Vancouver etc.), you can use websites such as Mybib , Citethisforme or Mendeley to easily create a proper, error-free Bibliography and In-text citations.
Find out more about academic integrity at UCL
6. Get feedback 
If you have enough time for this stage, you've done well! It would be wise to send your essay draft to your Module Tutor or Personal Tutor and ask for some feedback. 
Nice job! You have written your first university essay. The good news? Every time you write one it gets easier, and you get better!
Photo by Corinne Kutz on Unsplash  
Related News
Visits and Open Days
Jobs and vacancies
Undergraduate
Postgraduate
Accommodation
Student Guide
Student email
Library and IT services
Staff Guide
Staff email
Timetabling
Essay writing
The essay writing process.
The following guide has been created for you by the Student Learning Advisory Service , for more detailed guidance and to speak to one of our advisers, please book an appointment or join one of our online workshops .
The purpose of an essay is to demonstrate you can:
extend your knowledge through reading/research
use this knowledge to present clear, plausible arguments
apply academic conventions (e.g. referencing)
Developing the skills needed to write good essays
Planning and writing an essay requires a wide range of skill, such as:
effective reading
critical thinking
note-taking
editing and proof-reading
following academic conventions e.g. referencing
This guide aims to describe the overall process of essay writing, however, to develop the individual skills you need, seek advice from the Student Learning Advisory Service (SLAS) . SLAS provide workshops, study guides and one-to-one advice for students wishing to develop the skills they need to write good essays.
The process involves
1. preparing a schedule.
Use a yearly or monthly time planner to draw up a schedule that allows time to consider the question, research, write and proof-read your answer. Inevitably, the research and writing stages will account for up to 80% of the schedule, but you must allocate enough time to proof-read your work, including checking your references, before submission.
2. Considering the question
You cannot proceed with answering an essay question without fully understanding it, see video guide or study guide on considering the question. Ask yourself: What are you being asked to do? What is the main subject of the question? What aspect of it are you being asked investigate? Does it set any limitations on the scope of your answer? Does the question ask you to demonstrate key module knowledge on specific theories or processes. Above all, is there an 'instruction verb' in the question asking you to 'discuss', or 'justify', or 'compare'. Do as the instruction verb tells you; a list of their meanings is at the end of this guide.
3. Conducting your research
Where to begin: Based on a clear understanding of the question, create a list of all the ideas, theories, processes and examples that you already know something about (from past reading, lectures and seminars) that might relate to the question. Identify those which you know to be particularly relevant and begin your research there.
Reading: Identify key reading material by surveying book titles, contents pages, introductions, index pages and journal summaries to determine whether the material may contain the information you need. Skim read (fast reading intended purely to get the general gist of the content) marking any chapters, or pages that seem to contain information relevant to the question. Narrow the search further by 'scanning' those sections (reading more slowly but not in detail) to pinpoint key paragraphs or sentences that relate directly to the question. You can now read those sections in detail.
Note-taking: As you read, include in your notes: The bibliographic details of the source, the main points the author is making, key examples or evidence given, and any critical observations you may have (e.g. the author has not examined alternative viewpoints) which later you can use to demonstrate that you have critically evaluated your evidence. Finally, be sure to clearly distinguish between the author's words and your own (using quotation marks as a minimum) so that you can never confuse the two.
4. Writing (drafting and editing)
Essay plan:
Before you start writing, group your research material according to themes or different aspects of the question. Identify the key arguments or points that emerge relating to each one, and the evidence that supports them. Now you can jot down a plan which shows: the logical order in which you will address different aspects of the question, the key point that you wish to make about each one, and the evidence you will include to support it.
Essay structure: Essays comprise three main elements:
Introduction (5%-10% of wordcount) should briefly set the overall scene or context for the question, before introducing the specific topic that will be discussed, or argument that will be made, and the key theories or processes that will be used in that process. Finally, it will set out (signpost) how you will go about answering the question and the order your discussion will take.
Main body (80-90% of wordcount) comprises a series of paragraphs - blocks of text several sentences long, each of which: make a key point about a different aspect of the question; elaborates upon and supports that key point with the introduction and analysis of evidence from your research. As each point is made in each paragraph an overall argument in response to the question is built. This can be declared in your introduction, and reiterated in your conclusion, and it is why sometimes it is advisable to write your introduction once you can see how your argument is developing.
Conclusion (5%-10% of wordcount) summarises the key points you have made in your essay and reminds the reader of the key evidence you used to support it. It is advisable to draw all these points together to make a final, overall conclusion that directly answers the question.
Writing process
Where to begin: You may begin by writing the main body paragraphs. As you write ask yourself: Is it clear what aspect of the question each paragraph is addressing? Is my reasoning and evidence convincing? Am I answering the question? Have I included the necessary ingredients (evidence, examples and analysis) to support the points I am making? Are the paragraphs (points) in the right order to make clear the progression of discussion and are the sentences within the paragraphs in the right order?
Drafting (Editing and revising): Your first drafts may focus on improving the content and structure of your essay. Once all the important ingredients are there, including your introduction and conclusion, you can focus on improving the flow and clarity of your writing by, for example, improving the linking phrases between paragraphs, ensuring that the first sentence of each paragraph clearly indicates its content, and that the meaning of every sentence is clear.
5. Proof-reading
Mistakes cost marks. Check your essay for spelling but be aware that spellcheck is not fool-proof, and may not spot errors involving 'to', 'two' and 'too', for example. Generally you should be using the 3rd person ('this essay will show', rather than, 'I will show') so check this and all other aspects of your grammar and punctuation. Above all, check that your referencing is complete and accurate, and that you have met all presentation requirements relating to, for example, fonts, type-size, line-spacing, and wordcount.
Final proofreading tips:
Read your work aloud – you may detect mistakes (e.g. repetition or overlong sentences) that your eyes do not spot.
You may find proof-reading a hard copy easier than online, but make sure you accurately transfer corrections onto digital copies.
Use a ruler to go through your essay line by line to help you focus.
Proof-read more than once, each time focussing on a different element (e.g. referencing, or grammar and punctuation).
Bitesize videos on all aspects of essay writing
See the following essay writing videos on the step by step process of completing an academic essay, each video can be viewed on its own if you are interested in one topic point only.
The Essay Writing Experts UK Essay Experts
Disclaimer: This work was produced by one of our academic writers to help university students with their studies.
View full disclaimer
Any opinions, findings, conclusions or recommendations expressed in this material are those of the authors and do not necessarily reflect the views of UKEssays.com.
How to Write an Essay » Ultimate Essay Writing Guide
Info: 3676 words (15 pages) Study Guide Published: 14th Jan 2022
Reference this
Part of: Essay Writing
Table of Contents
1.1. getting started with your essay.
1.2. Researching your essay topic
1.3. Essay planning
2. Essay Writing Tips
3.1. Writing an essay introduction
3.2. Writing the main body of your essay
3.3. Writing an essay conclusion
3.4. Essay referencing
3.5. Essay writing styles
4. Final essay checks
1. the basics of writing an essay.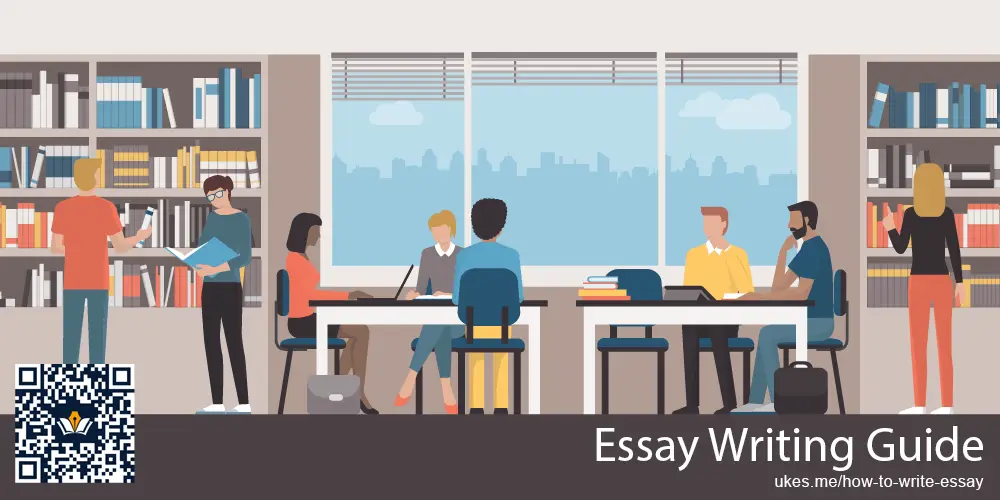 Do not worry as these skills are possible to learn. This guide sets out to define all of the major skills which need to be acquired in order to write your essay whether you've been given a topic or you select your own essay topic.
The type of essay you are required to write will be determined, to some extent, by the particular field in which you are engaged but the general points of construction will hold good for all subjects.
The first and most important aspect of writing a good essay is to examine the essay question. The importance of close analysis of the question as the basis of a good essay cannot be overestimated. Despite this, it is surprising how many students simply write down everything they know about a subject without reference to what the question is actually asking them to do.
Whether you have chosen the topic yourself, or it has been assigned to you, look carefully at the  key words within the question, as these will give you the pointers you need to start thinking carefully about how to proceed with your essay. Examples of key words might be: 'examine', 'develop', 'analyse', 'influence', or 'compare'. All these words offer a way into discussing the topic in hand and will give you a good idea of the way your essay should be written.
For example, if you were asked to compare how two poets address a similar theme you would know that the reader was expecting to see close analysis of the words used and how theme and structure differ in each. However, if you were asked to examine the causes of the outbreak of a war, you would adopt quite a different approach, balancing fact and opinion. Add to this an awareness of whether the question is asking you to give your own opinion in isolation, or whether it requires you to assess the previous and current thinking on a subject (this is more common), and follow this with a conclusion which summarises your own thoughts.
As you develop your argument ensure that you continue to check back to see that you are answering the question and not just reeling off everything you know about a given topic.
Whether you have selected the topic or not, you will need to research critical opinion before you begin to write. If you have been assigned a topic then things such as choice of texts, word count, and style will have been outlined for you but, if you are 'starting from scratch', you will need to make these decisions for yourself, only altering them later if your research suggests that areas other than what you originally planned need to be covered.
Other pages related to this section:
Example Essay Questions by Subject Area
Guide to Interpreting Essay Questions
1.2. Researching your essay topic:
Having thought carefully about what you are being asked to do the next stage is to ensure you are not committing plagiarism. Plagiarism is a major concern and it is easy to do without meaning to. It's simple to forget where your ideas start and someone else's end.
Try to strike a balance between finding evidence that supports your own ideas and those which appear to contradict you. A good essay will present a balanced case and display an awareness of all points of view (within reason), not just those that agree with your own!
It is a good idea to compile an alphabetical list of all books used during your research stage as this will save time with your referencing and bibliography later, as you will have kept track of where you sourced your evidence. Remember to present this in the academic style required by your school as, for example, there is considerable difference between Harvard referencing and MLA. We recommend that you seek advice on the referencing style required before starting your research. A good tip to remember when referencing is that, although most referencing styles will allow for the use of abbreviations, the first time a book is quoted the full details should be given.
Sourcing and Collecting Material
1.3. Essay planning:
It is very tempting to ignore this stage – don't, thorough planning saves time! Although it might seem to be wasting time at this point, a plan is essential to complete a structured, reasoned and researched response on any given topic, even in an examination essay.
Begin by looking over the question and those 'key words' that you have selected. Next, consider the evidence you have collected and how the two complement each other. This should be easy if you have followed the instructions above carefully as you will have kept the question in mind at all times during your research stage.
Nevertheless, it can be difficult to know which pieces of evidence best support your topic points as you can't include everything. Make decisions now as to what you will use and what you will discard. This is harder than you might think because often interesting evidence you have unearthed has to be omitted simply because it isn't relevant.
Increasingly, students are penalized for exceeding the specified word count so ensure that all your evidence is really related to the points you are making and to the topic concerned.
It is useful to make a rough plan or diagram of your essay at this stage where you write down paragraph headings and where you will use each piece of evidence. Later, when you are writing your essay, you will be use this to remind you of how your thoughts actually progressed and why you made the choices that you did. Structuring your essay in this way will also help with coherence as your argument will be clear, developed, and concise, with paragraphs flowing naturally to your conclusion. Doing this will also reveal any gaps in your evidence or linking which you can sort out before beginning to write.
Other content related to essay plans:
How to write an essay plan
Sample Essay Plans
Essay Plan Service
3. Top Essay Writing Tips
Use relevant examples – these show that you have understood the ideas that you are talking about, and can apply them
Only use relevant material – 'prune' out anything that does not directly relate to the question
Check the word count – go through and see what you can reword, using less words
State the obvious – you might know what you mean to say, but does your reader? Spell out the points you are trying to make
Reference any ideas or materials that are not your own – either put material in your own words and reference it, or put it in "inverted commas" and reference it.
Be concise and write what you mean – get straight to the point, you won't get any extra marks for waffle!
Don't use long unnecessary words just to impress – they are easy to spot and will have the opposite effect.
3. Writing your essay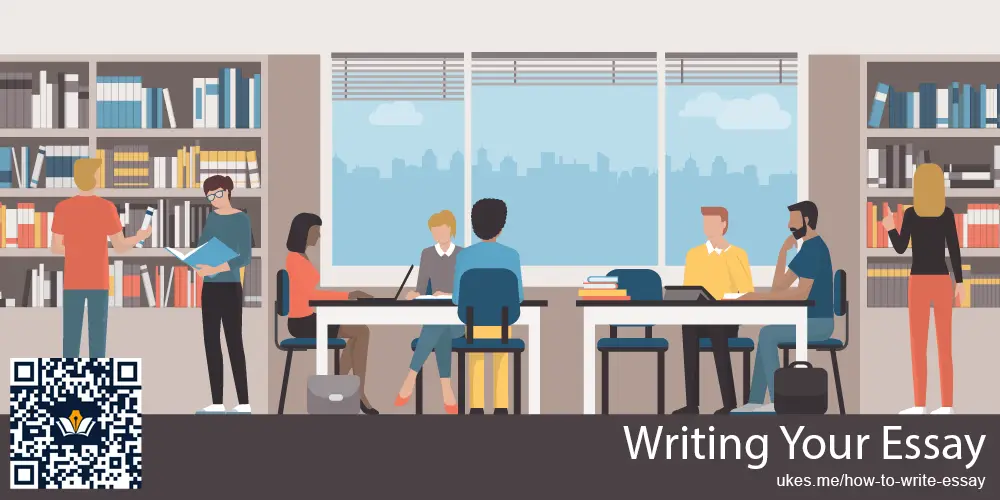 You can start writing your essay by choosing either: to write the main body of your essay first, then go back to construct your introduction; or write the introduction first, followed by the main body of your essay. Both have advantages and disadvantages, primarily based on how closely you can stick to your stated thesis.
If you feel confident that the argument can be stated simply in your introduction, and then coherently developed, then write the introduction first. If you feel you might deviate from the introduction then it may be best to write the introduction later as you can then adapt your thesis accordingly.
Other content related to essay writing:
Sample Essays (Professional Written and Graded)
Free Essays (Student Written, Ungraded)
Essay Writing Service
Whichever approach you choose, remember that your introduction is the first statement your examiner will read. Again, this sounds obvious but many students are careless about introductions by either saying either too much or too little. A good introduction clearly sets out your response to the topic and exactly how you are going to present that response. It's as simple as that. It is commonly agreed that quotation should be omitted from your introduction as this is where you are going to say what your response is, not that of others. Remember to keep your introduction short and to the point, ending with a 'feed' into the opening paragraph of the main body of your essay.
3.2. Writing the main body of the essay
In the main body of your essay, each paragraph should be based on a separate (but related) aspect of the main topic of the essay. Following the plan you made earlier, write each paragraph as though it were under a sub-heading to the main title and supplement each of your points with the evidence you have collected. Students are often unsure about the length of paragraphs but, although there is no hard and fast rule, it is a good idea to keep them to four or five sentences.
Supporting your statements is vital and, in the case of a literary essay, this evidence should also be analysed. This means that you should comment on individual words and/or phrases that seem to be of particular interest or importance. Analysis of this kind should not only get you extra marks but may also suggest additional lines of thought which may be helpful, if relevant to the main argument.
Quotations should not be too long. Never quote more than a few lines at most, except in exceptional circumstances, and ensure you adhere to the referencing style you have been requested to use. It is usual to indent longer quotations and set them out on a separate line, single-spaced, following a colon. Shorter quotations, of one line or less, should be incorporated within the text and enclosed with quotation marks.
Try to end each paragraph in the main body of the essay with a 'hook' to the next i.e. an idea that introduces the topic of the subsequent paragraph. Follow this up by opening the next paragraph with reference to the link, this will help your essay to flow better and seem to be establishing a pattern which will ultimately lead to your conclusion. Paragraphs should move on using the basis of furthering the argument. This can be achieved in several ways:
Sequential writing – where one event follows naturally from another
Elaborative writing – where you develop a point made previously
Contrasting/comparing – where an idea contradicts or questions a point in a preceding paragraph
These are just a few ideas. There are many more and your choice may be determined by the type of essay/argument you are constructing.
The conclusion should be a summation of your argument. It is not uncommon for students to lose marks by presenting an abrupt conclusion (usually due to a shortage of space) which can overlook the implications of the overall argument, its future development, or unavoidable contractions/omissions. It is acceptable to use quotations in conclusions but do not introduce new ideas at this stage. By now, your reader should have been given such a strong sense of your central argument and no further information is necessary. Your conclusion is space to give generic context to your specific thesis and to tie up any loose ends which you feel have occurred during the writing of the essay.
3.4 Referencing your essay
Academic work requires referencing. Put simply, this means declaring the sources which you have used as part of your research, evidence, or justification for your arguments.
Referencing is vital, both to improve the strength of the arguments you make, and to ensure you are not plagiarising the work of others, in any academic work.
There are many different varieties of referencing styles and it's really important that you follow the specific guidance provided in your course or module handbook. Some of the most popular referencing styles are: Harvard; Footnotes; APA; OSCOLA; and Oxford. In general there are two common formats for referencing styles: author-date and notes-bibliography. The author-date system provides the authors surname and date of publishing in the body of the work, for example. The notes-bibliography referencing style consists of footnotes or endnotes which are numbered and correspond with a superscripted citation number in the body of the work, this is then followed by a bibliography which provides full details of each footnote or endnote.
If you're struggling with referencing, refer to your module handbook first, in order to find the correct style, and then take a look at our referencing guide for the necessary style.
Other content related to referencing:
APA Reference Generator
Harvard Reference Generator
Vancouver Reference Generator
Referencing Tools and Guides
3.5 Essay writing styles
It's highly likely that your university will set more guidelines about the style in which your essay should be written. You should find all of these guidelines as part of the instructions you were provided, be beware that there are some considerable differences between universities.
There are, however, some rather common stylistic instructions that you will more than likely be provided as most universities require essays to be typed and double-spaced using size 12 font in 'Times New Roman'. One instruction that you may not be provided is that, as a general rule, you should not write in first person unless specifically asked to do so i.e. avoid the use of phrases such as 'I think' or 'in this essay I am going to'. Rather, allow your essay to reflect a personal perception whilst being presented in an objective manner.
It is useful to look at how professional writers construct essays to gain style tips though remember, do not plagiarise under any circumstances as this is sure to be detected. Plagiarism is also unfair on the writer whose ideas you are stealing, and ultimately, is self-defeating.
It is also important that you do not use colloquial (slang) expressions, stick to Standard English throughout. Lists are not a good idea, either, unless the essay specifically requires them, as they can appear to be rushed or a truncated way of presenting a lot of information without sufficient explanation. Be careful to note any guidance on the information required on your cover sheet – this often includes, your name, the module, your candidate ID and the lecturer's name.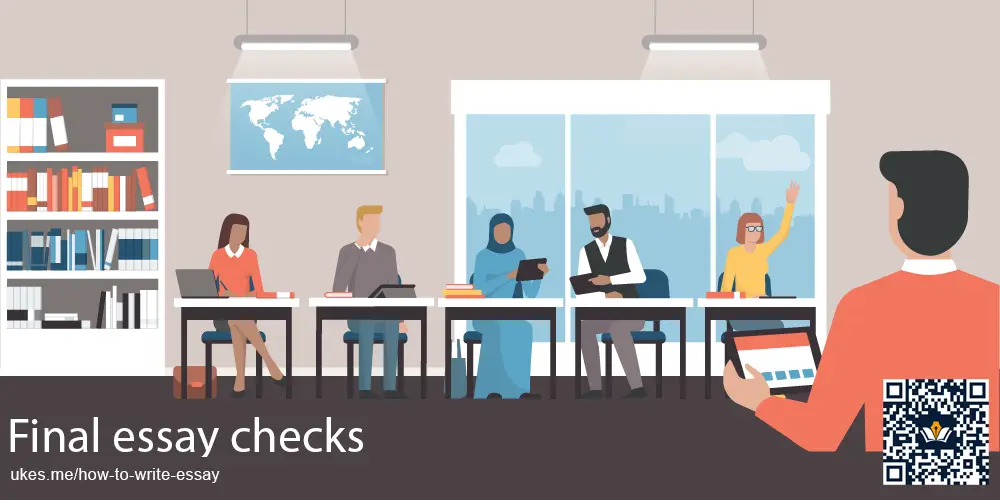 Correct any errors before handing in your work, otherwise you are throwing marks away.
Ensure that you have correctly referenced all quotations and completed a bibliography according to the stylistic requirements to which you have been asked to adhere. Your bibliography is very important as evidence of your research and wider reading, and to demonstrate that you recognise the importance of acknowledging sources. A bibliography should never be a rushed, last-minute task, but rather should evolve naturally, as your research does. As previously stated, noting full publication details of every book you consult at the time will help enormously with this.
How to Format a Bibliography
And finally.
Remember that your essay is a response to a suggested idea. Different academic disciplines will, of course, require different content but no matter what you are writing about your argument should be clear, coherent, well-referenced, and appropriately structured.
You need to follow any instructions carefully, especially those relating to style and word count.
Bear in mind that, although you are answering a question, you are writing to engage a reader's interest so try to combine thorough, factual, research with an engaging and interesting style – it is your aim to compile an essay that will both inform and entertain. Think of the engagement of your reader's interest as a challenge which your essay will meet. Remember, your essay will be one of many that is read by your tutor/teacher/examiner and making your work stand out is an obstacle to overcome!
The ability to write a good essay is a skill that is difficult to acquire but not impossible and, once acquired, can even be enjoyable.
You can find a huge range of resources to help you write the perfect essay in our Essay Help section of the website including information on the correct use of grammar, how to create references and citations, and simple, step-by-step guides to writing essays for a number of subjects and topics.
Related Content
Essay Help Section
Sample Essays
Dissertation Examples
How to Write a Dissertation
Cite This Work
To export a reference to this article please select a referencing stye below:
Related Services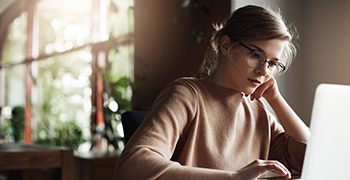 Dissertation Writing Service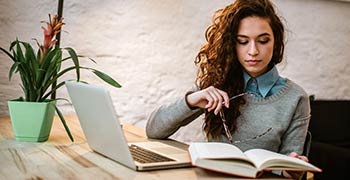 Assignment Writing Service
Content relating to: "Essay Writing"
The basis of most academic work is the ability to construct a good essay. Although this sounds obvious, it is a skill which most students need to develop as none of us are born with the natural ability to write an essay. None of us are born with the ability to write an essay that will address a given topic effectively and adequately support an argument with evidence, either.
Related Articles
How to write an Essay Plan
The complete guide to writing an Essay Plan. Everything you need to know about how to write a great Essay Plan!...
What is an Essay
Essay Help - What is an essay - An essay is a piece of writing, usually from an author's personal point of view....
Essay writing tips
Some great essay writing tips to assist you with writing an essay. How to choose a title, setting out the structure, forming a conclusion and more!...
Our academic writing and marking services can help you!
Undergraduate 2:2
7 day delivery
Marking Service
Samples of our Service
Full Service Portfolio
Related Lectures
Study for free with our range of university lectures!

Freelance Writing Jobs
Looking for a flexible role? Do you have a 2:1 degree or higher?
Study Resources
Free resources to assist you with your university studies!
Dissertation Resources at UKDiss.com
How to Write an Essay
Essay Buyers Guide
Referencing Tools
Essay Writing Guides
Masters Writing Guides
Search Support Articles
*You can also browse our support articles here >
Change Region / Country
Here you can choose which regional hub you wish to view, providing you with the most relevant information we have for your specific region. If your specific country is not listed, please select the UK version of the site, as this is best suited to international visitors.
United Kingdom
United States
United Arab Emirates
Saudi Arabia
Questions about Expos?
Writing Support for Instructors
Essay Structure
Writing an academic essay means fashioning a coherent set of ideas into an argument. Because essays are essentially linear—they offer one idea at a time—they must present their ideas in the order that makes most sense to a reader. Successfully structuring an essay means attending to a reader's logic.
The focus of such an essay predicts its structure. It dictates the information readers need to know and the order in which they need to receive it. Thus your essay's structure is necessarily unique to the main claim you're making. Although there are guidelines for constructing certain classic essay types (e.g., comparative analysis), there are no set formula.
Answering Questions:  The Parts of an Essay
A typical essay contains many different kinds of information, often located in specialized parts or sections. Even short essays perform several different operations: introducing the argument, analyzing data, raising counterarguments, concluding. Introductions and conclusions have fixed places, but other parts don't. Counterargument, for example, may appear within a paragraph, as a free-standing section, as part of the beginning, or before the ending. Background material (historical context or biographical information, a summary of relevant theory or criticism, the definition of a key term) often appears at the beginning of the essay, between the introduction and the first analytical section, but might also appear near the beginning of the specific section to which it's relevant.
It's helpful to think of the different essay sections as answering a series of questions your reader might ask when encountering your thesis. (Readers should have questions. If they don't, your thesis is most likely simply an observation of fact, not an arguable claim.)
"What?"   The first question to anticipate from a reader is "what": What evidence shows that the phenomenon described by your thesis is true? To answer the question you must examine your evidence, thus demonstrating the truth of your claim. This "what" or "demonstration" section comes early in the essay, often directly after the introduction. Since you're essentially reporting what you've observed, this is the part you might have most to say about when you first start writing. But be forewarned: it shouldn't take up much more than a third (often much less) of your finished essay. If it does, the essay will lack balance and may read as mere summary or description.
"How?"   A reader will also want to know whether the claims of the thesis are true in all cases. The corresponding question is "how": How does the thesis stand up to the challenge of a counterargument? How does the introduction of new material—a new way of looking at the evidence, another set of sources—affect the claims you're making? Typically, an essay will include at least one "how" section. (Call it "complication" since you're responding to a reader's complicating questions.) This section usually comes after the "what," but keep in mind that an essay may complicate its argument several times depending on its length, and that counterargument alone may appear just about anywhere in an essay.
"Why?"   Your reader will also want to know what's at stake in your claim: Why does your interpretation of a phenomenon matter to anyone beside you? This question addresses the larger implications of your thesis. It allows your readers to understand your essay within a larger context. In answering "why", your essay explains its own significance. Although you might gesture at this question in your introduction, the fullest answer to it properly belongs at your essay's end. If you leave it out, your readers will experience your essay as unfinished—or, worse, as pointless or insular.
Mapping an Essay
Structuring your essay according to a reader's logic means examining your thesis and anticipating what a reader needs to know, and in what sequence, in order to grasp and be convinced by your argument as it unfolds. The easiest way to do this is to map the essay's ideas via a written narrative. Such an account will give you a preliminary record of your ideas, and will allow you to remind yourself at every turn of the reader's needs in understanding your idea.
Essay maps ask you to predict where your reader will expect background information, counterargument, close analysis of a primary source, or a turn to secondary source material. Essay maps are not concerned with paragraphs so much as with sections of an essay. They anticipate the major argumentative moves you expect your essay to make. Try making your map like this:
State your thesis in a sentence or two, then write another sentence saying why it's important to make that claim. Indicate, in other words, what a reader might learn by exploring the claim with you. Here you're anticipating your answer to the "why" question that you'll eventually flesh out in your conclusion.
Begin your next sentence like this: "To be convinced by my claim, the first thing a reader needs to know is . . ." Then say why that's the first thing a reader needs to know, and name one or two items of evidence you think will make the case. This will start you off on answering the "what" question. (Alternately, you may find that the first thing your reader needs to know is some background information.)
Begin each of the following sentences like this: "The next thing my reader needs to know is . . ."  Once again, say why, and name some evidence. Continue until you've mapped out your essay. 
Your map should naturally take you through some preliminary answers to the basic questions of what, how, and why. It is not a contract, though—the order in which the ideas appear is not a rigid one. Essay maps are flexible; they evolve with your ideas.
Signs of Trouble  
A common structural flaw in college essays is the "walk-through" (also labeled "summary" or "description"). Walk-through essays follow the structure of their sources rather than establishing their own. Such essays generally have a descriptive thesis rather than an argumentative one. Be wary of paragraph openers that lead off with "time" words ("first," "next," "after," "then") or "listing" words ("also," "another," "in addition"). Although they don't always signal trouble, these paragraph openers often indicate that an essay's thesis and structure need work: they suggest that the essay simply reproduces the chronology of the source text (in the case of time words: first this happens, then that, and afterwards another thing . . . ) or simply lists example after example ("In addition, the use of color indicates another way that the painting differentiates between good and evil").
Copyright 2000, Elizabeth Abrams, for the Writing Center at Harvard University
How to Read an Assignment
How to Do a Close Reading
Developing A Thesis
Topic Sentences and Signposting
Transitioning: Beware of Velcro
How to Write a Comparative Analysis
Ending the Essay: Conclusions
Brief Guides to Writing in the Disciplines
Quick Links
Schedule an Appointment
Drop-in Hours
English Grammar and Language Tutor
Harvard Guide to Using Sources
Writing Advice: The Harvard Writing Tutor Blog
Departmental Writing Fellows
Videos from the 2022 Three Minute Thesis Competition
Follow @HCWritingCenter

University of Oxford
Tips from my first year - essay writing
This is the third of a three part series giving advice on the essay writing process, focusing in this case on essay writing.
Daniel is a first year BA History and Politics student at Magdalen College . He is a disabled student and the first in his immediate family to go to university. Daniel is also a Trustee of Potential Plus UK , a Founding Ambassador and Expert Panel Member for Zero Gravity , and a History Faculty Ambassador. Before coming to university, Daniel studied at a non-selective state school, and was a participant on the UNIQ , Sutton Trust , and Social Mobility Foundation APP Reach programmes, as well as being part of the inaugural Opportunity Oxford cohort. Daniel is passionate about outreach and social mobility and ensuring all students have the best opportunity to succeed.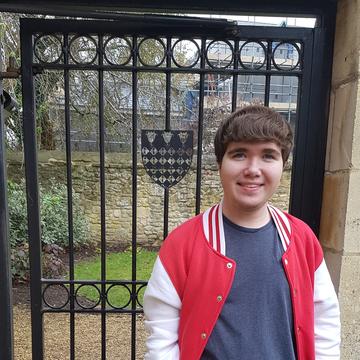 History and its related disciplines mainly rely on essay writing with most term-time work centring on this, so it's a good idea to be prepared. The blessing of the Oxford system though is you get plenty of opportunity to practice, and your tutors usually provide lots of feedback (both through comments on essays and in tutorials) to help you improve. Here are my tips from my first year as an Oxford Undergraduate:
Plan for success – a good plan really sets your essay in a positive direction, so try to collect your thoughts if you can. I find a great way to start my planning process is to go outside for a walk as it helps to clear my head of the detail, it allows me to focus on the key themes, and it allows me to explore ideas without having to commit anything to paper. Do keep in mind your question throughout the reading and notetaking process, though equally look to the wider themes covered so that when you get to planning you are in the right frame of mind.
Use what works for you – if you try to use a method you aren't happy with, it won't work. That doesn't mean you shouldn't experiment; to the contrary I highly encourage it as it can be good to change up methods and see what really helps you deliver a strong essay. However, don't feel pressured into using one set method, as long as it is time-efficient and it gets you ready for the next stage of the essay process it is fine!
Focus on the general ideas – summarise in a sentence what each author argues, see what links there are between authors and subject areas, and possibly group your ideas into core themes or paragraph headers. Choose the single piece of evidence you believe supports each point best.
Make something revision-ready – try to make something which you can come back to in a few months' time which makes sense and will really get your head back to when you were preparing for your essay.
Consider what is most important – no doubt if you spoke about everything covered on the reading list you would have far more words than the average essay word count (which is usually advised around 1,500-2,000 words - it does depend on your tutor.) You have a limited amount of time, focus, and words, so choose what stands out to you as the most important issues for discussion. Focus on the important issues well rather than covering several points in a less-focused manner.
Make it your voice – your tutors want to hear from you about what you think and what your argument is, not lots of quotes of what others have said. Therefore, when planning and writing consider what your opinion is and make sure to state it. Use authors to support your viewpoint, or to challenge it, but make sure you are doing the talking and driving the analysis. At the same time, avoid slang, and ensure the language you use is easy to digest.
Make sure you can understand it - don't feel you have to use big fancy words you don't understand unless they happen to be relevant subject-specific terminology, and don't swallow the Thesaurus. If you use a technical term, make sure to provide a definition. You most probably won't have time to go into it fully, but if it is an important concept hint at the wider historical debate. State where you stand and why briefly you believe what you are stating before focusing on your main points. You need to treat the reader as both an alien from another planet, and a very intelligent person at the same time – make sure your sentences make sense, but equally make sure to pitch it right. As you can possibly tell, it is a fine balancing act so my advice is to read through your essay and ask yourself 'why' about every statement or argument you make. If you haven't answered why, you likely require a little more explanation. Simple writing doesn't mean a boring or basic argument, it just means every point you make lands and has impact on the reader, supporting them every step of the way.
Keep introductions and conclusions short – there is no need for massive amounts of setting the scene in the introduction, or an exact repeat of every single thing you have said in the essay appearing in the conclusion. Instead, in the first sentence of your introduction provide a direct answer to the question. If the question is suitable, it is perfectly fine to say yes, no, or it is a little more complicated. Whatever the answer is, it should be simple enough to fit in one reasonable length sentence. The next three sentences should state what each of your three main body paragraphs are going to argue, and then dive straight into it. With your conclusion, pick up what you said about the key points. Suggest how they possibly link, maybe do some comparison between factors and see if you can leave us with a lasting thought which links to the question in your final sentence.
Say what you are going to say, say it, say it again – this is a general essay structure; an introduction which clearly states your argument; a main body which explains why you believe that argument; and a conclusion which summarises the key points to be drawn from your essay. Keep your messaging clear as it is so important the reader can grasp everything you are trying to say to have maximum impact. This applies in paragraphs as well – each paragraph should in one sentence outline what is to be said, it should then be said, and in the final sentence summarise what you have just argued. Somebody should be able to quickly glance over your essay using the first and last sentences and be able to put together the core points.
Make sure your main body paragraphs are focused – if you have come across PEE (Point, Evidence, Explain – in my case the acronym I could not avoid at secondary school!) before, then nothing has changed. Make your point in around a sentence, clearly stating your argument. Then use the best single piece of evidence available to support your point, trying to keep that to a sentence or two if you can. The vast majority of your words should be explaining why this is important, and how it supports your argument, or how it links to something else. You don't need to 'stack' examples where you provide multiple instances of the same thing – if you have used one piece of evidence that is enough, you can move on and make a new point. Try to keep everything as short as possible while communicating your core messages, directly responding to the question. You also don't need to cover every article or book you read, rather pick out the most convincing examples.
It works, it doesn't work, it is a little more complicated – this is a structure I developed for writing main body paragraphs, though it is worth noting it may not work for every question. It works; start your paragraph with a piece of evidence that supports your argument fully. It doesn't work; see if there is an example which seems to contradict your argument, but suggest why you still believe your argument is correct. Then, and only if you can, see if there is an example which possibly doesn't quite work fully with your argument, and suggest why possibly your argument cannot wholly explain this point or why your argument is incomplete but still has the most explanatory power. See each paragraph as a mini-debate, and ensure different viewpoints have an opportunity to be heard.
Take your opponents at their best – essays are a form of rational dialogue, interacting with writing on this topic from the past, so if you are going to 'win' (or more likely just make a convincing argument as you don't need to demolish all opposition in sight) then you need to treat your opponents fairly by choosing challenging examples, and by fairly characterising their arguments. It should not be a slinging match of personal insults or using incredibly weak examples, as this will undermine your argument. While I have never attacked historians personally (though you may find in a few readings they do attack each other!), I have sometimes chosen the easier arguments to try to tackle, and it is definitely better to try to include some arguments which are themselves convincing and contradictory to your view.
Don't stress about referencing – yes referencing is important, but it shouldn't take too long. Unless your tutor specifies a method, choose a method which you find simple to use as well as being an efficient method. For example, when referencing books I usually only include the author, book title, and year of publication – the test I always use for referencing is to ask myself if I have enough information to buy the book from a retailer. While this wouldn't suffice if you were writing for a journal, you aren't writing for a journal so focus on your argument instead and ensure you are really developing your writing skills.
Don't be afraid of the first person – in my Sixth Form I was told not to use 'I' as it weakened my argument, however that isn't the advice I have received at Oxford; in fact I have been encouraged to use it as it forces me to take a side. So if you struggle with making your argument clear, use phrases like 'I believe' and 'I argue'.
I hope this will help as a toolkit to get you started, but my last piece of advice is don't worry! As you get so much practice at Oxford you get plenty of opportunity to perfect your essay writing skills, so don't think you need to be amazing at everything straight away. Take your first term to try new methods out and see what works for you – don't put too much pressure on yourself. Good luck!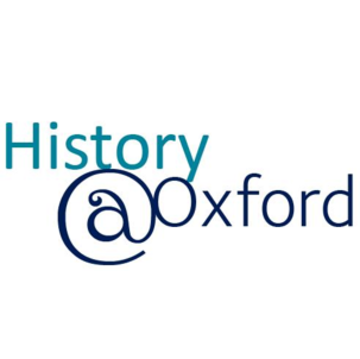 Tips for Online Students , Tips for Students
How To Write An Essay: Beginner Tips And Tricks
Many students dread writing essays, but essay writing is an important skill to develop in high school, university, and even into your future career. By learning how to write an essay properly, the process can become more enjoyable and you'll find you're better able to organize and articulate your thoughts.
When writing an essay, it's common to follow a specific pattern, no matter what the topic is. Once you've used the pattern a few times and you know how to structure an essay, it will become a lot more simple to apply your knowledge to every essay. 
No matter which major you choose, you should know how to craft a good essay. Here, we'll cover the basics of essay writing, along with some helpful tips to make the writing process go smoothly.
Photo by Laura Chouette on Unsplash
Types of Essays
Think of an essay as a discussion. There are many types of discussions you can have with someone else. You can be describing a story that happened to you, you might explain to them how to do something, or you might even argue about a certain topic. 
When it comes to different types of essays, it follows a similar pattern. Like a friendly discussion, each type of essay will come with its own set of expectations or goals. 
For example, when arguing with a friend, your goal is to convince them that you're right. The same goes for an argumentative essay. 
Here are a few of the main essay types you can expect to come across during your time in school:
Narrative Essay
This type of essay is almost like telling a story, not in the traditional sense with dialogue and characters, but as if you're writing out an event or series of events to relay information to the reader.
Persuasive Essay
Here, your goal is to persuade the reader about your views on a specific topic.
Descriptive Essay
This is the kind of essay where you go into a lot more specific details describing a topic such as a place or an event. 
Argumentative Essay
In this essay, you're choosing a stance on a topic, usually controversial, and your goal is to present evidence that proves your point is correct.
Expository Essay
Your purpose with this type of essay is to tell the reader how to complete a specific process, often including a step-by-step guide or something similar.
Compare and Contrast Essay
You might have done this in school with two different books or characters, but the ultimate goal is to draw similarities and differences between any two given subjects.
The Main Stages of Essay Writing
When it comes to writing an essay, many students think the only stage is getting all your ideas down on paper and submitting your work. However, that's not quite the case. 
There are three main stages of writing an essay, each one with its own purpose. Of course, writing the essay itself is the most substantial part, but the other two stages are equally as important.
So, what are these three stages of essay writing? They are:
Preparation
Before you even write one word, it's important to prepare the content and structure of your essay. If a topic wasn't assigned to you, then the first thing you should do is settle on a topic. Next, you want to conduct your research on that topic and create a detailed outline based on your research. The preparation stage will make writing your essay that much easier since, with your outline and research, you should already have the skeleton of your essay.
Writing is the most time-consuming stage. In this stage, you will write out all your thoughts and ideas and craft your essay based on your outline. You'll work on developing your ideas and fleshing them out throughout the introduction, body, and conclusion (more on these soon).
In the final stage, you'll go over your essay and check for a few things. First, you'll check if your essay is cohesive, if all the points make sense and are related to your topic, and that your facts are cited and backed up. You can also check for typos, grammar and punctuation mistakes, and formatting errors.  
The Five-Paragraph Essay
We mentioned earlier that essay writing follows a specific structure, and for the most part in academic or college essays , the five-paragraph essay is the generally accepted structure you'll be expected to use. 
The five-paragraph essay is broken down into one introduction paragraph, three body paragraphs, and a closing paragraph. However, that doesn't always mean that an essay is written strictly in five paragraphs, but rather that this structure can be used loosely and the three body paragraphs might become three sections instead.
Let's take a closer look at each section and what it entails.
Introduction
As the name implies, the purpose of your introduction paragraph is to introduce your idea. A good introduction begins with a "hook," something that grabs your reader's attention and makes them excited to read more. 
Another key tenant of an introduction is a thesis statement, which usually comes towards the end of the introduction itself. Your thesis statement should be a phrase that explains your argument, position, or central idea that you plan on developing throughout the essay. 
You can also include a short outline of what to expect in your introduction, including bringing up brief points that you plan on explaining more later on in the body paragraphs.
Here is where most of your essay happens. The body paragraphs are where you develop your ideas and bring up all the points related to your main topic. 
In general, you're meant to have three body paragraphs, or sections, and each one should bring up a different point. Think of it as bringing up evidence. Each paragraph is a different piece of evidence, and when the three pieces are taken together, it backs up your main point — your thesis statement — really well.
That being said, you still want each body paragraph to be tied together in some way so that the essay flows. The points should be distinct enough, but they should relate to each other, and definitely to your thesis statement. Each body paragraph works to advance your point, so when crafting your essay, it's important to keep this in mind so that you avoid going off-track or writing things that are off-topic.
Many students aren't sure how to write a conclusion for an essay and tend to see their conclusion as an afterthought, but this section is just as important as the rest of your work. 
You shouldn't be presenting any new ideas in your conclusion, but you should summarize your main points and show how they back up your thesis statement. 
Essentially, the conclusion is similar in structure and content to the introduction, but instead of introducing your essay, it should be wrapping up the main thoughts and presenting them to the reader as a singular closed argument. 
Photo by AMIT RANJAN on Unsplash
Steps to Writing an Essay
Now that you have a better idea of an essay's structure and all the elements that go into it, you might be wondering what the different steps are to actually write your essay. 
Don't worry, we've got you covered. Instead of going in blind, follow these steps on how to write your essay from start to finish.
Understand Your Assignment
When writing an essay for an assignment, the first critical step is to make sure you've read through your assignment carefully and understand it thoroughly. You want to check what type of essay is required, that you understand the topic, and that you pay attention to any formatting or structural requirements. You don't want to lose marks just because you didn't read the assignment carefully.
Research Your Topic
Once you understand your assignment, it's time to do some research. In this step, you should start looking at different sources to get ideas for what points you want to bring up throughout your essay. 
Search online or head to the library and get as many resources as possible. You don't need to use them all, but it's good to start with a lot and then narrow down your sources as you become more certain of your essay's direction.
Start Brainstorming
After research comes the brainstorming. There are a lot of different ways to start the brainstorming process . Here are a few you might find helpful:
Think about what you found during your research that interested you the most
Jot down all your ideas, even if they're not yet fully formed
Create word clouds or maps for similar terms or ideas that come up so you can group them together based on their similarities
Try freewriting to get all your ideas out before arranging them
Create a Thesis
This is often the most tricky part of the whole process since you want to create a thesis that's strong and that you're about to develop throughout the entire essay. Therefore, you want to choose a thesis statement that's broad enough that you'll have enough to say about it, but not so broad that you can't be precise. 
Write Your Outline
Armed with your research, brainstorming sessions, and your thesis statement, the next step is to write an outline. 
In the outline, you'll want to put your thesis statement at the beginning and start creating the basic skeleton of how you want your essay to look. 
A good way to tackle an essay is to use topic sentences . A topic sentence is like a mini-thesis statement that is usually the first sentence of a new paragraph. This sentence introduces the main idea that will be detailed throughout the paragraph. 
If you create an outline with the topic sentences for your body paragraphs and then a few points of what you want to discuss, you'll already have a strong starting point when it comes time to sit down and write. This brings us to our next step… 
Write a First Draft
The first time you write your entire essay doesn't need to be perfect, but you do need to get everything on the page so that you're able to then write a second draft or review it afterward. 
Everyone's writing process is different. Some students like to write their essay in the standard order of intro, body, and conclusion, while others prefer to start with the "meat" of the essay and tackle the body, and then fill in the other sections afterward. 
Make sure your essay follows your outline and that everything relates to your thesis statement and your points are backed up by the research you did. 
Revise, Edit, and Proofread
The revision process is one of the three main stages of writing an essay, yet many people skip this step thinking their work is done after the first draft is complete. 
However, proofreading, reviewing, and making edits on your essay can spell the difference between a B paper and an A.
After writing the first draft, try and set your essay aside for a few hours or even a day or two, and then come back to it with fresh eyes to review it. You might find mistakes or inconsistencies you missed or better ways to formulate your arguments.
Add the Finishing Touches
Finally, you'll want to make sure everything that's required is in your essay. Review your assignment again and see if all the requirements are there, such as formatting rules, citations, quotes, etc. 
Go over the order of your paragraphs and make sure everything makes sense, flows well, and uses the same writing style . 
Once everything is checked and all the last touches are added, give your essay a final read through just to ensure it's as you want it before handing it in. 
A good way to do this is to read your essay out loud since you'll be able to hear if there are any mistakes or inaccuracies.
Essay Writing Tips
With the steps outlined above, you should be able to craft a great essay. Still, there are some other handy tips we'd recommend just to ensure that the essay writing process goes as smoothly as possible.
Start your essay early. This is the first tip for a reason. It's one of the most important things you can do to write a good essay. If you start it the night before, then you won't have enough time to research, brainstorm, and outline — and you surely won't have enough time to review.
Don't try and write it in one sitting. It's ok if you need to take breaks or write it over a few days. It's better to write it in multiple sittings so that you have a fresh mind each time and you're able to focus.
Always keep the essay question in mind. If you're given an assigned question, then you should always keep it handy when writing your essay to make sure you're always working to answer the question.
Use transitions between paragraphs. In order to improve the readability of your essay, try and make clear transitions between paragraphs. This means trying to relate the end of one paragraph to the beginning of the next one so the shift doesn't seem random.
Integrate your research thoughtfully. Add in citations or quotes from your research materials to back up your thesis and main points. This will show that you did the research and that your thesis is backed up by it.
Wrapping Up
Writing an essay doesn't need to be daunting if you know how to approach it. Using our essay writing steps and tips, you'll have better knowledge on how to write an essay and you'll be able to apply it to your next assignment. Once you do this a few times, it will become more natural to you and the essay writing process will become quicker and easier.
If you still need assistance with your essay, check with a student advisor to see if they offer help with writing. At University of the People(UoPeople), we always want our students to succeed, so our student advisors are ready to help with writing skills when necessary. 
Related Articles
Privacy overview.
5 tips on how to nail your college application essay
When it comes to applying for college, many students are faced with the same question, "How to write an essay for your college application?" 
The essay can be daunting, but it can determine whether you get into your preferred uni. 
In fact, your college essays account for  25% of your overall application  to get into schools like Harvard University, Stanford University, Massachusetts Institute of Technology, and more. 
The competition gets more intense at these schools, where applicants have exceptional grades, test scores and extracurricular experience. 
As such, nailing your  college application essay  can help you stand out from other applicants. 
It is an excellent opportunity to share your story and why you would make a good addition to the university. Admission officers are looking to understand your background, personality and values.
While this adds a lot of pressure on your college essay, there is no need to worry just yet. Here are five tips on how to write an essay that will help you stand apart from other applicants:
How to write an essay to nail your college application:
Grab the reader from the start 
Grab a reader's attention from the start —remember that you are competing with hundreds of other applicants.
Let's start with the thesis statement: the backbone of your essay and the first sentence a reader will read.
Start your essay with a clear sentence that immediately seizes the reader's imagination.
You could start with a bold statement, a quote, a question or even a descriptive scene.
Beginning with a powerful and clear thesis statement will ensure your reader is hooked and help you with the writing process.
Try something different 
Admissions officers read an unbelievable number of college essays.
Many students would write essays with facts, figures and their past experiences — so try something different by writing an essay that your grades can't capture.
After all, colleges are interested in learning about who you are as a person and what you can bring to the incoming class.
It doesn't matter if you have yet started your own business or spent the summer volunteering.
Share your unique qualities or what you learned from your losses and how it inspired your educational journey.
Bring your essay to life using details, examples and vivid imagery. Source: David Becker/AFP
Show, don't tell
Instead of simply stating facts and information, try to get your reader to visualise what you are trying to say.
Writing the sequence of events can be dull, so bring your story to life by showing the reader what you mean.
Take "I like to play football", for example.
You could say:
"My heart was beating fast as I ran across the court to make the shot — two seconds on the clock, one second — and score!"
The results? Your essay will be more memorable, clear and enjoyable for your reader.
Write drafts
It's easy to procrastinate.
When it comes to writing your college essay, however, it is best to start early to give yourself enough time to perfect it.
Before you start, coming up with a topic will take up a fair share of brainstorming.
By starting early, you will have time to write several drafts and make edits before you reach your final copy. . Drafting allows you to put your ideas on paper to rethink and rewrite them.
With this, you can ask yourself whether your ideas are relevant and logical or if additional information is required.
Proofread your essay
So, you finished writing.
You might be tempted to submit your essay and not have to look at it again.
But taking a second look can help you nail your college essay more than you think.
Coming back to your work after a few hours or even a day — if you have the time — will allow you to spot any subtle mistakes you may not have noticed. 
However, you might miss out on some minor mistakes — even with a fresh set of eyes. 
Thankfully, many tools and resources are available online to help you with this. 
Currently, the best app on the market for this is  Grammarly . 
The website uses artificial intelligence to review your spelling, grammar, punctuation, and sentence structure. The app even provides suggestions to rephrase your sentences. 
All you have to do is upload your essay on the website, wait a few seconds, and the tool will run through any mistakes made. 
Popular stories
You can now apply for your us student visa one year in advance.
From studying architecture to designing the Burj Khalifa, Central Park Tower, and many more
"I'm a product of a public school education": Tim Cook and his rise to Apple CEO
10 tips on how to write a winning scholarship essay
10 best free websites on how to write an essay
How do I write a compelling personal statement when I have nothing to say?
Study and research support
Academic skills
Quick Guide to Essay Writing
A quick guide to essay writing exploring the reasons why tutors ask students to write essays.
Quick Guide to Essay Writing (PDF 2.09 MB) Download
Essay and dissertation writing skills
Planning your essay
Writing your introduction
Structuring your essay
Writing essays in science subjects
Brief video guides to support essay planning and writing
Writing extended essays and dissertations
Planning your dissertation writing time
Structuring your dissertation
Top tips for writing longer pieces of work
Advice on planning and writing essays and dissertations
University essays differ from school essays in that they are less concerned with what you know and more concerned with how you construct an argument to answer the question. This means that the starting point for writing a strong essay is to first unpick the question and to then use this to plan your essay before you start putting pen to paper (or finger to keyboard).
A really good starting point for you are these short, downloadable Tips for Successful Essay Writing and Answering the Question resources. Both resources will help you to plan your essay, as well as giving you guidance on how to distinguish between different sorts of essay questions.
You may find it helpful to watch this seven-minute video on six tips for essay writing which outlines how to interpret essay questions, as well as giving advice on planning and structuring your writing:
Different disciplines will have different expectations for essay structure and you should always refer to your Faculty or Department student handbook or course Canvas site for more specific guidance.
However, broadly speaking, all essays share the following features:
Essays need an introduction to establish and focus the parameters of the discussion that will follow. You may find it helpful to divide the introduction into areas to demonstrate your breadth and engagement with the essay question. You might define specific terms in the introduction to show your engagement with the essay question; for example, 'This is a large topic which has been variously discussed by many scientists and commentators. The principle tension is between the views of X and Y who define the main issues as…' Breadth might be demonstrated by showing the range of viewpoints from which the essay question could be considered; for example, 'A variety of factors including economic, social and political, influence A and B. This essay will focus on the social and economic aspects, with particular emphasis on…..'
Watch this two-minute video to learn more about how to plan and structure an introduction:
The main body of the essay should elaborate on the issues raised in the introduction and develop an argument(s) that answers the question. It should consist of a number of self-contained paragraphs each of which makes a specific point and provides some form of evidence to support the argument being made. Remember that a clear argument requires that each paragraph explicitly relates back to the essay question or the developing argument.
Conclusion: An essay should end with a conclusion that reiterates the argument in light of the evidence you have provided; you shouldn't use the conclusion to introduce new information.
References: You need to include references to the materials you've used to write your essay. These might be in the form of footnotes, in-text citations, or a bibliography at the end. Different systems exist for citing references and different disciplines will use various approaches to citation. Ask your tutor which method(s) you should be using for your essay and also consult your Department or Faculty webpages for specific guidance in your discipline.
Essay writing in science subjects
If you are writing an essay for a science subject you may need to consider additional areas, such as how to present data or diagrams. This five-minute video gives you some advice on how to approach your reading list, planning which information to include in your answer and how to write for your scientific audience – the video is available here:
A PDF providing further guidance on writing science essays for tutorials is available to download.
Short videos to support your essay writing skills
There are many other resources at Oxford that can help support your essay writing skills and if you are short on time, the Oxford Study Skills Centre has produced a number of short (2-minute) videos covering different aspects of essay writing, including:
Approaching different types of essay questions
Structuring your essay
Writing an introduction
Making use of evidence in your essay writing
Writing your conclusion
Extended essays and dissertations
Longer pieces of writing like extended essays and dissertations may seem like quite a challenge from your regular essay writing. The important point is to start with a plan and to focus on what the question is asking. A PDF providing further guidance on planning Humanities and Social Science dissertations is available to download.
Planning your time effectively
Try not to leave the writing until close to your deadline, instead start as soon as you have some ideas to put down onto paper. Your early drafts may never end up in the final work, but the work of committing your ideas to paper helps to formulate not only your ideas, but the method of structuring your writing to read well and conclude firmly.
Although many students and tutors will say that the introduction is often written last, it is a good idea to begin to think about what will go into it early on. For example, the first draft of your introduction should set out your argument, the information you have, and your methods, and it should give a structure to the chapters and sections you will write. Your introduction will probably change as time goes on but it will stand as a guide to your entire extended essay or dissertation and it will help you to keep focused.
The structure of extended essays or dissertations will vary depending on the question and discipline, but may include some or all of the following:
The background information to - and context for - your research. This often takes the form of a literature review.
Explanation of the focus of your work.
Explanation of the value of this work to scholarship on the topic.
List of the aims and objectives of the work and also the issues which will not be covered because they are outside its scope.
The main body of your extended essay or dissertation will probably include your methodology, the results of research, and your argument(s) based on your findings.
The conclusion is to summarise the value your research has added to the topic, and any further lines of research you would undertake given more time or resources.
Tips on writing longer pieces of work
Approaching each chapter of a dissertation as a shorter essay can make the task of writing a dissertation seem less overwhelming. Each chapter will have an introduction, a main body where the argument is developed and substantiated with evidence, and a conclusion to tie things together. Unlike in a regular essay, chapter conclusions may also introduce the chapter that will follow, indicating how the chapters are connected to one another and how the argument will develop through your dissertation.
For further guidance, watch this two-minute video on writing longer pieces of work .
Systems & Services
Access Student Self Service
Student Self Service
Self Service guide
Registration guide
Libraries search
OXCORT - see TMS
GSS - see Student Self Service
The Careers Service
Oxford University Sport
Online store
Gardens, Libraries and Museums
Researchers Skills Toolkit
LinkedIn Learning (formerly Lynda.com)
Access Guide
Lecture Lists
Exam Papers (OXAM)
Oxford Talks
Latest student news
Search the Oxford students' site
Can't find what you're looking for.
Try our extensive database of FAQs or submit your own question...
Ask a question
How to write your first University essay
The first few weeks at university will be a daunting but exciting experience, and with so much going on you might forget why you're there – to learn! You might not be tasked with writing an essay straightaway but it'll certainly be on the agenda within a few weeks, so it'll help to be prepared.  Enrolling in university as an international student might mean that you're coming from a very different education system, which could mean different methods of researching and essay writing. This guide is here to help you understand a bit more about how to write your first university essay and, hopefully, make the transition to UK education as easy as possible. 
Know the Mark Scheme
First of all, you should familiarise yourself with your course's mark scheme. It will detail the various steps and requirements needed for an essay in your discipline. Generally speaking, this will include the accuracy of your research, analytical detail, and essay structure. You should also ensure a good standard of spelling and grammar throughout your work, even in the non-literary subjects. If you're worried about tackling essays as a non-native speaker, be sure to discuss those concerns with your lecturers. They're there to help!
It's also common for lecturers and course leaders to share examples of work from previous years, which can be helpful in understanding how to approach your work. But remember – universities are very strict on plagiarism, so make sure your work is completely your own before submitting it.
Choosing and Understanding the Question
Before you even begin writing, you need to understand what the essay question or prompt is asking of you. Your lecturer might have assigned you a single title, or you might be allowed to choose from a list of questions. These are usually taken from past exam papers, which in itself offers a chance to learn how to pick a title that suits you and your skillset. 
In choosing an essay title there are a few things to consider. Anything too broad will prove difficult to work with – it's much better to go into detail with a smaller number of points than spread yourself too thinly. 
It will also help to choose something for which there is a lot of research material available, be it literary texts or published academic essays. Although an essay must be all your own work, to receive a good grade you must consult and demonstrate knowledge of several primary and secondary resources. Further along in your degree, it may prove beneficial to choose the more obscure or less-researched topics, as a way to showcase everything you've learned, but for your first university essay, you'll be thankful for the use of reliable sources. Now that you've chosen your question, you should read it through several times, slowly, highlighting any keywords. These could be:
Compare: Identify the similarities and differences between two or more things. 
Argue: Make a case for or against the claims made in the title. 
Demonstrate: Use evidence to prove something is true.
Examine: Look closely at texts and evidence and present your findings in a factual, critical way.
Assess: Consider all views and facts involved in an argument and come to a conclusion about their strengths and weaknesses. 
How to Conduct Research for Your Essay
Whether the essay title is a subject about which you know a lot, or something completely new, doing enough research is the key to a strong essay. Your essential course reading list should provide a solid base for finding texts relevant to your essay. It will list primary sources, which are texts that are directly linked to the subject, like contemporary novels, letters, or news articles, as well as secondary sources – these provide analysis or commentary on the primary sources, like academic essays or newspaper editorials. 
Something you find in your essential reading might spark an idea in your mind that you wish to explore further and for this, your university library will come in very handy. Within the rows of physical books and the extensive online database, you should find dozens of texts offering new information and perspectives on your chosen topic. 
Of course, a tailored google search is likely to offer you even more research opportunities. There are hundreds of approved websites bearing enough resources for a lifetime of essay writing, and even the most niche topics are likely to have been written on previously. With that in mind, you must ensure that any text you reference in your work is from a reputable source – check with your lecturer if unsure. 
How to Structure and Plan your First University Essay
Now you have a clear understanding of your essay task, it's time to learn how to plan your first university essay. This is something you'll either love or hate; some students would rather get stuck in straight away while others appreciate the time to prepare. Try and learn to enjoy planning – the structural guidance it brings will ultimately make your writing experience easier and more time-efficient. 
It will make sense to plan your essay according to its structure, with the basic outline being:
Introduction → Main Body → Conclusion
As you progress through your course as an increasingly confident writer you will become adept at writing organically, unrestricted by the confines of a set structure. For now, however, having a clear beginning, middle, and an end is a good place to start. 
Introduction
Your first chance to captivate the reader. Here, you should introduce your overarching thesis. This is the central argument that will run through your essay and tie everything together - your points will either back up or disprove this thesis. Top tip: Write out or verbalise your thesis as if someone with no prior knowledge of the subject has asked you to describe it. What does your essay argue? How do you demonstrate this? Why is it important? 
Main Argument
Come up with a few main ideas that you want to discuss. These should be interesting ideas that come from a nuanced understanding of your primary reading, and which ultimately link back to your argument.  Try to avoid treating this section as a chronological analysis of your sources. You should begin with your claim, and then back it up using a suitable quote or piece of evidence from your sources. Bulk up your paragraph with a comprehensive explanation of your ideas and their greater contextual significance, before concluding your paragraph by linking back to the essay title. How have you supported your overall argument? 
Counter Argument
This is where you demonstrate wider thinking and your ability to consider several points of view. In taking the discussion beyond your main argument and providing an 'on the other hand' perspective, the person marking your essay will know that you've given the topic significant thought. Remember, these paragraphs should also be linked back to the title. Why are these arguments also valid? 
Phew! You've reached the end of your first university essay. You may be tempted to rush your conclusion, but it is one of - if not the most - important parts of your essay. It's similar to the introduction in that you will reiterate the argument and sum up your points, whilst also leaving the reader with a lasting impression. What have you learnt? What new questions arise from your findings that could be explored further in future? 
Referencing
One of the main differences between writing an essay for school and university is the requirement for referencing and a bibliography. In addition to finding reputable sources to use in your essay, you must be able to cite them correctly. The referencing system to use will depend on your institution, with the most common styles being Harvard, APA (American Psychological Association), MLA (Modern Languages Association), and MHRA (Modern Humanities Research Association). 
Top Tips for How to Write Your First University Essay
Research widely – Without overloading yourself with material, reading a variety of texts and exploring different perspectives (particularly the literary subjects) will equip you with enough information to produce a detailed and well-rounded essay. 
Utilise the help available to you – Your lecturers and seminar leaders will be more than happy to answer any questions you have about the essay and their expectations. Not only will seeking their guidance ultimately help your writing, but it will also present you as a curious and dedicated student. 
Don't leave it until the last minute – Many students will profess to thrive under pressure and produce their best work only hours before the deadline, but you will always thank yourself for starting sooner rather than later. This ensures you have adequate time to research, plan, write and edit. Proper time management will become a significant consideration throughout your degree, so start early for the best results. 
Leave time to read it over – Similar to the above tip, it is important to leave enough time to carefully read over your essay and implement any changes. Having a break and returning with fresh eyes will allow you to notice things that you might have otherwise missed. 
Lastly, stay calm! Learning how to write your first university essay will undoubtedly require hard work, but you have so much time to practice. Above all, it should be a stimulating challenge where you have the freedom to get creative with your readings and lead with your opinion. Enjoy it! 
Applications , Study Tips
You might also like
Why is Self-Confidence Important for Students
Why is Self-Confidence Important for Students? Contrary to popular belief, intelligence isn't the number one predictor of academic achievement and success; it is self-confidence. Several
Why is Sleep Important for Students
A 2022 sleep survey conducted on university students by My Student Halls outlined an endemic problem in the UK. The survey found that 19% of
Advice for feeling nervous about leaving home
You might be moving to a new city or even a new country for university. If this is the case, you're probably feeling nervous. We
Enquire with us
We are here to help and to make your journey to UWS London as smooth as possible. Please use the relevant button below to enquiry about a course you would like to apply, to clarify any doubt you may have about us and our admission's process, to send us a complaint or suggestion. After you submit your enquiry, one of our advisers will get back to you as soon as possible.
Cookie preferences
This website uses cookies to improve your experience. We'll assume you're ok with this, but you can opt-out if you wish.
Privacy Overview
Necessary cookies are absolutely essential for the website to function properly. This category only includes cookies that ensures basic functionalities and security features of the website. These cookies do not store any personal information.
Any cookies that may not be particularly necessary for the website to function and is used specifically to collect user personal data via analytics, ads, other embedded contents are termed as non-necessary cookies. It is mandatory to procure user consent prior to running these cookies on your website.
Analytical cookies are used to understand how visitors interact with the website. These cookies help provide information on metrics the number of visitors, bounce rate, traffic source, etc.
Functional cookies help to perform certain functionalities like sharing the content of the website on social media platforms, collect feedbacks, and other third-party features.
Advertisement cookies are used to provide visitors with relevant ads and marketing campaigns. These cookies track visitors across websites and collect information to provide customized ads.

How to Write an Essay: A Step-By-Step Guide
Are you looking for a guide on how to write an essay You are certainly in the right place. You will be provided with the complete guidelines required to write an impeccable essay here.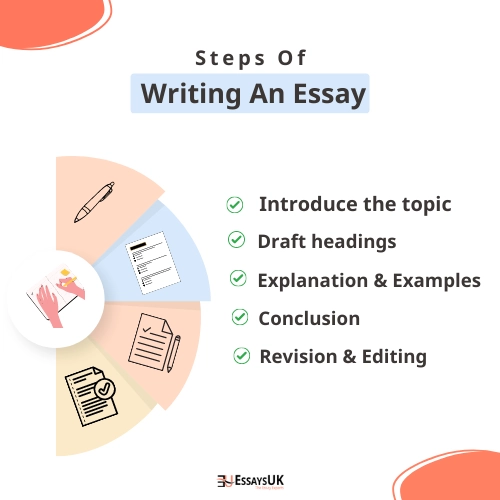 What is an Essay?
An essay is the most popular form of academic writing that presents an argument or narrative through explanation, analysis, and evidence.
An academic essay aims to persuade readers to agree to a certain point of view or a position through informed arguments. An academic essay's length depends on the academic level, subject of study, and course guidelines. High school essays are much shorter in length when compared to Bachelor's and Master's level essays.
Types of Essays
There are many types of essays that you might be asked to write about during your course. The most notable types are descriptive , argumentative , narrative , and expository .
Descriptive Essay
A descriptive essay is a type of essay that expects the writer to describe something. The description could be of anything, from the Earth to an Ant. It promotes writing detailed accounts of a particular experience.
"Describe a place you go to soothe your mind"
Argumentative Essay
In argumentative essays, you use claims and facts to back your opinion on a particular topic and convince the reader to agree with your opinion.
"Who is responsible for the abusive language used in the comments on the web?"
Expository Essay
An expository essay is based on an investigation of an idea, and an argument is placed to resolve the idea in a clear and concise manner.
"Define the main elements of a healthy relationship."
Narrative Essay
A narrative essay only has a single motif around which the narration revolves. It allows the essayist to colour the picture, from his personal experience, in the form of a short story. A narrative essay helps you create a marvellous piece of art using nothing but your imagination and creativity.
"The most impactful person in my life."
A Step-By-Step Guide to Essay Writing
The essay writing process consists of three steps:
Planning: Conduct desk-based research to find topics that match your requirements. Develop an essay outline on the chosen topic.
Writing: Provide background to the topic, write the thesis statement or your central argument in the introduction, back your argument with evidence in the main body, and briefly summarise key arguments in the conclusion.
Proofreading and editing: Proofread the essay to fix mistakes relating to structure, coherence, transitioning, grammar, spelling, and organisation of your essay.
This essay writing guide takes you through an essay's most important components, including the introduction, main body, and conclusion.
The aforementioned steps of the essay writing process apply to all types of essays regardless of the academic level and subject of study. However, the time and effort required to complete each step depend on the type of essay.
For example, a university-level argumentative essay assignment will require you to spend most of your time researching the topic , developing a central theme, and finding the supporting evidence material to back your argument. On the other hand, you will spend more time on the writing process for a high school expository essay.
Planning is an essential aspect of the essay writing process. Before you start writing, make sure you know the question you aim to address and how you will do it. The following topics can help you better prepare for the writing stage. Carefully read the essay brief: Read the assignment brief to make sure you understand the requirements, such as the deadline and the expected length.
Select a topic:
Most high schools require students to write on a pre-assigned topic. However, if you have the freedom to choose your own topic, make sure your selection aligns with your interests. It will be an uphill challenge to write on a topic that you find boring.
Conduct research:
Explore and read academic sources (both primary and secondary) to decide your position on the topic. These sources will also be used as evidence in the main body of the essay.
Develop the thesis statement:
Write the thesis statement to express the central argument of the essay. The thesis statement should make a claim, directly answering a question.
Write an outline: Develop an essay outline to orchestrate the rough structure of your essay. This makes the writing part convenient and keeps you on the right track.
Introduction of an Essay
The introduction paragraph allows you to grab the attention of the readers. It provides background information about the topic and informs the readers of what the essay will be about.
The introduction typically comprises 10-15% of the total essay word count. Familiarise yourself with the critical objectives of the introduction before starting to write.
One of the critical requirements of the introduction paragraph is to be engaging enough to attract the reader's curiosity. The first sentence of the introduction, also known as the hook, is used to grab the reader's attention. Use quotes, suspenseful phrases, surprising facts, or bold statements to emphasise the significance of researching the topic.
For example, if we are writing an essay about "Donald Trump's victory in the 2016 US elections", then a hook in the opening statement of the essay can be written as below:
"Donald Trump's victory in the 2016 US election was nothing short of a revolution".
Background of the Topic
Once you have captured the readers' interest through a strong and engaging first statement, the next step is to contextualise the background so the reader can understand your argument. This could involve providing facts and statistics, explaining complicated terms, or analysing an important academic paper or debate. Refrain from getting into details at this stage. You will be able to provide an additional explanation in the main body.
Thesis Statement
The last sentence of the introduction chapter comprises the thesis statement, which is the central argument you will present. The thesis statement allows the author to take a focused position on the topic. An example of a thesis statement from the essay "Donald Trump's victory in 2016 US elections" would be:
Donald Trump died all expectations from the very beginning of his presidential campaign. Significantly few people believed that he could run for an election and win any primaries. But he proved his critics wrong by winning a sweeping victory in the presidential race.
Main Body Paragraphs
This is the portion of the essay where you present your arguments, support them through evidence, and formulate your ideas. Here, you are expected to back your argument by analysing and interpreting the academic sources used.
How long should be the main body text?
Most high school essays follow the standard three-paragraph approach. Undergraduate and Masters's level essays, on the other hand, are much longer. For example, the body of a graduate-level argumentative essay can comprise 5000-6000 words. Likewise, for an International Baccalaureate Programme extended essay of 4000 words, the body can take up 5-6 pages.
Paragraph Structure
The main body should follow a clear and logical structure. This means that paragraphs are of utmost importance, and each should focus on a specific idea or argument.
Use topic sentences to introduce each paragraph of the body. Each topic sentence expresses the main of the paragraph in which it occurs and forms a transition from the preceding paragraph. Make sure to create a link between sentences with the help of transition words.
Provide quotes, examples, and primary or secondary data as evidence. Make sure to evaluate the evidence material to show how it helped in formulating the central argument of your essay.
Example Paragraph from Essay's Main Body
The Democrat's last stand largely rested on Mrs. Clinton's strength in the Midwest. Those were states that had gone Democrat for decades, based in part on the support of black and working-class white voters. Those working-class white people, particularly ones without a college education – men and women – deserted the party in droves. Rural voters turned out in high numbers, as the Americans who felt overlooked by the establishment and left behind by the coastal elite made their voices heard. While places like Virginia and Colorado held fast, Wisconsin fell – and Mrs. Clinton's presidential hopes with it. When all is said and done, Mrs. Clinton may end up winning the popular vote on the back of strong support in places like California and New York and closer-than-expected losses in solid-red states like Utah. The Trump wave hit in the places it had to, however. And it hit hard.
The Conclusion of an Essay
This is the essay's last paragraph, where the writer concludes the composition. The length of the conclusion should generally be 10-15% of the total text. If you want to write a perfect conclusion for your essay , you must be mindful of the following.
Connect the dots between the points discussed in the main body of the essay.
Discuss the upshot of your rationalisation. Spell out how it contributes to a new insight.
Signify the relevance and magnitude of your hypothesis.
Don't forget to finish the conclusion with a catchy and noteworthy statement that leaves a strong final impression on the reader.
What not to Include in the Conclusion
To make the conclusion as impressive as possible, always refrain from making the following mistakes;
Introducing new evidence or arguments.
Contradicting your previously made points.
Weakening your point by mentioning other approaches and hypotheses.
Incorporating concluding phrases like "To summarise", "Finally", or "To sum up".
Now that you are familiar with the guidelines of how to write an essay, you are ready to start writing. Make sure to take your time and research the topic for better results!
Proofreading and editing
Check your work for language mistakes
Check the relevancy and accuracy of content in each paragraph.
Improve the overall organisation of the essay
Remove plagiarism if any
Essay Checklist
Has a difficult essay got you down no problem.
Expert UK Writers
Plagiarism-free Content
Timely Delivery
Thorough Research
Rigorous Quality Control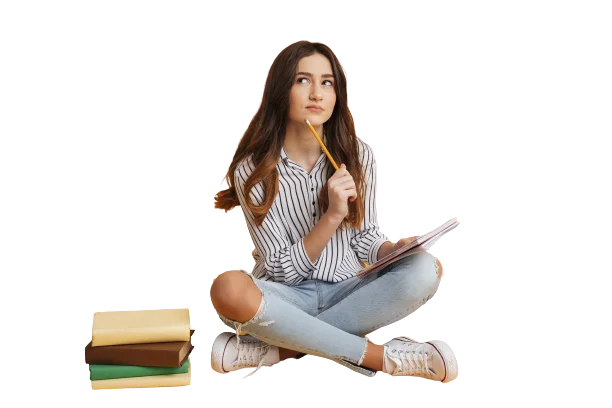 Frequently Asked Questions
Can i purchase the essays shown on the essays uk website.
The essays displayed on our websites are not for sale. These are only for sample purposes. Buying or using the same pieces can lead to plagiarism associated issues. We only offer exclusive and custom writing services.
Can you provide a draft of my work?
In our online order form, there will be an option to add one or more drafts to your order in the paid/optional feature. Once you have paid for the service, our team will contact you and confirm the delivery date of each draft. The cost of the additional draft will depend on the number of words written by the writer (if any) and the extra hours to be spent on your order. You can contact us within 24 hours after receiving the draft so that we can ensure the timely delivery of your paper.
Can I pay over the phone?
Paying over the phone isn't a safe option. You can make the payment on our website using a debit/credit card, PayPal or bank transfer.
How quick are you able to complete my order?
Our team of experienced and qualified writers can do all sorts of academic projects regardless of how urgent your requirement is. Orders with short deadlines, especially those with same or next day delivery, require additional charges.
You May Also Like
Our professionals have collected more than 100 unique and interesting essay topics on trending subjects to inspire you to start working on your essay.
Follow our guidelines for writing a perfect dissertation. What is the structure of a dissertation From the title page to the conclusion and references?
Looking for interesting dissertation topic ideas? Check out our collection of unique and trending dissertation topic ideas available for students to use.
More Interesting Articles
Ready to place an order, useful links, learning resources.

COMPANY DETAILS

Basic essay structure
Improve your writing
Organise your essays to demonstrate your knowledge, show your research and support your arguments.
Essays are usually written in continuous, flowing, paragraphed text and don't use section headings. This may seem unstructured at first, but good essays are carefully structured.
How your assignment content is structured is your choice. Use the basic pattern below to get started.
Essay structure
An essay consists of three basic parts:, introduction.
The essay itself usually has no section headings. Only the title page, author declaration and reference list are written as headings, along with, for example, appendices. Check any task instructions, and your course or unit handbook, for further details.
Content in assignment introductions can vary widely. In some disciplines you may need to provide a full background and context, whereas other essays may need only a little context, and others may need none.
An introduction to an essay usually has three primary purposes:
To set the scene
To tell readers what is important, and why
To tell the reader what the essay is going to do (signposting)
A standard introduction includes the following five elements:
A statement that sets out the topic and engages the reader.
The background and context of the topic.
Any important definitions, integrated into your text as appropriate.
An outline of the key points, topic, issues, evidence, ideas, arguments, models, theories, or other information, as appropriate. This may include distinctions or contrasts between different ideas or evidence.
A final sentence or two which tells the reader your focal points and aims.
You should aim to restrict your introduction to information needed for the topic and only include background and contextual information which helps the reader understand it, or sets the scene for your chosen focal points.
In most essays you will have a considerable range of options for your focus. You will be expected to demonstrate your ability to select the most relevant content to address your focal points.
There are some exceptions. For example, if an assignment brief specifically directs the essay focus or requires you to write broadly about a topic. These are relatively rare or are discipline-specific so you should check your task instructions and discipline and subject area conventions.
Below are examples of an opening statement, a summary of the selected content, and a statement at the end of the introduction which tells the reader what the essay will focus on and how it will be addressed. We've use a fictional essay.
The title of our essay is: 'Cats are better than dogs. Discuss.'
To submit this essay you also would need to add citations as appropriate.
Example of opening statements:
People have shared their lives with cats and dogs for millenia. Which is better depends partly on each animal's characteristics and partly on the owner's preferences.
Here is a summary of five specific topics selected for the essay, which would be covered in a little more detail in the introduction:
In ancient Egypt, cats were treated as sacred and were pampered companions.
Dogs have for centuries been used for hunting and to guard property. There are many types of working dog, and both dogs and cats are now kept purely as pets.
They are very different animals, with different care needs, traits and abilities.
It is a common perception that people are either "cat-lovers" or "dog-lovers".
It is a common perception that people tend to have preferences for one, and negative beliefs about and attitudes towards, the other.
Example of closing statements at the end of the introduction:
This essay will examine both cats' and dogs' behaviour and abilities, the benefits of keeping them as pets, and whether people's perceptions of their nature matches current knowledge and understanding.
Main body: paragraphs
The body of the essay should be organised into paragraphs. Each paragraph should deal with a different aspect of the issue, but they should also link in some way to those that precede and follow it. This is not an easy thing to get right, even for experienced writers, partly because there are many ways to successfully structure and use paragraphs. There is no perfect paragraph template.
The theme or topic statement
The first sentence, or sometimes two, tells the reader what the paragraph is going to cover. It may either:
Begin a new point or topic, or
Follow on from the previous paragraph, but with a different focus or go into more-specific detail. If this is the case, it should clearly link to the previous paragraph.
The last sentence
It should be clear if the point has come to an end, or if it continues in the next paragraph.
Here is a brief example of flow between two summarised paragraphs which cover the historical perspective:
It is known from hieroglyphs that the Ancient Egyptians believed that cats were sacred. They were also held in high regard, as suggested by their being found mummified and entombed with their owners (Smith, 1969). In addition, cats are portrayed aiding hunters. Therefore, they were both treated as sacred, and were used as intelligent working companions. However, today they are almost entirely owned as pets.
In contrast, dogs have not been regarded as sacred, but they have for centuries been widely used for hunting in Europe. This developed over time and eventually they became domesticated and accepted as pets. Today, they are seen as loyal, loving and protective members of the family, and are widely used as working dogs.
There is never any new information in a conclusion.
The conclusion usually does three things:
Reminds your readers of what the essay was meant to do.
Provides an answer, where possible, to the title.
Reminds your reader how you reached that answer.
The conclusion should usually occupy just one paragraph. It draws together all the key elements of your essay, so you do not need to repeat the fine detail unless you are highlighting something.
A conclusion to our essay about cats and dogs is given below:
Both cats and dogs have been highly-valued for millenia, are affectionate and beneficial to their owners' wellbeing. However, they are very different animals and each is 'better' than the other regarding care needs and natural traits. Dogs need regular training and exercise but many owners do not train or exercise them enough, resulting in bad behaviour. They also need to be 'boarded' if the owner is away and to have frequent baths to prevent bad odours. In contrast, cats do not need this level of effort and care. Dogs are seen as more intelligent, loyal and attuned to human beings, whereas cats are perceived as aloof and solitary, and as only seeking affection when they want to be fed. However, recent studies have shown that cats are affectionate and loyal and more intelligent than dogs, but it is less obvious and useful. There are, for example, no 'police' or 'assistance' cats, in part because they do not have the kinds of natural instincts which make dogs easy to train. Therefore, which animal is better depends upon personal preference and whether they are required to work. Therefore, although dogs are better as working animals, cats are easier, better pets.
Download our basic essay structure revision sheet
Download this page as a PDF for your essay structure revision notes
Better Essays: Signposting
Paragraphs main body of an assessment
Information Literacy Resource Bank
Writing critically and structuring your essay.
This interactive tutorial gives a comprehensive guide to writing the first draft of an essay and writing in an academic style. It explores how to write critically and use evidence appropriately. It also looks at essay structure, paragraph structure, and how to write effective sentences. This resource is part of the Essay survival guide series of tutorials written for undergraduate students.

No comments.
Leave a Reply Cancel reply
Your email address will not be published. Required fields are marked *
How to Write a Great College Application Essay
By manuela florea
You've completed all the application forms, taken all the tests, and now it's finally time to impress your university's admission officers with a great college application essay.
A college application essay is usually around 500 words, and those words can mean the difference between acceptance and rejection. You will spend many days researching and crafting your essay, but admissions officers will only have a few minutes to actually read it, so you need to get their attention.
However, if you are the type of person who likes to start with the don'ts, check out our blog post on How Not to Write a University Application Essay .
1. Read the instructions carefully
They say starting the essay is the hardest part. You may think it's redundant to mention that you need to read the instructions carefully, but with all the excitement and stress that characterizes this period of your life, it needs to be highlighted.
If you don't follow the application essay guidelines, the admissions officer may assume that you won't be able to follow the directions of the university's program. Page and word limits are mentioned for a reason and you must be able to organize your submission by following the rules.
After you've read through the instructions a few times and gathered your notes, you can start creating an outline to organize your essay and decide what message you want to send. Now you're ready to write your first draft.
2. Start with a compelling introduction
Great writing is hard to achieve, but it's possible if you're smart about it. Anyone who works in journalism will tell you that you can catch any reader's attention as long as you deliver a great introduction.
The admissions officers will only spend a brief amount of time reviewing your essay, so you need to start with a vivid paragraph that will keep them engaged. The introduction has to reveal to the reader what your essay is about and catch their attention. You could open with an anecdote or an interesting story that will show some of the best parts of your personality and character, offering an insight that will help the admission officers get to know who you are.
3. Use your inner voice
Universities are looking for authenticity and quality of thinking, so don't try to shape your essay around phrases or ideas that people have used many times before, but base it on your genuine beliefs.
The application essay is your opportunity to impress an admissions officer with your determination and existing knowledge of your chosen subject. Make sure it reflects all of your skills and ambitions, and show how your chosen program will help you achieve future goals.
4. Avoid clichés
While you research your application essay, you will be encouraged to check out some examples of great essays and get inspired. While this is a great exercise, many students allow themselves to be influenced too much by the examples, and use lots of clichés in their desire to impress the admission officers.
Remember that there are thousands of others students applying to your desired university, and you need to distinguish yourself. Re-read your essay, delete all the sentences that sound like a cliché, and try to find a more original angle.
Admissions officers go through thousands of applications a year, so it's only logical that they will notice those that bring a unique personality to life. Let them discover that!
5. Give good examples to support your ideas
A college application essay is basically a glimpse into how your mind works and how you view the world. If you want your essay to be credible, you need to make sure everything you write supports that viewpoint. Spend some time figuring out how the essay question relates to your personal qualities and then write from a specific angle.
That means that every time you want to express an idea, you don't simply state a fact, but you also include specific details and examples to develop your ideas. You can do that by offering examples from your personal experiences and writing about what truly motivates you and how you developed a certain belief.
6. Stick to a clear essay plan
Creativity is an aspect very much appreciated in writing, but don't assume that a creative essay is not also an organized one. Obviously, you don't want to write a bunch of words without meaning, so make sure you write about just one subject at a time.
You will have a maximum number of words, so the secret is not to try to cover everything in your essay. Create a plan before you actually start writing, organize your essay in three parts (introduction, body and conclusion), and decide on the main ideas you want to express.
7. Ask someone to proofread your work
You want to create a great college application, so you will probably read it over and over again in order to make sure there are no typos and spelling and grammar errors. But after a while, you might need a fresh perspective. It's best to ask someone who hasn't seen it yet to take a look, as they're likely to see mistakes you won't catch.
If you ask a teacher or parent to proofread your essay, they will be able not only to catch mistakes, but also to check if the writing sounds like you. After reading so many examples and following all those instructions, it's hard to tell if what you just wrote is a statement of who you really are or not. Enlist the help of others to make sure that your essay is immaculate.
Now start writing and craft an extraordinary essay!
This article was originally published in January 2016 . It was last updated in September 2022
Want more content like this Register for free site membership to get regular updates and your own personal content feed.
Manuela is passionate about education and evolution and wishes to collect enough information in order to help students from all corners of the world take the big step towards their incredible future.
+ 19 others saved this article
+ 20 others saved this article
Share this Page
Get assisted by higher education experts
Our expert teams can help start your academic journey by guiding you through the application process.
Related Articles Last year
How to start your university application with QS
Six tips for choosing the right master's degree for you

How to apply to study in the UK

How to Write a Winning Scholarship Essay
How to apply to study in the US

How to Study Abroad: Frequently Asked Questions
Most Shared Last year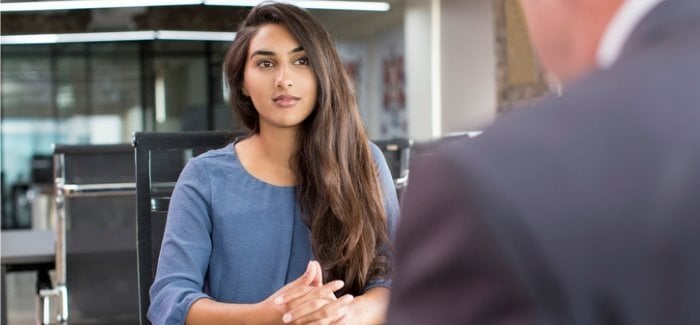 How to Answer Common Admission Interview Questions
7 Ways to Improve your English
How to transfer universities in the UK
University Applications: Top Tips
Most read last year.
Find your perfect University program with our matching tool
Meet and apply to universities
Connect with peers
Recent Posts
Overcoming Emotional Problems Whilst Studying
A guide to mature finance, funding and affordability
6 things to consider when choosing the right postgraduate course for you
The Viva Exam: things to consider when preparing for your exam
Four types of essay explained
Top tips for meeting urgent essay deadlines
How to embrace university as a mature student
Dissertation vs thesis: what's the difference?
Everything you need to know about postgraduate study
Being a university student during COVID-19
Academic News
Custom Essays
Dissertation Writing
Essay Marking
Essay Writing
Essay Writing Companies
Model Essays
Model Exam Answers
Oxbridge Essays Updates
PhD Writing
Significant Academics
Student News
Study Skills
University Applications
University Essays
University Life
Writing Tips
Great essay writing in 8 steps
(Last updated: 12 May 2021)
Since 2006, Oxbridge Essays has been the UK's leading paid essay-writing and dissertation service
We have helped 10,000s of undergraduate, Masters and PhD students to maximise their grades in essays, dissertations, model-exam answers, applications and other materials. If you would like a free chat about your project with one of our UK staff, then please just reach out on one of the methods below.
Can great essay writing really be condensed down into just 8 steps? Well, whilst it's true that there is a lot that goes into academic writing of any kind, these top takeaways are a great place to start if you want to improve your essay writing.
To some, essay writing comes naturally. But for many, knowing how to answer an essay question in a way that will score high marks is something that must be learnt, and practised regularly. You can take comfort in knowing too that, once you learn how to write a great essay, you can apply the same techniques and formulas to almost any piece of academic writing, whether it's a standard essay, a reflective essay, a dissertation or thesis, a course assignment, coursework or something else.
So without further ado, let's dive in and learn the eight steps to writing an essay.
1. Understand the question
This may, at the face of it, sound like somewhat banal advice – but fact of the matter is that failing to properly understand the question set is one of, if not the most common reason behind a disappointing grade when it comes to essay writing. Are you being asked to critically evaluate something ? Compare and contrast? Analyse a particular circumstance? Evaluate the usefulness of a particular concept?
These are some of the common phrases found in essay questions, and each indicates a different set of expectations. If you are asked to critically evaluate a particular theoretical approach, for instance, you have to gain an understanding not only of said theory, but also other common approaches. They must all be weighed against each other, highlighting the relative strengths and weaknesses of each theory and, importantly, you must come to a well-justified and confident conclusion. Is the theory good? What are its flaws? How can it be improved?
If you are asked to evaluate the usefulness of something, however, you don't necessarily need to go into as much critical depth. Yes, you should still acknowledge alternative approaches, and yes, you should still note some strengths and weaknesses – but the bulk of the work must emphasise the concepts practical usefulness. Perhaps the best approach is to find one, or a few, case studies where the theory has been used – what was the outcome of this? Does the application of the theory reveal any particular shortcomings, or strengths?
"Compare and contrast" essays , meanwhile, are essentially a hybrid of the above – you need to take a critical approach and evaluate the literature, but your focus has to remain solidly on the theories that you have been asked to compare and contrast. It is important to show that you understand both (or all) core theories in great depth, both on a theoretical and applied level.
In essence, the wording of the essay question will tell you how the essay should be written. It will indicate where the focus of your essay should lie as you research and write.
2. Plan and schedule
Understanding the question is the first step, but it is equally important that you make efficient use of the available time. Students often underestimate the amount of work required to write a good essay, which results in two things: (1) late nights at the library, and (2) a disappointing grade. If you want to achieve a good mark, you should start planning your essay the moment you receive the essay question. The following table may be a useful aid:
By setting deadlines for yourself and committing to stick to them, you are ensuring that you won't be left with too much work right before your hand-in date. It is also important that you leave time, ideally a couple of days, between finishing your first draft and proofreading.
3. Read widely
Writing may be the core task, but reading is equally important. Before you start writing your essay, you should conduct a broad search for relevant literature . Learning how to sift through a large amount of data is an important academic skill. You should start by searching through databases – Google Scholar is a great tool for this – using key words related to your research topic. Once you find an article that sounds promising, read through the abstract to ensure that it's relevant.
If you are still not a hundred percent sure, it is usually a good idea to skip to the conclusion – this usually contains a detailed summary of the study, which will help determine whether you should read the article as a whole. You don't want to waste time reading through and endless number of articles simply to find that they aren't actually relevant. Once you have identified a few solid articles, you should (a) go through their bibliographies and take note of who they are citing, as these articles will likely be of value for your own research; and (b) check on Google Scholar to see who has cited them. To do this, simply input the name of the article in the search bar and hit enter. In the results, click "cited by" – this will return a list of all of the articles that have cited the publication you searched for.
It's important that you don't rely too heavily on one or a couple of texts, as this indicates to the marker that you haven't engaged with the wider literature. You should be particularly careful in using course books (i.e. "introduction to management" and the like), as these are essentially summaries of other people's work.
4. Be critical
Perfect theories and academic approaches are rare – the clear majority of theories, arguments, and studies have flaws. Being descriptive is fine if you are looking to scrape a pass, but for a higher grade you need to show that you are able to leverage critical reasoning in your dealing with academic materials. What are the limitations of the theories you are drawing on? How have these been dealt with in the literature? How do they impact the quality of arguments presented, and to what extent do they limit our understanding of what you are studying? What alternate explanations might offer additional depth?
Critical thinking is what will make your essay stand out. It shows the marker that you are not simply repeating the arguments that have been fed to you throughout your studies, but actually engaging with theories in an academic manner. A good way to practice this is to pay careful attention when reading literature reviews in published articles – you will see that authors don't simply summarise previous studies, but offer a critique leading to a gap for their own research.
5. Structure, flow and focus
How you present your argument is nearly as important as the argument itself, which is why it is imperative that your essay follows a logical structure. A classic piece of advice is to "tell them what you are going to tell them, then tell them, and tell them what you told them". This, in essence, summarises the core introduction, main body, and conclusion structure of your essay.
Having a clear and logical structure will help ensure that your essay stays focused, and doesn't stray from the question being answered. Each section, paragraph, and sentence should add value to the argument you are presenting. As you are writing, it's good to take a step back and ask yourself: what value does this sentence/section add? How does it link to my overarching argument? If you find that you can't answer those questions, there is a high risk that you have strayed from your core argument, and you may want to reconsider the path you are taking.
You should also make sure that all the different parts of your essay fit together as a cohesive and logical whole, and that the transition from one argument to the next is fluid. Students often treat essays as lists of arguments, presenting one after the other with little consideration for how they fit together, which inevitably leads to a lower grade. Make sure to tell your reader why you are transitioning from one argument to the next, why they are in this particular order, and how each argument helps shed light on a particular aspect of what you are discussing.
6. Quoting, paraphrasing and plagiarism
Academic writing requires a careful balance between novel argument, and drawing on arguments presented by others. Writing a completely 'novel' essay, without drawing on a single source, indicates that you haven't made yourself familiar with what has already been published. Conversely, citing someone for every point made suggests that you haven't produced a novel argument.
As such, it is important that you provide evidence (a credible citation) when you are making a statement of fact, or drawing on arguments, frameworks, and theories presented by other academics. These, in turn, should support the overarching novel argument that you yourself are making.
When drawing on other authors it is important to understand the distinction between quoting and paraphrasing. The general rule of thumb is that you should paraphrase wherever possible, and quote only when necessary or if it clarifies the point you are making. That said, paraphrasing can be difficult without losing the inherit value of the argument presented.
In case you are unsure about the difference between quoting and paraphrasing, we've included an example below:
Quote: "Cultural capital can be acquired, to a varying extent, depending on the period, the society, and the social class, in the absence of any deliberate inculcation, and therefore quite unconsciously" (Bourdieu, 1986: 18).
Paraphrase: Unlike economic capital, the amassing of which requires some conscious effort, cultural capital can be built simply by existing and consuming (Bourdieu, 1986).
Both the quoted and the paraphrased versions carry essentially the same meaning, with the exception that paraphrasing shows slightly wider knowledge of Bourdieu (through mentioning another form of capital), and presents an argument that, while true to the writings of Bourdieu, better fits the overall argument.
Properly citing the sources upon which you draw also ensures that you will not be accused of plagiarism, which is a serious offence in academia. In fact, repeated and grievous plagiarism can lead to the suspension of your studies at the majority of academic institutions!
7. Find a 'study buddy'
Having a similarly ambitious 'study buddy' is often undervalued by students, but the synergy achieved by working together can help both of you achieve considerably higher grades. It is important to note that you shouldn't write your essays together, nor necessarily agree on the approach to be taken beforehand, as this leads to the risk of submitting two papers that are too similar – again linking back to the issue of plagiarism.
Instead, you should exchange essays with each other once you are both done with the first draft. It is immensely difficult to proofread your own work – one goes blind to minor grammatical issues in a text after reading it repeatedly for days on end. It is similarly easy to overlook gaps in flow and logic of argument. Having a friend read through the work will address both of these issues, assuming that they, too, are high achieving.
8. Write academically
Another common issue – particularly amongst first and second-year undergraduates – is that they tend to use rather non-academic language:
In this essay I will look at how people who buy art use cultural capital. My theory is that having more cultural capital will change their taste in art, as they are able to understand the pieces differently to other people.
Examples such as the above are unfortunately rather common, and should give you a good idea of what to avoid. The sentiment behind the text is good, but it reads more like a second-rate blog post than an academic essay. Academic writing should be more formal , concise, unbiased and include good use of rhetoric. As for the above example, an academic might instead write:
This essay explores the role of cultural capital in the consumption of art, and the impact of cultural capital on consumers' perception of artistic expressions.
You will note that this second example is far more concise yet none of the meaning is lost. It also uses present (rather than future) tense, and avoids informal terms. Clear, concise, and precise language is a hallmark of academic writing.
Essay exams: how to answer 'To what extent…'
How to write a master's essay
custom essays
essay topics
essay writing
Writing Services
Essay Writing Services
Dissertation Writing Services
Essay Plans
PhD Proposals
Editing Services
Proofreading Service
Editing Service
Academic Editing Service
Additional Services
Marking Services
Consultation Calls
Personal Statements
Frequently Asked Questions
Fair Use Policy
Policy for Students in England
Become a Writer
Affiliate Login
Privacy Policy
Terms & Conditions
Payment Methods
Cryptocurrency payments.

Study at Cambridge
About the university, research at cambridge.
Undergraduate courses
Events and open days
Fees and finance
Postgraduate courses
How to apply
Postgraduate events
Fees and funding
International students
Continuing education
Executive and professional education
Courses in education
How the University and Colleges work
Term dates and calendars
Visiting the University
Annual reports
Equality and diversity
A global university
Public engagement
Give to Cambridge
For Cambridge students
For our researchers
Business and enterprise
Colleges & departments
Email & phone search
Museums & collections
Current Students
Undergraduates
Department of Sociology
Our History
Job Vacancies
Green Team overview
Everyday Tips for the Office
Environmental Action Plan
Green Travel
Green Cambridge
Green Seminar Series
Alumni overview
Help support the Department of Sociology
Alumni Benefits
Alumni Events
Academic Staff
Affiliated Staff
Postdoctoral and Research Staff
Postgraduate Students
Emeritus Academics
Administrative Staff overview
Paulina Baltsoukou
Lara Gisborne
Yvonne Martin-Portugues
Ellen Munnelly
Lucy O'Connor
Lucian Stephenson
Abigail Youngman
Théa Murray
Yvonne Frankfurth
Undergraduates overview
Part I overview
Supervisions
One-Year Part II
Undergraduate Teaching FAQs
Postgraduates overview
Zero-Contact Library Services
Resources & Training
Support & Wellbeing
Why study Sociology?
Undergraduate Study overview
Course Structure
Applying to Sociology
Fees and Funding
Guidance for Teachers
Preparing for Interview
Student Testimonials
Support and Services
Postgraduate Study overview
Choosing a Supervisor
Applications overview
Postgraduate FAQs
Outreach & Open Days
Y10-12 Photo Competition overview
Photo Competition 2023: The Sociology of Inequality
Visiting Scholars
News overview
Decolonise Sociology ↗
The Department recommends that students write a total of four to six essays per paper over the course of Michalemas and Lent terms.
This equates to two or three essays per paper, per term. Since students take four papers, and terms are eight weeks long, two essays per paper would work out at one essay per week (if distributed evenly). Regardless of how many essays students choose to write, they will still receive six supervisions per paper over the course of both terms. This means three supervisions per paper, per term.
For two of these supervisions, the Sociology Department has a policy that allows students to prepare in another way besides an essay for the supervision, such as with a blog post , or a presentation on a reading or related current event. This should be agreed ahead of time with the supervisor in question.
Essays are expected to be around 1,500 to 2,000 words, which may sound like a lot to new students, but it is crucial practice for honing the skill of making a detailed, coherent and concise argument. The upper word limit is also important, as writing to wordcount (and deadline) are key academic skills, and this takes into consideration the marking workload of your supervisors.
Essay writing is one of the main means of study as well as a form of preparation for the exams , in which students are expected to draw on lecture material, supervision work, and independent reading. Over the course of the HSPS programme, students will be increasingly encouraged to supplement supervisors' suggested readings with the sources they have encountered using their growing research skills.
Essay Writing FAQs
The sections below provide some answers to help students approach their essays. Students are encouraged to reach out to their peers, supervisors and/or Directors of Studies if they are having trouble with essay writing.
When you write an essay, you'll need to find the suggested reading list provided in the paper guide. A reading list will usually contain a mixture of online resources like journal articles and Ebooks, and physical books which can be requested from the libraries; in 2020-21, however, given the coronavirus pandemic, we have adjusted our reading lists so that all texts are available electronically. Most of the readings you need for sociology are available via the Seeley library (Sociology, Land Economy), and you can find out how to access them on our Study Resources [link] page.
There are multiple copies of most of the books in the Seeley library so you shouldn't have too much trouble getting hold of a text. Often you can request a book even if it has been taken out, in which case the student who has the book on loan will be expected to return the book in three days. If they're not available at the Seeley library, the iDiscover website can show you all the locations where a book can be found in other university libraries.
Many College libraries also have undergraduate reading list collections, and it's always worth emailing either the SPS or your college library if you're struggling to access a text. Finally, if you can't access a book or find an Ebook version online, Google Books often has parts of books - such as selected chapters - available to read for free. Your lecturer may also give tips for finding certain texts.
You will find you get much faster at reading and condensing arguments as you progress through your degree. Rather than trying to read everything, focus on the readings that the lecturer has marked as particularly important, and then use the additional recommended readings to gain a broader understanding and add more nuance to your essays.
What matters is that you've got a grasp of the key concepts and theories as portrayed in the available literature on a topic. When you're first starting out, it may be better to focus on a few readings and give yourself more time to think and write. Another way of tackling reading lists is to split the workload with other people doing the same topic. Sharing notes and ideas not only helps consolidate your learning, it also makes life much, much easier.
If you're assigned an entire book without chapter or page number suggestions, don't feel you're expected to read them cover to cover. Start with the introductory and concluding chapters to get a feel for the arguments. You can also check the contents page for sections or chapters that are especially relevant. Sometimes useful summaries, reviews, or commentaries on books are available online; for example, you can search for book reviews via Google Scholar.
Key to writing a good Sociology essay is a clear argument based on a careful and critical reading of the material relevant to the question. In the first instance, this will be the books and articles the paper organiser has indicated you should read in the paper guide. Pay careful attention to the language a particular author uses and attempt to situate the work in the social and intellectual context of the period in which it was written.
A good essay will provide an introduction that explains your interpretation of the question and how you intend to answer it, namely your essay's structure and argument. As part of the process of building the argument, the body of the essay will outline, and critically evaluate, the different positions you've considered on the topic of the question (e.g. a question on class may discuss Marx, Weber and Durkheim's differing understanding of the structural organisation of class and/or the subjective experience of class). This critical evaluation may include how well arguments are supported with empirical examples of events (including contemporary events not yet analysed in the literature), studies or statistical data.  Specifically, you can use the theory to help us understand an empirical case of your choice, and then use that empirical case to shed light on the strengths and weaknesses of that theory.
Here you can show further knowledge by referring to material beyond the reading list, as long as you demonstrate its relevance. The essay should conclude by summarising your argument and the justifications you have offered for it, as well as indicating the relevance of your argument in the broader theoretical and/or empirical context. Always try to justify your arguments by reference to concrete examples, studies, research or new work. Reference all your sources consistently and systematically. Finally give yourself time to re-read, edit and re-edit your essay. Often the process of re-reading and editing will improve an essay immensely. This process will, of course, be aided through discussions in supervisions and the further reflections they inspire for you.
When supervisors mark your essays (and indeed, your exams), they will be guided by the marking criteria, so it is best to familiarise yourself with these criteria. You can ask your supervisor for advice on how to interpret these criteria, which can be downloaded via WHERE [link].
The university and the faculty libraries have lots of guidance on essay-writing, which you can ask them about or find on their websites. Some colleges run workshops or have academics who provide support for essay-writing; your Director of Studies (DoS) should be able to point you in the right direction. This is especially useful for students who want to develop their academic writing skills, and can help build confidence for those who might feel a little out-of-practice.
Finally, it's always good to share essays with friends taking the course to get a sense of their approaches. You can learn from your fellow students just as you can learn from university academics. Chatting through an issue that you're finding confusing with a friend can have great results, because just by talking through your difficulties or thought processes, the path to the answers you need can become clearer.
Tweets by CamSociology
The Department of Sociology University of Cambridge Floor 2 16 Mill Lane Cambridge CB2 1SB
Tel: 01223 (3)34520 Fax: 01223 (3)34550
Contact:
[email protected]
Privacy notice & cookie policies.
Website Updates
Profile Update Form
Research Project Form
Event Promotion Form
Tweet Request Form
Useful Information
Annual Reports
Equipment for Loan
Digital Editorial Guidelines
IT Services Guide
twitterrrr.png
facebook_logo_square.png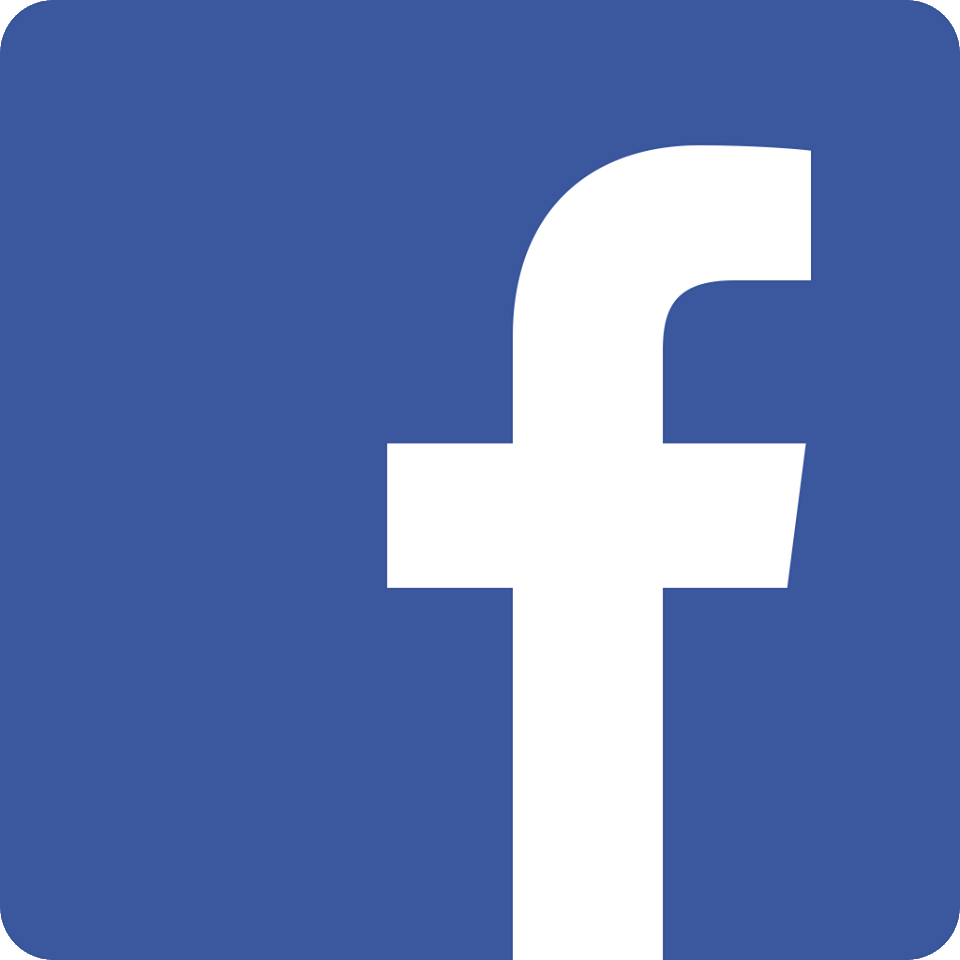 117156_media_512x512.png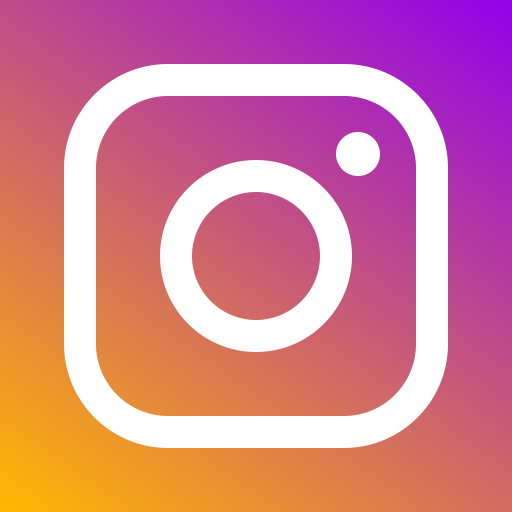 768px-youtube_play_button_square_2013-2017.svg_.png
© 2023 University of Cambridge
Contact the University
Accessibility
Freedom of information
Privacy policy and cookies
Statement on Modern Slavery
Terms and conditions
University A-Z
Undergraduate
Postgraduate
Research news
About research at Cambridge
Spotlight on...
Have a language expert improve your writing
Run a free plagiarism check in 10 minutes, generate accurate citations for free.
Knowledge Base
Example of a great essay | Explanations, tips & tricks
Example of a Great Essay | Explanations, Tips & Tricks
Published on February 9, 2015 by Shane Bryson . Revised on December 6, 2021 by Shona McCombes.
This example guides you through the structure of an essay. It shows how to build an effective introduction , focused paragraphs , clear transitions between ideas, and a strong conclusion .
Each paragraph addresses a single central point, introduced by a topic sentence , and each point is directly related to the thesis statement .
As you read, hover over the highlighted parts to learn what they do and why they work.
An Appeal to the Senses: The Development of the Braille System in Nineteenth-Century France
The invention of Braille was a major turning point in the history of disability. The writing system of raised dots used by visually impaired people was developed by Louis Braille in nineteenth-century France. In a society that did not value disabled people in general, blindness was particularly stigmatized, and lack of access to reading and writing was a significant barrier to social participation. The idea of tactile reading was not entirely new, but existing methods based on sighted systems were difficult to learn and use. As the first writing system designed for blind people's needs, Braille was a groundbreaking new accessibility tool. It not only provided practical benefits, but also helped change the cultural status of blindness. This essay begins by discussing the situation of blind people in nineteenth-century Europe. It then describes the invention of Braille and the gradual process of its acceptance within blind education. Subsequently, it explores the wide-ranging effects of this invention on blind people's social and cultural lives.
Lack of access to reading and writing put blind people at a serious disadvantage in nineteenth-century society. Text was one of the primary methods through which people engaged with culture, communicated with others, and accessed information; without a well-developed reading system that did not rely on sight, blind people were excluded from social participation (Weygand, 2009). While disabled people in general suffered from discrimination, blindness was widely viewed as the worst disability, and it was commonly believed that blind people were incapable of pursuing a profession or improving themselves through culture (Weygand, 2009). This demonstrates the importance of reading and writing to social status at the time: without access to text, it was considered impossible to fully participate in society. Blind people were excluded from the sighted world, but also entirely dependent on sighted people for information and education.
In France, debates about how to deal with disability led to the adoption of different strategies over time. While people with temporary difficulties were able to access public welfare, the most common response to people with long-term disabilities, such as hearing or vision loss, was to group them together in institutions (Tombs, 1996). At first, a joint institute for the blind and deaf was created, and although the partnership was motivated more by financial considerations than by the well-being of the residents, the institute aimed to help people develop skills valuable to society (Weygand, 2009). Eventually blind institutions were separated from deaf institutions, and the focus shifted towards education of the blind, as was the case for the Royal Institute for Blind Youth, which Louis Braille attended (Jimenez et al, 2009). The growing acknowledgement of the uniqueness of different disabilities led to more targeted education strategies, fostering an environment in which the benefits of a specifically blind education could be more widely recognized.
Several different systems of tactile reading can be seen as forerunners to the method Louis Braille developed, but these systems were all developed based on the sighted system. The Royal Institute for Blind Youth in Paris taught the students to read embossed roman letters, a method created by the school's founder, Valentin Hauy (Jimenez et al., 2009). Reading this way proved to be a rather arduous task, as the letters were difficult to distinguish by touch. The embossed letter method was based on the reading system of sighted people, with minimal adaptation for those with vision loss. As a result, this method did not gain significant success among blind students.
Louis Braille was bound to be influenced by his school's founder, but the most influential pre-Braille tactile reading system was Charles Barbier's night writing. A soldier in Napoleon's army, Barbier developed a system in 1819 that used 12 dots with a five line musical staff (Kersten, 1997). His intention was to develop a system that would allow the military to communicate at night without the need for light (Herron, 2009). The code developed by Barbier was phonetic (Jimenez et al., 2009); in other words, the code was designed for sighted people and was based on the sounds of words, not on an actual alphabet. Barbier discovered that variants of raised dots within a square were the easiest method of reading by touch (Jimenez et al., 2009). This system proved effective for the transmission of short messages between military personnel, but the symbols were too large for the fingertip, greatly reducing the speed at which a message could be read (Herron, 2009). For this reason, it was unsuitable for daily use and was not widely adopted in the blind community.
Nevertheless, Barbier's military dot system was more efficient than Hauy's embossed letters, and it provided the framework within which Louis Braille developed his method. Barbier's system, with its dashes and dots, could form over 4000 combinations (Jimenez et al., 2009). Compared to the 26 letters of the Latin alphabet, this was an absurdly high number. Braille kept the raised dot form, but developed a more manageable system that would reflect the sighted alphabet. He replaced Barbier's dashes and dots with just six dots in a rectangular configuration (Jimenez et al., 2009). The result was that the blind population in France had a tactile reading system using dots (like Barbier's) that was based on the structure of the sighted alphabet (like Hauy's); crucially, this system was the first developed specifically for the purposes of the blind.
While the Braille system gained immediate popularity with the blind students at the Institute in Paris, it had to gain acceptance among the sighted before its adoption throughout France. This support was necessary because sighted teachers and leaders had ultimate control over the propagation of Braille resources. Many of the teachers at the Royal Institute for Blind Youth resisted learning Braille's system because they found the tactile method of reading difficult to learn (Bullock & Galst, 2009). This resistance was symptomatic of the prevalent attitude that the blind population had to adapt to the sighted world rather than develop their own tools and methods. Over time, however, with the increasing impetus to make social contribution possible for all, teachers began to appreciate the usefulness of Braille's system (Bullock & Galst, 2009), realizing that access to reading could help improve the productivity and integration of people with vision loss. It took approximately 30 years, but the French government eventually approved the Braille system, and it was established throughout the country (Bullock & Galst, 2009).
Although Blind people remained marginalized throughout the nineteenth century, the Braille system granted them growing opportunities for social participation. Most obviously, Braille allowed people with vision loss to read the same alphabet used by sighted people (Bullock & Galst, 2009), allowing them to participate in certain cultural experiences previously unavailable to them. Written works, such as books and poetry, had previously been inaccessible to the blind population without the aid of a reader, limiting their autonomy. As books began to be distributed in Braille, this barrier was reduced, enabling people with vision loss to access information autonomously. The closing of the gap between the abilities of blind and the sighted contributed to a gradual shift in blind people's status, lessening the cultural perception of the blind as essentially different and facilitating greater social integration.
The Braille system also had important cultural effects beyond the sphere of written culture. Its invention later led to the development of a music notation system for the blind, although Louis Braille did not develop this system himself (Jimenez, et al., 2009). This development helped remove a cultural obstacle that had been introduced by the popularization of written musical notation in the early 1500s. While music had previously been an arena in which the blind could participate on equal footing, the transition from memory-based performance to notation-based performance meant that blind musicians were no longer able to compete with sighted musicians (Kersten, 1997). As a result, a tactile musical notation system became necessary for professional equality between blind and sighted musicians (Kersten, 1997).
Braille paved the way for dramatic cultural changes in the way blind people were treated and the opportunities available to them. Louis Braille's innovation was to reimagine existing reading systems from a blind perspective, and the success of this invention required sighted teachers to adapt to their students' reality instead of the other way around. In this sense, Braille helped drive broader social changes in the status of blindness. New accessibility tools provide practical advantages to those who need them, but they can also change the perspectives and attitudes of those who do not.
Bullock, J. D., & Galst, J. M. (2009). The Story of Louis Braille. Archives of Ophthalmology , 127(11), 1532. https://​doi.org/10.1001/​archophthalmol.2009.286.
Herron, M. (2009, May 6). Blind visionary. Retrieved from https://​eandt.theiet.org/​content/​articles/2009/05/​blind-visionary/.
Jiménez, J., Olea, J., Torres, J., Alonso, I., Harder, D., & Fischer, K. (2009). Biography of Louis Braille and Invention of the Braille Alphabet. Survey of Ophthalmology , 54(1), 142–149. https://​doi.org/10.1016/​j.survophthal.2008.10.006.
Kersten, F.G. (1997). The history and development of Braille music methodology. The Bulletin of Historical Research in Music Education , 18(2). Retrieved from https://​www.jstor.org/​stable/40214926.
Mellor, C.M. (2006). Louis Braille: A touch of genius . Boston: National Braille Press.
Tombs, R. (1996). France: 1814-1914 . London: Pearson Education Ltd.
Weygand, Z. (2009). The blind in French society from the Middle Ages to the century of Louis Braille . Stanford: Stanford University Press.
Frequently asked questions about writing an essay
An essay is a focused piece of writing that explains, argues, describes, or narrates.
In high school, you may have to write many different types of essays to develop your writing skills.
Academic essays at college level are usually argumentative : you develop a clear thesis about your topic and make a case for your position using evidence, analysis and interpretation.
The structure of an essay is divided into an introduction that presents your topic and thesis statement , a body containing your in-depth analysis and arguments, and a conclusion wrapping up your ideas.
The structure of the body is flexible, but you should always spend some time thinking about how you can organize your essay to best serve your ideas.
Your essay introduction should include three main things, in this order:
An opening hook to catch the reader's attention.
Relevant background information that the reader needs to know.
A thesis statement that presents your main point or argument.
The length of each part depends on the length and complexity of your essay .
A thesis statement is a sentence that sums up the central point of your paper or essay . Everything else you write should relate to this key idea.
A topic sentence is a sentence that expresses the main point of a paragraph . Everything else in the paragraph should relate to the topic sentence.
At college level, you must properly cite your sources in all essays , research papers , and other academic texts (except exams and in-class exercises).
Add a citation whenever you quote , paraphrase , or summarize information or ideas from a source. You should also give full source details in a bibliography or reference list at the end of your text.
The exact format of your citations depends on which citation style you are instructed to use. The most common styles are APA , MLA , and Chicago .
Cite this Scribbr article
If you want to cite this source, you can copy and paste the citation or click the "Cite this Scribbr article" button to automatically add the citation to our free Citation Generator.
Bryson, S. (2021, December 06). Example of a Great Essay | Explanations, Tips & Tricks. Scribbr. Retrieved March 3, 2023, from https://www.scribbr.com/academic-essay/example-essay-structure/
Is this article helpful?
Shane Bryson
Shane finished his master's degree in English literature in 2013 and has been working as a writing tutor and editor since 2009. He began proofreading and editing essays with Scribbr in early summer, 2014.
Other students also liked
How to write an essay introduction | 4 steps & examples, academic paragraph structure | step-by-step guide & examples, how to write topic sentences | 4 steps, examples & purpose, what is your plagiarism score.
Our Services
Admissions Support
US / Ivy League Admissions
UK / Oxbridge Admissions
EU University Admissions
Postgraduate Applications
Crimson MBA
College Sport Recruitment
Indigo Research
Crimson Rise
Crimson Global Academy
Crimson Internships
Online Tutoring
Educational Tours
Our Reviews
Our Leaders, Advisors & Investors
Your Local Team
Student Success
Our Mentors
Crimson in the News
Crimson Access Opportunity Scholarship
Careers at Crimson
Webinars & Workshops
The Crimson Library
US College Planner
University Profiles
Successful College Applications
US College Admissions Calculator
UK University Admissions Calculator
Other Calculators & Converters
SAT/ACT Converter
Mini SAT Practice Test
Extracurricular Opportunities
SummerApply
Ask Crimson
Crimson YouTube Channel
Top of the Class Podcast
Jamie Beaton ACCEPTED! Book
How To Apply
To US Universities
To UK Universities
+44 (0)204 599 8335
IB to Allow ChatGPT for Essays | This Week in Admissions News
03 MAR 2023
The world of college admissions is ever-changing and for students with top university ambitions, it's important to stay up-to-date on the latest developments. This week, as educational institutions around the world grapple with the rise of AI, the International Baccalaureate has allowed the use of ChatGPT in essays. Check back next week to see what's new and noteworthy in university admissions !
International baccalaureate to allow chatgpt for essays.
Educational institutions around the world are debating how to approach the viral AI writing tool, ChatGPT . In a move to embrace the technology, the International Baccalaureate has said they will allow students to quote content generated by ChatGPT in their essays, The Guardian has reported. Like with all other resources, students will have to cite ChaGPT as a source when using it.
The move comes at a time when universities are debating the effect of ChatGPT on the personal statement for admissions. The AI tool has also been successful in passing a few university exams. By allowing students to use the tool, the IB has made a smart move. When students will attribute their source to ChatGPT, there is less chance of them generating their entire essay with the help of the tool. Matt Glanville, the IB's head of assessment principles and practice, said the chatbot should be embraced as "an extraordinary opportunity".
"The clear line between using ChatGPT and providing original work is exactly the same as using ideas taken from other people or the internet. As with any quote or material adapted from another source, it must be credited in the body of the text and appropriately referenced in the bibliography," Glanville added.
To get an IB diploma , students have to take six exams and write three papers - Theory of Knowledge (ToK), Extended Essay (EE) and Creativity, Activity & Service (CAS) Project. These are an integral part of the final score that a student receives. Glanville added that the rise of tools like ChatGPT will result in the essays becoming less prominent for IB. "Essay writing is, however, being profoundly challenged by the rise of new technology and there's no doubt that it will have much less prominence in the future," he said. "When AI can essentially write an essay at the touch of a button, we need our pupils to master different skills, such as understanding if the essay is any good or if it has missed context, has used biased data or if it is lacking in creativity. These will be far more important skills than writing an essay, so the assessment tasks we set will need to reflect this."
ChatGPT was developed by OpenAI, a San Francisco-based company backed by Microsoft. Microsoft has integrated OpenAI technology into its Bing search engine and Google has announced the creation of its own chatbot , Bard, although it has yet to release it publicly.
Snapchat announced it would deploy a chatbot based on the same technology as ChatGPT. The messaging app said its chatbot, called My AI, would be rolled out to subscribers to its premium service, Snapchat+. Snapchat added that the service could be used for a range of purposes, similar to how ChatGPT and Bing have been used, including recommending gift ideas and planning hiking holidays.
Other top stories in admissions news this week:
Following RISD, Colorado College has also announced that it will pull out of US News undergraduate rankings. L. Song Richardson, the president, wrote to the campus that, "We are pulling out of this ranking because it privileges criteria that are antithetical to our values and our aspirational goals." The college also cited the flawed methodology employed by the rankings publication. The college said U.S. News' flawed methodology still equates academic quality with institutional wealth and continues to rely heavily on the infamous questionnaire asking institutions to rank each other's reputation, a non-objective process subject to gaming. They also added that US News continues to equate academic rigor with high school rank and standardized test scores, a metric that creates perverse incentives for schools to provide "merit" aid at the expense of need-based aid. Further, U.S. News & World Report's methodology, weighing the proportion of students with debt and the total amount of debt at graduation, creates incentives for schools to admit wealthy students who can attend without incurring debt. 
The University of California today announced that it has received a total of 245,768 applications (206,405 for freshman admission and 39,363 applications for transfer admission) for fall 2023 admission. Interest in the University from California students remained strong, with application numbers tracking closely to the levels set in previous years. Additionally, applications from many segments of traditionally underrepresented California freshmen students continued to increase. For fall 2023 admission, the University saw a 2.2% decrease (-5,411 applications) in total applications from the fall 2022 admissions cycle, where the University received 251,179 total applications (210,840 freshmen and 40,339 transfer).
The University of California closed a loophole that allowed students to craft a fully online program, Times Higher Education has reported. The University of California system has never had any fully online undergraduate degree programmes at any of its 10 campuses. But a loophole existed in which a student or department could have crafted – either inadvertently or intentionally – a stealth, fully online undergraduate degree through individually approved online courses. According to the new requirements, students have to live in campus housing to graduate from university.
Want to be a top candidate at a leading US or UK university?
Crimson is the world's leading university admissions support company helping students get into the ivy league, oxbridge and more, you may also like these articles:.
Class of 2027 Regular Decision Notification Dates
28 FEB 2023
Ivy Day 2023: Everything You Need To Know And Expect
27 FEB 2023
Problem with US University Rankings | This Week in Admissions News
24 FEB 2023
Terms of Use
Privacy Policy
Crimson Education is not affiliated or associated with any university, college, or education institution mentioned on this website.
These Universities Could Let Students Use ChatGPT To Write Their Essays
Could you get away with using it to write your coursework.
If you've had any emails from your university administrators recently, it's probably been about their rules on using an AI chatbot to write your coursework and assessments. 
Universities across the country have been stamping out the use of the tool to prevent cheating, with services such as the submissions platform Turnitin even developing their own AI to detect its use in students' work.
The artificial intelligence tool can pull information from all over the internet on almost any subject and based on its understanding of billions of words, can now mimic human speech.
Understandably, many universities are at odds with how the technology should be used, if at all as it takes away from students forming their own thoughts and opinions, as well as handling all of the legwork out of coursework and assessments with a computer essentially able to do it for you.
Oxford University has stated that students must still be "authors of their own work", however, it can still be used for study purposes.
This means that the tool has essentially been prohibited for use in any form of assessment, as the university spokesperson told i news, "Content produced by AI platforms, such as ChatGPT, does not represent the student's own original work so would be considered a form of academic misconduct to be dealt with under the university's disciplinary procedures."
This means that the tool can't be used by students to write coursework or any other type of assessed work, however, the tool's use has not been banned entirely.
On the other hand, some universities see the tool as an exciting new tool that students can leverage in their understanding of topics that would have previously taken hours of research to pull together.
University College London (UCL) has gone as far as to include guidelines on their website for how to use the tool to write long and laborious bibliographies or references and believes that the tool has the capability to be "transformative" if used correctly.
They're not alone either — Edinburgh and Glasgow University are also looking into ways it can be used in university assessments while maintaining integrity.
There's no doubt that as the AI chatbot tool continues to develop that it's only going to throw up more questions for universities as they try to monitor its use in assessments, but for now there's definitely a clear split between the teaching establishments that condone its use and those who don't.
Before you use the tool in your exams, be sure to check your university's policies and be aware that these rules could change at any time as new information emerges on whether it can be used transparently and in a way that truly benefits students.
You may also be interested in...
Grab Free Tickets To 30 UK Theme Parks & Attractions With This Hack
It's time to get planning for summer. Spring is officially on the way and warmer...
Good At Sports? You Could Get Paid To Study
Got a talent for a particular sport? It could and you a scholarship at this...
40 Special Gifts For Your Long Distance Boyfriend Or Girlfriend
The best gift ideas and inspo for long-distance relationships. If you're in a long-distance relationship...
How to write an EPQ introduction
The first thing to do is to establish the purpose of the essay – in doing this, we want to break down the question that is being answered and examine the components of it. This sounds like it is just an exercise in definitions, and to an extent it is, but it's more complicated than it may appear because it also requires justifying contentious points in those definitions. For example, if the question is "How important has religion been in shaping modern Britain" we would have to define what a religion is and set parameters for what 'modern Britain'. Furthermore, we would then have to justify these definitions and explain why certain things had been discounted e.g. an EPQ on this would have to go into detail about Christianity and Islam, for example, but would the Jedi religion be mentioned? How about Hinduism, has it had enough of an impact to merit discussion? Or the ancient religions – if you trace causes and effects back far enough they have definitely left their mark, but is there space to craft them in to a 5000 word answer?Once the question has been thoroughly unpacked, we move on to the second aspect of the introduction, which is to signpost the argument to come. There are two facets to this: firstly, the structure of the essay should be laid out to guide the reader through what is to come and provide an overview. Then, you should also discuss the scope of the essay, explaining why certain points or views are omitted or given only a brief mention – these are topics that cover a lot of ground and the examiners appreciate that you only have a limited amount of words, so it's better to discuss a narrow range in depth than fleetingly cover everything.
69582 Views
Related Extended Project Qualification A Level answers
What makes an a* epq, how to write a successful personal statement, were the british and dutch east india companies commercial and military rivals of the same size and power at their heights during the 17th century, how do i get started in my epq, we're here to help, company information, popular requests, © mytutorweb ltd 2013– 2023.
Internet Safety
Payment Security
ACADEMIC CULTURE ADAPTATION PROCESS IN UK UNIVERSITY
The UK has one of the best educational universities on their lands. Thus, it is understandable that there is a huge influx of international students in various UK educational institutions. It is estimated that around 18% of the student studying higher education in the UK are from other countries. OECD Statistics in 2013 indicated that the UK attracts 13% of international students globally, which is a pretty large number.   CITATION OEC13 \l 16393 (OECD, 2013) The international students flocking the numerous institutes in the UK bring a large number of revenues to the economy. The report of 'Oxford Economics for Universities UK studies' report stated that the financial gain from International students to the UK economy is recorded at 25.8 Billion Pounds. CITATION DrT17 \l 16393 (Dr.T.P.Sethumadhavan, 2017) However, the cultural aspect of the countries these students come from is very different from the UK, in terms of language, culture, educational, social, and political systems. The research undertaken involves 14 participants from the Brighton Foundation Programme University and studies their experiences of adapting to the UK cultural and academic environment.
Purpose and the research question
The current study aims to understand the cross-cultural academic adaptation process between Middle Eastern and Far Eastern students in UK universities. The site chosen is Brighton Foundation Programme University wherein 14 international students which 8 belongs to Asian countries and 6 from Middle East countries. The primary research questions are :
1) What has the hardest part of the academic adaptation process?
2) What has been the biggest academic difference between the UK and your country?
3) What has been the smallest academic difference between the UK and your country?
4) What do you think helps in the academic adaptation process
These questions emphasizes on the experiences international undergraduate students go through, which facilitates a better understanding of the issues the international students face while making their transitional experience.
Methodology
The methodology the present study used was the mixed-method approach and used a descriptive survey method to understand the relationship between the elements of the research question and the academic adaptation process. The mixed approach comprising the elements of both quantitative as a well qualitative research design is apt for getting a meaningful and core understanding of the selected international undergraduate students' academic adaptation process.
With the help of the criterion sampling method an initial sample of 14 undergraduate students from Middle East and Far Asian countries were selected within the Brighton Foundation Programme University. The criterion sampling method was used in this research as this method chooses individuals with specific experiences that facilitate this narrative study. (Creswell, 2009) The main criteria for participant selection were that they belonged to either the Middle East or Asian countries, enrolled in a four-year degree program of the university, and have completed at least the first year at the university. These criteria confirmed the similar background of the participants.
The primary data was collected through one-on-one interviews comprising the research questions along with a ranking scale question that asked the students to rank on a scale of scale one to ten stating their opinion about how hard has the academic adaptation process been in the UK. The interview method is a tried and tested formula for narrative research in human science and permits the investigator to spend quality time with the participants to get a deep insight into their life experiences. (Riessman, 2008) The questionnaire intends to obtain narrative inquiry as to the experiences they went through while adapting to the cultural and academic environment of the UK University. The inclusion of narrative inquiry is deemed for the present study as this approach is considered an important medium to understand an individual's experience in certain settings and provides meaning to human interpretation. (Andrews, Squire and Tamboukou, 2013)
Limitations
The findings of this study are limited to the students interviewed on the Brighton Foundation Programme University campus. It cannot be generalized to the entire population of international students in UK universities. The aim of this study was to study a small sample of Middle East and Far Asian students in a particular university and understand their experiences in adapting to the UK culture and academic environment. Thus, the findings cannot be applied to other students studying in other institutions or countries.
The findings of the study revealed some key themes in the cultural differences between international students and that of the UK. The cross-cultural difference was evident in the findings, as well as the difficulty in coping with the language barrier. Middle East and Asian countries are collectivist societies as compared to the individualist society of the UK. (Geert-hofstede.com, 2017) This aspect is reflected in the findings and claimed the students belonging to this collectivist culture find themselves isolated and home sick in the UK. The majority of the participants responded that they find it difficult to adjust in team projects as their peers from western culture tend to think of their own self-interest than of the group interest as a whole. The other major difference they found in the UK as compared to their home country was the language barrier, which made the academic adaptation process difficult. The difference in the eating habits of the different cultures made things harder for them to adjust to this new environment. The easiest part these students found to adapt to this new setup was bonding with the students from their own country. As of 2014-15, 27,520 students were studying in the UK from the Middle East, while Asian students were 192,540. (Top Universities, 2017) The other students from their home country enable them to find their own small community within the campus.
International students are faced with a wide range of cultural issues while trying to adapt to UK universities. The study presented the findings from the study of 14 Middle East and Asian students studying at Brighton Foundation Programme University. They admitted to having difficulty coping with the social expectations and norms as applicable in UK culture, which were starkly contrasting to their own country's rules. These findings were in sync with the cultural dimensions by Geert Hofstede as applicable between different countries. (Hofstede, 2011) A mixed method approach was used with more emphasis given to the qualitative narrative inquiry method. The research design with criterion sampling method suited the purpose of the study undertaken. The complicated cross-cultural academic adaptation mandates the understanding of the experiences the participant goes through as narrated by them through their personal stories.
Bibliography
Andrews, M., Squire, C. and Tamboukou, M. (2013). Doing narrative research . 1st ed. Los Angeles, California: SAGE.
Geert-hofstede.com. (2017). China - Geert Hofstede . [online]
Creswell, J. (2009). Research design: Qualitative, quantitative, and mixed methods approaches . 3rd ed. Thousand Oaks, CA: SAGE Publications, Inc.
  BIBLIOGRAPHY Dr.T.P.Sethumadhavan, 2017. UK to promote International education ....... [Online] Hofstede, G. (2011). Dimensionalizing Cultures: The Hofstede Model in Context. Online Readings in Psychology and Culture , 2(1).
OECD, 2013. Education at a Glance 2013: OECD Indicators, s.l.: OECD Publishing.
Riessman, C. (2008). Narrative methods for the human sciences . 1st ed. Los Angeles, USA: Sage Publ.
Top Universities. (2017). Middle Eastern Students Abroad: In Numbers . [online]
Academic writing: a practical guide
Academic writing
The writing process
Academic writing style
Structure & cohesion
Criticality in academic writing
Working with evidence
Referencing
Assessment & feedback
Dissertations
Reflective writing
Examination writing
Academic posters
Showing your understanding of and critical arguments relating to a topic.
What are essays?
Most degree programmes include essays. They are the most common form of written assignment and so for most students, being good at essays is essential to gaining good marks, which lead to good grades, which lead to the degree classification desired. Essays are both a particular method of writing and a collection of sub-skills that students need to master during degree studies.
Find out more:
Essays: a Conceptual and Practical Guide [interactive tutorial] | Essays: a Conceptual and Practical Guide [Google Doc]
General essay writing
You have an essay to write... what next .
Read the assessment brief carefully to find out what the essay is about, what you are required to do specifically. What instructions are you given (discuss, explain, explore)? What choices do you need to make?
Work through the practical guide to essays above. This will help you to think about what an essay is and what is required of you.
Look at the assignment writing process . How will you produce your essay?
Make a plan for when, where, and how you will research, think, draft, and write your essay.
Execute your plan .
Finish early. Leave a couple of spare days at the end to edit and proofread .
Hand it in and move on to the next challenge!
Features of essay writing
Essays vary lots between disciplines and specific tasks, but they share several features that are important to bear in mind.
They are an argument towards a conclusion. The conclusion can be for or against a position, or just a narrative conclusion. All your writing and argumentation should lead to this conclusion.
They have a reader. It is essential that you show the logic of your argument and the information it is based on to your reader.
They are based on evidence . You must show this using both your referencing and also through interacting with the ideas and thinking found within the sources you use.
They have a structure. You need to ensure your structure is logical and that it matches the expectations of your department. You should also ensure that the structure enables the reader to follow your argument easily.
They have a word limit. 1000 words means 'be concise and make decisions about exactly what is important to include' whereas 3500 words means 'write in more depth, and show the reader a more complex and broad range of critical understanding'.
They are part of a discipline/subject area, each of which has conventions . For example, Chemistry requires third person impersonal writing, whereas Women's Studies requires the voice (meaning experiential viewpoint) of the author in the writing.
Types of essay
Each essay task is different and consequently the information below is not designed to be a substitute for checking the information for your specific essay task. It is essential that you check the assessment brief, module handbook and programme handbook, as well as attend any lectures, seminars and webinars devoted to the essay you are working on.
Essays in each subject area belong to a faculty (science, social sciences, arts and Humanities). Essays within the same faculty tend to share some features of style, structure, language choice, and scholarly practices. Please click through to the section relevant to your faculty area and if you want to be curious, the other ones too!
Arts & Humanities essays
Arts and Humanities is a faculty that includes a huge range of subject areas, from Music to Philosophy. Study in the arts and humanities typically focuses on products of the human mind, like music, artistic endeavour, philosophical ideas, and literary productions. This means that essays in the arts and humanities are typically exploring ideas, or interpreting the products of thinking (such as music, art, literature).
There are a range of essay writing styles in arts and humanities, and each subject area has its own conventions and expectations, which are explained and built into modules within each degree programme. Typically, each essay explores an idea, using critical engagement with source material, to produce an argument.
There is typically more reliance on the interpretation of ideas and evidence by the student than in the sciences and social sciences. For the student, the challenge is to understand and control the ideas in each essay, producing a coherent and logical argument that fulfils the essay brief. As with all essays, careful structure, word choices, and language use are essential to succeeding.
Department-specific advice for essays in Arts and Humanities
Some departments provide web-based advice:
English and Related Literature essay writing advice pages
Philosophy essay writing advice pages
Music Department 'House Style' guidance for essay writing
Language and Linguistic Science style guide
If your department does not appear above, do ask your supervisor or other academic staff what specific guidance is available.
Key Features of Arts and Humanities essays
They are based on evidence . It is important that ideas used in essays are derived from credible and usable sources to root your essay in the scholarly materials of the subject that you are writing about.
There is usually a thesis statement. This appears towards the end of your introductory paragraph, concisely outlining the purpose and the main argument of the essay. It is short (once sentence), concise, and precise. Though the essay may have multiple sub-arguments, all must tie into the thesis statement. This means it is important to know, state and stick to the primary focus set out in your thesis statement.
They require you to interpret evidence. It is unlikely that you will find a source that directly answers the essay question set. You will typically be required to interpret primary and secondary evidence. Primary evidence includes the manuscript of a novel, or a letter describing an historical event. Secondary evidence includes academic books and peer reviewed articles.
They require you to apply ideas. Many essays will ask you to apply an abstract idea to a scenario, or interpretation of something. For example, you could be asked to apply a Marxist ideology upon Emily Brontë's Wuthering Heights or Post-Colonialist theories upon Shakespeare's The Tempest.
Essays vary greatly in terms of length, required depth of thinking and purpose. You must carefully read the assessment brief and any supporting materials provided to you. It is also important to complete formative tasks that prepare you for an essay, as these will help you to become use to the requirements of the summative essay.
They must show criticality. When interpreting evidence, or applying ideas in your essay you must be aware that there is more than one possible understanding. Through exploring multiple sources and showing the limits and interconnectedness of ideas you show criticality. More information on criticality can be found on the Criticality page of this guide .
Example extract of an arts and humanities essay
Essay Title: Liturgical expression and national identity during the reign of Æthelred the Unready
This essay is from English studies and shows typical features of an arts and humanities essay. It is examining two ideas, namely 'national identity' and 'liturgical expression' and applying them both to a period of history. The essay does this by analysing linguistic choices, using interpretation from the literature base to create an argument that addresses the essay title.
It also has the feature of the student using sources of evidence to offer an interpretation that may disagree with some published sources. This use of evidence to create an argument that is novel to the student and requires interpretation of ideas is typical of arts and humanities writing. '"engla God", these liturgical verses themselves both signify and enact a ritualised unity with God.' is an example from the essay extract that shows the careful language choices used to create a concise and precise argument that clearly conveys complex thought to the reader from the author.
One way of thinking about a good arts and humanities essay is that it is like you are producing a garment from threads. The overall piece has a shape that people can recognise and understand, and each word, like each stitch, builds the whole piece slowly, whilst some key threads, like core ideas in your argument, run through the whole to hold it all together. It is the threading together of the strands of argument that determines the quality of the final essay, just as the threading of strands in a garment determine the quality of the final piece.
Good arts and humanities essay writing is...
Based on evidence sources,
built on the interpretation and application of ideas, evidence and theories,
a clearly expressed, logical argument that addresses the essay question,
carefully constructed to guide the reader in a logical path from the introduction to the conclusion,
filled with carefully chosen language to precisely and accurately convey ideas and interpretations to the reader,
built on rigorous, careful and close analysis of ideas,
constructed using careful evaluation of the significance of each idea and concept used,
readable, meaning it is clear and logical, using clearly understandable English,
rewarded with high marks.
Common mistakes in arts and humanities essay writing
Not answering the question posed. It is very easy to answer the question you wished had been asked, or drift away from the question during your writing. Keep checking back to the question to ensure you are still focussed and make a clear plan before writing.
Moving beyond the evidence. You are required to interpret ideas and evidence that exist, this requires some application and novelty, but should not be making up new ideas/knowledge to make your argument work; your writing must be rooted in evidence.
Using complex and long words where simpler word choices would convey meaning more clearly. Think of the reader.
Leaving the reader to draw their own conclusion s, or requiring the reader to make assumptions. They must be able to see your thinking clearly on the page.
Using lots of direct quotes . There are times when using quotes is important to detail lines from a novel for example, but you need to use them carefully and judiciously, so that most of your writing is based on your use of sources, for which you gain credit.
Social Science essays
Social Sciences, as the name suggests, can be thought of as an attempt to use a 'scientific method' to investigate social phenomena. There is a recognition that applying the strict rules of the level of proof required in science subjects is not appropriate when studying complex social phenomena. But, there is an expectation of as much rigour as is possible to achieve in each investigation.
Consequently, there is a huge variation in the types of essays that can be found within the social sciences. An essay based on the carbon dating of human remains within Archaeology is clearly very different from an essay based on the application of an ethical framework in Human Resources Management. The former is likely to be much more like a science essay, whilst the latter may edge towards a Philosophy essay, which is part of arts and humanities.
Key features of social science essays
They are evidence-based. It is crucial to use the evidence in a way that shows you understand how significant the evidence used is.
They require interpretation of evidence . By its nature, evidence in social sciences may be less definite than in sciences, and so interpretation is required. When you interpret evidence, this too must be based on evidence, rather than personal opinion or personal observation.
They often require the application of abstract theories to real-world scenarios . The theories are 'clean and clear' and the real world is 'messy and unclear'; the skill of the student is to make plausible judgements. For example,
The level of detail and breadth of knowledge that must be displayed varies greatly, depending on the length of the essay. 1000 word essays need concise wording and for the student to limit the breadth of knowledge displayed in order to achieve the depth needed for a high mark. Conversely, 5000 word essays require both breadth and depth of knowledge.
They should show criticality. This means you need to show uncertainty in the theories and ideas used, and how ideas and theories interact with others. You should present counter-facts and counter-arguments and use the information in the literature base to reach supported conclusions and judgements.
Example extract of a social science essay
Essay Title: Who Gets What in Education and is that Fair?
Education in the western world has historically favoured men in the regard that women were essentially denied access to it for no other reason than their gender (Trueman,2016) and even though it would seem there is certainly "equality on paper" (Penny, 2010,p1.) when looking at statistics for achievement and gender, the reality is that the struggles facing anyone who does not identify as male require a little more effort to recognise. An excellent example of this can be found in the 2014 OECD report. In the UK women significantly outnumbered men in their application for university places- 376,860 women to 282,170 men (ICEF,2014)- but when observed closer men are applying for places at higher ranking universities and often studying in fields that will eventually allow them to earn better salaries. The same report praised women for the ability to combine their studies with family life and having higher aspirations than boys and therefore likely as being more determined to obtain degrees (ICEF, 2014), yet in reality women have very little choice about coping with the stressful burdens placed on them. The concepts of double burden and triple shift where women are expected to deal with housework and earning an income, or housework, raising children and earning an income (Einhorn, 1993) could in this case relate to the pressure for women to work hard at school to allow them to be able to provide for their families in future. Even women who do not necessarily have their own families or children to care for must face the double burden and triple shift phenomenon in the workplace, as women who work in the higher education sector almost always have the duty of a more pastoral and caring role of their students than male counterparts (Morley,1994).
Education is a social science subject. Some studies within it follow a scientific method of quantitative data collection, whilst others are more qualitative, and others still are more theoretical. In the case of this extract it is about gendered effects in university applications. This is an inevitably complex area to write about, intersecting as it does with social class, economic status, social norms, cultural history, political policy... To name but a few.
The essay is clearly based on evidence, which in places in numerical and in places is derived from previously written papers, such as 'triple shift where women are expected to deal with housework and earning an income, or housework, raising children and earning an income (Einhorn, 1993)', where the concept of triple shift is derived from the named paper. It is this interleaving of numerical and concrete facts with theoretical ideas that have been created and/or observed that is a typical feature in social sciences. In this case, the author has clearly shown the reader where the information is from and has 'controlled' the ideas to form a narrative that is plausible and evidence-based.
When compared to science writing, it can appear to be more wordy and this is largely due to the greater degree of interpretation that is required to use and synthesise complex ideas and concepts that have meanings that are more fluid and necessarily less precise than many scientific concepts.
Good social science essay writing is...
filled with clearly articulated thinking from the mind of the author,
well structured to guide the reader through the argument or narrative being created,
focussed on answering the question or addressing the task presented,
filled with carefully chosen evaluative language to tell the reader what is more and less significant,
readable - sounds simple, but is difficult to achieve whilst remaining precise,
Common mistakes in social science essay writing
Speculating beyond the limits of the evidence presented . It is important to limit your interpretation to that which is supported by existing evidence. This can be frustrating, but is essential.
Using complex words where simpler ones will do. It is tempting to try to appear 'clever' by using 'big words', but in most cases, the simplest form of writing something is clearer. Your aim is to clearly communicate with the reader.
Giving your personal opinion - this is rarely asked for or required.
Not answering the question or fulfilling the task . This is possibly the most common error and largely comes from letting one's own ideas infect the essay writing process.
Not being critical. You need to show the limits of the ideas used, how they interact, counter-arguments and include evaluation and analysis of the ideas involved. If you find yourself being descriptive, ask why.
Using lots of direct quotes, particularly in first year writing . Quotes should be rare and used carefully because they are basically photocopying. Use your words to show you have understood the concepts involved.
Science essays
Science essays are precise, logical and strictly evidence-based pieces of writing. They employ cautious language to accurately convey the level of certainty within the scientific understanding that is being discussed and are strictly objective. This means that the author has to make the effort to really understand the meaning and significance of the science being discussed.
In a science essay, your aim is to summarise and critically evaluate existing knowledge in the field. If you're doing your own research and data collection, that will be written up in a report instead.
The skill of the student is to thread together the ideas and facts they have read in a logical order that addresses the task set. When judgements are made they must be justified against the strength and significance of the theories, findings, and ideas being used. Generally, the student should not be undertaking their own interpretation of the results and facts, but instead be using those of others to create a justifiable narrative.
Example extract of a science essay
Essay title: To what extent has Ungerleider and Mishkin's notion of separate 'what' and 'where' pathways been vindicated by neuropsychological research?
Van Polanen & Davare (2015) showed that the dorsal stream and ventral streams are not strictly independent, but do interact with each other. Interactions between dorsal and ventral streams are important for controlling complex object-oriented hand movements, especially skilled grasp. Anatomical studies have reported the existence of direct connections between dorsal and ventral stream areas. These physiological interconnections appear to gradually more active as the precision demands of the grasp become higher.
However, cognition is a dynamic process, and a flexible interactive system is required to coordinate and modulate activity across cortical networks to enable the adaptation of processing to meet variable task demands. The clear division of the dorsal and ventral processing streams is artificial, resulting from experimental situations, which do not reflect processing within the natural environment (Weiller et al., 2011). Most successful execution of visual behaviours require the complex collaboration and seamless integration of processing between the two systems.
Cloutman (2013) had stated that dorsal and ventral streams can be functionally connected in three regards: (1) the independent processing account – where they remain separate but terminate on the same brain area, (2) the feedback account – where feedback loops from locations downstream on one pathway is constantly providing input to the other and (3) the continuous cross-talk account – where information is transferred to and from the system constantly when processing.
Indeed, the authors found that there were numerous anatomical cross-connections between the two pathways, most notably between inferior parietal and inferior temporal areas. For example, ventral regions TE and TEO have been found to have extensive connectivity with dorsal stream areas, demonstrating direct projections with areas including V3A, MT, MST, FST and LIP (Baizer et al., 1991; Disler et al., 1993).
The first obvious comment is that it is not going to win a prize for literary entertainment! The writing is what one might call 'dry'. This is because it is good scientific writing. It is clearly evidence-based, and is explaining complex interrelationships in a way that is clear, leaves little for the reader to assume and that uses carefully graded language to show the significance of each fact.
The language choices are carefully aligned with the strength of the evidence that is used. For example, 'have been found to have extensive interconnectivity' is graded to convey that many connections have been detailed in the evidence presented. Similarly, 'Most successful execution of visual behaviours require the complex collaboration' is graded carefully to convey meaning to the reader, derived from the evidence used. The sample displays many examples of controlled word choices that leave the reader in no doubt regarding the meaning they are to take from reading the piece. This concise, controlled, evidence-based and carefully considered writing is typical of that found in the science essays.
Good science essay writing is...
evidence-based,
cohesive due to language choices,
well-structured to help the reader follow the ideas,
carefully planned,
filled with carefully chosen evaluative and analytical language,
rewarded with high grades.
Common mistakes in science essay writing
The most common mistake is a lack of accuracy in the language used to convey meaning. This can be due to inadequate reading or a lack of understanding of the subject matter, or alternatively, due to not giving sufficient care to word choice. 'Increased greatly' is different to 'increased', which is different again to 'increased significantly'; it is very important that you understand what you are writing about in enough detail that you can accurately convey an understanding of it accurately to the reader.
Trying to put 'you' into the essay. It is highly unlikely that you will be required to refer to your own viewpoints, opinions or lived experience within scientific essay writing. Science is impersonal, it deals in fact, and so you are a third person, impersonal author who is interpreting and curating facts and knowledge into an essay that makes sense to the reader.
Going beyond the facts. It is rare that you will be asked to speculate in a science essay. When you are, you will be asked to extrapolate from known understanding in the relevant literature. Stick to the facts and to their meaning and significance.
Not placing understanding in context . Each scientific idea sits within a bigger discipline and interacts with other ideas. When you write about ideas, you need to acknowledge this, unless you are specifically told to only focus on one idea. An example would be genomics of viral pathogens, which is currently a much discussed area of activity. This sits within public health, virology, and genomics disciplines, to name a few. Depending on how it is to be written about, you may need to acknowledge one or more of these larger areas.
Using evidence in essays
Sources of evidence are at the heart of essay writing. You need sources that are both usable and credible, in the specific context of your essay.
A good starting point is often the materials used in the module your essay is attached to. You can then work outwards into the wider field of study as you develop your thinking, and seek to show critical analysis, critical evaluation and critical thought in your essay.
Discover more about using evidence in your assignments:
Structuring an essay
Clear structure is a key element of an effective essay. This requires careful thought and you to make choices about the order the reader needs the information to be in.
These resources contain advice and guides to help you structure your work:
You can use these templates to help develop the structure of your essay.
Go to File > Make a copy... to create your own version of the template that you can edit.
Structuring essay introductions
Play this tutorial in full screen
Explain the different functions that can be fulfilled by an introduction.
Provide examples of introductions from the Faculties of Social Sciences, Sciences, and Arts and Humanities.
Evaluating your own introductions.
Matching elements of an introduction to a description of their purpose.
Highlighting where evidence is used to support elements of the introduction.
Highlighting how introductions can make clear links to the essay question.
In this section, you will learn about the functions and key components of an essay introduction.
An introduction can fulfill the functions below. These often move from a broad overview of the topic in context to a narrow focus on the scope of the discussion, key terms and organisational structure.
Click on each function to reveal more.
It can establish the overall topic and explain the relevance and significance of the essay question to that topic
What is the topic?
Why is the essay question worth exploring? Why is the essay worth reading?
How is it relevant to wider / important / current debates in the field?
It can briefly explain the background and context and define the scope of the discussion
Is it helpful to mention some background, historical or broader factors to give the reader some context?
Is the discussion set in a particular context (geographical; political; economic; social; historical; legal)?
Does the essay question set a particular scope or are you going to narrow the scope of the discussion?
It can highlight key concepts or ideas
Are the key concepts or ideas contentious or open to interpretation?
Will the key concepts need to be defined and explained?
It can signpost the broad organisational structure of the essay
Indicate what you will cover and a brief overview of the structure of your essay
points made should be supported by evidence
clear links should be made to the question
Note: Introductions may not cover all of these elements, and they may not be covered in this order.
Useful Link: See the University of Manchester's Academic Phrasebank for useful key phrases to introduce work.
In this activity, you will review and evaluate introductions you have written, identifying areas for improvement.
Find some examples of introductions you have written for essays.
Which of the features do they use?
Are any elements missing?
How might you improve them?
For the following tasks, you will be using an example introduction from one of the following three faculties. Select a faculty to use an introduction from a corresponding subject.
In this activity, you will look at examples of introductions, identifying key features and their purpose.
Here is an example question:
Sociology: Examine some of the factors that influence procrastination in individuals, exploring and evaluating their impact. Identify an area(s) for future research, justifying your choice.
And here is a sample introduction written for this question:
Procrastination is a complex concept which manifests itself in different types of behaviour yet is experienced by individuals universally. A useful definition of procrastination is 'the voluntary delay of important, necessary, and intended action despite knowing there will be negative consequences for this delay' (Ferrari and Tice, 2000, Sirois and Pychyl, 2013 cited in Sirois and Giguère, 2018). The influences on procrastination are multi-faceted, which makes their study incredibly challenging. Researchers are now producing a body of work dedicated to procrastination; including meta-analyses such as those by Varvaricheva (2010) and Smith (2015). Influences on procrastination can be considered in two categories, factors with external, environmental, sources and factors with internal sources due to individual differences. However, these external and environmental categories are not completely independent of one another and this essay will seek to explore the complexities of this interdependence. This essay will discuss how different factors influence individual procrastination, by first examining how gender, age and personality affect the procrastination trait under internal factors, before discussing the external factors; how task aversiveness, deadlines and the internet affect procrastination behavioural outcomes. This will be followed by a brief exploration of how the two interact. Finally there a number of gaps in the literature, which suggest avenues for future research.
Click on the Next arrow to match each section of this introduction with a description of its purpose.
Procrastination is a complex concept which manifests itself in different types of behaviour yet is experienced by individuals universally.
Signposts the broad organisational structure of the essay
Narrows the topic and explains its relevance or significance to current debates
Defines the scope of the discussion
Establishes the topic and explains its broad significance
Defines key concepts
That's not the right answer
Have another go.
Yes, that's the right answer!
A useful definition of procrastination is 'the voluntary delay of important, necessary, and intended action despite knowing there will be negative consequences for this delay' (Ferrari and Tice, 2000, Sirois and Pychyl, 2013 cited in Sirois and Giguère, 2018).
The influences on procrastination are multi-faceted, which makes their study incredibly challenging. Researchers are now producing a body of work dedicated to procrastination; including meta-analyses such as those by Varvaricheva (2010) and Smith (2015).
Influences on procrastination can be considered in two categories, factors with external, environmental, sources and factors with internal sources due to individual differences. However, these external and environmental categories are not completely independent of one another and this essay will seek to explore the complexities of this interdependence.
This essay will discuss how different factors influence individual procrastination, by first examining how gender, age and personality affect the procrastination trait under internal factors, before discussing the external factors; how task aversiveness, deadlines and the internet affect procrastination behavioural outcomes. This will be followed by a brief exploration of how the two interact. Finally there a number of gaps in the literature, which suggest avenues for future research.
In this activity, you will identify how introductions make links to the question.
Here is the question again:
Click to highlight the places where the introduction below links closely to the question.
Have another go. You can remove the highlighting on sections by clicking on them again.
Those are the parts of the introduction that link closely to the question.
In this activity, you will consider how introductions make use of supporting evidence.
Define key concepts
Establish the topic and explain its relevance or significance
Click to highlight the places where the introduction below supports points with evidence .
Those are the parts of the introduction that use evidence to support points.
Congratulations! You've made it through the introduction!
Click on the icon at the bottom to restart the tutorial.
Nursing: Drawing on your own experiences and understanding gained from the module readings, discuss and evaluate the values, attributes and behaviours of a good nurse.
The Nursing and Midwifery Council's (NMC) (2015) Code states that a nurse must always put the care of patients first, be open and honest, and be empathic towards patients and their families. Student nurses are expected to demonstrate an understanding of the need for these key skills even at the interview stage and then gain the experiences to develop certain fundamental attributes, values and behaviours in order to advance through the stages of nursing. This assignment will highlight a variety of values, attributes and behaviours a good nurse should have, focusing on courage in particular. Views of courage from political, professional, and social perspectives will be considered, alongside a comparison between the attribute courage and a student nurse's abilities. This will be demonstrated using observations from practice, appropriate theorists such as Sellman (2011), Lachman (2010) and philosophers including Aristotle and Ross (2011).
The Nursing and Midwifery Council's (NMC) (2015) Code states that a nurse must always put the care of patients first, be open and honest, and be empathic towards patients and their families.
Explains the context to the discussion, with reference to the workplace
Defines the scope of the discussion by narrowing it
Defines relevant key concepts or ideas
Student nurses are expected to demonstrate an understanding of the need for these key skills even at the interview stage and then gain the experiences to develop certain fundamental attributes, values and behaviours in order to advance through the stages of nursing.
This assignment will highlight a variety of values, attributes and behaviours a good nurse should have, focusing on courage in particular.
Views of courage from political, professional, and social perspectives will be considered, alongside a comparison between the attribute courage and a student nurse's abilities. This will be demonstrated using observations from practice, appropriate theorists such as Sellman (2011), Lachman (2010) and philosophers including Aristotle and Ross (2011).
Define relevant key concepts or ideas
Signpost the broad organisational structure of the essay, making a clear link to the question
Archaeology: Explain some of the ways in which Star Carr has been re-interpreted since the initial discovery in the 1940s. Briefly evaluate how the results of recent excavations further dramatically affect our understanding of this site.
Star Carr has become the 'best known' Mesolithic site in Britain (Conneller, 2007, 3), in part because of its high levels of artefact preservation due to waterlogging, as the site was once on the Eastern edge of the ancient Lake Flixton, close to a small peninsula (Taylor, 2007). First excavated by Grahame Clark in 1949-51, there was a further invasive investigation in 1985 and 1989, again in 2006-8, and 2010. An impressive haul of artefacts have been excavated over the years, including bone and antler tools, barbed points, flint tools and microliths, and enigmatic red deer frontlets (Milner et al., 2016). Since Clark's first published report in 1954 there have been numerous re-examinations of the subject, including by Clark himself in 1974. Resulting interpretations of the site have been much debated; it has been classified as 'in situ settlement, a refuse dump, and the result of culturally prescribed acts of deposition' (Taylor et al., 2017). This discussion will explore the ways in which the site has been variously re-interpreted during this time period, and consider how more recent study of the site has prompted new perspectives.
Star Carr has become the 'best known' Mesolithic site in Britain (Conneller, 2007, 3), in part because of its high levels of artefact preservation due to waterlogging, as the site was once on the Eastern edge of the ancient Lake Flixton, close to a small peninsula (Taylor, 2007).
Explains the background to the discussion and its significance
Establishes the topic
Explains the scope of the topic and highlights key interpretations
First excavated by Grahame Clark in 1949-51, there was a further invasive investigation in 1985 and 1989, again in 2006-8, and 2010. An impressive haul of artefacts have been excavated over the years, including bone and antler tools, barbed points, flint tools and microliths, and enigmatic red deer frontlets (Milner et al., 2016).
Since Clark's first published report in 1954 there have been numerous re-examinations of the subject, including by Clark himself in 1974. Resulting interpretations of the site have been much debated; it has been classified as 'in situ settlement, a refuse dump, and the result of culturally prescribed acts of deposition' (Taylor et al., 2017).
This discussion will explore the ways in which the site has been variously re-interpreted during this time period, and consider how more recent study of the site has prompted new perspectives.
Establish the topic, explains the background and significance
Explains the significance of the topic
Highlights key interpretations
Structuring essay conclusions
In this section you will consider the different functions a conclusion can fulfil, look at examples of conclusions, and identify key features and their purpose.
A conclusion can fulfil the functions below. These often move from a narrow focus on the outcomes of the discussion to a broad view of the topic's relevance to the wider context.
Summary of the main points in relation to the question
This might involve restating the scope of the discussion and clarifying if there any limitations of your discussion or of the evidence provided
This may include synthesising the key arguments and weighing up the evidence
Arrive at a judgement or conclusion
Having weighed up the evidence, come to a judgement about the strength of the arguments
Restate the relevance or significance of the topic to the wider context
Make it clear why your conclusions - which are based on your discussion through the essay - are important or significant in relation to wider/current debates in the field
Make recommendations or indicate the direction for further study, if applicable
Recommendations may be for further research or for practice/policy
What further research/investigation would be necessary to overcome the limitations above?
What are the implications of your findings for policy/practice?
Note: Conclusions may not cover all of these elements, and they may not be covered in this order.
Clear links should be made to the question
Do not make new points in the conclusion
Useful Link: See the University of Manchester's Academic Phrasebank for useful key phrases to conclude work.
In this activity, you will look at an example conclusion, identifying key features and their purpose.
In this task, you will be using an example conclusion from one of the following three faculties. Select a faculty to use a conclusion from a corresponding subject.
And here is a sample conclusion written for the question:
In conclusion procrastination is a complex psychological phenomenon that is influenced by a number of factors, both internal and external. However it has a hugely multifaceted nature and the factors that influence it are not truly independent of one another. Character traits and the environmental impact on behaviour are interrelated; for example similar procrastination outcomes may arise from a highly conscientious individual in a distracting environment and an individual low in conscientiousness in a non-distracting setting. This means that future studies need to be very considered in their approach to separating, or controlling for, these factors. These further studies are important and urgently needed as the impact of procrastination on society is far-reaching. For instance: individuals delay contributing to a pension, meaning that old age may bring poverty for many; couples put off entering into formal contracts with each other, potentially increasing disputes over child custody and inheritance; and indeed women delay starting a family and increasing age leads to decreased fertility, thus leading to higher societal costs of providing assisted fertilisation. Furthermore one could expand the scope to include the effects on children of being born to older parents (such as risks of inherited genetic defects). These are themselves wide fields of study and are mentioned merely to illustrate the importance of further research. Until the nature of influences on procrastination is fully understood, our development of approaches to reduce procrastination is likely to be hindered.
Click on the Next arrow to match each section of the conclusion with a description of its purpose.
In conclusion procrastination is a complex psychological phenomenon that is influenced by a number of factors, both internal and external.
Synthesises the key arguments and weighs up the evidence
Indicates limitations
Restates the scope of the discussion
Indicates the direction and significance for further study
Summary of the main point in relation to the question
However it has a hugely multifaceted nature and the factors that influence it are not truly independent of one another.
Character traits and the environmental impact on behaviour are interrelated; for example similar procrastination outcomes may arise from a highly conscientious individual in a distracting environment and an individual low in conscientiousness in a non-distracting setting.
This means that future studies need to be very considered in their approach to separating, or controlling for, these factors. These further studies are important and urgently needed as the impact of procrastination on society is far-reaching. For instance: individuals delay contributing to a pension, meaning that old age may bring poverty for many; couples put off entering into formal contracts with each other, potentially increasing disputes over child custody and inheritance; and indeed women delay starting a family and increasing age leads to decreased fertility, thus leading to higher societal costs of providing assisted fertilisation. Furthermore one could expand the scope to include the effects on children of being born to older parents (such as risks of inherited genetic defects). These are themselves wide fields of study and are mentioned merely to illustrate the importance of further research.
Until the nature of influences on procrastination is fully understood, our development of approaches to reduce procrastination is likely to be hindered.
Opportunities for nurses to display courage occur every day, although it is at the nurse's discretion whether they act courageously or not. As discussed in this assignment, courage is likewise an important attribute for a good nurse to possess and could be the difference between good and bad practice. It is significantly important that nurses speak up about bad practice to minimize potential harm to patients. However nurses do not need to raise concerns in order to be courageous, as nurses must act courageously every day. Professional bodies such as the RCN and NMC recognise that courage is important by highlighting this attribute in the RCN principles. The guidelines for raising concerns unite the attribute courage with the RCN's principles of nursing practice by improving nurses' awareness of how to raise concerns. Lachman's (2010) CODE is an accessible model that modern nurses could use as a strategy to help them when raising concerns. Although students find it difficult to challenge more senior nursing professionals, they could also benefit from learning the acronym to help them as they progress through their career. For nursing students, courage could be seen as a learning development of the ability to confront their fear of personal emotional consequences from participating in what they believe to be the right action. On the whole a range of values, attributes and behaviours are needed in order to be a good nurse, including being caring, honest, compassionate, reliable and professional. These qualities are all important, but courage is an attribute that is widely overlooked for nurses to possess but vitally fundamental.
Opportunities for nurses to display courage occur every day, although it is at the nurse's discretion whether they act courageously or not. As discussed in this assignment, courage is likewise an important attribute for a good nurse to possess and could be the difference between good and bad practice. It is significantly important that nurses speak up about bad practice to minimize potential harm to patients. However nurses do not need to raise concerns in order to be courageous, as nurses must act courageously every day.
Arrives at an overall judgement or conclusion
Make recommendations for practice
Professional bodies such as the RCN and NMC recognise that courage is important by highlighting this attribute in the RCN principles. The guidelines for raising concerns unite the attribute courage with the RCN's principles of nursing practice by improving nurses' awareness of how to raise concerns. Lachman's (2010) CODE is an accessible model that modern nurses could use as a strategy to help them when raising concerns.
Although students find it difficult to challenge more senior nursing professionals, they could also benefit from learning the acronym to help them as they progress through their career. For nursing students, courage could be seen as a learning development of the ability to confront their fear of personal emotional consequences from participating in what they believe to be the right action.
On the whole a range of values, attributes and behaviours are needed in order to be a good nurse, including being caring, honest, compassionate, reliable and professional. These qualities are all important, but courage is an attribute that is widely overlooked for nurses to possess but vitally fundamental.
Star Carr is one of the most fascinating and informative Mesolithic sites in the world. What was once considered to be the occasional winter settlement of a group of hunter-gatherer families, now appears to be a site of year-round settlement occupied over centuries. Since its initial discovery and excavation in the late 1940s and early 1950s, a great deal of further data has been collected, altering interpretations made by the primary excavators who pioneered analysis of the site. What once was considered a typical textbook Mesolithic hunting encampment is now theorized to be a site of ritual importance. The site has produced unique findings such as a multitude of barbed points, twenty one antlered headdresses and the earliest known example of a permanent living structure in Britain. These factors will combine to immortalise the site, even when its potential for further research is thoroughly decayed, which tragically could be very soon (Taylor et al. 2010).
Star Carr is one of the most fascinating and informative Mesolithic sites in the world.
Synthesise the main points
Limitations and implications for future research
Restate the significance of the topic to the wider context
What was once considered to be the occasional winter settlement of a group of hunter-gatherer families, now appears to be a site of year-round settlement occupied over centuries. Since its initial discovery and excavation in the late 1940s and early 1950s, a great deal of further data has been collected, altering interpretations made by the primary excavators who pioneered analysis of the site. What once was considered a typical textbook Mesolithic hunting encampment is now theorized to be a site of ritual importance. The site has produced unique findings such as a multitude of barbed points, twenty one antlered headdresses and the earliest known example of a permanent living structure in Britain.
These factors will combine to immortalise the site, even when its potential for further research is thoroughly decayed, which tragically could be very soon (Taylor et al. 2010).
Congratulations! You've made it through the conclusion!
Click on the icon below to restart the tutorial.
Other support for essay writing
Online resources.
The general writing pages of this site offer guidance that can be applied to all types of writing, including essays. Also check your department guidance and VLE sites for tailored resources.
Other useful resources for essay writing:
Appointments and workshops
There is lots of support and advice for essay writing. This is likely to be in your department, and particularly from your academic supervisor and module tutors, but there is also central support, which you can access using the links below.
<< Previous: Types of academic writing
Next: Reports >>
Last Updated: Feb 22, 2023 11:29 AM
URL: https://subjectguides.york.ac.uk/academic-writing