International
Schools directory
Resources Jobs Schools directory News Search
Short story writing – example story and plan (KS2)
Subject: English
Age range: 7-11
Resource type: Worksheet/Activity
Last updated
30 September 2020
Share through email
Share through twitter
Share through linkedin
Share through facebook
Share through pinterest
Easy short story plan split up into small, manageable chunks for children to complete independently. Great for online, distance and home learning and a simple way to encourage children to write. As well as a plan with prompt questions to help produce ideas, there is also an example of a short story. Great for KS2 children.
Creative Commons "Sharealike"
Your rating is required to reflect your happiness.
It's good to leave some feedback.
Something went wrong, please try again later.
This resource hasn't been reviewed yet
To ensure quality for our reviews, only customers who have downloaded this resource can review it
Report this resource to let us know if it violates our terms and conditions. Our customer service team will review your report and will be in touch.
Not quite what you were looking for? Search by keyword to find the right resource:
Need help? Open
What our subscribers say...
How to videos
Create new account
Reset your password
Creative writing techniques for kids: a step-by-step guide to writing a story
The way literacy is taught in primary schools has changed radically in the last couple of decades; when I was at school in the 80s we copied from blackboards, had whole hours of handwriting practice and sweated over spellings without any formal teaching of phonics whatsoever. While I think the more structured approach to literacy teaching we see in classrooms today makes learning more fun and accessible, my one worry is that there's little time left for writing creatively.
When I was at school I adored writing stories – even stories with chapters and illustrations. I know my author brother did too – we found some of his old stories a few years back, and I felt so pleased he'd had the time to write these endless pages of action, adventure, characterisation and twisting plotlines.
As a primary teacher I ensured I would have a week each term when, during literacy sessions, we would focus solely on creating stories. I wasn't deviating from the curriculum – far from it. During this week children would be consolidating their learning of phonics and  be 'writing for purpose', considering carefully the aspects of story and who their audience might be.
It may very well be that your children write stories at home regardless of whether they're required to for school, because most children have a seemingly natural urge to want to do so from time to time. This is just a little guidance on how you can support them and encourage a more structured approach to their story writing.
Plot planning
Firstly, ask your child where the story is going to take place . It could be somewhere fictional or real, it could be a planet, a country, a town or a house – anywhere! 
Then, ask when the story is taking place – now? In the future? In the past? 
Finally ask what they think is going to happen . Remember that this doesn't have to be accurate and they don't have to stick to what they say; many of the best writers say that their plots develop organically as they write. If they do have a firm idea of where they want to go with the plot, though, they can create an outline by completing a story planner, which could look something like this:  
Download a FREE Creative Writing toolkit!
KS1 & KS2 workbooks
Bursting with fill-in prompt sheets and inspiring ideas
Story structure tips, style guides and editing suggestions
Characterisation
Ask your child who is going to be in the story. How do they want their readers to feel about each character? Again, they may want to jot some ideas down. You could make a table for them to help them organise their thoughts, with these headings:  
Name of character
Relationship to other characters
What he/she looks like
Story language
Ask your child to think of some fabulous words to use in their story writing . They might be long words or simple ones, or they might be great descriptive words or words that help create pace and tension. Encourage them to jot these down and refer to the list as they write their story.
Story starters
All writers know that you've got to capture the attention of your readers right from the start; you want to make them desperate to read on. Ask your child to think of some good story openers that'll entice people to find out more. Here are a few examples:
First sentences that are mysterious… Molly had no sense of the day that lay ahead.
Story starters that use language tricks like alliteration… It was damp, dark and dreadfully dusty when Molly entered the house.
Story openers that create tension… Molly could hear her heart beating faster than ever before. Could this really be happening?
Stories that go straight into dialogue… "But I don't want to go to school, Mummy," groaned Molly.
Encourage your child to look at some of the books they like to read and see how they begin in order to offer inspiration.
Get writing!
Once they've got all of these ideas in place, they can start writing. They could do a draft in the first instance and then a neat, polished version later. They may wish to write in short chapters, use illustrations, or make their own book to write in – let them use their imagination and creativity when it comes to presentation, and make sure you show how much you value the end product by keeping it to read again with the other books in your house.
If your child finds writing a story a little daunting, start with something small from our list of 9 fun writing projects to do with your children .
We also recommend the free art and creative writing challenges on the Night Zookeeper website ; your child will be contributing to a co-created animated television show.
You could also try a great story-making app and get your child writing fiction on their tablet!
Plus, find out how to support storytelling skills for children in EYFS , KS1 , KS2 and KS3 to get them thinking about story elements, plot and character development.
More like this
Why not Download our free Teacher's Guide to learn more?
Training Video
Teacher Reviews
Mighty Writer Extras
Teacher's Guide
Instruction Guides
Lesson Plans
Training Videos
Get a Free Set
For Head Teachers
For Teachers
For Education Advisors
Our Vision & Mission
Mighty Writer Recognition
Mighty Writer Map
Blog | 7 Techniques for Generating Story Writing Ideas in KS2
7 Techniques for Generating Story Writing Ideas in KS2
Key stage 2 is a great time for children..
Typically, they will have settled into the flow of learning new subjects, and as KS2 teachers you get to help them flourish by practising, repeating and refining their learnt skills. When it comes to teaching literacy this also means encouraging your class's creativity.
However, on occasion creativity can be hard to come by and story writing lessons might not produce the outcomes you were hoping for. To help you combat this, here are some techniques and ideas to help you inspire your class with creative writing tasks.
1. Create a Classroom Story Generator
A story generator is guaranteed to get the creative juices flowing! Here's how to do it:
Create three lists:
1) Characters
3) Situations or tasks.
Write the ideas on paper and cut them out, then fold them up so you can't see what's written on them.
Find three bags (or any kind of container). Place all the folded character ideas in the first bag, the scenes in the second and the situations/tasks in the third. Ask each pupil to come up and draw a folded piece of paper from each bag. This will be the start of their story. Alternatively, you could build up five story-starting sentences from the bags and write them on the board. Your class could then choose which story they want to write.
Here are some examples to get you started:
You can tailor the ideas to suit your pupils' abilities, age and preferences, which should really help to spark their imaginations.
2. Watch or Listen
It doesn't have to be long or have any dialogue, but showing a short film to your class may help to trigger inspiration. Luckily there are literally millions of free videos available for this kind of thing. Vet them first to make sure they are completely suitable for your class, then turn down the lights and press play. You can show the video more than once, maybe asking the children to write notes on the second viewing which will help to inspire their stories.
Alternatively try playing a piece of instrumental music and ask your class to imagine what might be happening. Write their ideas and thoughts on the board and ask them to use this as the inspiration for a story.
3. Folklore and Fairy Tales
4. Storyboards
You're not asking your class to be artists; they can use simple stick figures and words to get their ideas down on paper. But asking your class to draw out their ideas will help them generate some interesting story twists. By getting the structure of their stories down on paper in a sequence, they will know the beginning, middle and end of their stories so when they come to start writing it out there's not an ounce of KS2 writers block in sight!
5. A Newspaper Clipping
Newspapers can be a huge source of inspiration. Interesting or unusual stories can be cut out and stuck into a scrap book to bring out and show your class in times of creative need! Alternatively, you could show your whole class a newspaper clipping and ask them all to write a story about the same extract.
6. Rewrite A Known Story
Rewriting a known story with a different ending or a different character is a great way to generate inspiration. This technique for generating story ideas can't fail to produce results since the possibilities are endless!
For example:
What if the story of Cinderella took place on Mars?
What if Little Red Riding Hood lived in a jungle instead of a forest?
What if the three little pigs were the three little wolves instead, and the big bad pig wanted to eat them for his dinner?
What if Hansel and Gretel were actually the bad ones and wanted to eat the old lady?
What if you asked your class to swap the characters in one story with the characters in another – Snow White and the Magic Beans, Jack and the Seven Dwarves.
Let your class's imaginations run free and look forward to reading the end results!
7. Let the Children Choose
Set some homework for the children to go away and think of something they care about, something they are interested in, something which makes them happy, sad or angry and why that is. You could ask them to find a picture or a news story themselves which sparks their interest or emotion.
From the ideas generated at home, ask them to write a story in class. Passion is a wonderful muse after all, so if the children choose a topic that they really care about you should end up with some very good results!
Excited to teach imaginative writing in a new way? Mighty Writer can help!
Founder Emma Ralph discusses how mighty writer allows children to plan and write their own stories using just pictures. 30sec

ORDER MIGHTY WRITER Now
Some of the 1000+ Schools Currently Using Mighty Writer
Find Mighty Writer schools near you
Order online
We accept the following payments:
Mighty Writer Limited 66 Brackendale Road, Bournemouth, Dorset BH8 9HZ
Telephone: 01202 251126
Email us here
Protected with registered community design numbers 002373597-0001 and 002373597-0002 and US D794130 and 29/610,836 and other designs and design applications worldwide
© 2023 Mighty Writer Limited | Terms and Conditions | Disclaimer | Privacy Policy | Site Map
Powered by Intergage
Mighty Writer Limited uses cookies to improve your experience. This includes necessary cookies to interact with the website, anonymous analytical data, and some third party cookies. For a complete list and further options please see our Privacy & Cookie Policy .
A Step-by-Step Plan for Teaching Narrative Writing
July 29, 2018
Can't find what you are looking for? Contact Us
Listen to this post as a podcast:
Sponsored by Peergrade and Microsoft Class Notebook
This post contains Amazon Affiliate links. When you make a purchase through these links, Cult of Pedagogy gets a small percentage of the sale at no extra cost to you.
"Those who tell the stories rule the world."  This proverb, attributed to the Hopi Indians, is one I wish I'd known a long time ago, because I would have used it when teaching my students the craft of storytelling. With a well-told story we can help a person see things in an entirely new way. We can forge new relationships and strengthen the ones we already have. We can change a law, inspire a movement, make people care fiercely about things they'd never given a passing thought.
But when we study storytelling with our students, we forget all that. Or at least I did. When my students asked why we read novels and stories, and why we wrote personal narratives and fiction, my defense was pretty lame: I probably said something about the importance of having a shared body of knowledge, or about the enjoyment of losing yourself in a book, or about the benefits of having writing skills in general.
I forgot to talk about the  power of story. I didn't bother to tell them that the ability to tell a captivating story is one of the things that makes human beings extraordinary. It's how we connect to each other. It's something to celebrate, to study, to perfect. If we're going to talk about how to teach students to write stories, we should start by thinking about why we tell stories at all . If we can pass that on to our students, then we will be going beyond a school assignment; we will be doing something transcendent.
Now. How do we get them to write those stories? I'm going to share the process I used for teaching narrative writing. I used this process with middle school students, but it would work with most age groups.
A Note About Form: Personal Narrative or Short Story?
When teaching narrative writing, many teachers separate personal narratives from short stories. In my own classroom, I tended to avoid having my students write short stories because personal narratives were more accessible. I could usually get students to write about something that really happened, while it was more challenging to get them to make something up from scratch.
In the "real" world of writers, though, the main thing that separates memoir from fiction is labeling: A writer might base a novel heavily on personal experiences, but write it all in third person and change the names of characters to protect the identities of people in real life. Another writer might create a short story in first person that reads like a personal narrative, but is entirely fictional. Just last weekend my husband and I watched the movie Lion and were glued to the screen the whole time, knowing it was based on a true story. James Frey's book  A Million Little Pieces  sold millions of copies as a memoir but was later found to contain more than a little bit of fiction. Then there are unique books like Curtis Sittenfeld's brilliant novel American Wife , based heavily on the early life of Laura Bush but written in first person, with fictional names and settings, and labeled as a work of fiction. The line between fact and fiction has always been really, really blurry, but the common thread running through all of it is good storytelling.
With that in mind, the process for teaching narrative writing can be exactly the same for writing personal narratives or short stories; it's the same skill set. So if you think your students can handle the freedom, you might decide to let them choose personal narrative or fiction for a narrative writing assignment, or simply tell them that whether the story is true doesn't matter, as long as they are telling a good story and they are not trying to pass off a fictional story as fact.
Here are some examples of what that kind of flexibility could allow:
A student might tell a true story from their own experience, but write it as if it were a fiction piece, with fictional characters, in third person.
A student might create a completely fictional story, but tell it in first person, which would give it the same feel as a personal narrative.
A student might tell a true story that happened to someone else, but write it in first person, as if they were that person. For example, I could write about my grandmother's experience of getting lost as a child, but I might write it in her voice.
If we aren't too restrictive about what we call these pieces, and we talk about different possibilities with our students, we can end up with lots of interesting outcomes. Meanwhile, we're still teaching students the craft of narrative writing.
A Note About Process: Write With Your Students
One of the most powerful techniques I used as a writing teacher was to do my students' writing assignments with them. I would start my own draft at the same time as they did, composing "live" on the classroom projector, and doing a lot of thinking out loud so they could see all the decisions a writer has to make.
The most helpful parts for them to observe were the early drafting stage, where I just scratched out whatever came to me in messy, run-on sentences, and the revision stage, where I crossed things out, rearranged, and made tons of notes on my writing. I have seen over and over again how witnessing that process can really help to unlock a student's understanding of how writing actually gets made.
A Narrative Writing Unit Plan
Before I get into these steps, I should note that there is no one right way to teach narrative writing, and plenty of accomplished teachers are doing it differently and getting great results. This just happens to be a process that has worked for me.
Step 1: Show Students That Stories Are Everywhere
Getting our students to tell stories should be easy. They hear and tell stories all the time. But when they actually have to put words on paper, they forget their storytelling abilities: They can't think of a topic. They omit relevant details, but go on and on about irrelevant ones. Their dialogue is bland. They can't figure out how to start. They can't figure out how to end.
So the first step in getting good narrative writing from students is to help them see that they are already telling stories every day . They gather at lockers to talk about that thing that happened over the weekend. They sit at lunch and describe an argument they had with a sibling. Without even thinking about it, they begin sentences with "This one time…" and launch into stories about their earlier childhood experiences. Students are natural storytellers; learning how to do it well on paper is simply a matter of studying good models, then imitating what those writers do.
So start off the unit by getting students to tell their stories. In journal quick-writes, think-pair-shares, or by playing a game like Concentric Circles , prompt them to tell some of their own brief stories: A time they were embarrassed. A time they lost something. A time they didn't get to do something they really wanted to do. By telling their own short anecdotes, they will grow more comfortable and confident in their storytelling abilities. They will also be generating a list of topic ideas. And by listening to the stories of their classmates, they will be adding onto that list and remembering more of their own stories.
And remember to tell some of your own. Besides being a good way to bond with students, sharing  your stories will help them see more possibilities for the ones they can tell.
Step 2: Study the Structure of a Story
Now that students have a good library of their own personal stories pulled into short-term memory, shift your focus to a more formal study of what a story looks like.
Use a diagram to show students a typical story arc like the one below. Then, using a simple story—like this Coca Cola commercial —fill out the story arc with the components from that story. Once students have seen this story mapped out, have them try it with another one, like a story you've read in class, a whole novel, or another short video.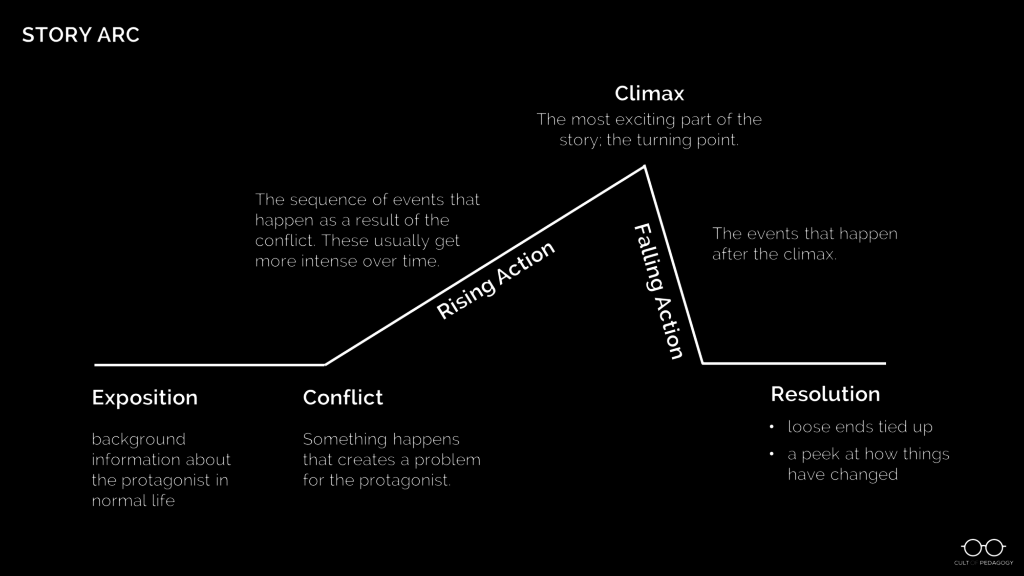 Step 3: Introduce the Assignment
Up to this point, students have been immersed in storytelling. Now give them specific instructions for what they are going to do. Share your assignment rubric so they understand the criteria that will be used to evaluate them; it should be ready and transparent right from the beginning of the unit. As always, I recommend using a single point rubric for this.
Step 4: Read Models
Once the parameters of the assignment have been explained, have students read at least one model story, a mentor text that exemplifies the qualities you're looking for. This should be a story on a topic your students can kind of relate to, something they could see themselves writing. For my narrative writing unit (see the end of this post), I wrote a story called "Frog" about a 13-year-old girl who finally gets to stay home alone, then finds a frog in her house and gets completely freaked out, which basically ruins the fun she was planning for the night.
They will be reading this model as writers, looking at how the author shaped the text for a purpose, so that they can use those same strategies in their own writing. Have them look at your rubric and find places in the model that illustrate the qualities listed in the rubric. Then have them complete a story arc for the model so they can see the underlying structure.
Ideally, your students will have already read lots of different stories to look to as models. If that isn't the case, this list of narrative texts recommended by Cult of Pedagogy followers on Twitter would be a good place to browse for titles that might be right for your students. Keep in mind that we have not read most of these stories, so be sure to read them first before adopting them for classroom use.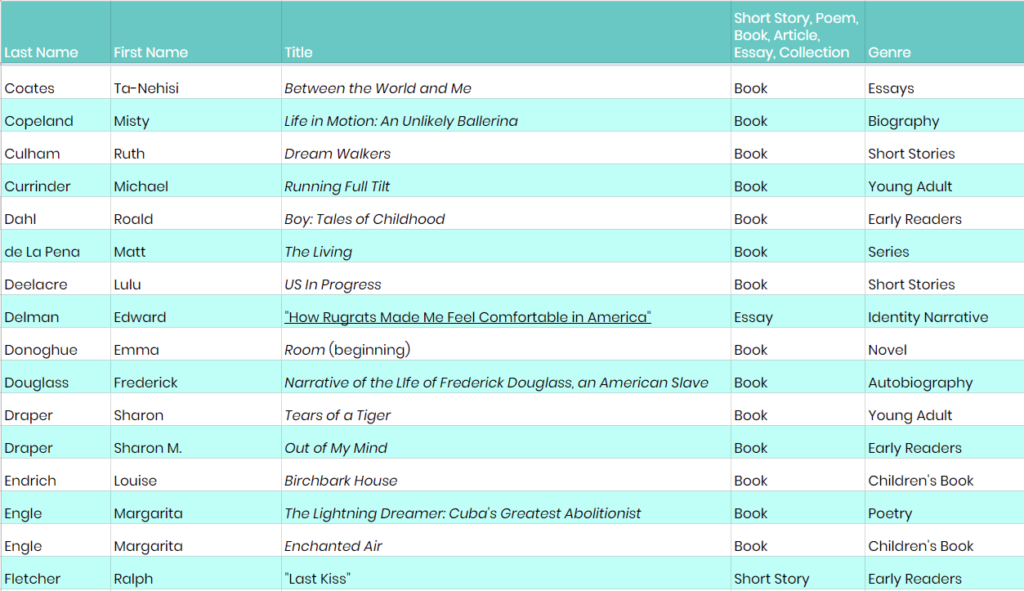 Click the image above to view the full list of narrative texts recommended by Cult of Pedagogy followers on Twitter. If you have a suggestion for the list, please email us through our contact page.
Step 5: Story Mapping
At this point, students will need to decide what they are going to write about. If they are stuck for a topic, have them just pick something they can write about, even if it's not the most captivating story in the world. A skilled writer could tell a great story about deciding what to have for lunch. If they are using the skills of narrative writing, the topic isn't as important as the execution.
Have students complete a basic story arc for their chosen topic using a diagram like the one below. This will help them make sure that they actually have a story to tell, with an identifiable problem, a sequence of events that build to a climax, and some kind of resolution, where something is different by the end. Again, if you are writing with your students, this would be an important step to model for them with your own story-in-progress.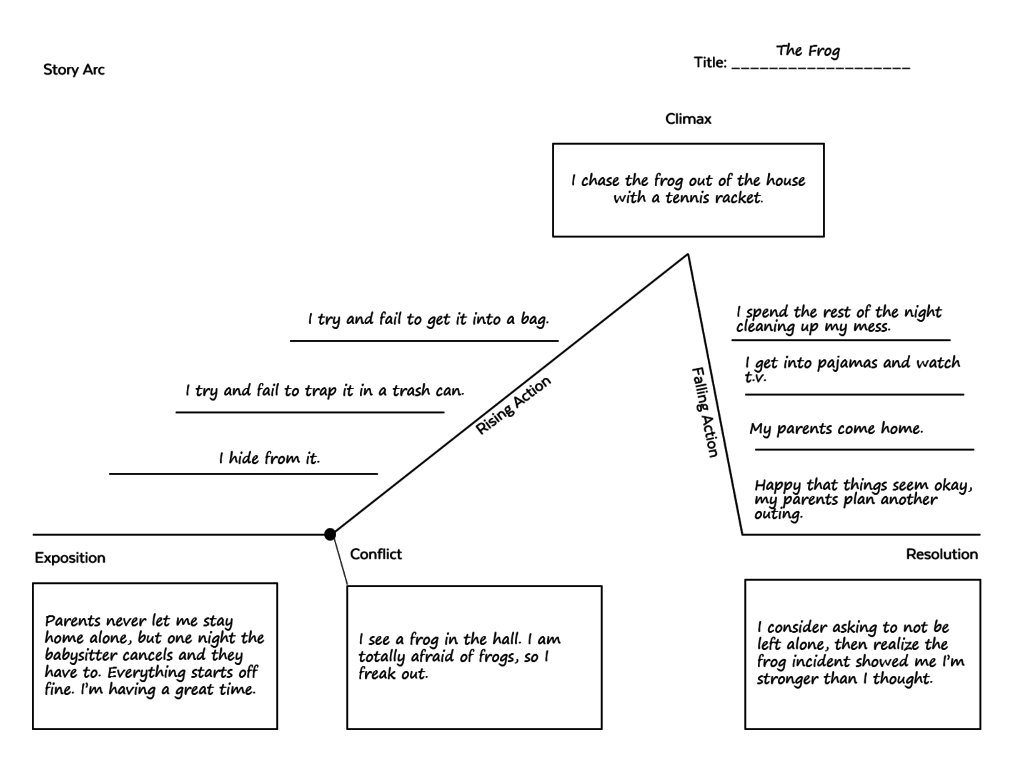 Step 6: Quick Drafts
Now, have students get their chosen story down on paper as quickly as possible: This could be basically a long paragraph that would read almost like a summary, but it would contain all the major parts of the story. Model this step with your own story, so they can see that you are not shooting for perfection in any way. What you want is a working draft, a starting point, something to build on for later, rather than a blank page (or screen) to stare at.
Step 7: Plan the Pacing
Now that the story has been born in raw form, students can begin to shape it. This would be a good time for a lesson on pacing, where students look at how writers expand some moments to create drama and shrink other moments so that the story doesn't drag. Creating a diagram like the one below forces a writer to decide how much space to devote to all of the events in the story.
Before students write a full draft, have them plan out the events in their story with a pacing diagram, a visual representation of how much "space" each part of the story is going to take up.
Step 8: Long Drafts
With a good plan in hand, students can now slow down and write a proper draft, expanding the sections of their story that they plan to really draw out and adding in more of the details that they left out in the quick draft.
Step 9: Workshop
Once students have a decent rough draft—something that has a basic beginning, middle, and end, with some discernible rising action, a climax of some kind, and a resolution, you're ready to shift into full-on workshop mode. I would do this for at least a week: Start class with a short mini-lesson on some aspect of narrative writing craft, then give students the rest of the period to write, conference with you, and collaborate with their peers. During that time, they should focus some of their attention on applying the skill they learned in the mini-lesson to their drafts, so they will improve a little bit every day.
Topics for mini-lessons can include:
How to weave exposition into your story so you don't give readers an "information dump"
How to carefully select dialogue to create good scenes, rather than quoting everything in a conversation
How to punctuate and format dialogue so that it imitates the natural flow of a conversation
How to describe things using sensory details and figurative language; also,  what  to describe…students too often give lots of irrelevant detail
How to choose precise nouns and vivid verbs, use a variety of sentence lengths and structures, and add transitional words, phrases, and features to help the reader follow along
How to start, end, and title a story
Step 10: Final Revisions and Edits
As the unit nears its end, students should be shifting away from revision , in which they alter the content of a piece, toward editing , where they make smaller changes to the mechanics of the writing. Make sure students understand the difference between the two: They should not be correcting each other's spelling and punctuation in the early stages of this process, when the focus should be on shaping a better story.
One of the most effective strategies for revision and editing is to have students read their stories out loud. In the early stages, this will reveal places where information is missing or things get confusing. Later, more read-alouds will help them immediately find missing words, unintentional repetitions, and sentences that just "sound weird." So get your students to read their work out loud frequently. It also helps to print stories on paper: For some reason, seeing the words in print helps us notice things we didn't see on the screen.
To get the most from peer review, where students read and comment on each other's work, more modeling from you is essential: Pull up a sample piece of writing and show students how to give specific feedback that helps, rather than simply writing "good detail" or "needs more detail," the two comments I saw exchanged most often on students' peer-reviewed papers.
Step 11: Final Copies and Publication
Once revision and peer review are done, students will hand in their final copies. If you don't want to get stuck with 100-plus papers to grade, consider using Catlin Tucker's station rotation model , which keeps all the grading in class. And when you do return stories with your own feedback, try using Kristy Louden's delayed grade strategy , where students don't see their final grade until they have read your written feedback.
Beyond the standard hand-in-for-a-grade, consider other ways to have students publish their stories. Here are some options:
Stories could be published as individual pages on a collaborative website or blog.
Students could create illustrated e-books out of their stories.
Students could create a slideshow to accompany their stories and record them as digital storytelling videos. This could be done with a tool like Screencastify or Screencast-O-Matic .
So this is what worked for me. If you've struggled to get good stories from your students, try some or all of these techniques next time. I think you'll find that all of your students have some pretty interesting stories to tell. Helping them tell their stories well is a gift that will serve them for many years after they leave your classroom. ♦
Want this unit ready-made?
If you're a writing teacher in grades 7-12 and you'd like a classroom-ready unit like the one described above, including slideshow mini-lessons on 14 areas of narrative craft, a sample narrative piece, editable rubrics, and other supplemental materials to guide students through every stage of the process, take a look at my Narrative Writing unit . Just click on the image below and you'll be taken to a page where you can read more and see a detailed preview of what's included.
What to Read Next
Categories: Instruction , Podcast
Tags: English language arts , Grades 6-8 , Grades 9-12 , teaching strategies
48 Comments
Wow, this is a wonderful guide! If my English teachers had taught this way, I'm sure I would have enjoyed narrative writing instead of dreading it. I'll be able to use many of these suggestions when writing my blog! BrP
Lst year I was so discouraged because the short stories looked like the quick drafts described in this article. I thought I had totally failed until I read this and realized I did not fai,l I just needed to complete the process. Thank you!
I feel like you jumped in my head and connected my thoughts. I appreciate the time you took to stop and look closely at form. I really believe that student-writers should see all dimensions of narrative writing and be able to live in whichever style and voice they want for their work.
Can't thank you enough for this. So well curated that one can just follow it blindly and ace at teaching it. Thanks again!
Great post! I especially liked your comments about reminding kids about the power of storytelling. My favourite podcasts and posts from you are always about how to do things in the classroom and I appreciate the research you do.
On a side note, the ice breakers are really handy. My kids know each other really well (rural community), and can tune out pretty quickly if there is nothing new to learn about their peers, but they like the games (and can remember where we stopped last time weeks later). I've started changing them up with 'life questions', so the editable version is great!
I love writing with my students and loved this podcast! A fun extension to this narrative is to challenge students to write another story about the same event, but use the perspective of another "character" from the story. Books like Wonder (R.J. Palacio) and Wanderer (Sharon Creech) can model the concept for students.
Thank you for your great efforts to reveal the practical writing strategies in layered details. As English is not my first language, I need listen to your podcast and read the text repeatedly so to fully understand. It's worthy of the time for some great post like yours. I love sharing so I send the link to my English practice group that it can benefit more. I hope I could be able to give you some feedback later on.
Thank you for helping me get to know better especially the techniques in writing narrative text. Im an English teacher for 5years but have little knowledge on writing. I hope you could feature techniques in writing news and fearute story. God bless and more power!
Thank you for this! I am very interested in teaching a unit on personal narrative and this was an extremely helpful breakdown. As a current student teacher I am still unsure how to approach breaking down the structures of different genres of writing in a way that is helpful for me students but not too restrictive. The story mapping tools you provided really allowed me to think about this in a new way. Writing is such a powerful way to experience the world and more than anything I want my students to realize its power. Stories are how we make sense of the world and as an English teacher I feel obligated to give my students access to this particular skill.
The power of story is unfathomable. There's this NGO in India doing some great work in harnessing the power of storytelling and plots to brighten children's lives and enlighten them with true knowledge. Check out Katha India here: http://bit.ly/KathaIndia
Thank you so much for this. I did not go to college to become a writing professor, but due to restructuring in my department, I indeed am! This is a wonderful guide that I will use when teaching the narrative essay. I wonder if you have a similar guide for other modes such as descriptive, process, argument, etc.?
Hey Melanie, Jenn does have another guide on writing! Check out A Step-by-Step Plan for Teaching Argumentative Writing .
Hi, I am also wondering if there is a similar guide for descriptive writing in particular?
Hey Melanie, unfortunately Jenn doesn't currently have a guide for descriptive writing. She's always working on projects though, so she may get around to writing a unit like this in the future. You can always check her Teachers Pay Teachers page for an up-to-date list of materials she has available. Thanks!
I absolutely adore this unit plan. I teach freshmen English at a low-income high school and wanted to find something to help my students find their voice. It is not often that I borrow material, but I borrowed and adapted all of it in the order that it is presented! It is cohesive, understandable, and fun. Thank you!!
So glad to hear this, Nicole!
Thanks sharing this post. My students often get confused between personal narratives and short stories. Whenever I ask them to write a short story, she share their own experiences and add a bit of fiction in it to make it interesting.
Thank you! My students have loved this so far. I do have a question as to where the "Frog" story mentioned in Step 4 is. I could really use it! Thanks again.
This is great to hear, Emily! In Step 4, Jenn mentions that she wrote the "Frog" story for her narrative writing unit . Just scroll down the bottom of the post and you'll see a link to the unit.
I also cannot find the link to the short story "Frog"– any chance someone can send it or we can repost it?
This story was written for Jenn's narrative writing unit. You can find a link to this unit in Step 4 or at the bottom of the article. Hope this helps.
I cannot find the frog story mentioned. Could you please send the link.? Thank you
Hi Michelle,
The Frog story was written for Jenn's narrative writing unit. There's a link to this unit in Step 4 and at the bottom of the article.
Debbie- thanks for you reply… but there is no link to the story in step 4 or at the bottom of the page….
Hey Shawn, the frog story is part of Jenn's narrative writing unit, which is available on her Teachers Pay Teachers site. The link Debbie is referring to at the bottom of this post will take you to her narrative writing unit and you would have to purchase that to gain access to the frog story. I hope this clears things up.
Thank you so much for this resource! I'm a high school English teacher, and am currently teaching creative writing for the first time. I really do value your blog, podcast, and other resources, so I'm excited to use this unit. I'm a cyber school teacher, so clear, organized layout is important; and I spend a lot of time making sure my content is visually accessible for my students to process. Thanks for creating resources that are easy for us teachers to process and use.
Do you have a lesson for Informative writing?
Hey Cari, Jenn has another unit on argumentative writing , but doesn't have one yet on informative writing. She may develop one in the future so check back in sometime.
I had the same question. Informational writing is so difficult to have a good strong unit in when you have so many different text structures to meet and need text-dependent writing tasks.
Creating an informational writing unit is still on Jenn's long list of projects to get to, but in the meantime, if you haven't already, check out When We All Teach Text Structures, Everyone Wins . It might help you out!
This is a great lesson! It would be helpful to see a finished draft of the frog narrative arc. Students' greatest challenge is transferring their ideas from the planner to a full draft. To see a full sample of how this arc was transformed into a complete narrative draft would be a powerful learning tool.
Hi Stacey! Jenn goes into more depth with the "Frog" lesson in her narrative writing unit – this is where you can find a sample of what a completed story arc might look. Also included is a draft of the narrative. If interested in checking out the unit and seeing a preview, just scroll down to the bottom of the post and click on the image. Hope this helps!
Helped me learn for an entrance exam thanks very much
Is the narrative writing lesson you talk about in https://www.cultofpedagogy.com/narrative-writing/
Also doable for elementary students you think, and if to what levels?
Love your work, Sincerely, Zanyar
Hey Zanyar,
It's possible the unit would work with 4th and 5th graders, but Jenn definitely wouldn't recommend going any younger. The main reason for this is that some of the mini-lessons in the unit could be challenging for students who are still concrete thinkers. You'd likely need to do some adjusting and scaffolding which could extend the unit beyond the 3 weeks. Having said that, I taught 1st grade and found the steps of the writing process, as described in the post, to be very similar. Of course learning targets/standards were different, but the process itself can be applied to any grade level (modeling writing, using mentor texts to study how stories work, planning the structure of the story, drafting, elaborating, etc.) Hope this helps!
This has made my life so much easier. After teaching in different schools systems, from the American, to British to IB, one needs to identify the anchor standards and concepts, that are common between all these systems, to build well balanced thematic units. Just reading these steps gave me the guidance I needed to satisfy both the conceptual framework the schools ask for and the standards-based practice. Thank you Thank you.
Would this work for teaching a first grader about narrative writing? I am also looking for a great book to use as a model for narrative writing. Veggie Monster is being used by his teacher and he isn't connecting with this book in the least bit, so it isn't having a positive impact. My fear is he will associate this with writing and I don't want a negative association connected to such a beautiful process and experience. Any suggestions would be helpful.
Thank you for any information you can provide!
Although I think the materials in the actual narrative writing unit are really too advanced for a first grader, the general process that's described in the blog post can still work really well.
I'm sorry your child isn't connecting with The Night of the Veggie Monster. Try to keep in mind that the main reason this is used as a mentor text is because it models how a small moment story can be told in a big way. It's filled with all kinds of wonderful text features that impact the meaning of the story – dialogue, description, bold text, speech bubbles, changes in text size, ellipses, zoomed in images, text placement, text shape, etc. All of these things will become mini-lessons throughout the unit. But there are lots of other wonderful mentor texts that your child might enjoy. My suggestion for an early writer, is to look for a small moment text, similar in structure, that zooms in on a problem that a first grader can relate to. In addition to the mentor texts that I found in this article , you might also want to check out Knuffle Bunny, Kitten's First Full Moon, When Sophie Gets Angry Really Really Angry, and Whistle for Willie. Hope this helps!
I saw this on Pinterest the other day while searching for examples of narritives units/lessons. I clicked on it because I always click on C.o.P stuff 🙂 And I wasn't disapointed. I was intrigued by the connection of narratives to humanity–even if a student doesn't identify as a writer, he/she certainly is human, right? I really liked this. THIS clicked with me.
A few days after I read the P.o.C post, I ventured on to YouTube for more ideas to help guide me with my 8th graders' narrative writing this coming spring. And there was a TEDx video titled, "The Power of Personal Narrative" by J. Christan Jensen. I immediately remembered the line from the article above that associated storytelling with "power" and how it sets humans apart and if introduced and taught as such, it can be "extraordinary."
I watched the video and to the suprise of my expectations, it was FANTASTIC. Between Jennifer's post and the TEDx video ignited within me some major motivation and excitement to begin this unit.
Thanks for sharing this with us! So glad that Jenn's post paired with another text gave you some motivation and excitement. I'll be sure to pass this on to Jenn!
Thank you very much for this really helpful post! I really love the idea of helping our students understand that storytelling is powerful and then go on to teach them how to harness that power. That is the essence of teaching literature or writing at any level. However, I'm a little worried about telling students that whether a piece of writing is fact or fiction does not matter. It in fact matters a lot precisely because storytelling is powerful. Narratives can shape people's views and get their emotions involved which would, in turn, motivate them to act on a certain matter, whether for good or for bad. A fictional narrative that is passed as factual could cause a lot of damage in the real world. I believe we should. I can see how helping students focus on writing the story rather than the truth of it all could help refine the needed skills without distractions. Nevertheless, would it not be prudent to teach our students to not just harness the power of storytelling but refrain from misusing it by pushing false narratives as factual? It is true that in reality, memoirs pass as factual while novels do as fictional while the opposite may be true for both cases. I am not too worried about novels passing as fictional. On the other hand, fictional narratives masquerading as factual are disconcerting and part of a phenomenon that needs to be fought against, not enhanced or condoned in education. This is especially true because memoirs are often used by powerful people to write/re-write history. I would really like to hear your opinion on this. Thanks a lot for a great post and a lot of helpful resources!
Thank you so much for this. Jenn and I had a chance to chat and we can see where you're coming from. Jenn never meant to suggest that a person should pass off a piece of fictional writing as a true story. Good stories can be true, completely fictional, or based on a true story that's mixed with some fiction – that part doesn't really matter. However, what does matter is how a student labels their story. We think that could have been stated more clearly in the post , so Jenn decided to add a bit about this at the end of the 3rd paragraph in the section "A Note About Form: Personal Narrative or Short Story?" Thanks again for bringing this to our attention!
You have no idea how much your page has helped me in so many ways. I am currently in my teaching credential program and there are times that I feel lost due to a lack of experience in the classroom. I'm so glad I came across your page! Thank you for sharing!
Thanks so much for letting us know-this means a whole lot!
No, we're sorry. Jenn actually gets this question fairly often. It's something she considered doing at one point, but because she has so many other projects she's working on, she's just not gotten to it.
I couldn't find the story
Hi, Duraiya. The "Frog" story is part of Jenn's narrative writing unit, which is available on her Teachers Pay Teachers site. The link at the bottom of this post will take you to her narrative writing unit, which you can purchase to gain access to the story. I hope this helps!
Leave a Reply
Your email address will not be published.
Accessibility links
Skip to content
Accessibility Help
CBBC iPlayer
Creative writing
16 learner guides
How to plan your story
Find out some useful tips to help you plan your story.
How is a story structured?
Find out why most stories consist of a beginning, a middle and an end.
What is a setting?
Find out what a setting is and how you can use them in your stories.
How to invent a new character
Find out about some of the different questions authors think about when they are inventing new characters.
How to think about your purpose for writing
Find out how your writing can have different purposes depending on the subject you're writing about or what you want to communicate.
How to write for different audiences
Find out how you should think about the language you use when writing for different audiences.
Identifying errors
Find out why it's important to check your work for errors.
Context for writing
Find out how changing the context can affect your stories.
Types of story
This English article shows how to identify the features of different types of story, also called genres.
Different types of story
An English article on how to identify the features of different types of story, such as science fiction, fairy stories, scary stories and mysteries.
Fiction and non-fiction
In this English article, learn about the difference between fiction and non-fiction writing.
Reading for pleasure
In this English article, learn about what an author does and review your favourite book.
Understanding recounts
An English article on what a recount is and how to write one of your own.
Identifying themes
In this English article, learn how to identify themes in a wide range of stories.
Recognising genre
An English article to help identify different genres of writing and choose the most appropriate genre for texts.
How to recognise genres
In this English article, learn how to identify different genres used in writing and choose the most appropriate genre for texts.

Play our cool KS1 and KS2 games to help you with Maths, English and more.
The Regenerators Green Lessons
BBC Teach: KS2 English
external-link Royal Shakespeare Company
external-link SATs Book Camp SUBSCRIPTION
external-link Little Bridge
external-link Education Quizzes SUBSCRIPTION
external-link Unio SUBSCRIPTION