Kids Learning
Class 3 Essay
Class 3 My School Essay

My School Essay for Class 3
Practising English Essay writing has a lot of benefits. It improves writing skills, enhances vocabulary and helps frame better sentences. Sound writing skills are always appreciated. That's why it is important to instil the habit of writing in kids. Essay writing in Class 3 is one of the ways to do so.
Given below is My School Essay in English for Class 3 kids. It has more than 10 lines on My School for Class 3. It is divided into 3 paragraphs. You can also download this 'My School' paragraph in PDF format.
Download PDF of "My School Essay for Class 3" for Free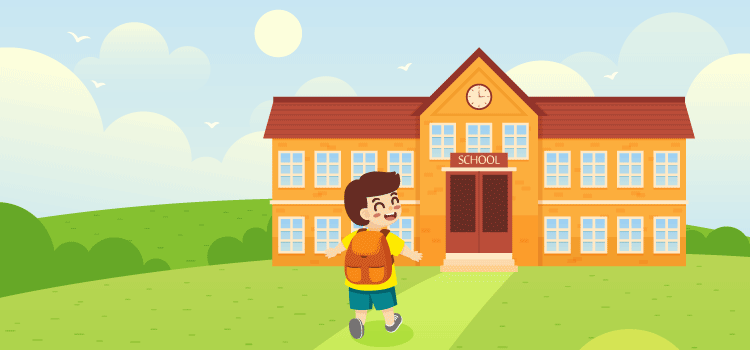 My School Paragraph for Class 3
My school has a beautiful campus with two big playgrounds. One is at the front and the other behind the school building. I play dodge-ball with my friends at one of the playgrounds. We also play cricket, football, hide-and-seek in the playground. My school has several small gardens. There are roses, sunflowers, and marigolds in these gardens. These flowers make my school look even more beautiful.
The classrooms in my school are big and tidy. There are big and wide windows for good ventilation. We have green boards, chalk, dusters and projectors in all the classrooms. Apart from classrooms, we also have practical labs, an art and craft room, music room and staff rooms. We also have a big library with books on a variety of subjects. All the competitions take place in the auditorium of my school. The auditorium is very big with hundreds of chairs.
My school has lots of great teachers. They love all of us. They teach us well and help us whenever we have any doubt. They teach us subjects like Maths, English, Hindi, EVS, etc. They always maintain a happy and fun environment in the school. I truly love my school very much.
My School Essay for Class 3 aims towards encouraging kids of Standard 3 to think and write about their schools. In My School essay in English for class 3, kids can list out the things they like about their school- the infrastructure, labs, rooms, etc. Kids can also talk about their teachers and classmates in the essay on My School Class 3. They can describe their library, auditorium, and playgrounds as well in My School Paragraph for Class 3.
Essay writing is always fun. When kids write essays on a certain topic, they think about that topic. Next, they frame sentences to communicate their opinion on that topic. It builds creative thinking in kids.
To explore more of such essays, GK questions, worksheets, stories, etc. visit our kids' learning section.
More Essays for Class 3

Register with BYJU'S & Download Free PDFs
Play & Activities
Life Skills
Learning & Education
Play & Learning
Growth & Development
Rhymes & Songs
School Finder
My School Essay For Class 3
Key Points to Remember When Writing an Essay on My School for Class 3
10-line essay on my school for class 3 kids, short paragraph on my school for class 3, long essay on my school in english for grade 3, what your 3rd grader will learn from my school essay.
Class 3 students get plenty of benefits from writing essays on topics like 'My School'. It improves their thought process as they write on the given topic. They try to put their thoughts down on paper in a structured way, and they think of words to express their thoughts. This slowly widens their vocabulary. Writing essays improves kids' observation skills, and they learn to frame simple sentences, thus improving their language skills and grammar. Essay writing also builds memory and enhances imagination. Here are some key points and examples of essays on this topic that can help your child express their thoughts and write the perfect essay.
While writing an essay on 'My School' for Class 3, the following tips need to be kept in mind:
Start by mentioning the name and location of your school.
Talk about the structure of the school premises.
Mention the activities you engage in at your school.
Maybe talk about your friends and teachers.
Remember to maintain a positive tone that's consistent.
Conclude on a positive note.
Your school will be the most important place besides your home and will have such a huge impact on your life. Let's talk about your school in ten points.
My school makes me happy.
My school is big, and it has a big playground behind the school building.
There is a beautiful garden with so many colourful flowers in my school.
Every morning, all of us gather in the auditorium for morning prayers.
The classrooms in my school are so beautiful, and we can see mountains through the windows.
The teachers in my school are very helpful. They are very polite, and they love us.
I have a lot of friends at school. I love them all.
We share our food during the tiffin breaks and have a very nice time.
We keep all our washrooms very clean.
We have an extracurricular activities class where we sing, dance, and do different things other than studying.
School plays a very important role in a child's life. Besides studies, a school also helps a child build up personality and character. A child spends a large amount of time in their formative years at school. Here's a short paragraph on the topic:
My school is one of the most well-known schools in town. The name of my school is ABC , located in XYZ . We have a big white school building. Every time our bus enters the school, I see colourful flowers in the long gardens on both sides. The sight makes me happy every day. We have big classrooms. We can see mountains through the windows of our classrooms. We gather in the school auditorium and have a prayer assembly every morning. Our teachers are very helpful and polite, and they take care of us. We have two short breaks and one lunch break. We have a big playground where we have a lot of fun. Our school also has a park where we have a see-saw, swings, slides, climbers, and tubes. We also have a separate games class where we only play games. I love that class. During tiffin breaks, I love sharing my tiffin with my friends. I love the fact that I get to go to school every day. 
Besides their home, it is in the school where kids spend a huge amount of their day. The school is where a child's foundation is set up. Read this long essay to get some tips to write your own essay on the topic.
My school is one of the most famous schools in town. The name of my school is ABC , located in XYZ city . It is a big school with a big playground. When we go to school by bus, we can see our building, even though it's quite far. Our school is painted white. Every morning, we gather inside the auditorium, offer prayers, and sing hymns.
Our school uniform is white and blue. We wear tunics while the seniors wear skirts and tops. We also wear a badge with a motto. Every day, I try to become a very good human being and follow the motto. I try to be truthful and loving, and  I am ready to serve and help the poor, the needy, and animals with all my heart.
When our school bus pulls inside the school campus, there are beautiful flowers in the school garden on both sides. The garden has marigolds, jasmine, roses, and sunflowers that look very colourful and pretty. Rohan uncle takes care of the gardens in our school. We also have big classrooms with big windows, and through the windows, we love seeing the mountains far away. On a sunny day, we can see the snow-capped mountain top.
Our teachers are very loving, polite, and caring. We have a separate class for extracurricular activities like singing, dancing, and crafts. I enjoy those classes very much. We also have a games period. We go to the playground and play different games during the games period. We also play in the park, which is made for small children like us. I also have many good friends in school with whom I play and share my pencils and erasers. I also share my tiffin with them. We have a school canteen where we get yummy dumplings, dosas, idlis, sandwiches, chips, and so much more. Once a week, my mother gives me money to go and buy food from the canteen. I share the food I buy with my friends. I love my friends and my teachers.
Your child will learn to think about different aspects of the school they study in. It will develop their observation and thought process, especially physical aspects like the colour of the school building, the ground, etc. They will also learn the important role of teachers. Besides respecting the teachers, your child will also learn to appreciate people's work, like the gardener or the janitor. The child will learn the importance of their friends with whom they share things, along with discipline and honesty. They will also learn the value of serving others and the value of truthfulness and love.
When kids in Class 3 write essays, it plays a major role in developing their mental ability. Their observation skills improve as they think about everything they see and pen their thoughts down on paper. Their thought process improves along with their vocabulary and creative thinking. Writing such essays also often leave an impact on building kids' characters and personalities. Therefore, kids must always be encouraged to write essays.
My Best Friend Essay for Grade 3 Kids  Essay On My Family for Class 3 Children How to Write An Essay On 'My Parents' for Grade 1, 2 and 3 Kids
Essays for Class 3
My School Essay
Teaching Concept Of Zero To Preschoolers And Kids – Importance And Activities
Things that are black in colour for kids, things that are purple in colour, leave a reply cancel reply.
Save my name, email, and website in this browser for the next time I comment.
Most Popular
Aladdin and the magic lamp story for kids, recent comments.
FirstCry Intelli Education is an Early Learning brand, with products and services designed by educators with decades of experience, to equip children with skills that will help them succeed in the world of tomorrow.
Story Related Activities Designed to Bring the Story to Life and Create Fun Memories.
Online Preschool is the Only Way Your Child's Learning Can Continue This Year, Don't Wait Any Longer - Get Started!
©2021 All rights reserved
Privacy Policy
Terms of Use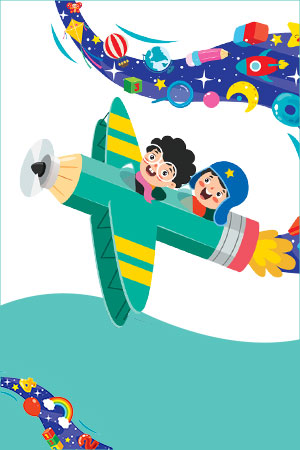 Welcome to the world of intelli!
FREE guides and worksheets coming your way on whatsapp. Subscribe Below !!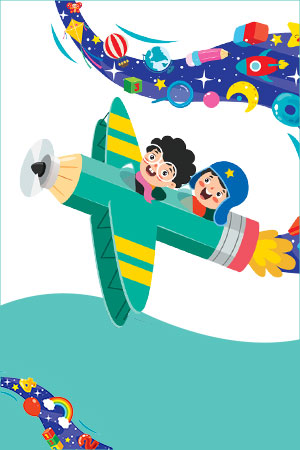 Free guides and worksheets coming you way.
Skip to primary navigation
Skip to main content
Skip to primary sidebar
Student Essays
Essays-Paragraphs-Speeches
My School Essays For 3rd and 4th Class Students
14 Comments
The school is very sweet place for students. I have written following short, simple, easy to understand essays on my school topic for class 3 and 4. In addition to that, you can look out here for more essays on my school topic for all class students.
  Essays on My School for Class 3rd & 4th Students
The school is the place where thousands of minds are made and molded. In every class fro 1st to 10th or 12th level, the students are shaped accordingly. In these whole years, the students feel, observe and experience wonderful things that are to influence the later period of their lives.
1. Essay On My School For Class 3
The school is a beautiful place where students study and work hard for the good of a country. The school helps build the future of a nation by educating the children of a nation. That's why I am proud of my school because it is the foundation stone of our country.
I study in school (write the name of school) in class). My school has a beautiful multistory building. The classrooms of our school are very wide with big windows for air. Our school has a new building with spacious rooms. Our school has a practical science lab for students to do science projects. We can borrow and study books in a big library of our school.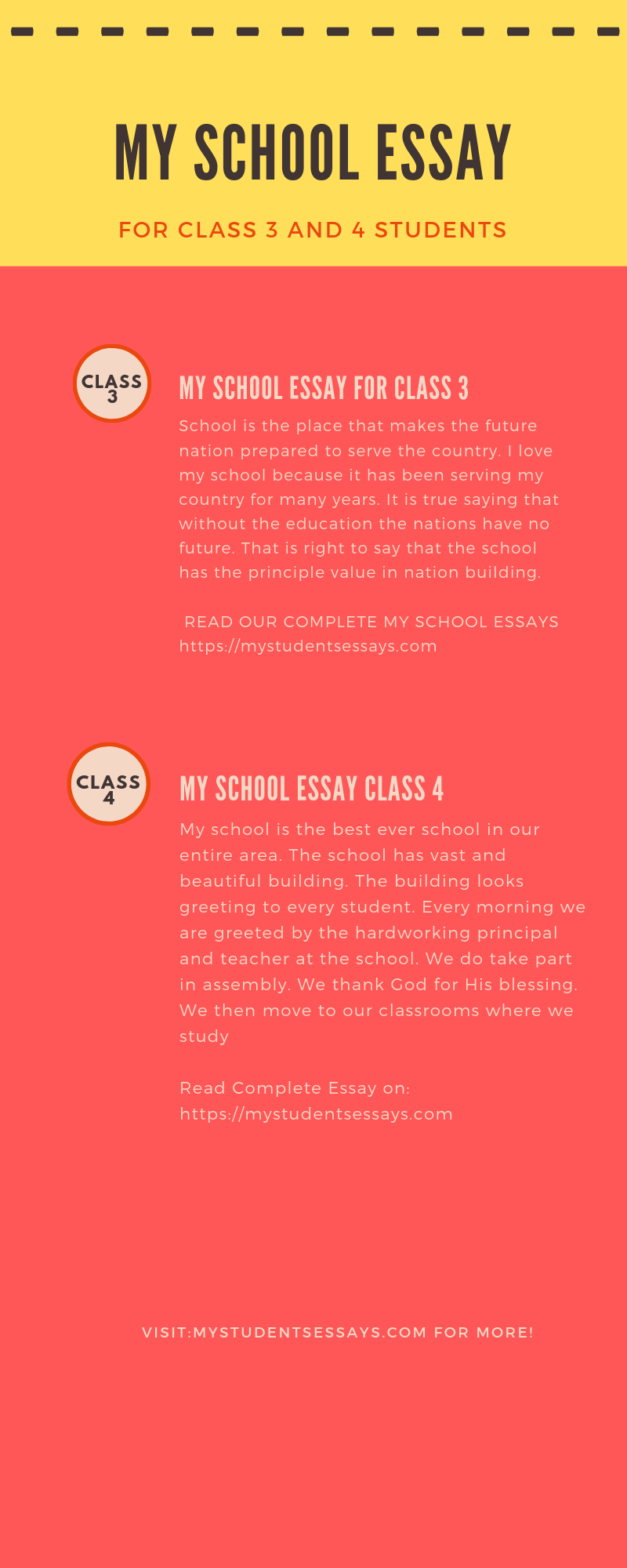 The playground of our school is very large and beautiful. The teachers of our school are very kind and helpful to students. Our class teacher is very kind man. He teaches us very kindly.
He teaches everything practically. All the other teachers are also kind. The principal of our school is very friendly man. Our school encourages students to take part in extra curriculum studies.  Many of our school students have won prizes from other schools in quiz competitions, speeches, debates, tabloids and sports competition.
Recently, my school won first prize in annual science competition. My school regularly keeps our parents informed about our studies. The best school is one that provides friendly, peaceful and cooperative environment for studies. Fortunately, our school has the best learning environment. We all live like a family here. The schools like ours are the real wealth of our country.
Related Post : My School Essay | 10 Lines & More Sentences
2. Essay On My School For Class 4
The school is a place where the students study and become the good citizen for tomorrow. Education is the weapon of progress and development. The good school schools provide the quality education. I am fortunate that I study in one of the best schools.
My school is the best ever school in our entire area. The school has vast and beautiful building. The building looks greeting to every student. Every morning we are greeted by the hardworking principal and teacher at the school. We do take part in assembly. We thank God for His blessing. We then move to our classrooms where we study.
I study in class (write class name). My classroom is beautifully designed. There are charts, graphs and a good wall clock hanging against the wall. My classroom is jam-packed. All of my class fellows are hardworking and sweet. Our class teacher is a very kind heart man. He never beats anyone. He loves everyone and teaches with kind and gentile heart.
All of our teachers are very hardworking. We are taught self discipline , honesty, dedication and love with everyone. We love to take part in extra curriculum activities in our school. Our school facilitates parents and teachers. Career counseling and teaching guidance are given for better education.
My school is one of the best schools with all the facilities of education that are must today. It is a matter of great pride for me to have been taught under the guidance of the best ever teachers. I say thanks to God to have provided me the best opportunity to learn here. To me the best school is one who only teaches from books but from practical life.
Related Posts: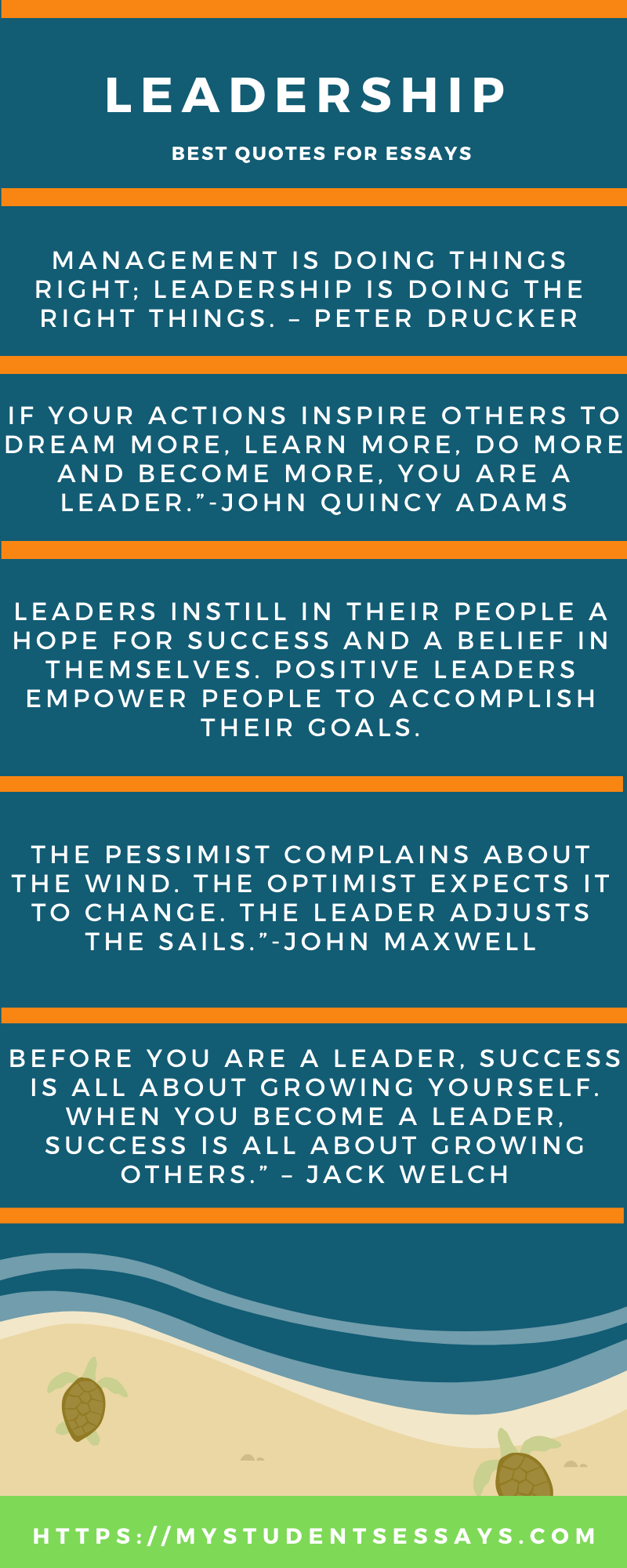 Reader Interactions
October 21, 2019 at 8:29 am
thank you for this article
March 23, 2022 at 6:21 am
Such a useful article. Bless up
December 1, 2019 at 9:31 am
May 21, 2020 at 7:07 am
Good essay it is very simple and easy
September 26, 2020 at 12:11 pm
good essay it is very interesting
October 4, 2020 at 8:32 am
This is very nice , simple and easy to learn. I like it👍🏻👍🏻
October 4, 2020 at 8:36 am
This is very nice, simple and easy to learn. I really like it 👍🏻👍🏻
October 14, 2020 at 5:25 pm
We live like a family here. Really nice Line
November 5, 2020 at 2:54 am
Really helpful for my students …..🙏🙏
December 24, 2020 at 8:01 am
Nice article
December 24, 2020 at 8:02 am
Simple , easy and helpful
January 27, 2021 at 1:13 pm
March 16, 2021 at 2:49 pm
Very hard essay but good many meanings are hard
July 1, 2021 at 1:09 pm
nice its so easy for my i am class four
Leave a Reply Cancel reply
Your email address will not be published. Required fields are marked *
Save my name, email, and website in this browser for the next time I comment.
WorkSheets Buddy
Download Math, Science, English and Many More WorkSheets
My School Essay For Class 3
School is our second home. It is not just a building of stones and bricks but a holy shrine of worship. School is the very place where our personality is developed and polished. Strict self-discipline is imbibed in us. We are prepared for the upcoming life.
We are providing two essays samples for class 3 on the topic "My School" for reference.
Short Essay on My School of 100 Words
I am an obedient student of Modern High School, Ballygunge, Calcutta. It is one of the well-acclaimed schools of Calcutta. It was established on 3 rd January 1952 to encourage education among girls primarily.
It is a CISCE council aided school. I am currently reading in class 3. The main motto of my school is the implementation of strict discipline, along with well-structured education. My school encourages us in many extracurricular activities like debate, extempore, baking, gardening and mainly sports.
My school has four different houses depicting four colors of major significance like Gulmohar( Orange), Hibiscus( Red), Jasmine(White), Lotus(Blue), Magnolia(Green), Orchid( Violet), Rose(Pink).
Engage your kid into diverse thoughts and motivate them to improve their English with our  Essay for Class 3  and avail the Simple Essays suitable for them.
Long Essay on My School of 150 Words
My school, Modern High School, is situated in Syed Amir Ali Avenue, Ballygunge, Kolkata. It is a private-aided institution. It has nearly 3500 students currently studying in it. Modern High School was established in 1952 by Rukmani Devi Birla.
It is an all-girls institution committed to the development of strong, independent, and self-opinionated women. My school is free of any bias and embraces all students on equal terms irrespective of socio-economic background, religion, or community. It believes in offering a liberal education to motivate students to discover and construct their strengths and contribute to society in turn.
The medium of instruction is in English. My school motivates us in extracurricular activities and encourages us to take part in many inter school as well as regional competitions. My school has introduced an astonishing number of outstanding alumnae who have made their alma mater proud. They continue to do so in different areas of the globe. I hope I will be one of them shortly.
10 Lines on My School in English
My school's name is Modern High School, and it is situated in Ballygunge, Kolkata
It is acclaimed by the CISCE Board of Education, New Delhi.
The medium of instruction is English.
It is an all-girls institution.
It believes in providing liberal education to all.
It was established in the year 1952 by Rukmini Devi Birla.
My school encourages us to co-curricular activities, mainly sports.
My school ensures strict discipline among its students
My school has produced an astonishing number of alumnae who made their alma mater proud.
It is a well-acclaimed institution in India.
Frequently Asked Questions on My School
Question : What is the importance of school?
Answer: School helps in the personality development of a student. It imparts education along with strict discipline. School is the very right place where a person grows, life, and learn. It is the second home to every student.
Question : How does proper education help a student?
Answer: Proper education is necessary for the development of the personality of students. It prepares a student for his/her upcoming life. Education makes a student unbiased and enables to take a wise decision without any influence. It makes a student self-dependent and strongly opinionated.
Question:   Why should a child go to school?
Answer: A child should go to school to ensure proper education and discipline. Education is necessary for liberation and independence. The school helps in personality development and ensures strict discipline. It prepares the student for his/her upcoming life. It also ensures punctuality and obedience.
Share this:
Click to share on Twitter (Opens in new window)
Click to share on Facebook (Opens in new window)
Leave a Comment Cancel reply
Notify me of follow-up comments by email.
Notify me of new posts by email.
Essay On My School For Class 3 Students In Easy Words – Read Here
Zaraki Kenpachi
October 2, 2021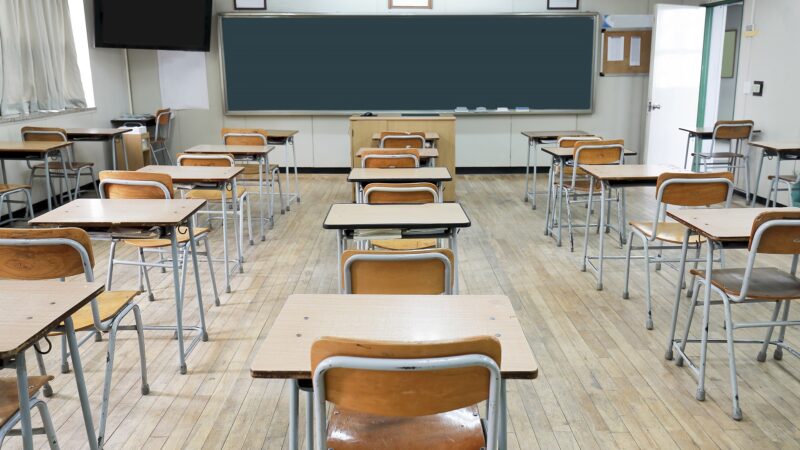 My school is a place where students learn and grow. It is a place that has taught me so many things, from the importance of education to how to be kind to others.
The my school essay for class 3 10 lines is a short essay on my school. It's the perfect length for students in Grade 3 to read and understand.
A school is a reverent learning environment. It is believed to be the Goddess Luxmi's temple. The school has a major influence on a child's future personality. A good school is a place where children may acquire excellent habits at a young age that will last a lifetime.
Saraswati Vidya Mandir is the name of my school. It's just a few minutes' walk from my home. My school has a four-story structure. On the exterior, it is painted white, while on the interior, it is painted off-white.
There are a total of 20 classrooms, as well as a hall, a big library, two labs, and two staff rooms. For the guest, there is a tiny yet pleasant separate room.
Our school's administration block is a distinct building. It comprises of the Principal's office and the Principal's room. In the mornings, we gather in a big courtyard for prayers.
There is a large canteen where we may obtain snacks, tea, coffee, fruits, and other refreshments. However, the majority of kids bring their own tiffin and eat it together, and we also share it.
Under the supervision of Gardner, the principal, and the instructors, all students are responsible for maintaining the garden. In his gardening job, he is well-trained. He has also worked in the line for a long time.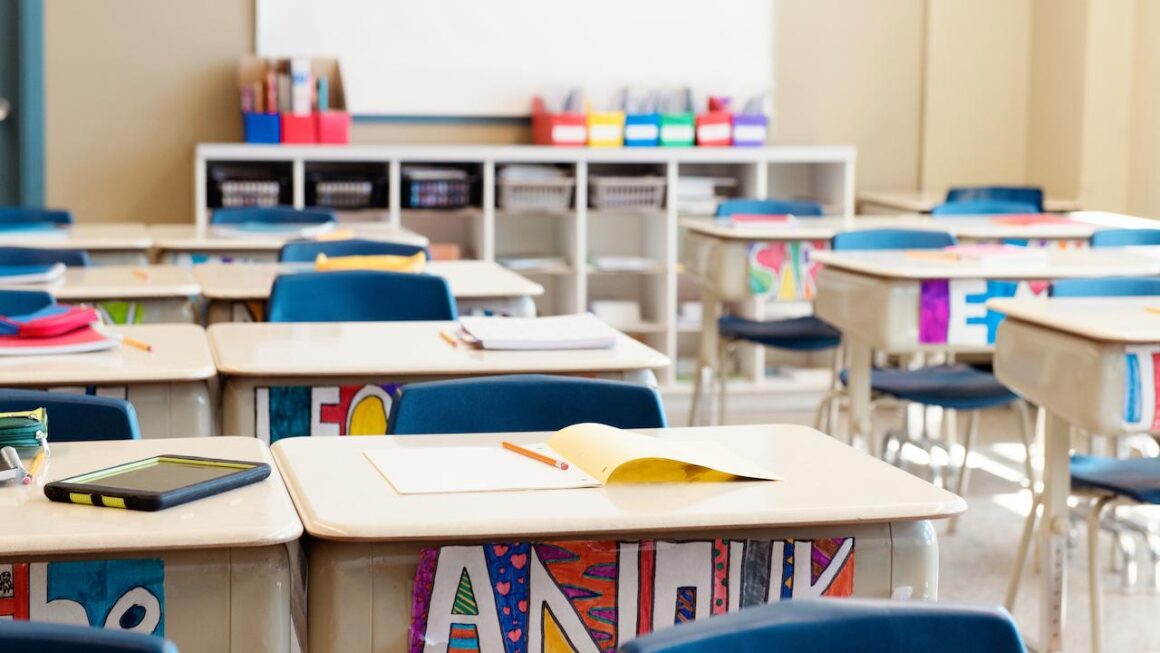 For practicals, all of our labs are well-equipped with equipment and other materials. My school is known for its library and large reading room. There are hundreds of books on all topics taught in school.
We love reading newspapers, magazines, and novels in the reading room. In the library and reading area, around 65 pupils may sit at once.
Our institution has about 12,000 female and male pupils. It's a co-educational institution. It is a co-educational institution. Our school provides education and learning in the areas of Arts, Commerce, and Science.
Computer training was introduced to our extensive list of educational courses last year. It is one of Delhi's finest schools. Many other schools in the city are envious of my school's achievements. My school has a good reputation in games and other extracurricular activities.
Our school has very high standards. My school's instructors are extremely competent. They are a dedicated group of men and women led by a capable Principal. They adore the students and treat them as if they were their own sons and daughters.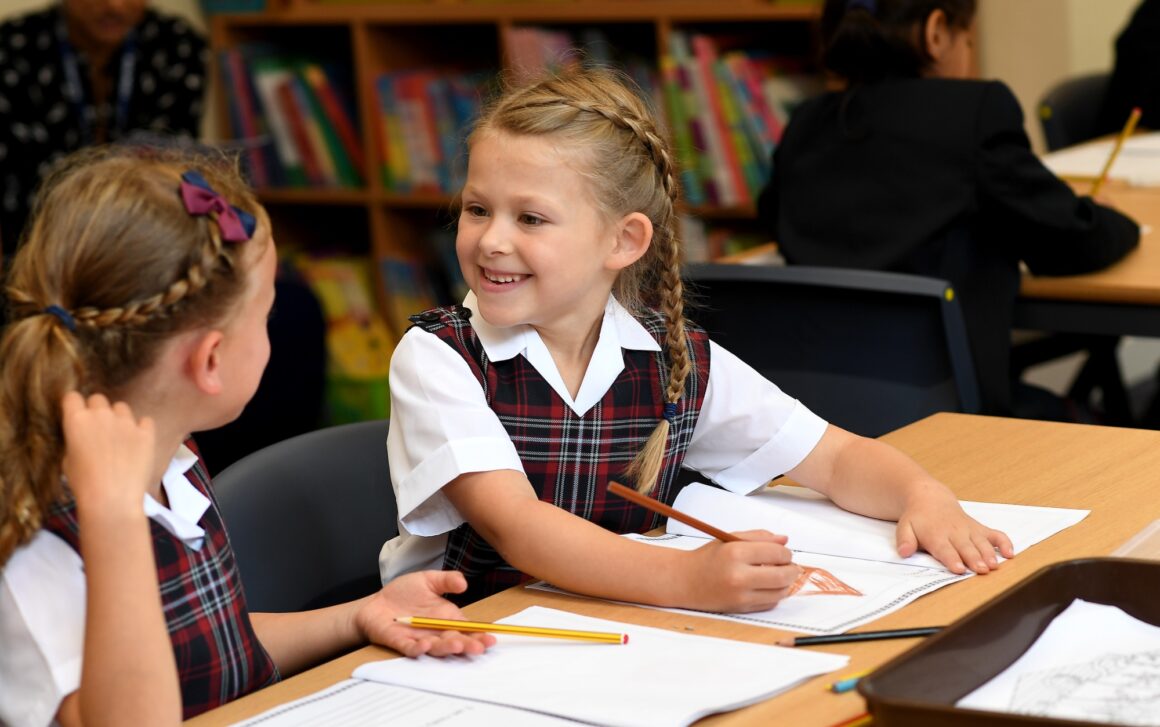 Weak pupils attend special courses. Students that excel are offered further training. Stipends and scholarships are generously distributed to the poor and needy, as well as outstanding students. That is why students from all over the city come to my school to apply for admission.
Our school is, in many ways, a perfect school. My school is one of my favorites. I am proud to be a student at such a prestigious institution.
You may post any additional questions regarding Essay On My School For Class 3 in the comment box below.
Related Topics
Essay On Neem Tree For Students In Easy Words – Read Here
Essay On My Mother In English For Class 8 Students – Read Here
Input your search keywords and press Enter.
Talk to our experts
1800-120-456-456
Kids Learning
My School Garden Essay in Engl...
My School Garden Essay in English for Class 3 Students
Essay on my school garden for class 3 students.
Essay writing is an important part of the school curriculum. It adds value to a kid's imagination and writing skills. Essay writing is given as a part of brain exercise as it helps students to put their thoughts into words. Here is a fantastic essay for Class 3 students on My School Garden. The School Garden is one of the most popular hangout spots for kids. The pupils are always drawn to the school garden because of its lush foliage and tranquillity.
Nature never ceases to amaze us with her splendor. We may discover everything in gardens, from beautiful flowers and plants to colourful birds and butterflies. The importance of nature and the environment is taught to children through school gardens. Kids can participate in a variety of activities, including planting a tree in their school gardens.
My School Garden Essay
My school has a very large garden. It's not a very big garden, but it's one of the most special gardens I have ever seen. My school backyard is placed in front of that most important school building.
I have seen many employees and gardeners work on taking care of the garden throughout the time we have classes. They plant a variety of fruits and trees. They water them and take care of the flowers.
The garden has a big range of fruits and flowers. Thick thorny shrubs border the garden. My school backyard has flowers such as sunflowers, tulips, marigolds, daisies, roses, jasmine, etc. It also has large bushes such as neem, litchi, and a mango tree.
We are only allowed to go to the garden for the duration of our recess, and once our environmental science teacher took us there to become aware of various plants. The garden not only makes our school lovely but additionally adds some much-needed greenery. I love spending time in my school garden.
Gardening is an addicting passion for many individuals. For some, keeping their garden neat and tidy is a harsh disciplinary measure. The importance of a house's garden or surrounding grass cannot be overstated. It not only enhances the visual appeal of the area but also allows residents to live a little closer to nature. People who enjoy plants and flowers are more likely to maintain gardens; they are also more likely to be engaged in gardening and approach it as a pastime.
Gardening is a highly skilled activity that also requires the practitioner to be patient and hardworking. This is due to the fact that gardening necessitates the utmost commitment and care. For the owner, a garden is a very special location. Having one's own garden implies being able to stroll through it whenever one desires. People with gardens can cultivate their own fruits and vegetables, as well as organic and ayurvedic plants. Many individuals even use hybrid planting to get flowers and seeds with a hybrid quality.
Flowers in the garden not only make it seem beautiful and vibrant, but they also add a natural scent to the living spaces. Flowers are an important aspect of the garden and contribute to its beauty. Having a garden around the house is desirable for a variety of reasons. However, in order to get the benefits of a beautiful garden, it must be well cared for and maintained. It is for this reason that gardening is so important.
Gardening entails the cultivation of plants and flowers, as well as their maintenance and proper care. It's a delicate business, and those who haven't done it before may find it challenging at first. It is a difficult task. Plants require patience to grow. Planting seeds in the ground and watering them on a regular basis would be insufficient. Other parameters, like as soil fertility, ambient temperature, manure, and so on, must be considered.
They also require enough light for photosynthesis and nutrition. People who have a genuine passion for growing plants might take on the task of gardening on their own. Those who want a garden but aren't keen on the gardening aspect can hire a professional gardener to take care of it for them.
Gardening is a broad term that encompasses a wide range of activities. Gardening, in its broadest sense, is the act of cultivating plants in a garden. Yards are found in many houses, flats, buildings, and businesses; they come in varying sizes and rely on the amount of space available. Many individuals also enjoy cultivating a kitchen garden, which is a garden that only grows vegetables, edible plants, flowers, and herbs. Gardening is a task that should be approached with caution. The importance of accuracy cannot be overstated. A single blunder here or there can lead to the plant's complete destruction. As a result, it should be completed with sufficient time and care.
Gardeners' primary responsibilities include watering plants on a daily basis, ensuring their nutrition, adding manure and fertilizers to the soil, and planting new seeds. Plants can also be grown from saplings purchased from a nursery. Bonsais can also be improved if you are interested.
As a result, gardening is a fun activity. It does necessitate complete dedication, but the wait is well worth it. Gardening aids in the development of supple hands capable of attending to the tiniest of details. It cultivates patience and faithfulness in the gardener. Gardening also instills in the gardener a renewed enthusiasm for flora. It's an investment position that necessitates the presence of a capable and responsible individual.
FAQs on My School Garden Essay in English for Class 3 Students
1. How to write a "My School Garden" Essay in 10 lines?
An essay can be written in 10 lines-
Our school has a wonderful garden.
It's enormous and lush with vegetation.
Ramu kaka, our school's gardener, looks after it.
Every year on World Forest Day, we also plant a tree sapling in our school garden.
We also water the plants every now and again.
In our garden, we have a variety of flower and fruit plants.
The perfume of jasmine and tulips grown in our garden always refreshes and scents our school campus.
There are also various trees such as peepal, mango, and lichi.
During recess, many youngsters go to the garden to play.
Our garden is something we are really proud of.
2. How is fruit and flowers described in the Essay?
In the essay, it says, the school's garden is densely forested with trees and vines. Plants include fruits, flowers, and vegetables. In the midst of the garden, there is a well. The garden is organized into four sections, with one section devoted solely to flowering plants.
Marigold, jasmine, champak, and rose plants are among them. Fruit plants can be found in the second section. Apple, guava, papaya, banana, and coconut plants are among them.
Vegetable plants such as potato, brinjal, tomato, bottle gourd, pumpkin, bitter gourd, snake-gourd, bean, and arum grow in the third section, while spinach and other vegetables grow in the fourth. We cultivate cabbage and cauliflower in the winter. Onions and garlic are also grown on the farm.
3. What is the summary of Essay My School Garden in 150-200 words?
A school garden should be present in every school. At our school, we have a lovely garden. It was created by students and instructors working collaboratively. We began working on the project last year. We learned about this from our agricultural teacher, and it piqued our interest. Inside the school, there were plenty of unoccupied areas. We approached the headmaster about it, and he was extremely pleased.
We chose a spot with a length of 25 feet and a width of 20 feet. For a small garden, that was not a small space. We provided water for three days there. We followed our agriculture teacher's advice. To work in the garden, we formed a group. We went to the local nursery to get plants once the land was ready.
We chose to plant the garden's only flowers. We went out and bought a lot of plants, which we then planted in the garden. We put in a lot of effort to provide water and keep the garden clean. It is now a very lovely garden.
4. What is a garden for class 3?
A garden is a well-kept patch of land adjacent to a home. It is designated for the growth of new plants, shrubs, herbs, flowers, fruits, and trees, among other things. A garden can be made up of both natural and man-made items. Artificial grass, for example, can be found in some gardens. Natural and man-made materials are used in the garden.
Gardens are an essential component of any home. They play a critical role in the provision of clean air and a healthy environment. They contribute to the aesthetic appeal of homes.
5. What are the tips for effective essay writing?
The tips are-
Children must write whatever they think of and make changes later
Take breaks in between while writing essays so that it doesn't get monotonous
After the body, write the introduction and conclusion. Write the introduction and conclusion when you've decided what your essay will be about.
Children can use phrases they learned
Make changes to the initial essay draft. 
Put the essay away for a few days. This provides you with a new viewpoint on your essay, allowing you to modify it more efficiently.
Kids-learning • Class 3
PTE EXAM PREPARATION
PTE Academic Exam Practice Material
My School Essay
My School Essay for class 1, 2, 3, 4, 5, 6, 7, 8, 9, 10, 11 and 12 (Essay Topics – Essay on My School )  – Read and write My School Essay in English 100, 200, 250, 300, 350, 400 and 500 words.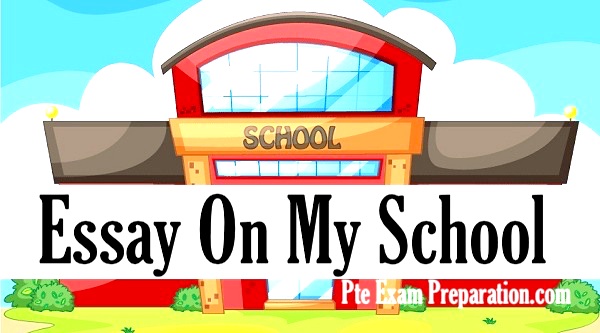 Essay on My School
My School Essay 100 Words
My school is a big building, having 3 floors. It is painted in red colour. The school is like a temple where we go to learn. We are taught to respect our elders. The first thing is the morning assembly where we say our prayers and sing the national anthem. There are 7 periods in total with two short breaks and a lunch break. The teachers are nice yet strict. The lunch breaks are the best where we get to sit and play with our friends. My school is not far from my home. I love to walk to my school.
My School Essay 200 Words
School is a temple of learning and training ground for the future. My school name is Saint Mary school. It was set up in 1972 by a landlord in our area.
The atmosphere in which our school is situated is very pleasant. It is surrounded by a playground on one side and a grinder with a small pond on the other side. The school has two rows of buildings. There are ten classrooms in the front building. The total number of students in our school is about five thousand. The school functions from 7:30 to 2:00. The classes begin after a mass prayer. During the recess hour, we go to the playground.
The library of our school is a big one. There are about two thousand books of different subjects. We have a library period in our weekly routine. The District science exhibition is also held in our school. There is a big auditorium hall at my school. There is also basketball and badminton court, cricket pitch, etc. for sports.
The discipline, the study atmosphere and the brilliant academic result of our school attract many meritorious students from distant parts of our state. My school is an ideal school in all respects. I am proud of my school.
My School Essay 250 Words
My school is a big building situated in the heart of the city. It is spread around in 2 acres of land. It has spacious playground, a football court and a basketball court. It's a red coloured building with approximately 40 rooms spread in 4 stories. The ground floor consists of a big reception, clerical offices, Vice Principal's and Principal's office.
The first, second and third floor all consist of classrooms, laboratories, art room and music room. The school has spacious bathrooms and water coolers with a RO. The classes are spacious and ventilated. The teachers are highly educated and cooperative with the students. The Computer Lab is equipped with high-tech computers. The school has foreign exchange program where students are sent abroad to study for a year. Our school has amazing extracurricular facilities, from art class to debate club; our school has everything.
Our Principal is an exceptional lady. She's amazing to talk but very strict when there is a need. The school employs about 100 teachers including lab assistants. Our school has a large canteen. There is a roomy library on the ground floor. It has more than 1000 books. It has all the books; from the classics to the modern romances, the science related books to the historical books. The school has bus service with over 10 buses. My school is equipped with everything a child could ever need. The student-teacher bond is talked about. My school is filled with diversity and I love it.
My School Essay 300 Words
My school name is St Xavier Public School, it is situated on the confluence of two rivers. It is spread across half acre land, which comprises a school building, campus and a big ground. My school is semi English school and the main language is English.
One of the things I like most about my school is, they don't discriminate on the basis of gender, religion or caste. A rural society like us do have these problems but under the leadership of our beloved principal sir, it's no more prevalent in our school. Our school always deliver the best results. Last year, we had a 96% success rate in competitive examination. One of our students, Samsun is district topper and state topper in Mathematics. All credit goes to our teachers, administrative staff, and principal sir.
We also received "School of the Year" award at the district level. We bagged this award because of our smart, hardworking principal sir. Last week, Principal sir updated that from this semester all of science and math classes will be taught on the computerised system. The school has bought software and projectors too. Parents welcome this concept. They are delighted to know that their children getting a quality education.
Our school also helps other schools in surrounding villages. They conduct guest lectures and invite those students to our school too. We also arrange the annual Science Exhibition, Essay and Speech competition. We don't just arrange these competitions but pursue other schools to participate in events. Our school believes in the collective success and that makes me proud of my school.
My School Essay 350 Words
My school's name is Delhi Public School. It is situated at Bhavnagar in Gujarat. My school is well known in the whole state. It is 4 storied, yellow coloured building. My school has 40 ventilated rooms and 10 halls, also it has 1 large assembly hall. The school has 2 large computer labs and 4 science experiment laboratories.
My principal's name is Govind Nath. He is a very generous person. Except for the principal sir, there are 50 teachers in my school. There are 20 male and 30 female teachers. They are all well trained. They are all cooperative and cultured. Teachers always help us in the study and also in other activities. Sometimes they also take part in activities to encourage the students. We also have sports and yoga trainers.
A unique method of teaching makes my school different from the other schools. Theoretical knowledge with practical lasts longer in our mind. Our teachers follow this method to explain things. They take help of computer animations and smart classes to demonstrate. They do practical in the lab and supervise us during the science experiments. We make projects, we paint pictures and we take part in fashion competition and cultural activities.
All classes at our school are well lighted and ventilated. We have smart classes. The school has a fresh water supply 24 hours. School staff is very dedicated to school. Our school provides transport facility for the entire city. The school has 20 buses and 10 vans. We go to picnic 2 times a year. We go on an excursion every year. Our school organizes cricket tournament every year. We celebrate all national festivals together.
School is called temple of education. A school is a place of creation of great personalities. A good school and teaching methods develop good characters in students. My school is one of those schools. My school is an ideal school. I love my school very much.
My School Essay 400 Words
A school is a temple of learning. It is a training ground for future bureaucrats, politicians, academics, scientists, artists, authors and so much more. We are taught about everything here. A school is the place where you find your talent and nurture it with the help of the teachers. They love you like their own children. A good school shapes your character. It teaches you how to deal with people from outside your comfort zone. It teaches you manners, values and public dealing as well.
My school is one of the best schools in the city. It is known for its high educational standards, state-of-the-art smart classes. The school is affiliated under the Central Board Of Education (CBSE). Our school has very strict norms of studies, hygiene and uniform. Students and teachers must follow the decorum of the school. We go to school, attend the morning assembly, say our prayers and study for 6 hours a day. Our timings vary according to the seasons. In the summer season, the school starts at around 7.30 am. and ends at 2 pm. In the winter season, the timings change from 7.30 to 8 am. and ends at 2.30 pm. Our school has massive playground with swings, monkey bar, slides and a merry-go-round for kids to play on. The lawns and gardens are full of greenery and have beautiful flowerbeds that are managed by the gardener.
The library is the best part about our school. It's the most peaceful place in our school. it has more than 500 books ranging from classical literature, autobiographies to modern novels. The library has beautiful sofas to sit on and read books in peace. The canteen is full of tasty treats and snacks. Our school has a beautiful infrastructure with big, airy rooms with large windows. The curriculum is tough but very interesting. The teachers are very nice. Our principal is a very respectable and nice woman. She is very sincere in nature and equally caring towards the kids as well.
Our school has a very enriching environment that pushes us forward to learn and be better ahead in life. Our school also provides transportation facilities for children who come from different areas. Our school organises various competitions such as debates, painting competition, creative writing competition and many more. There are functions like annual day, sports day and fete that take place once a year. My school has taught me a lot. The most important it has taught me, is to become a good person.
My School Essay 450 Words
A school is a pious of learning for a child. It is said to be the temple of Goddess Luxmi. It is a place where we learn how to behave in the society and it also plays a significant role in shaping our personality. It is a place where we learn good habits at a tender age, which has an everlasting impact on our overall personality.
I study in the Delhi Public School, Delhi. The name of our principal is Mr Raman and the name of our Vice Principal is Mrs meena Ranjan. It is the best school in a city with modern facilities. I go to school by bus. It is situated far away from the dust, noise and smoke of the city.
My school is 4 storey building and have classes for nursery to 12th class students. Our school building is very big, beauty, proper ventilation and very impressive to look at. It has all the facilities a good school should have, like well furniture classrooms, well equipped laboratories, a small dispensary and big library. It has beautiful grassy lawns, well- kept playground, a Tennis Court and big swimming pool. There is a large Courtyard in a school where we assemble in the morning for prayer.
All the teachers in a school are highly qualified. They help the students in every possible way. Our school teachers also take care of health and character of the students. Our teachers teach us politely and make us learn subject in very creative and attractive way. Are teachers always encourage us to participate in sports activities, questions and various competitions held in a school.
We go to school wearing a proper uniform and I like my school dress very much. It is of green and white in colour. Students in our school are well behaved and mannerly. In our school, special attention is paid to behaviour, cleanliness and punctuality. It is kept mandatory for all the students to participate in the annual function of a school, helps to improve confidence and reduced stage fright. Our school time is quite interesting and enjoyable as we do lot of creative work daily. The School has always shown excellent reserves in various examinations. Side by side, it has won great pain in sports and cultural activities. As a result, attract students from all over India. It has well run hostel to cater to needs of such students.
I love my school and enjoy going to school everyday I feel proud to be part of it.
My School Essay 500 Words
My school is an imposing 4 story building. It's ranked as one of the best schools in the city I live in. It's painted in a beautiful red colour. It has an amazing, old Victorian style infrastructure. It was during the 1930's. It's known all over the country for its famous alumnus. My school is known for its academic and extra-curricular achievements.
Our school is equipped with all the facilities anyone would want. It is an amazing place to learn and grow intellectually. The teachers are sincere and kind-hearted. There are 80 teachers in total, with 10 lab assistants. My school has 2 science labs, 2 computer labs, a music room and a dance room. There is an art class as well. The labs are located on the first floor with the art class whereas the music room is on the ground floor. The dance room is on the second floor. The school has water coolers with RO water for children to drink from. The bathrooms are modern.
There is a close bond between the students and teachers. There is also an infirmary for the students who get sick. There is a nurse present to treat the sick students. The ground floor consists of the reception, the Principal's office, the head office, the clerk office. There are two staff rooms on each floor for teachers to relax in. There are usually two small breaks and a lunch break.
The small breaks are usually 5 minute long. The lunch break is of 25 minutes. The students and teachers all have their lunch during the break. Students go to the playground and consume their lunch there, sit in their classrooms or visit the canteen. My school has a massive playground with swings, slides, monkey bars and merry-go-round to play on. There is a basketball court as well as a football court in the school premise. It also has a spacious lawn for students to sit and lounge on. There is beautiful wide variety of flowers present in the school garden. It is managed regularly by the gardener. The school property is spread around 1 acre of land.
There is a lot of competition among the students when it comes to academics and extracurricular activities. There are around 1500 students admitted in the school. The students all get along very well with each other. Transportation service is also provided by the school for the children who come from different areas. The timings are 7.30 am to 2 pm in the summer season and 8 am to 2.30 pm in the winter season. My school has a very environment that makes it exciting to come to school every day. The teachers keep the pupil engaged with new learning material and the children something new every day. There are multiple clubs children can join and learn new things such as chess club, debate club, NCC and many more. My school is the best place in the world.
More Essay Topics
Corruption Essay
Pollution Essay
Disaster Management Essay
Note – My school essay writing competation – Write 350 words and send us through comment box and we'll rectify your My School Essay mistakes for free. Send your essay now.