How to Write An Autobiography Conclusion
Writing an autobiography can seem pretty easy… that is until you reach the conclusion.
Because this is the story of your life, it can be hard to let this work go. It's almost like you're killing yourself by creating a conclusion to your story.
Knowing how to write an autobiography conclusion can help you be able to bring your story to a natural close, provide hope for the future, and let your life make the impact you want it to make.
Here's how you can create a natural conclusion that will encourage you as much as it encourages your readers.
How Do You Want To Represent Your Life?
There are two basic ways that an autobiography can be concluded:
You can show that your life is unfinished and you're always evolving into something new.
You can show that you've reached a place where you feel like your work is finished and that life is stable.
Which type of conclusion you choose should be based on the message you're trying to offer readers about your life.
For example, if you came out of hardship and have created a meaningful life that helps others, then stability is a good thing to use as a conclusion.
If, on the other hand, you're writing about the lessons you've learned in life, then those lessons never really stop coming. Being pliable would be a good conclusion in that instance.
Are There Loose Ends To Tie Up?
An autobiography can include numerous themes and ideas. Not every story offered has a conclusion within the body text of your story. The conclusion then becomes the best place for you to tie up any loose ends that still remain.
As you are tying up these loose ends, it is still completely appropriate to keep asking questions. Resolving a lingering issue in life often creates new issues that must be addressed. Think about some of the questions your readers might have after reading your autobiography and then try to answer them within the pages of your conclusion.
What Is It That You Believe?
Many autobiographies often wrap up with an overview of personal philosophies and faith. Convictions and lessons learned become friendly advice to the reader. Summarizing these beliefs can be a good way to wrap up an autobiography, but so can a willingness to question what your core ideals happen to be.
The fact is that we should always be questioning ourselves in thought, word, and deed. Every new day we are offered becomes an opportunity to be a little bit better than the day before.
You don't need to state your deepest beliefs in order to get this type of message across to a reader. Sometimes just putting the questions you ask yourself into print can take the reader on a similar journey to your own.
How Are You Different?
Your life is unique. You created an autobiography for that very reason. How can you distinguish yourself from other people who have had similar life experiences or lessons they have learned?
By seizing on what makes you truly unique, you'll create a natural conclusion that will have readers focusing on your ideology, strengths, and accomplishments more than anything else.
This doesn't mean you should avoid mentioning your weaknesses. Weakness must be acknowledged before it can be overcome. By making sure you recognize who you are as a whole person, you'll be able to inspire others to do the same through the words of your autobiography conclusion.
How Can Your Readers Take Action?
If you've got a reader who has managed to make it to the conclusion of your autobiography, then it is pretty safe to assume that they have thinking patterns that are similar to your own. This gives you the opportunity to use your conclusion as an opportunity for a call to action.
There are numerous ways that a reader can be inspired to do something. Sometimes this means getting involved with a charitable cause. It might mean inspiring the reader to chase their own dreams, even if they'd given up on them years before.
Think about what the message is that you're trying to convey and then encourage the reader to take action in their own lives based on what you've been discussing.
Although knowing how to write an autobiography conclusion might feel like the closing chapter of life, it really is the opposite. The conclusion is the first chapter toward something that is brand new. Think about these various options, choose the one that is right for you, and then let your life teach others an important lesson.
previous post: How to Overcome Writers Block
next post: 7 Character Writing Exercises
What Is a Conclusion Sentence for an Autobiography?
25 jun 2018.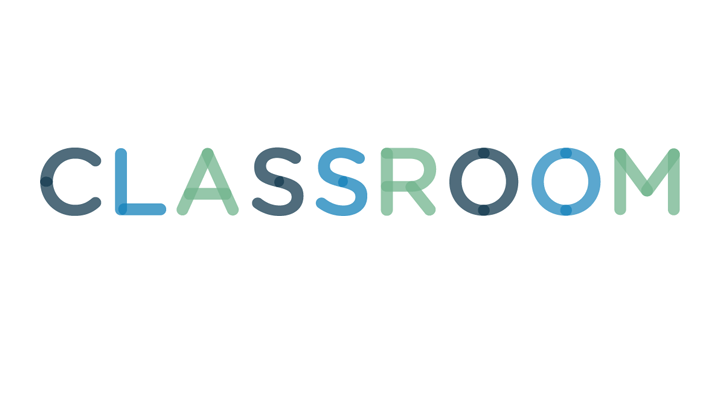 Writing about your own experiences can be a revealing and rewarding experience. Many teachers find it beneficial to assign autobiographical essays to their students. The conclusion of an autobiographical essay is one of the most essential elements, and by examining the key components of a successful conclusion it's clear what type of sentences are included. A conclusion does not have to be confined to a single sentence. It can summarize the main theme of the paper, capture the main points, and leave the reader with a lasting impression.
Explore this article
1 reflection.
The sentences included in the body of an autobiography essay are mostly reserved for detailed accounts of particularly significant moments and situations in the author's life. The conclusion provides a chance for you to reflect on such situations. Many conclusion sentences in an autobiography essay are reserved for reflection. For example, if in the body of your essay you discuss your friendship with a woman who went off to war, your conclusion will include sentences that reflect on how the situation impacted your life and outlook.
2 Importance
Even though the entire autobiographical essay focuses on important situations and moments from your life, the conclusion offers a chance to hammer home why the topics focused on in the body of your essay have significance. Conclusion sentences reveal exactly why your focus situations are so important. For example, if you discuss the last day of your undergraduate education in the body of your essay, several sentences in your conclusion will reiterate why that day changed you fundamentally as a person.
Conclusion sentences in an autobiography essay are clear, concise and constructed with economy as a main objective. This is in contrast to the body of the paper, which has more depth and is artistic, in nature. If your reader is left confused by conclusion sentences that are choppy or ambiguous, they will walk away with a under-developed understanding of the essay. Use conclusion sentences to re-iterate key concepts and thoughts with blinding clarity.
A successful autobiographical account will reveal the writer's conception of how he or she has lived. Several conclusion sentences are reserved for bringing closure to the holistic essay. A conclusion brings closure to the essential purpose of the essay and will include sentences that re-examine and clarify important situations from the body of the essay. It will also connect the reader to the meaningful intent of the autobiographical essay, as a whole.
1 San Mateo County Community College: Autobiography
2 University of North Carolina: Tips & Tools
About the Author
Jake Shore is an award-winning Brooklyn-based playwright, published short story writer and professor at Wagner College. His short fiction has appeared in many publications including Litro Magazine, one of London's leading literary magazines. Shore earned his MFA in creative writing from Goddard College.
Related Articles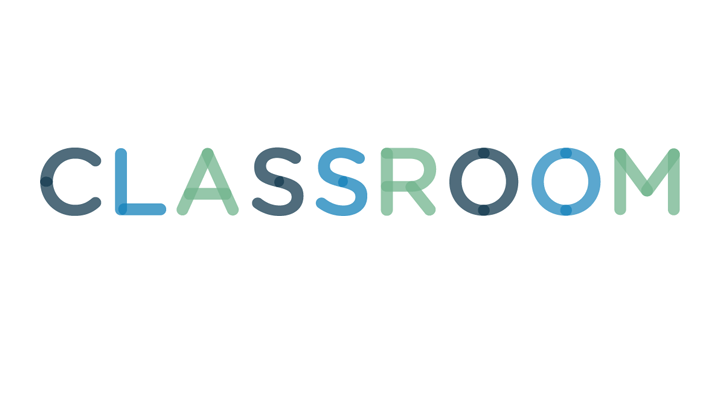 How to Make a Good Introduction Paragraph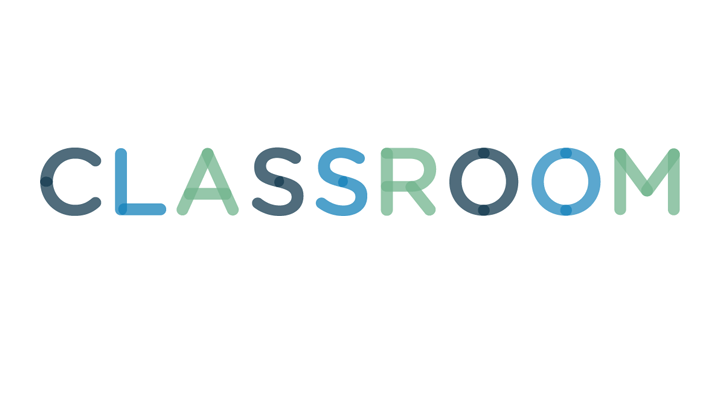 What Is a Hook Paragraph in an Essay?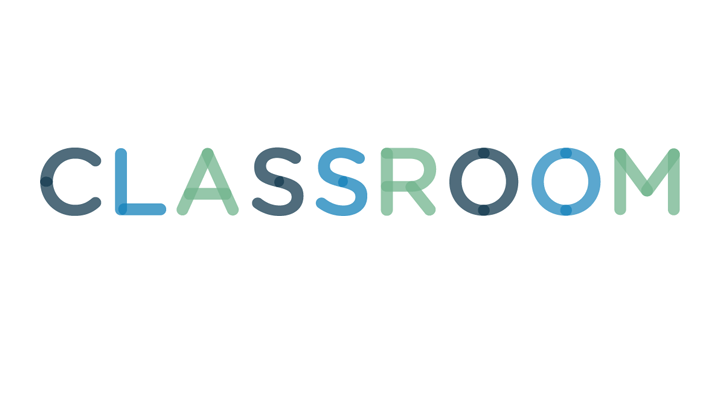 How to Write a Conclusion in My Nursing Paper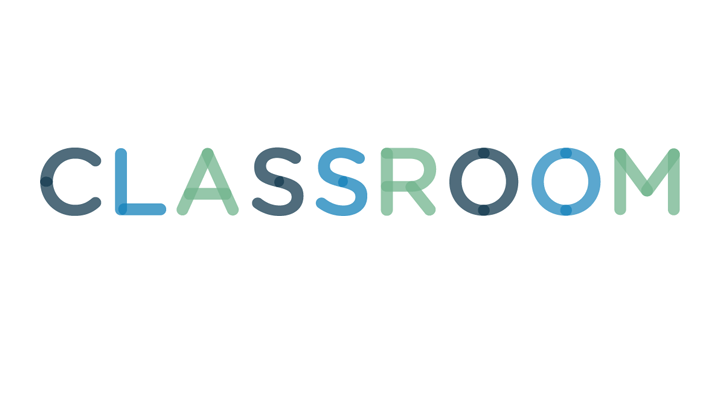 How to Write a Conclusion for a Compare & Contrast...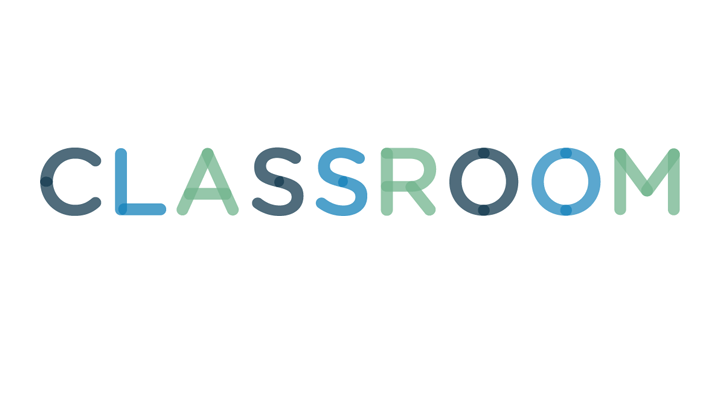 How to Write an Essay Abstract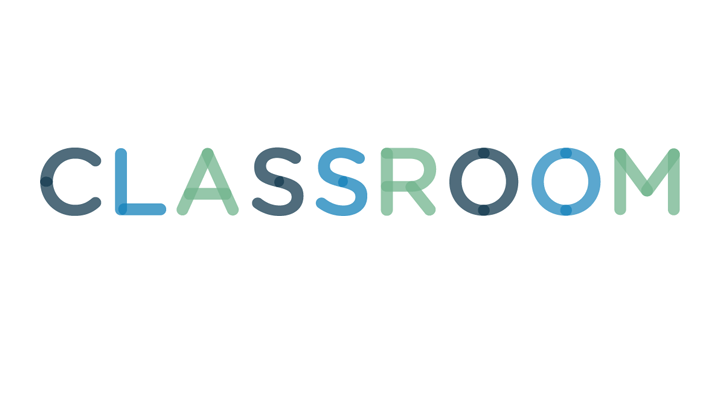 Tips for High School Students on Creating Introductions...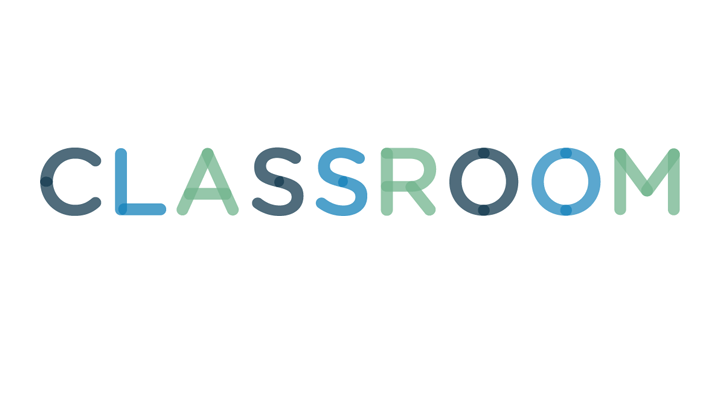 How to Restate an Expository Writing Prompt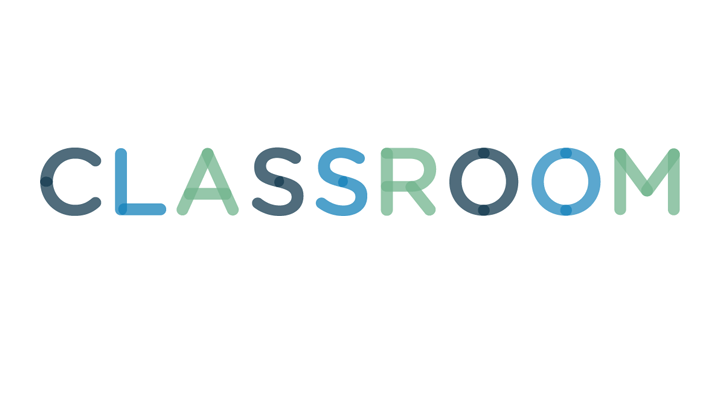 What Makes Up a Well-Written Essay in High School?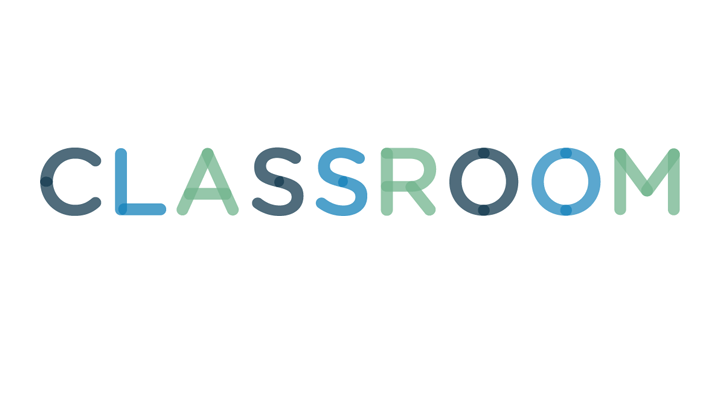 Characteristics of Narrative Essays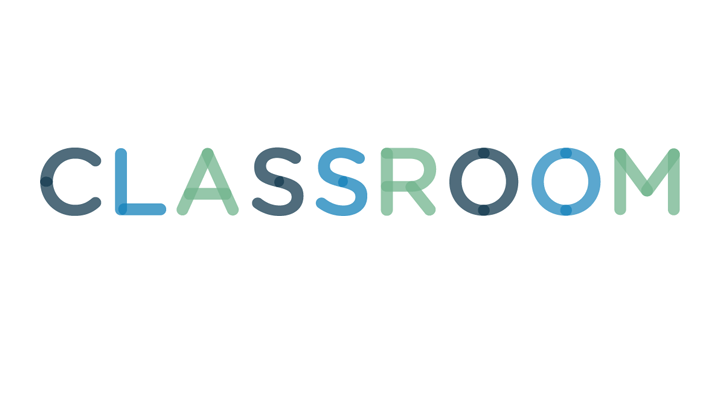 The Difference Between Discursive & Argumentative Essays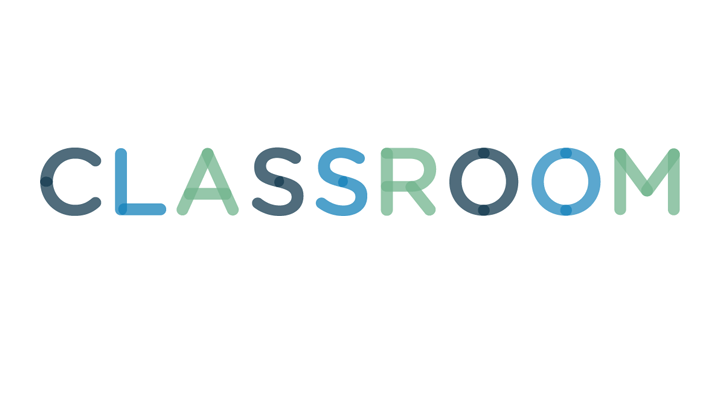 Steps for Going From Writing a Paragraph to Writing...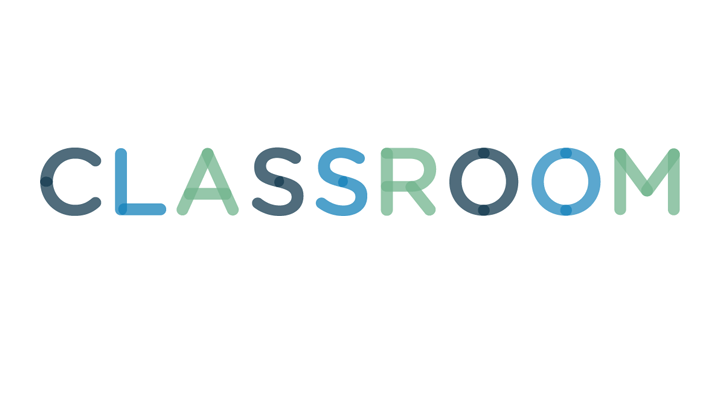 Difference Between Topic Sentence Vs. Thesis Statement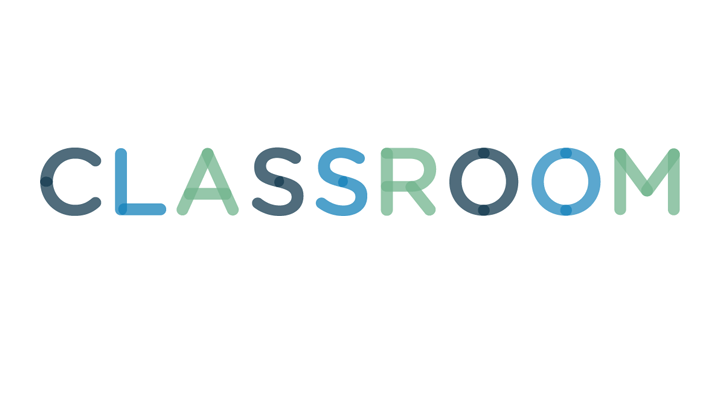 How to Write Personal Profile Papers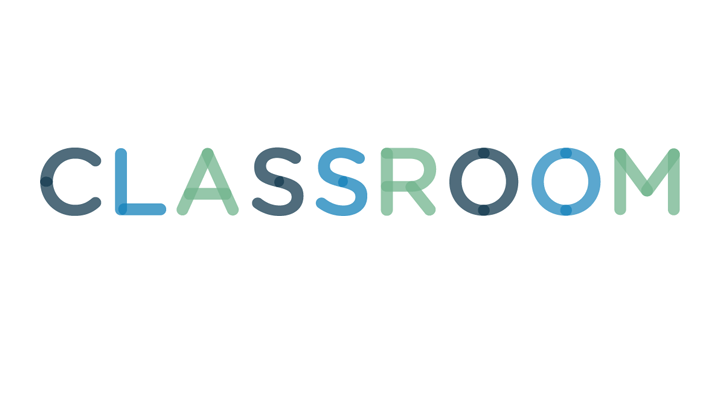 How to Write a Fantastic Introduction to a Personal...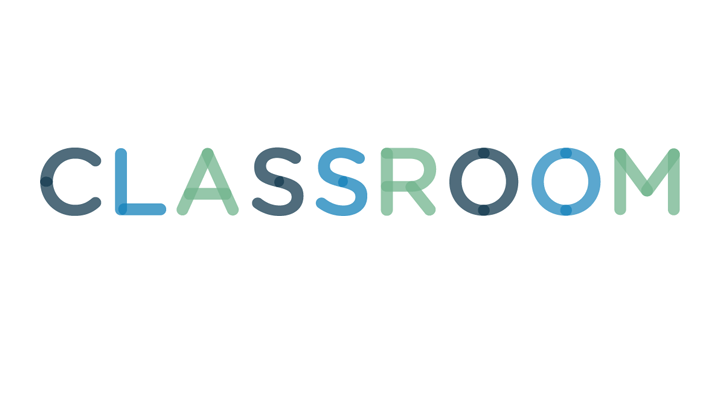 What Is a Narrative Response?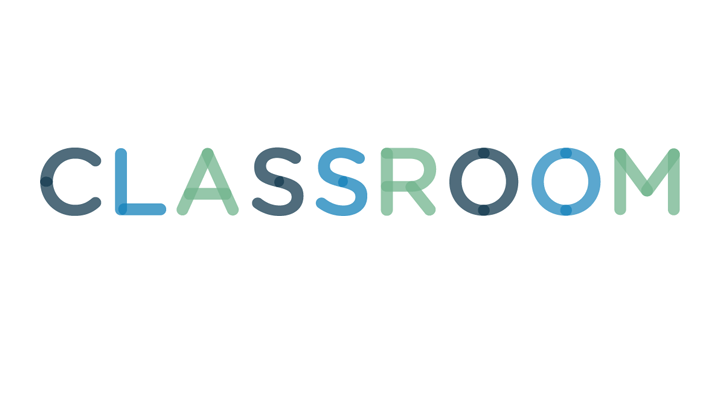 What Is a Descriptive Essay?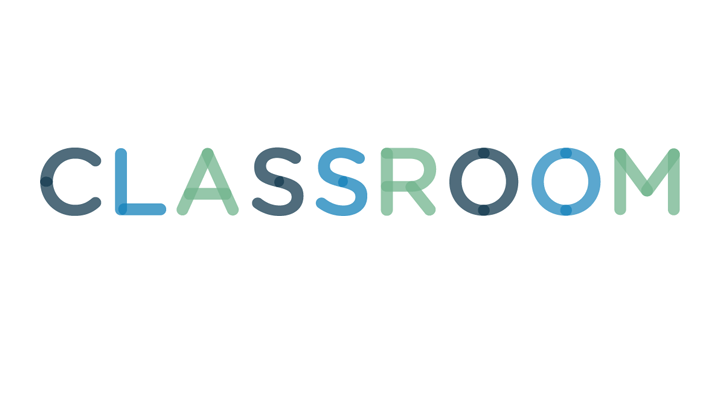 How to Write an Introduction for a Descriptive Essay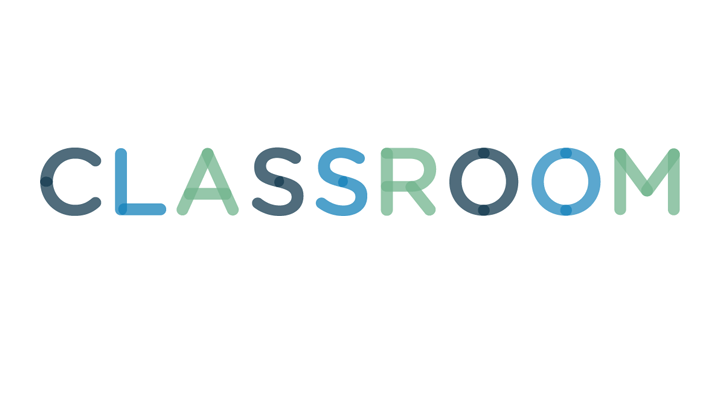 Middle School Essay Types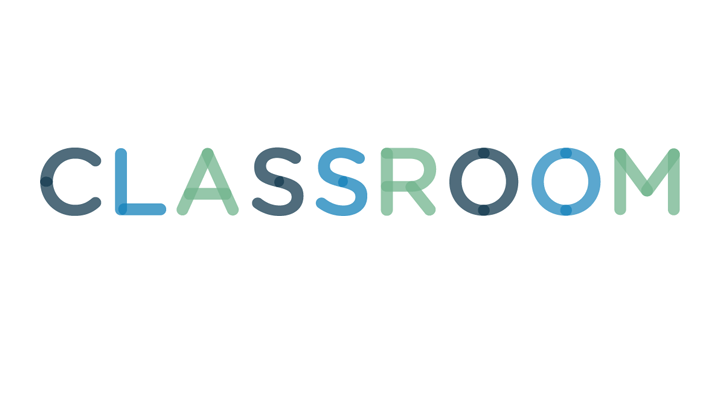 Proper Writing Styles for a Synopsis Narrative Conclusion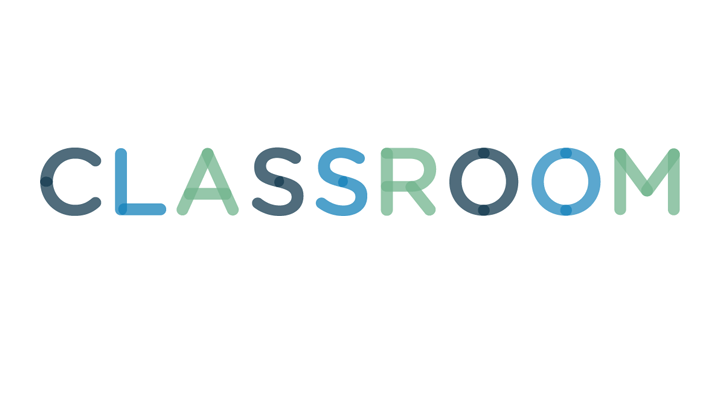 Narrative Essay Requirements
Regardless of how old we are, we never stop learning. Classroom is the educational resource for people of all ages. Whether you're studying times tables or applying to college, Classroom has the answers.
Accessibility
Terms of Use
Privacy Policy
Copyright Policy
Manage Preferences
© 2020 Leaf Group Ltd. / Leaf Group Media, All Rights Reserved. Based on the Word Net lexical database for the English Language. See disclaimer .
How to Start an Autobiography about Yourself: Full Guide + Autobiography Examples
You're probably thinking: I'm no Mahatma Gandhi or Steve Jobs—what could I possibly write in my memoir? I don't even know how to start an autobiography, let alone write the whole thing.
Our specialists will write a custom essay on any topic for $13.00 $10.40/page
But don't worry: essay writing can be easy, and this autobiography example for students is here to show you that memoir writing can be easy and even exciting. Every person, whether famous or not, is unique and has a story worth sharing. All you need to do now is scroll down the page and enjoy this amazing sample autobiography, as well as some related practical hints.
👨‍🎓️ A Student Autobiography Example
📚 more autobiography samples, 😕 how to start an autobiography, 🔗 references.
An autobiography is the story of your own life . Even if you think you don't have much to include in your memoir, you can still make it quite interesting.
Bill Gates claims that he always tries to find a lazy person to do a difficult job. Why? Because a lazy person will look for an easy way to do it! That's why we found a lazy but smart student to write a short autobiography example, and now we'll share the easiest ways to do it with you. Feel free to use it as an autobiography example outline .
Below is a student autobiography sample with subheadings. Remember: it doesn't have to be exactly as shown in the examples. They're rather to show you the right path to be moving towards. Also, if something in your writing needs fixing, don't hesitate to use a phrase reworder .
My Childhood
Not sure how to make an autobiography introduction? Why not start from the very beginning? Writing about your early years is the easiest and most logical start for an autobiography.
I was born on a cold winter night, when even time seemed to stand still, in my native Bennington, Oklahoma. I do not remember much of my early childhood, but my mom said I was a very active, curious, and communicative child. I would ask dozens of questions each minute, even without waiting for the answers. I suppose this is why my parents offered me books and educational movies as early as my third birthday.
In the next part of your autobiographical essay, describe yourself in a few words. It does not necessarily need to be too creative. You can take a short learning style quiz and put the information you'll find out into your autobiography. It will be quite a unique addition. And don't forget to make a smooth transition from the previous part!
Fortunately, my thirst for knowledge did not come to an end when I was at school. I was passionate about history and science. This passion helped me gain a profound knowledge of these areas, and I was admitted to the college of my dreams. Today, I am a student at a law school, and I feel very happy about it.
An old saying goes, "A life with a goal is a life that is whole." Be positive and show everyone that your life is whole.
I am certain that my degree will become my ticket to a better tomorrow. I want to become a renowned lawyer in the field of employment legislation. I study hard and devote my free time to reading scholarly reviews and watching interviews with recognized specialists in the field.
My Ups and Downs
This part aims to show that you are capable of analyzing your experiences and learning valuable lessons.
Of course, I understand that life is not just a bed of roses, and challenges and hardships are an integral element of life. Since my parents could not help me cover my college expenses in full, paying off my student loan has become an important challenge for me. I combine a part-time job and full-time study to earn my living and my education. I feel triumphant at the beginning of every month when I receive my salary and plan how I will spend my money.
Autobiography Conclusion
In this part of your autobiographical essay, you want to establish the main lesson to take away from your story. In other words, what's remarkable about your story?
I have come to believe that two main factors determine success. The first is a person's determination and will to succeed. Are you ready to make sacrifices to achieve your goal, like working and studying at the same time? Are you prepared to recover after failure and proceed to your goal again? Without strong internal motivation, it is nearly impossible to become successful. Equally important is the support of people around you. Being determined to succeed does not mean alienating everyone and stepping on other people to achieve your goal. On the contrary, success is about recognizing your weaknesses and accepting support from people who genuinely want to help you. For instance, if it were not for my parents' support of my educational endeavors, I might not be attending law school today.
Would you call this student an inspirational leader like Nelson Mandela or Martin Luther King, Jr. ? In all honesty, no. He may be an interesting and nice person, but he hasn't left such a mark on history as some other people have—at least not yet.
Receive a plagiarism-free paper tailored to your instructions.
But can you learn something from his story? Most definitely.
The autobiography example above is suitable for both college and high school students.
In case you still lack the inspiration to write your memoir, you can always come to our experts, who will help you structure and write your narrative. Alternatively, you can find some more interesting examples of an autobiography at Phoenix.edu and at Southwestern College website .
And in case you're still wondering how to write an autobiography, just keep reading!
What does every autobiography include? A theme. Essentially, the theme is the main "lesson" from the autobiography—the critical point that all of your life events come together to demonstrate.
Just $13.00 $10.40/page , and you can get an custom-written academic paper according to your instructions
How do you go about creating a theme?
You can do it by:
Discussing a string of events or one event in particular (or even just one day in your life)
Introducing a role model or an authority figure
Talking about your childhood dreams and memories
To make the task easier for you, we've put together a list of prompts you can use to signal your theme to the reader.
Simply complete these phrases, develop the ideas, and add specific details to your student autobiography examples and ta-da! Your A-level autobiography is ready!
A Student's Autobiography: Starting Phrases
Use one of these phrases as the first sentence of your autobiography:
I was born in…
I was an active (or quiet, knowledge-loving, shy, curious, etc.) child.
My childhood dream was…
My earliest memory is…
I am grateful to my parents (or teachers, friends, etc.) because…
My role model was…
My lifetime dream is…
The most memorable day of my life was…
One phrase that I will never forget is…
If only one of my dreams could come true, I would wish for…
My main belief in life is…
I am driven by my desire/passion/wish to…
The main lesson that my parents taught me was…
The childhood hobby that most shaped my personality is…
One event that influenced who I am today is…
My motto in life is…
My favorite book/movie/author is…
When I was growing up, I always dreamed of becoming a…
One thing I wish I knew five (or ten, twenty, etc.) years ago is that…
My favorite childhood picture is…
Feel free to use this example of an autobiography for students and follow the simple steps described above to complete an A-level memoir with ease.
✏️ Student Autobiography FAQ
Writing an essay for a scholarship, be sure to include relevant information about yourself. Prove that you are a perfect candidate. Customize your life story in a way that showcases your strengths and positive qualities. Any other application will require a similar approach.
It's a source of background information about the author that he or she chooses to reveal. An autobiographical essay is to include key facts about the author in chronological order. These facts usually are name, birth date, education, occupation, etc.
For a good college application, make sure to put an emphasis on the positive sides of your personal history. They should be relevant for the admission commission. Focus on academic achievements, relevant certifications, courses, etc.
Some people believe that an autobiography is one of the easiest essays to write. The author definitely knows the subject thoroughly. When writing about yourself, start with an introduction : your name, birth date, education, current position.
What Is an Autobiography? ThoughtCo
Beginning the Academic Essay: Harvard College Writing Center
What Are the Differences Between an Autobiographical Narrative & a Biography? Seattle PI
500 Prompts for Narrative and Personal Writing: The New York Times
Autobiography: Merced College
Share to Facebook
Share to Twitter
Share to LinkedIn
Share to email
Very comprehensive

Thanks for the feedback! Much appreciated.
Help me write an autobiography
Hello, Bridget! Our experts will help you with any task!
Autobiography is a true one
Paano gumawa ng autobiography
It nice to see but could you send me more about how to write personal autobiography to me please
Hello, Jack! Our experts will help you with any task!
Thank you so much for this!
Thanks for stopping by!
I want to write an autobiography but I don't know
Hello, Randy! Our experts will help you with any task!
I wanna write an autobiography and I need your help
Hello! Our experts will help you with any task!
Recommended for You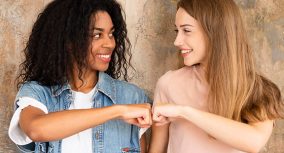 Friendship Essay: Writing Guide & Topics on Friendship [New]
Assigned with an essay about friendship? Congrats! It's one of the best tasks you could get. Digging through your memories and finding strong arguments for this paper can be an enjoyable experience. I bet you will cope with this task effortlessly as we can help you with the assignment. Just...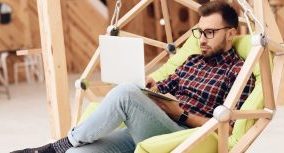 How to Write an Autobiography: Questions, Principles, & What to Include
When you are assigned an autobiography to write, tens, and even hundreds of questions start buzzing in your head. How to write autobiography essay parts? What to include? How to make your autobiography writing flow? Don't worry about all this and use the following three simple principles and 15 creative...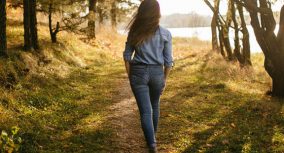 Life Experience Essay: How to Write a Brilliant Paper
A life experience essay combines the elements of narration, description, and self-reflection. Such a paper has to focus on a single event that had a significant impact on a person's worldview and values. Writing an essay about life experience prompts students to do the following: evaluate their behavior in specific...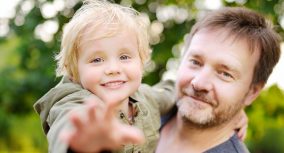 An Essay about Someone Who Has Made an Impact on Your Life
Who has made a significant impact in your life and why? Essay on the topic might be challenging to write. One is usually asked to write such a text as a college admission essay. A topic for this paper can be of your choice or pre-established by the institution. Either...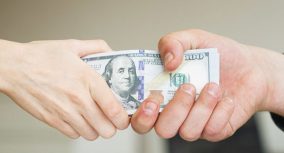 Financial Assistance Essay: 4 Useful Tips to Make It Rock
Are you about to start writing a financial assistance essay? Most probably, you are applying for a scholarship that will provide additional funding for your education or that will help you meet some special research objectives.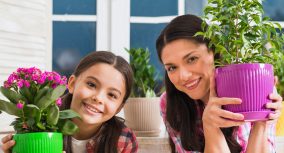 Growing Up Essay: Guide & Examples [2023]
What does it mean to grow up? Essays on this topic might be entertaining yet challenging to write. Growing up is usually associated with something new and exciting. It's a period of everything new and unknown. Now, you've been assigned to write a growing up essay. You're not a kid...
24/7 writing help on your phone
To install StudyMoose App tap and then "Add to Home Screen"
Autobiography essays

Essay guide
Essay examples, what is an autobiography essay.
To properly understand an autobiography essay and its uses, you have to start with the definition of autobiography.
An autobiography is a copy written about an individual by the individual himself. It is typically a piece that covers the story of the author but not necessarily across their entire lifetime. An autobiography sample essay is written narratively.
Autobiographies generally cover the entire lifespan of the author, but you can't possibly write a comprehensive story of your life every time. This is where an autobiography essay comes in.
An autobiography essay is a typically shorter form of self-written biography. The main purpose of this essay is to introduce yourself convincingly and provide basic information about yourself. Colleges always ask for an autobiography essay from applicants. This essay plays a significant role in the outcome of a college application.
Employers also demand this form of essay from job applicants. In fact, an autobiography essay is a requirement when applying for any slot, be it college, job, or grant. This form of autobiography is mostly asking you to give a summary of your life.
A memoir is also a form of autobiography. A memoir tells of a particular period of your life.
How to Write an Autobiography Essay
If you've never had to tell someone about yourself, you would be shocked at how difficult it is to do so the first time you try. Retelling your biography even orally can leave you speechless, much more if you have to do so in written form.
Below is how to start an autobiography essay.
Check Out Good Examples
Before setting out to write your biography, your first step is to check out good autobiographies of famous people. Perusing well-written autobiography books has plenty of benefits: you grasp a clear picture of how autobiographies look, and you get the general format, tone, and structure. Lastly, you get inspired.
If you don't know where to start, worry not; the following are good biography examples to read for guidance:
Dreams From My Father — Barack Obama
Long Walk to Freedom — Nelson Mandela
Chronicles, Vol 1 — Bob Dylan
The Autobiography of Benjamin Franklin — Benjamin Franklin
The Story of My Experiments with Truth — Mahatma Gandhi
As you can see from these examples, you can be creative with your headings. Your essay may not necessarily be titled "An Autobiography Essay About Myself".
Note Down The Relevant Memories
What comes next is to find and write down the more relevant memoirs. Think hard to remember the special people, noteworthy experiences, crucial events, and critical decisions that have shaped your life immensely. List all these out.
Highlight the Points to Focus On
Having pooled together the important memories, it is time to focus on a particular part. You are not writing about your entire life like an actual autobiography.
Choose a particular person, event, experience, or place from the list of memories you wrote out earlier. Making a decision here can be confusing, so the best thing to do is consider the instructions that you've been given. If there are none, settle for the experience your audience is very likely to appreciate and relate to.
Ask Yourself These Questions
Brainstorming can be difficult if you're doubtful about yourself. You could sit for hours and end up with a blank slate of mind. However, a good trick is to ask yourself specific questions and provide answers to them. The following questions should make your list:
What three adjectives would best describe me?
What are the quotes that describe me best?
What is my family's social and ethnic background?
What are my most significant achievements to date?
Who has helped me the most in the position I currently am in?
What are my three most important goals?
What are my top three strengths?
What are my top three weaknesses?
What books have influenced me the most?
What are the values guiding my existence?
What is the best memory I've ever had?
What is the worst memory I can think of?
Am I connected with my family members? If yes, how close?
What is the most important lesson life has taught me?
How intelligent do I think I am over 100?
Formulate a Good Autobiography Essay Format
The outline is a crucial step in autobiography writing, although many skip it. It can make the entire process much simpler and more productive. An outline provides you with the appropriate structure and sequence, ensuring you don't miss out on what's important.
Think about Statement
Arguable thesis means that it can be argued. It must either state or refute an argument about your topic.   To be debateable, a thesis must have some possibility of being true.   However, the thesis should not be universally accepted as true. Instead, it should be something that people can disagree with.   A thesis can be both an observation or an opinion.
observation + opinion (the "why") = thesis
Seeing if your thesis creates a powerful antithesis is an excellent approach to determine how strong it is.
Common thesis pitfalls:
A thesis in the form of a fragment.
A thesis that is overly broad.
A thesis that is phrased as a question. (The thesis is usually derived from the solution to the question.)
Extraneous information is included in a thesis.
A thesis that begins with the words "I believe" or "In my opinion."
Put Down Your First and Second Draft
Now with an outline at hand, it becomes much easier to write. However, your first piece of an autobiography essay is a draft. It is hard to get the essay correctly on the first attempt. You will have to edit the first draft and make a second draft out of it. Depending on how good the essay is now, a third draft may be necessary.
Title drafts in a manner that suggest what they are: "My Autobiography Essay Sample 1", "My Autobiography Essay Sample 2" and so on.
Proofreading is crucial to excellence. An error-filled story will cause people to lose interest regardless of how interesting you've told it. Proofread as much as you can, paying special attention to spelling, grammar, punctuation, style, and formatting. If you can afford it, hire a professional proofreader for this purpose.
Request for Feedback
Feedback is necessary before submitting your autobiography essay, even if you used an expert proofreader. Send copies to trusted friends and family to read through and ask for their thoughts. A new perspective may help to identify changes that can be made to the essay.
Autobiography Essay Examples
Autobiographical incident.
Autobiography Of A College Student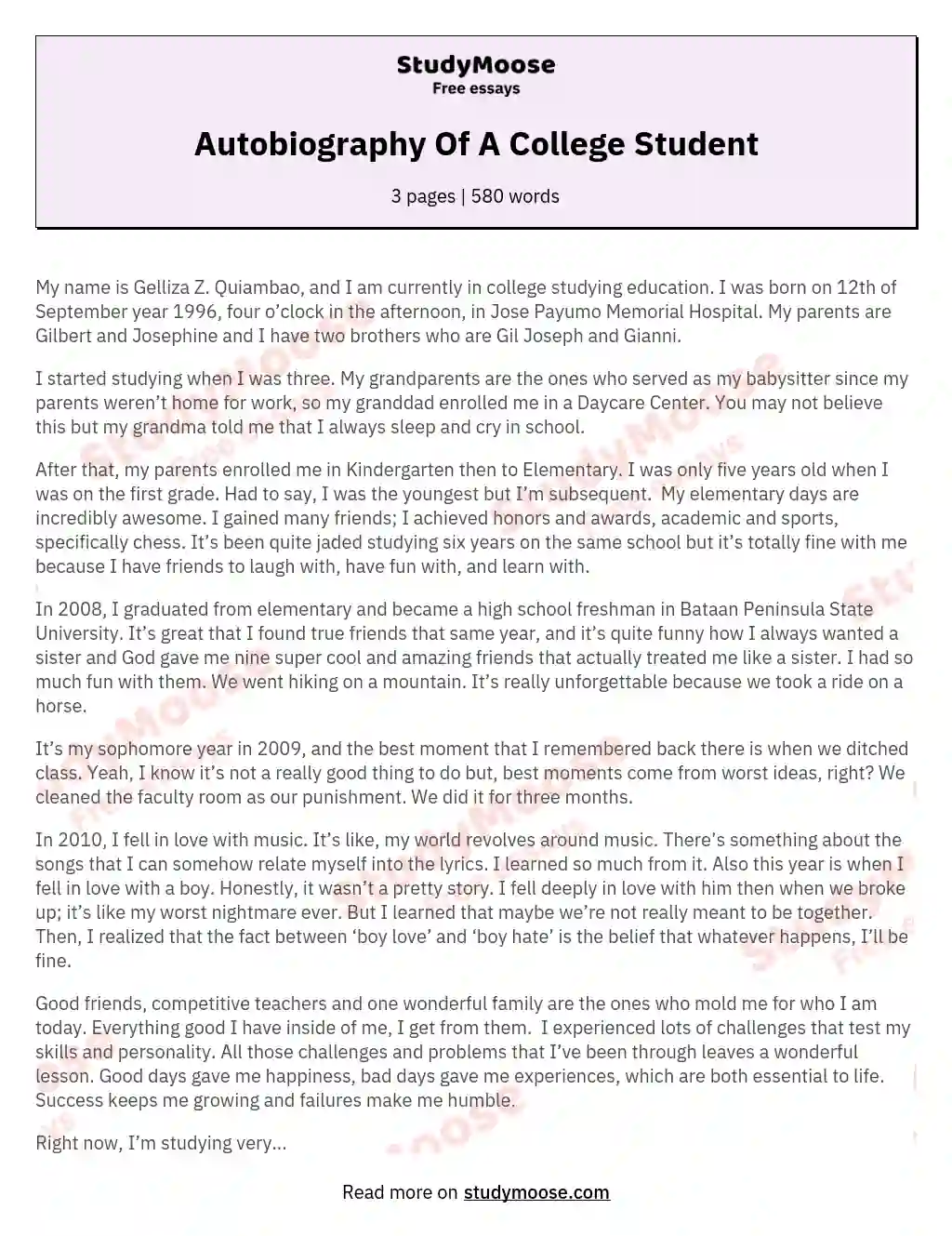 My Autobiography - Example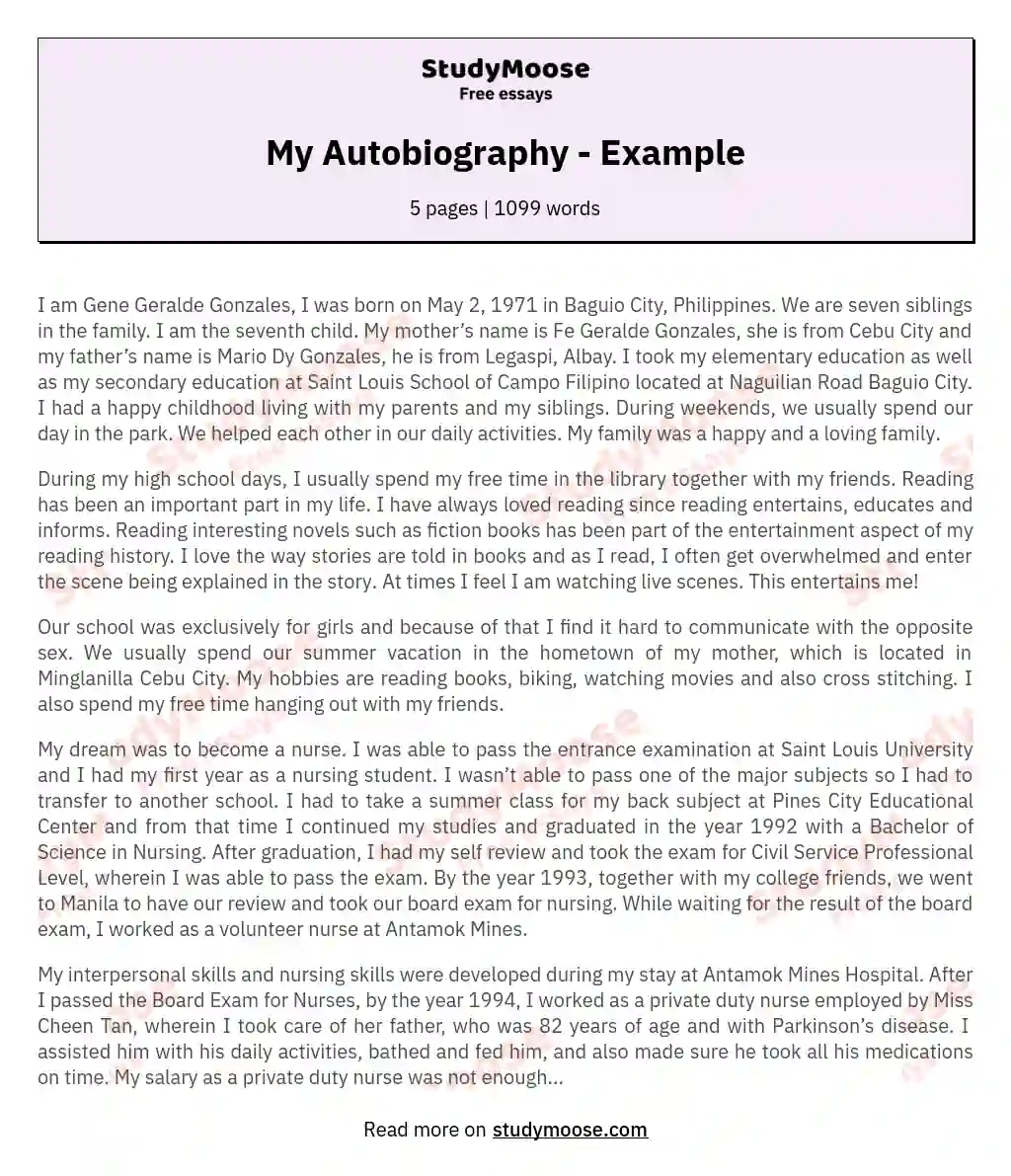 What Is Autobiography Essay Structure?
There are three basic parts of an autobiography essay structure. They are the introduction, body, and conclusion.
Introduction
The introduction of your autobiography essay has three primary objectives: to introduce readers to yourself at a surface level, to put forth the very core of your life, and to intrigue the readers so they continue reading.
The introduction has to be concise. In fact, one to three sentences per paragraph is the recommended word count.
The introductory part of your autobiography essay can delineate your general biography and emphasize a statement that will spur others to continue reading.
This is where you tell your story. There are no word restrictions here, unlike your introduction. The body of your autobiography essay should be long enough to cover the facts that you've selected to talk about.
However, there are specific rules to the body of your self-written biography. It has to be:
Clear, so that it is easy to read and understand;
Structured, such that coherence is maintained;
Sequential, so that readers have no hard time following chronologically.
The conclusion of your autobiography essay has to be powerful and convincing to leave a lasting impression on readers. This is the part where you evaluate how far you've come, the lessons you've learned, and offer some solemn words of wisdom. Keep things succinct here. Do not drag the paragraph for too long.
Outline and Format of Autobiography Essay
An autobiography essay outline makes the process much easier. It is the foundation to build your story upon. The outline of your autobiography essay helps arrange the events sequentially and determine what's needed or not.
Basic information written in a fascinating manner;
Thesis statement — your key points and main idea.
Thesis statement;
Supporting information — facts, details, reasons, and smooth transitioning throughout the essay
Restate the thesis statement.
Summarize all ideas.
Conclude with your lessons, gratitude, and personal thoughts.
Do You Need an Autobiography Essay Sample? You're At The Right Place!
While it is obvious that this comprehensive autobiography essay guide has discussed everything to know about writing this type of essay, don't expect it to be easy for you. There are plenty of requirements and steps to fulfil and take. Besides, you may be unable to make up sufficient time for the process, and you should never rush a biography.
Writing an autobiography essay about yourself needs the help of experts. We, at Studymoose, offer just what you need. Our autobiography essay writing service is top-notch, thanks to the excellent writers on the team. We do not require much information to deliver a great piece.
All you need to do is book an order and fix a deadline.
Also, Check Out The Autobiography Essay Topics
Choosing a topic for your autobiography essay can be tricky because what does one write about? Not to worry, though, let's look at a list of autobiography essay examples for college. Select any of the topics below and narrow your theme however you choose to.
Important achievements;
First responsibility;
Imaginary friend;
First school teacher.
Family traditions;
The influence of family on your future;
Siblings' relationships.
My inner demons;
My personal credo;
My biggest challenge;
My worst mistake.
You can title your essays "my autobiography essay on family traditions" or any subtopic that you choose to write on.
For more topics, read the following short autobiographies:
There's No Recipe For Growing Up — Scaachi Koul
The Year I Grew Wildly While Men Looked On — Ashley C. Ford
How I Found Poetry In Childhood Prayer — Kaveh Akbar
Losing Religion and Finding Ecstasy in Houston — Jia Tolentino
My Dad Tried to Kill Me With an Alligator — Harrison Scott Key
A story from your childhood
Your first trip abroad
An episode from your school life
A story of losing a friend
A story of learning a new skill (like playing a musical instrument or surfing)
An embarrassing story that happened to you
A story of you participating in an extracurricular activity, such as playing football or doing gymnastics
An experience attending a concert or sporting event
A story of you helping people in need
A time when you discovered a secret
Talk about a family member who you are bonded to the most
Talk about a class you have taken that was inspirational
Short Story of a Long Life
Steps Forward and Steps Back
Why Not, or How I Have Changed My Life
Being Good in This Cruel World
Why I Don't Believe in Faith
Decisions and Choices: What If?
Trying to Make a Difference
One, Two, Three: Fight With My Life
Why I Choose A Degree In Engineering
A time you misjudged someone and felt ashamed
The most memorable day at the beach
The best present you have ever received
A story of you getting injured
Save to my list
Remove from my list
FAQ about Autobiography essays
OPEN AN ACCOUNT TODAY FOR THE ULTIMATE TRADING EXPERIENCE.
What our clients say....
Our client base is extremely varied and Primis has been designed to suit all levels of investors, from seasoned traders to arm chair investors that just want a second income.
Primis has been designed and created with our clients in mind so we encourage any feedback you may have. After all, the better the system is the better we are! We have added just a few of the testimonials below from our clientele, if there is anything else you need please call us. Together we can begin to take the steps necessary to assist you in changing your financial future.
The team at Primis are standing by to answer any and all questions you may have. Please do not hesitate to call or email us at any time, we are here to help.
Copyright © 2019 All Rights Reserved
An affiliate of Sports Betting Stars LTD company number 10733614.
Registered Office
Unit 3, Gateway Mews Ringway, Bounds Green ‍London, N11 2UT
Satellite Office
Berkeley Square House Berkeley Square ‍London, W1J 6BD
How to Write an Autobiography 2022: The Ultimate Guide with Pro Tips
If you are a student, the chances are that you will face such an assignment one way or another, as it is a common type of academic task assigned at schools, colleges, and universities.
Being able to depict your life on paper has much more to it than there seems. It is a great way to discover yourself and learn how to introduce yourself to others, which will come in handy in many other spheres of your life. Also, it will come in handy if you are a writer. Often, authors of books, articles, poetry, and other publications need to publish their own autobiographies to let the world get to know them.
Need Help With Writing an Autobiography?
All you have to do to get professional help is to us send your paper requirements and set the deadline.
Although writing a good autobiography may seem difficult, it is only difficult when you don't know what steps to take to handle the task. In this post, our term paper writing services has collected key steps, rules, examples, and tips that will guide you through the process of writing. By the end of this blog, you will be able to craft a flawless piece about yourself. Let's dive in!
What Is an Autobiography
Before we can move on to our writing tips, it is important to define what an autobiography is and specify its different types of good writing. In a nutshell, an autobiography is a self-written piece that reflects the timeline of an author's life story. Such articles are written in narrative form and can serve several purposes — depending on the specific type of writing. You can also check out other narrative essay topics on our blog.
Generally, there are four kinds of autobiographical writing:
Autobiography – This is a long and complete story about the author's full life. This type of writing covers everything from birth to the present. Often, the purpose of writing an autobiography is: to share a person's life path with a broad audience, to leave your mark, to reconcile the past, or to make your memories last.
Autobiographical essay for college – This type of autobiographical writing is typically submitted along with the rest of your admission package. This paper aims to introduce yourself to admission officers and convince them that you are the right fit for their educational facility.
Memoirs – Memoirs are similar to autobiographies with a single difference – they don't have to cover a person's entire life. Instead, you can narrow your focus to a memoir's most exciting and important past events including as many details as you can.
Personal essay – This is the last and shortest type of autobiographical writing. Simply put, it is just an essay about yourself. Unlike other essay types, this one is more intimate and emotional; it requires you to share personal experiences. As a rule, such a paper focuses on one specific event, a period of time, a person, etc. This is a common type of academic assignment in schools and colleges.
These are the basic types of autobiographical writing. However, each of them has individual traits and, thus, may require a different approach. Therefore, this article will focus specifically on writing a good personal or autobiographical essay.
Autobiography Example
As was mentioned earlier, reading a few good examples of autobiographies can give you an additional burst of inspiration and help find the right tone for your own writing. And you will say 'Yes, I can do my paper'! Here are a few brilliant examples to help you generate fresh ideas to get rolling:
Autobiographical Essay Structure
Although the exact structure of your text will depend on the chosen type of autobiographical writing, there are some basic principles to bear in mind.
First, similar to any other kind of essay, an autobiographical one should consist of three main blocks:
The introduction of any text has three main objectives: to introduce the reader to the topic of your text, to present your core idea, and to drive the reader's attention (i.e., to make them want to read further). Therefore, this part of your text should be concise and straight to the point. As a rule, intros should be between one to three sentences long.
A good way to use an intro in your flawless autobiography is to outline your general portrait and to make an intriguing statement that will encourage the reader to continue reading.
The body of your text is its main and biggest part, which basically tells your story. Unlike the intro or conclusion, the body doesn't have any specific requirements in terms of length. You can make it as long as you need to uncover the main events of your life. The only rules applicable to this section of your text are that it should be:
Well-structured – each paragraph should focus on a specific event or a period of time;
Clear – make sure your text is easy to read and understand;
Logical – since you are writing an autobiography, it is vital to present facts in a logical sequence and with smooth transitions between every paragraph.
An introduction is what makes people interested in your story and engages them to read the whole thing, but the conclusion is what leaves a lasting impression — therefore, you want to make it robust. The conclusion of your autobiography is a great place to assess your life, consider the lessons you've learned, and state how they took you to where you are now. Like your intro, your conclusion shouldn't be too long. Keep it clear and concise for a good story.
An essential part of writing an interesting story is creating a proper title page. Just like selecting a font and font size, title page requirements could vary based on the standards of the institution you are writing for. However, there are some commonly established rules for making a title page. The following information usually goes on the title page:
Your phone number
Date of creation
Class, you are writing this for (optional)
The title and the author section must always be separate from the contact information and the rest. It's usually located in the middle of the paper, while the rest of the info goes in the bottom right corner.
This is an approximate autobiography template. In the following parts of our guide, we will focus more on the details and tips for writing a flawless autobiographical essay.
Literary Forms of Autobiography
Autobiographies with a central topic frequently go beyond just telling a person's life narrative. Through this storytelling style, the author may be attempting to communicate particular ideas or thoughts that they feel are important to share. Again, the objective is to express your views and opinions.
An author of a religious autobiography is someone who has or has had a relationship with God. Before being redeemed by God, the individual goes through several events and circumstances. They could also discuss their actions prior to being rescued.
In an intellectual autobiography, you describe your path and the significant events that shaped who you are today. You consider the factors that have influenced your viewpoint and share them with the audience. The person reading this is curious about how you came to be who you are.
The goal of a fictional autobiography is to accurately depict the author's experiences. To preserve people's identities as some of it has been fabricated. Actions in this kind of autobiography may be inflated or altered for artistic reasons.
Do You Need Some Help With Your autobiography?
Take advantage of our research paper services and you will feel how easy this process can be.
How to Start an Autobiography: 8 Steps for the Writing Process
Writing your life story can be quite frustrating. Many people find it hard to look at themselves from a different angle. However, if you are up for the challenge, these tips will guide you through the step by step process of writing an autobiography:
Step 1: Find an Example
The first thing you should do before you rush to begin writing is to study one or a few examples of autobiographies written by famous people. This step has several purposes: to get a clear example of what a flawless autobiography should look like, to grasp the general tone, structure, and format—applicable to this form of writing, and to get inspired.
Just in case you have no ideas of whose autobiography to start with, here are a few inspiring examples:
The Autobiography of Benjamin Franklin, Benjamin Franklin
Long Walk to Freedom, Nelson Mandela
The Diary of a Young Girl, Anne Frank
A Moveable Feast, Ernest Hemingway
Dreams from my Father, Barack Obama
Step 2: Write Down Your Most Important Memories
Your next step is to remember everything that matters to you. Think of remarkable people, unique experiences, key events, and other things that have influenced your life the most. Recall all the worthwhile details and make a list of them.
Step 3: Pick One Point You Want to Focus On
Generally, you would have to write about your whole life in an autobiography. However, since we are focusing on tips for great essay writing about your own life, you have to pick a focus point.
In an autobiographical essay writing, you will be required to focus on a single event, person, memory, place, etc. Therefore, you should pick one point from your list. It can be hard to decide what to write about, so take your time and think of what will be the most engaging for your readers.
Step 4: Ask the Right Questions
Writing about your own life can be confusing. You may find it hard to brainstorm ideas and maintain inspiration. In order to make sure that you won't get stuck wondering what ideas to include in your essay, here is a list of questions that should set you on the right track:
How would you describe yourself with three adjectives?
What famous quotes describe you and your life best?
What is the ethnic and social background of your family?
Who and what made you who you are today?
What are your biggest achievements so far?
What are your main goals?
What are your main strengths and weaknesses?
What are your key values?
What are your worst and best memories of your childhood?
What has been the most memorable day for you?
What are your relations with your family members?
What is the most vital life lesson you've learned so far?
What fault could you never forgive yourself or others for?
Answering these questions should help to find inspiration and generate brilliant ideas for your autobiographical essay writing.
Step 5: Create a Detailed Outline
Although many people skip this step, writing a good outline can make the writing process simpler and more productive. There are plenty of reasons that indicate the importance of planning. Most importantly, writing an outline helps you follow the right structure and sequence and helps ensure that you won't miss out on important details.
Here is a sample outline template that can come in handy:
~ Basic background information that engages readers
~ Thesis statement – main idea and key points ‍
~ Thesis statement
~ Supporting ideas (details, facts, reasons, and a smooth transition between every idea)
Summary - use this outline for every paragraph in the main body. Include at least 3 paragraphs. ‍
~ Restate your thesis statement
~ Summary of all key ideas
~ Conclusion (lessons you've learned, personal thoughts, etc.)
Step 6: Write Your First Draft
Once you have a specific plan in mind, you can create your first draft. Follow your outline to ensure that you don't miss anything important, and don't rush.
Step 7: Proofread!
Although many people neglect its importance, proofreading is the key to success. It doesn't matter how interesting your story is if the text is full of mistakes. Therefore, be sure to allocate enough time for proofreading and carefully check your essay for spelling, punctuation, grammar, style, and other mistakes.
Step 8: Ask for a Feedback
When you write an autobiography, no matter how carefully you proofread your text, there is always a chance that you've missed out on something important. That's why it is always a good idea to ask someone else to read your essay and share their thoughts on it. In addition, you can request help from close friends or family members. They should be able to look at your autobiography from a different perspective and notice things that you haven't.
Writing Techniques to Use in an Autobiography
Here is the list of some techniques you may find useful.
Remembering that autobiographies are still literature is important when discussing them. There should be a unifying storyline to link all of these experiences, regardless if they may not adhere to traditional creative narrative techniques. It should seem like a tale rather than just a series of disconnected incidents.
Attention to detail and key points
Detail-oriented autobiographies are advisable. We read this book to learn about the writer's unique history, so we expect interesting facts and key points from the subject's life. For reference, what career did they pursue, and where did they receive an education? 
The majority of autobiographies are written in the following order: birth, childhood, adolescence, early adulthood, maturity, and senior years. Remember that this sequence does not always apply to all autobiographies. Autobiographies can be quite extensive and exhaustive, covering every aspect of a person's life.
The Perks of Writing About Your Life Story
When you write a good story of your life, it'd be great to include:
Helps you establish your place 
You don't need to be well-known or a professional writer to document your life's journey. Not all legacies are intended to reach a broad audience. Instead, most people leave behind a legacy in family history that is more humble in scope—with the people they have a lasting impact on.
The entire autobiography will be passed from one generation to the next. Admittedly, life events written on paper cannot easily be wiped out. A life story is a perfect tool for establishing one's authority in the realm of the earlier days.
You can reflect on your life lessons and learn more about yourself
An autobiography is a form of learning about oneself. It gives the writer space to delve into their experiences and reflect on their entire life. As an outcome, self-knowledge develops while the adventure gains clarity. The detailed account gives the audience a window into the enchanted self-exploration process. Perhaps, the readers will also find their route due to this journey. Read a little about the reflective essay , it will be helpful.
It can be a powerful tool for therapy
The writing process of an autobiography involves the writer examining their feelings at different points in their own life. But the process of writing an autobiography looks back on the author's life with the advantage of retrospect. The recovery period might then start as a result. Numerous sensations, both good and bad, abound in human psychology. Ultimately, writing helps to clear up such feelings and attain awareness.
You are given a fresh feeling of direction.
An autobiography gives the author the chance to consider their life's purpose. Additionally, it enables the reader to evaluate their own. It helps people determine the meaning of their lives. Life, as we experience it, frequently feels frustratingly disjointed. It seemed more like a collection of mismatched storyboards from several movies than the storyline of a cohesive movie.
Writing your life story might help your life feel more linked and worthwhile. One of the main advantages of writing your story is this. A fresh insight, appreciation, and even tenderness for the life you've lived are brought about by reliving your past and viewing it from a distinct viewpoint.
Video Guide
Top tips to make your autobiography look flawless.
Hopefully, our guide will show you the right way and help you get started. Now, here are a few more tips to help make your essay perfect:
Keep it short. You don't need to write your full biography, so there is no need to write a long piece. Try to keep your essay clear and concise.
Write from the first person perspective. While it may be inappropriate in other papers, first-person narration is perfect for autobiographical essays. After all, you are telling your life story, so it is necessary to make it personal.
Search for examples. Even if you have never dealt with this type of task before, looking at some examples will help you get some ideas about autobiographical writing. Here are a few good examples to look at:
~ The Story of My Experiments with Truth, Mahatma Gandhi
~ Chronicles, Vol 1, Bob Dylan
~ I Know Why the Caged Bird Sings, Maya Angelou
~ Agatha Christie: An Autobiography, Agatha Christie
~ Autobiography of Mark Twain, Mark Twain
~ On Writing: A Memoir of the Craft, Stephen King
~ The Road Ahead, Bill Gates
~ Faster than Lightning, Usain Bolt
~ A Brief History of Time, Stephen Hawking
~ My autobiography, Charlie Chaplin
Don't make it trivial. You shouldn't be afraid of adding your personal voice to this piece. If you make your essay trivial and follow a standardized writing pattern, it can turn out dull.
Add vivid details. Since this writing is meant to be emotional, you should add as many sensory details as possible. By adding such information, you will keep your readers even more engaged as they will be able to feel and see every part of your life story.
Feeling overwhelmed?  Order an essay to make your life easier! In case you have already written your work, you can always ask us to ' edit my essay ' and we'll do it asap.
EssayPro – a Simple Way to Handle Writing
Although our comprehensive guide should help you grasp the idea of how to write an autobiography, don't expect it to be easу. There are too many things to keep in mind and a lot of work to get done. To complicate matters, such tasks can take a lot of time and can be pretty confusing. Need a flawless autobiography? Then, you've come to the right place! Don't waste any more time and get help from the top service which incorporates many talented and professional essay writers . They can help you handle any type of writing task — literally. We process all "write an essay for me" requests fast so you can get closer to your goals!
Related Articles
Student Autobiography: How to Start & End – Examples Included
Writing about yourself is not as simple as it might seem. An autobiography is a piece of nonfictional writing that tells readers about the life of its author. It can exist in many forms: such pieces as memoirs, letters, journals, or reminiscences are also autobiographies.
Autobiography is also a popular assignment for middle, high school, and college students. In this case, the format of your paper depends on your instructor's requirements.
✍ ️ How to Write an Autobiography?
▶ ️ Best Ways to Start Your Autobiography
⏹ ️ How to End an Autobiography
📜 3 Student Autobiography Examples
Below our experts explain how to write a perfect student autobiography. You will find some tricks, structure guidance, and autobiography topics. Don't forget to check our biography samples at the end.
✍ ️ Writing an Autobiography [Student Edition]
Let's start with the basics. We will discuss the structure you can use to write a student autobiography here. Also, pay attention to some tricks we've prepared.
Student Autobiography Tricks
Here is what you should do in the beginning:
Create an outline. It can be a list or a plan: note down the key events and develop your narrative based on them.
Take research seriously. Ask your friends or family members to share their memories. You will recall the events better and see them from different angles.
Write several drafts. It might be longer than the final version of your paper. Just exclude all the unnecessary details and leave only the best parts.
Don't include any irrelevant information. Leave out everything that doesn't play any role.
Mind your writing style. To make it easier for your audience to follow, maintain logical structure. Each paragraph should revolve around one idea.
Autobiography Structure
If you are still stuck and wondering how to write an autobiography, don't worry. We will take a closer look at the structure you need to follow.
Autobiography Topics for Students
Now it's time to define your writing focus. There are many ways to tell about your unique experiences. You can choose one or several aspects in your paper.
What is your best childhood memory?
What is your worst childhood memory?
What is your earliest childhood memory?
What were your childhood dreams and motivation?
What are your ancestral roots?
What is your family's cultural or ethnic identity?
What traditions do you have in your family?
What character features do you share with your family members?
What are the things you prefer doing in your leisure time?
How do your hobbies help you in life?
Why have you chosen your hobbies?
Historical context
What historical events have you witnessed?
What are the prominent features of the time you live in?
What historical figure is your role model and why?
What is the influence of historical events on your life?
Personal development
What are the achievements you are proud of?
What are your main strengths and weaknesses?
What are your goals for the nearest future?
What challenges do you face at the moment?
A pivotal moment
What is the most important lesson life has taught you?
What was the most challenging decision you have made?
What experience was a point of no return for you?
What was the most complex challenge you overcame?
What educational background do you have?
What is your favorite subject?
What skills would you like to develop?
What would you like to study in the future?
Philosophy of life
How do you cope with difficulties?
How do you form your opinion about people?
What is the purpose of your life?
What life events made you think and behave the way you do?
▶ ️ How to Start an Autobiography
Mostly, events described in an autobiography appear in chronological order. So, it is logical to start your paper with the earliest events of the story.
There are also several tricks you can use for writing an autobiography to make it more engaging:
Begin with your childhood. If your childhood experience plays a role in your narrative, this is a perfect beginning. As your early years shape you as a person, there is always a story to start with.
Tell about a pivotal moment. This is also a great way to hook your readers . Mention the key events and then elaborate on them in the following paragraphs.
Start with a quote or a question. It should have a logical connection with what you will write about. Try to find something not overused to make your paper stand out.
You can take different approaches to write a conclusion in your student autobiography. Besides paraphrasing your statement, you can make a lasting impression by using one of the techniques below.
Let's choose the perfect ending for you:
Reflect on your experience. Share your understanding of the events you described. Include a short final thought on the lesson you have learned.
Highlight the importance of your narrative. Explain why your life events are unique and what your readers can take from them.
Motivate your readers. Encourage them to take action using your experience as inspiration.
📜 Autobiography Examples for Students
Before you start writing, take a look at our writing templates. You can use them for inspiration.
1. Student Autobiography – My Childhood
I can say that an excellent memory is my talent. I remember so many childhood events as if they were yesterday. My childhood was a period of learning what kind of person I am by trying as many things as possible.
I attended drawing classes because I always wanted to draw pretty pictures. I participated in some local contests and even won some medals as my work improved. I knew I liked arts at the moment. I just couldn't find out which direction to choose.
When I was in middle school, I loved to go to the cinema and watch movies at home. It has always been a magical experience for me. I realized that I wanted to try myself in this sphere. I still remember most of the films I have seen, and I never regret watching those I didn't like.
There also were attempts to do some things that didn't fit me. I believe it is better to do something like this as early as possible to know yourself better. After several months, I tried to play the guitar, but I found out that it wasn't my thing. I still enjoy listening to music but prefer to be a spectator rather than a creator.
Now I am studying animation. Drawing skills helped me pass my entry exams easily. All the films I have seen help me visualize my future works way better. Music inspires me when I draw for long hours. I believe that all of these childhood hobbies made me who I am today.
2. Student Autobiography – A Pivotal Moment
If something strikes you like lightning, you always have a choice: either deal with it or give up. You never know what can happen to you in the next moment. But you can always try to embrace it. It happened to me once. I was diagnosed with a dangerous disease and had to give up sports.
It was a typical long rainy day. Due to the weather, we decided to finish our football training earlier. I was walking past a coffee shop. I stopped to look at it and suddenly felt a terrible pain in my chest. I passed out and woke up in a hospital a few moments later.
My mother told me that I had an epileptic seizure. One of the reasons why it might have happened is football traumas, but there was no clear answer. My dreams about a sports scholarship were broken. I thought I would never recover my body and soul.
I had to change my lifestyle from the very moment I fell unconscious. I had to become as consistent with my medication as I used to be with sports. I still did prescribed exercises, but they were so boring to me. Of course, I gave up football and had to find a new hobby.
Now I am a successful student. I had no problem getting into the university of my dream. Since this episode, I have taken my health seriously, and the work pays off. It was a single seizure in my life, and I hope it will never happen again. The main lesson I've learned was that when you lose something, you acquire something instead.
3. Student Autobiography – Philosophy of Life
My life is all about balance and enjoying the small things that make me happy. I do not like the cult of overachieving that has become so popular these days. I was there once. It is not a safe path in the long run. I believe that being consistent in what you do is productive and healthy.
I had excellent grades, was a cheerleader, and did my volunteering simultaneously. I also took extra classes and projects on everything I could. It seemed to me I was happy with it, but I was not sleeping and eating enough all the time.
That is why I had such a weak immunity and spent so much of my precious time at home being sick. Maybe it was my body's response to this tension. It just found a way to recover before the next race. I thought I had to change the situation before it got too late.
That is how I decided that not all of my hobbies were something I like to do. Some of them just maintained my image in the eyes of society. So I decided to quit some of my activities and spend my new free time relaxing.
This approach made me healthier and happier than ever. I am still a good student, and I do sports and other things that I enjoy regularly. I just don't try to be everything at once and enjoy my life because I have enough time. Isn't it nice to keep a balance?
Thank you for being so attentive while reading our article. We think you are ready to write your autobiography now. Don't hesitate to write your first draft using our advice on autobiography structure and the topics above.
🔗 References
What Is an Autobiography? (And How to Write Yours)
What Are the Differences Between an Autobiographical Narrative & a Biography? | Education – Seattle PI
What Is a Conclusion Sentence for an Autobiography?
The Best Way to Write an Autobiographical Essay – wikiHow
DemoEssays Review: Free Political Science Essay Samples
Psychologywriting review: free essay samples for students of all levels.
How To End An Autobiography
What would be a good ending sentence for an autobiography? Please help!
Cite this page as follows:
"How To End An Autobiography" eNotes Editorial , 6 Oct. 2019, https://www.enotes.com/homework-help/what-would-good-ending-sentence-an-autobiography-109613. Accessed 3 Mar. 2023.
Expert Answers
Who are the experts? Our certified Educators are real professors, teachers, and scholars who use their academic expertise to tackle your toughest questions. Educators go through a rigorous application process, and every answer they submit is reviewed by our in-house editorial team.
Educator since 2016
14,728 answers
There are several ways you could go with this. Since an autobiography is inevitably written while you are still alive, one possible idea would be to write a sentence that states what your future plans will be based on what has happened to you in the past. You might say something like, "After all the excitement I have experienced so far, I look forward to my future life in my quiet cabin in the woods," or, "After wrecking three cars, I have taken up building bicycles: maybe one day I'll pedal past you on the road."
Another method involves pulling up famous autobiographies online and using another person's last sentence as a model. Imitation is a tried and true method of learning to write—and don't worry, your life is your own, so what you write will be your own too. I pulled up Helen Keller's autobiography and have copied the last two lines below:
Thus it is that my friends have made the story of my life. In a thousand ways they have turned my limitations into beautiful privileges, and enabled me to walk serene and happy in the shadow cast by my deprivation.
Friendship is an important theme in her life, especially her life-changing relationship with Anne Sullivan, and her last sentence reflects that theme. It sums up how friendship has helped her. You could do the same with a major theme from your own life story.
899 answers
Autobiography is a form of narrative dealing with the self- it tells one's life story or recounts important events and themes up to the time of writing. Because autobiography is self-written, most people are writing well before their life story has really come to a close! I think that this leaves you with an interesting choice when it comes to writing the ending of your autobiography...
Do you want the ending of your autobiography to present finality, continuity, or change?
For example, let's say an author working on their autobiography has had a long career as a chef. In ending their autobiography, they could imply a sense of finality by saying that they are retiring or closing their restaurant. This "closes the book" on the major theme of their career as a chef, and even though they may do other things in their retirement,  this part of their life is over. 
To present continuity, the chef might end their book by saying that they look forward to many more years working in their restaurant and do not plan to make any new changes. Perhaps their autobiography has recounted their rise to success, and now their life has entered a stage of stability.
Alternately, the chef might mention that they are opening a new restaurant, or are moving to another country to learn to cook foreign cuisine. This presents change in the story while opening up the possibility that their life story will continue to evolve.
How might the options of finality, continuity, and change relate to your personal autobiography? Consider whether you are ending a theme or "chapter" of your life, continuing in a theme, or making some changes. The most appropriate ending should reflect information already established in  your autobiography, but tell the reader what they can expect to happen next- even if it is nothing at all!
Educator since 2009
When you write about yourself (autobiography) you want to focus on a snapshot of your life; a very pivotal moment or moments that would make a great story. I often tell my students who write personal essays to not give me a play by play of one event after another from birth till present, but give me a few significant events (a snapshot) and tell it with great description.
If I were writing an autobiography I would start in the middle of a scene of something really exciting that had happened to me; the time I caught a shark or hit the home run to win a game. I would talk about how it impacted me--helped me learn determination and battling against the odds. I would then talk about similar challenges in my life that I have had to overcome. Then my final sentences would be a toss back to those big moments in the early days of my life (the shark and the home run).
To summarize: I would begin by telling an exciting moment; grasp the reader's attention. Tell all about it and its impact on your present life. I would tell about the lessons you've learned from those moments and conclude with a sentence referring to the exciting moment you began the story with.
See eNotes Ad-Free
Start your 48-hour free trial to get access to more than 30,000 additional guides and more than 350,000 Homework Help questions answered by our experts.
Already a member? Log in here.
Popular Questions
Latest answer posted March 09, 2015 at 9:26:59 PM
My family is a small family with three people. My mother is a great woman . She is currently unemployed and now staying at home doing housework. She was a single mom  for long time, but she always...
Latest answer posted September 07, 2019 at 9:31:08 PM
What are the characteristic features of a good essay?  
Latest answer posted October 08, 2019 at 1:14:10 AM
What tense should I use when writing an essay?
Latest answer posted February 20, 2020 at 3:25:23 PM
Thesis statement for "Stress Effects on Health and Behavior" and what are three major points?
Latest answer posted October 23, 2011 at 7:32:32 AM
Essay on Cell Phones in SchoolsWhat would be the best hook for an essay about the cell phone policy in schools?