In order to continue enjoying our site, we ask that you confirm your identity as a human. Thank you very much for your cooperation.
Guide on How to Write a Reflection Paper with Free Tips and Example
A reflection paper is a very common type of paper among college students. Almost any subject you enroll in requires you to express your opinion on certain matters. In this article, we will explain how to write a reflection paper and provide examples and useful tips to make the essay writing process easier.
Reflection papers should have an academic tone yet be personal and subjective. In this paper, you should analyze and reflect upon how an experience, academic task, article, or lecture shaped your perception and thoughts on a subject.
Here is what you need to know about writing an effective critical reflection paper. Stick around until the end of our guide to get some useful writing tips from the writing team at EssayPro — a research paper writing service
What Is a Reflection Paper
A reflection paper is a type of paper that requires you to write your opinion on a topic, supporting it with your observations and personal experiences. As opposed to presenting your reader with the views of other academics and writers, in this essay, you get an opportunity to write your point of view—and the best part is that there is no wrong answer. It is YOUR opinion, and it is your job to express your thoughts in a manner that will be understandable and clear for all readers that will read your paper. The topic range is endless. Here are some examples: whether or not you think aliens exist, your favorite TV show, or your opinion on the outcome of WWII. You can write about pretty much anything.
There are three types of reflection paper; depending on which one you end up with, the tone you write with can be slightly different. The first type is the educational reflective paper. Here your job is to write feedback about a book, movie, or seminar you attended—in a manner that teaches the reader about it. The second is the professional paper. Usually, it is written by people who study or work in education or psychology. For example, it can be a reflection of someone's behavior. And the last is the personal type, which explores your thoughts and feelings about an individual subject.
However, reflection paper writing will stop eventually with one very important final paper to write - your resume. This is where you will need to reflect on your entire life leading up to that moment. To learn how to list education on resume perfectly, follow the link on our dissertation writing services .
Reflection Paper Format
Reflection papers typically do not follow any specific format. Since it is your opinion, professors usually let you handle them in any comfortable way. It is best to write your thoughts freely, without guideline constraints. If a personal reflection paper was assigned to you, the format of your paper might depend on the criteria set by your professor. College reflection papers (also known as reflection essays) can typically range from about 400-800 words in length.
Here's how we can suggest you format your reflection paper:
How to Start a Reflection Paper
The first thing to do when beginning to work on a reflection essay is to read your article thoroughly while taking notes. Whether you are reflecting on, for example, an activity, book/newspaper, or academic essay, you want to highlight key ideas and concepts.
You can start writing your reflection paper by summarizing the main concept of your notes to see if your essay includes all the information needed for your readers. It is helpful to add charts, diagrams, and lists to deliver your ideas to the audience in a better fashion.
After you have finished reading your article, it's time to brainstorm. We've got a simple brainstorming technique for writing reflection papers. Just answer some of the basic questions below:
How did the article affect you?
How does this article catch the reader's attention (or does it all)?
Has the article changed your mind about something? If so, explain how.
Has the article left you with any questions?
Were there any unaddressed critical issues that didn't appear in the article?
Does the article relate to anything from your past reading experiences?
Does the article agree with any of your past reading experiences?
Need a Reflection Paper Written?
Then send us your assignment requirements and we'll get it done in no time.
Here are some reflection paper topic examples for you to keep in mind before preparing to write your own:
How my views on rap music have changed over time
My reflection and interpretation of Moby Dick by Herman Melville
Why my theory about the size of the universe has changed over time
How my observations for clinical psychological studies have developed in the last year
The result of your brainstorming should be a written outline of the contents of your future paper. Do not skip this step, as it will ensure that your essay will have a proper flow and appropriate organization.
Another good way to organize your ideas is to write them down in a 3-column chart or table.
Do you want your task look awesome?
If you would like your reflection paper to look professional, feel free to check out one of our articles on how to format MLA, APA or Chicago style
Writing a Reflection Paper Outline
Reflection paper should contain few key elements:
Introduction
Your introduction should specify what you're reflecting upon. Make sure that your thesis informs your reader about your general position, or opinion, toward your subject.
State what you are analyzing: a passage, a lecture, an academic article, an experience, etc...)
Briefly summarize the work.
Write a thesis statement stating how your subject has affected you.
One way you can start your thesis is to write:
Example: "After reading/experiencing (your chosen topic), I gained the knowledge of…"
Body Paragraphs
The body paragraphs should examine your ideas and experiences in context to your topic. Make sure each new body paragraph starts with a topic sentence.
Your reflection may include quotes and passages if you are writing about a book or an academic paper. They give your reader a point of reference to fully understand your feedback. Feel free to describe what you saw, what you heard, and how you felt.
Example: "I saw many people participating in our weight experiment. The atmosphere felt nervous yet inspiring. I was amazed by the excitement of the event."
As with any conclusion, you should summarize what you've learned from the experience. Next, tell the reader how your newfound knowledge has affected your understanding of the subject in general. Finally, describe the feeling and overall lesson you had from the reading or experience.
There are a few good ways to conclude a reflection paper:
Tie all the ideas from your body paragraphs together, and generalize the major insights you've experienced.
Restate your thesis and summarize the content of your paper.
We have a separate blog post dedicated to writing a great conclusion. Be sure to check it out for an in-depth look at how to make a good final impression on your reader.
Need a hand? Get custom writing help from our writers. Edit, proofread or buy essay .
Do You Need a Helping Hand With Your reflection paper?
Count on the support of our professional writers.
How to Write a Reflection Paper: Step-by-Step Guide
Step 1: Create a Main Theme
After you choose your topic, write a short summary about what you have learned about your experience with that topic. Then, let readers know how you feel about your case — and be honest. Chances are that your readers will likely be able to relate to your opinion or at least the way you form your perspective, which will help them better understand your reflection.
For example: After watching a TEDx episode on Wim Hof, I was able to reevaluate my preconceived notions about the negative effects of cold exposure.
Step 2: Brainstorm Ideas and Experiences You've Had Related to Your Topic
You can write down specific quotes, predispositions you have, things that influenced you, or anything memorable. Be personal and explain, in simple words, how you felt.
For example: • A lot of people think that even a small amount of carbohydrates will make people gain weight • A specific moment when I struggled with an excess weight where I avoided carbohydrates entirely • The consequences of my actions that gave rise to my research • The evidence and studies of nutritional science that claim carbohydrates alone are to blame for making people obese • My new experience with having a healthy diet with a well-balanced intake of nutrients • The influence of other people's perceptions on the harm of carbohydrates, and the role their influence has had on me • New ideas I've created as a result of my shift in perspective
Step 3: Analyze How and Why These Ideas and Experiences Have Affected Your Interpretation of Your Theme
Pick an idea or experience you had from the last step, and analyze it further. Then, write your reasoning for agreeing or disagreeing with it.
For example, Idea: I was raised to think that carbohydrates make people gain weight.
Analysis: Most people think that if they eat any carbohydrates, such as bread, cereal, and sugar, they will gain weight. I believe in this misconception to such a great extent that I avoided carbohydrates entirely. As a result, my blood glucose levels were very low. I needed to do a lot of research to overcome my beliefs finally. Afterward, I adopted the philosophy of "everything in moderation" as a key to a healthy lifestyle.
For example: Idea: I was brought up to think that carbohydrates make people gain weight. Analysis: Most people think that if they eat any carbohydrates, such as bread, cereal, and sugar, they will gain weight. I believe in this misconception to such a great extent that I avoided carbohydrates entirely. As a result, my blood glucose levels were very low. I needed to do a lot of my own research to finally overcome my beliefs. After, I adopted the philosophy of "everything in moderation" as a key for having a healthy lifestyle.
Step 4: Make Connections Between Your Observations, Experiences, and Opinions
Try to connect your ideas and insights to form a cohesive picture for your theme. You can also try to recognize and break down your assumptions, which you may challenge in the future.
There are some subjects for reflection papers that are most commonly written about. They include:
Book – Start by writing some information about the author's biography and summarize the plot—without revealing the ending to keep your readers interested. Make sure to include the names of the characters, the main themes, and any issues mentioned in the book. Finally, express your thoughts and reflect on the book itself.
Course – Including the course name and description is a good place to start. Then, you can write about the course flow, explain why you took this course, and tell readers what you learned from it. Since it is a reflection paper, express your opinion, supporting it with examples from the course.
Project – The structure for a reflection paper about a project has identical guidelines to that of a course. One of the things you might want to add would be the pros and cons of the course. Also, mention some changes you might want to see, and evaluate how relevant the skills you acquired are to real life.
Interview – First, introduce the person and briefly mention the discussion. Touch on the main points, controversies, and your opinion of that person.
Writing Tips
Everyone has their style of writing a reflective essay – and that's the beauty of it; you have plenty of leeway with this type of paper – but there are still a few tips everyone should incorporate.
Before you start your piece, read some examples of other papers; they will likely help you better understand what they are and how to approach yours. When picking your subject, try to write about something unusual and memorable — it is more likely to capture your readers' attention. Never write the whole essay at once. Space out the time slots when you work on your reflection paper to at least a day apart. This will allow your brain to generate new thoughts and reflections.
Short and Sweet – Most reflection papers are between 250 and 750 words. Don't go off on tangents. Only include relevant information.
Clear and Concise – Make your paper as clear and concise as possible. Use a strong thesis statement so your essay can follow it with the same strength.
Maintain the Right Tone – Use a professional and academic tone—even though the writing is personal.
Cite Your Sources – Try to cite authoritative sources and experts to back up your personal opinions.
Proofreading – Not only should you proofread for spelling and grammatical errors, but you should proofread to focus on your organization as well. Answer the question presented in the introduction.
'If only someone could write my essay !' you may think. Ask for help our professional writers in case you need it.
Free Reflection Paper Example
Now that we went over all of the essentials about a reflection paper and how to approach it, we would like to show you some examples that will definitely help you with getting started on your paper.
The lecture started off with a quote: "If we can conquer space, we can conquer world hunger" — Buzz Aldrin. This quote had already got me thinking about how incredible of a feat it is that we've sent humans and animals into space. If it's possible to survive in the infinite vacuum we know as Space, how are there billions of people who have a hard time surviving on Earth? This relatively simple idea reached out to get my attention and make me feel sympathy for all of the starving children and families in the world. On a morning like any other, our guest professor gave a lecture that truly impacted me to my core.
Do You Need a Well-Written Reflection Paper?
A reflection paper, as any academic paper, requires certain skills and attention to detail. Our service is always here to help you with anything you might need. Our team is selected by only recruiting qualified writers of the highest standard, and the results will not disappoint. Click the button below to find an expert to forget the question: "How will I write this?"
Related Articles
Words with Friends Cheat
Wordle Solver
Word Unscrambler
Scrabble Dictionary
Anagram Solver
Wordscapes Answers
Make Our Dictionary Yours
Sign up for our weekly newsletters and get:
Grammar and writing tips
Fun language articles
#WordOfTheDay and quizzes
By signing in, you agree to our Terms and Conditions and Privacy Policy .
We'll see you in your inbox soon.
Reflective Essay Examples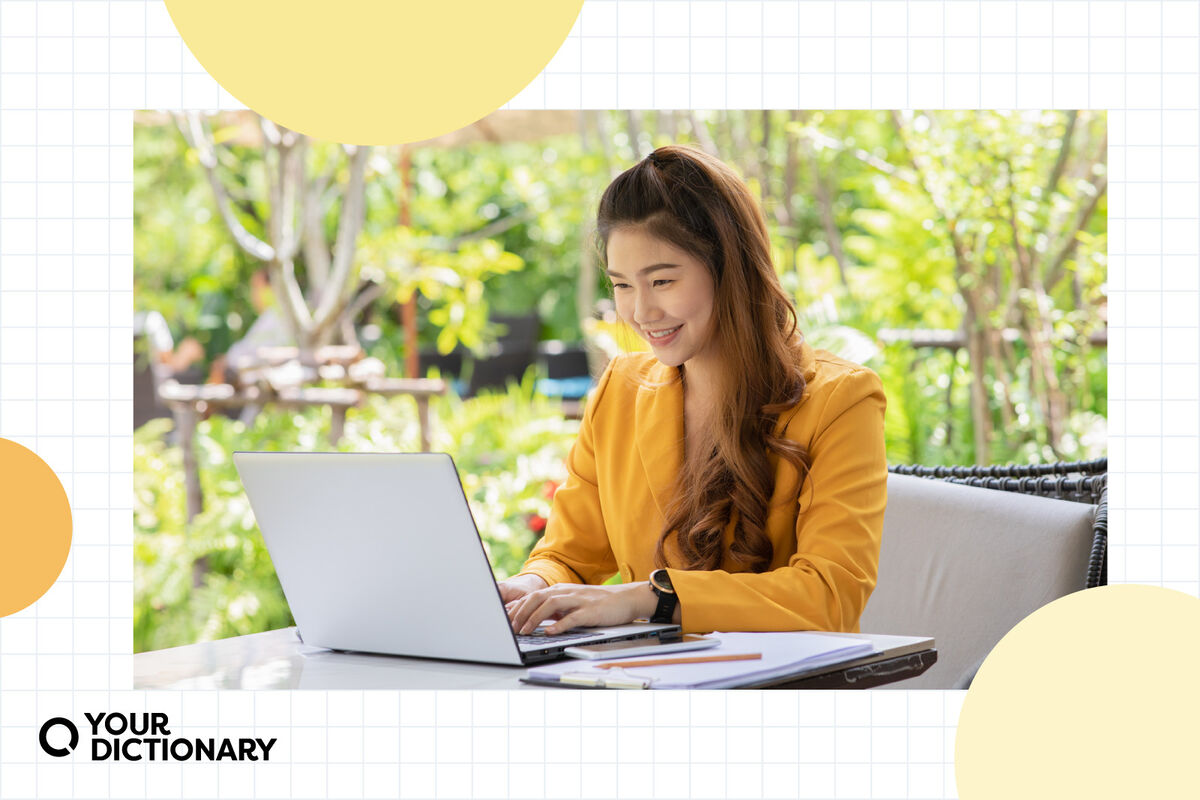 DESCRIPTION Woman Using Laptop Writing a Reflective Essay
SOURCE Yuttana Jaowattana / EyeEm /
PERMISSION Used under Getty Images license
Self-reflection might seem like a no-brainer when you start a reflective paper. But, delving into your thoughts and experiences is harder than you might think. Learn what a reflective essay is and how to write one through a few examples. Plus, explore several topics to get you started.
What Is Reflective Writing?
Reflective writing is a form of creative writing where you examine an experience or situation through self-reflection. Through the course of creating the reflective paper, you describe insights that you gained or express your views on some experience. Reflective essays are typically personal writings about an experience, but they can be made up as well.
Tone and Structure
Self-reflection is a personal experience. Therefore, the tone and voice of the writing are personal as well. Written typically from a first-person point of view , these types of essays take the reader through a journey of growth and discovery.
The structure and format follow a typical essay writing outline . Begin with a great hook and a strong introduction . Pull the reader in without giving too much away, then provide a quick overview of the reflective topic. Next, in the body of the essay, move into the meat of the paper by describing your experiences and growth. Round out your writing with a solid conclusion that concisely restates what you learned.
Examples of Reflective Essays
Now that you have an understanding of what it takes to write a reflective essay, check out a few examples for inspiration.
My Little Brother
This essay example is written at a middle or high school level, reflecting on the arrival of a younger sibling.
In my short life, there are many experiences that could qualify as life-changing. Every new experience was, at one time or another, the first experience. For good or bad, each instance changed the course that my life has taken. But, the most transformative experience was the birth of my youngest brother. Joel is someone my parents often call a happy accident. At the time that my mother became pregnant, I was 13, and my other brother, Jake, was 10. We were what you would call a well-rounded, perfect family of four. We neatly fit into the perfect classification in nearly every way. We didn't realize what we were missing until the moment that my youngest brother first opened his striking blue eyes. In truth, I resented the fact that I would be having another sibling. Nothing needed to be added to our family, and my mother, already 38 at the time, was considered high risk because of her age. The pregnancy itself was full of complications that sent the straight course of my life into rollercoaster-like loops that my 13-year-old mind had a hard time comprehending. But now, I can see how forging through those loops helped me to roll with the punches that life inevitably brings The day Joel was born, my mother took me with her to the hospital rather than my father. It wasn't a planned move, but Jake and my father were both feverish; I was the next best alternative. Sitting with her through every contraction, I gained a new respect for just how powerful and strong a woman could be in what might be considered their weakest moment. Holding her hand and feeding her ice chips, I gained a connection with my mother that I didn't realize we were lacking. The moment my new baby brother came into this world, I realized two things nearly simultaneously. First, you don't realize how much you need something until it's sitting in your lap. Second, my life after this moment would never be the same. The moment he curled his chubby little finger around mine, I understood the words "happy accident" completely. There are many different experiences in life that have changed a part of me as a person. But, nothing so profoundly changed my views and outlook on life like the birth of my youngest brother. Joel's arrival was a life-altering event that caused me to see the world through new eyes.
Reading My Favorite Book
This reflective essay example about a favorite book is something you might find at the middle or high school level.
When it comes to books, I didn't understand the appeal. I'd read one after another for each assignment not understanding what all the fuss was about. However, the moment I read Pride and Prejudice , it was like my literary eyes opened for the first time. It stirred love within me for classics I didn't realize could exist. When I was first given the assignment of reading Pride and Prejudice , like many of my friends, I scoffed. With an eye roll, I internally calculated how much time I would have to read the book and write a report. I sighed at the loss of time with my friends for a stupid classic. Cracking open the cover, I was determined to hate it before even reading the first words. By the time I reached page 3, I nearly called it quits. But there was something about Elizabeth Bennet that quietly piqued my interest. I can't say where, but somewhere along the way, my eyes devoured the pages instead of trudging along. The moment I reached the end, I was ecstatic and disappointed at the same time. Their ending had been perfect, but I realized I would miss them. Not only them, but I would also miss being part of their world. It was the first time characters of a story had affected me this way, so I tried to shake it off. However, after several days, that sadness carried me to the classics section of the school library. The moment I cracked open my next classic, my soul instantly felt more at ease, and I've never looked back. I never thought I'd say a book changed me, but in this case, it's true. The love I found in Pride and Prejudice introduced me to a beautiful world of classic literature I can't imagine living without. Despite not reading Pride and Prejudice for a while, it will always be my favorite book.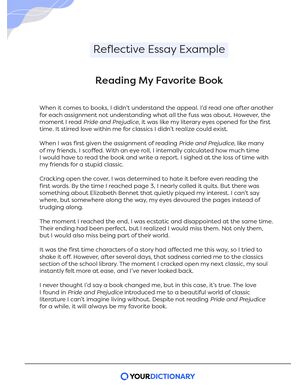 Reflective Essay Book
Creative communication.
This reflective essay example about the topic of creative writing is what you might expect to see at the college level.
I've always felt I excel in written communication. The skill of effectively communicating my thoughts and feelings through words and expressions seemed to come easily to me. However, I didn't realize how much my writing was lacking until my thoughts and feelings on writing were pushed nearly to their breaking point through my creative writing course. Learning the best way to manage time was a huge hurdle for me. I've always been a procrastinator. However, after the first day of class, I realized I would need to modify my thinking and approach to homework. I wasn't able to completely kill the procrastination habit I developed in high school, but I did learn some much-needed time management skills. I also learned how writing without the looming cloud of a deadline could open a creative door. A natural thinker and writer at heart, I thought I understood creative expression and wordplay... until my professor handed me my first grade. Upon looking at that striking "D" on the paper, I realized I would have to push myself harder and explore the depths my writing could reach. Not only did I learn to sharpen my technical writing chops, but I have found out how to dig into my creative soul to view my emotions and experiences in a whole new way. Going beyond the five-paragraph essay and fully exploring my feelings about a situation or action was challenging. This creative writing class pushed me to realize there isn't a limit on words when it comes to expressing something. I can convey a simple action a million different ways, and I mastered how to explore each one to find perfection in my written words. I also picked up new flexibility in my writing by opening my mind to different scopes of expression. Expressing all the changes that this class wrought in my writing is truly difficult. But, over the course of the eight weeks we spent together, I became a more competent writer. Not only do my words contain more depth and soul, but my writing itself has entered a whole new arena I didn't realize was possible. By studying new techniques and researching other approaches, I now have a sturdy foundation and a robust writing arsenal for future endeavors.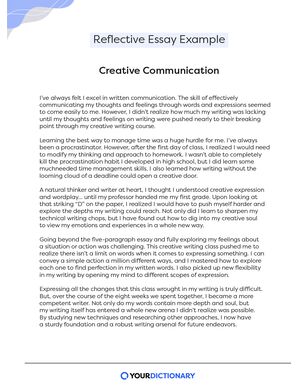 Reflective Essay Communication
Finding the perfect topic.
Half the battle in creating a great reflective paper is finding the perfect topic to write about. Your topic should be something that you experienced, learned, or grew from. It could also be a topic that requires you to think more deeply about a place or book.
Some fun, creative topics for self-reflection include:
A fight with a family member - Why did it impact you? What did it change about you?
The moment you feel in love - Explore the feelings and emotions that come with love and how it changes you.
A sunset - What is it about the beauty of a sunset that impacts you?
Your secret spot in your house - What about that spot is so important?
Your first job - What was the experience like? Why was it meaningful?
Your first date - Examine your emotions on the first date. Did it live up to the hype or fall short?
Getting engaged - Discuss your feelings and the meaning of the experience.
Experience in a college class - Class experiences are designed to change or mold you in some way. Discuss how you grew and fell short.
Your first year in college - This is another larger-than-life event full of self-reflection.
Is college important? - People feel strongly one way or another about college. What are your experiences?
What college has taught you - How has attending college changed you and your thinking? Has it helped you grow as a person?
A vacation you'll never forget - What about the vacation was so memorable?
An incident you can't forget - Why can't you forget it? Explore your thoughts and emotions.
Your most embarrassing moment - Everyone's most embarrassing moment is different, but there is always a lot of growth.
Birth or death of a loved one - This can have a very profound effect on a person.
Public speaking - People are either good or bad at public speaking. How did you feel?
First fight with a friend - Were you able to get past the fight? How old were you? How did it change your relationship?
Big win or loss of a sports team - This could be a sports team you were on or a sports team you love.
Moving - This could be moving to college or moving away. Explore the way that the move affected you.
Helping someone - Did you ever help a family or someone in need? What was the experience like? How did it make you feel as a person?
The Art of Self-Reflection
Reflecting on a personal experience might seem like an easy essay to write. However, to ace your reflection paper, dive deeply into your feelings and choose a topic that triggers a strong emotional response.
If a reflective essay doesn't fit you, try exploring more about argumentative essays , including tips for making a compelling argument.
2 Reflective Essay Examples and What Makes Them Good
Have you ever logged in to your class to check your grades and sat there staring blankly in amazement because you failed a test or got a big fat "F" on an essay?
After you got the anger (and maybe a few tears) out of your system, did you think about why you failed so miserably?
Maybe you reflected on the situation and learned a valuable lesson about the importance of time management. As a result, you're now a more conscientious student.
If you spent any amount of time pondering your failed assignment, then you already know something about writing a reflective essay. It's this type of thinking about what you've learned or how the experience changed you that is the essence of a reflective essay.
In this post, I'll give you a short tutorial on what makes a reflective essay, well, reflective. I'll also point out the strengths of two reflective essay examples to help you get started.
The Reflective Essay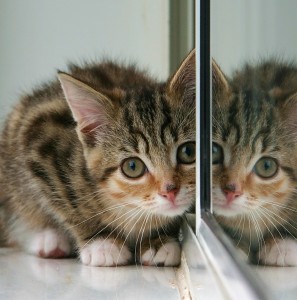 If you look at your own reflection in a mirror, you'll see yourself as you are today, not as you were yesterday.
Wow—that sounds pretty deep, doesn't it? But it's true. Each day you change in some way.
If you're writing a reflective essay, you'll think about (or reflect on) how you've changed or perhaps how an event changed you.
Click To Tweet
For example, if you were walking to class yesterday and were almost hit by a car as you crossed the street, you might reflect on how the near-death experience changed you forever.
If you're still not quite sure what it means to reflect, read How to Write a Reflective Essay That Is Interesting or check out this informative SlideShare .
But even if you know what a reflective essay is, that doesn't necessarily mean you know how to write a good reflective essay.
Here are two reflective essay examples to help illustrate what makes a reflective essay good.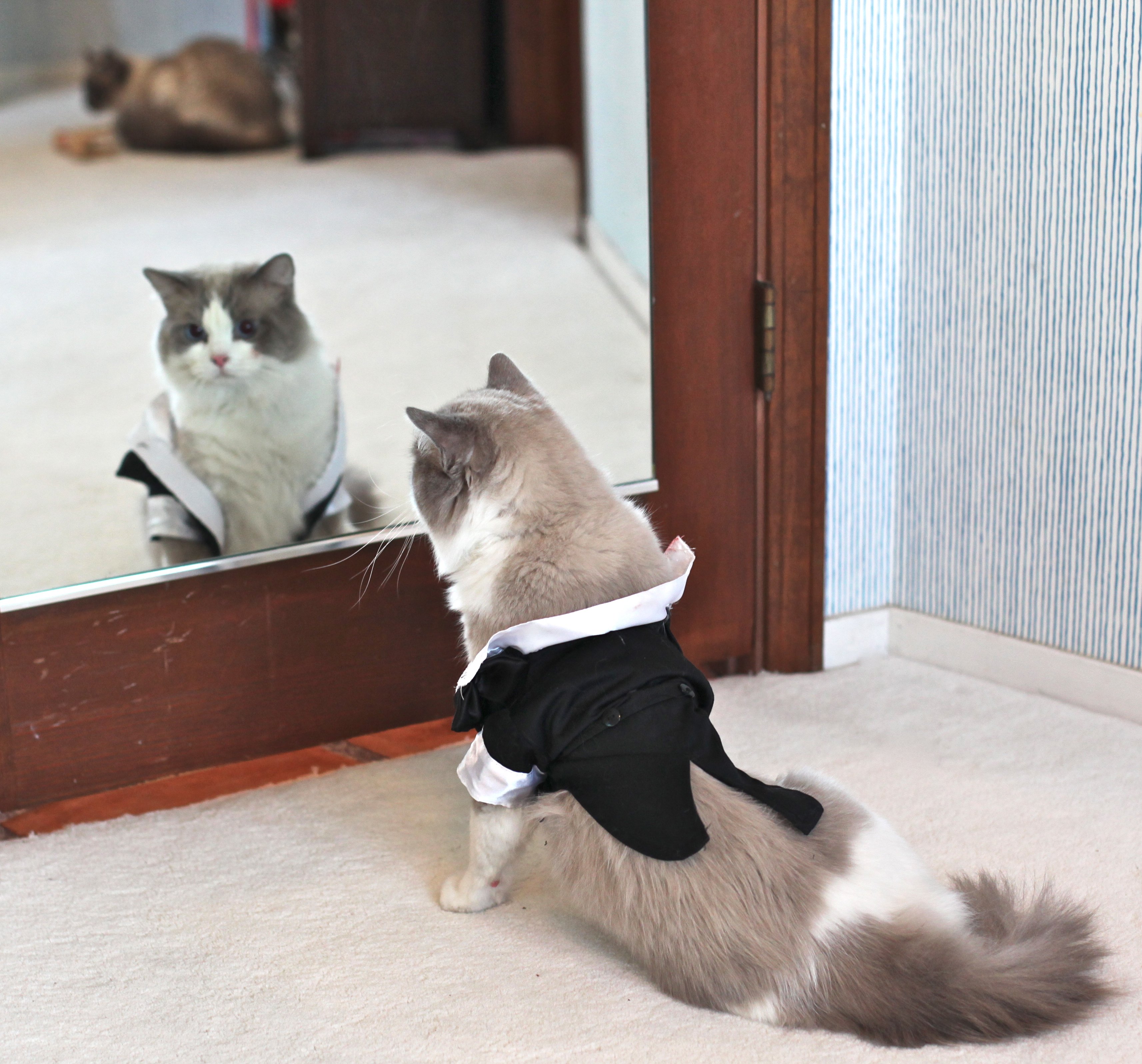 Reflective Essay Example #1: A Personal Account of Anorexia
Even though this essay isn't very long, it's a good example of the core component of the reflective essay: an explanation of how an event or experience affects the writer.
The writer of this essay discusses a personal struggle with anorexia. She explains how the experiences shaped her view of herself and how they helped determine her career goal.
A Personal Account of Anorexia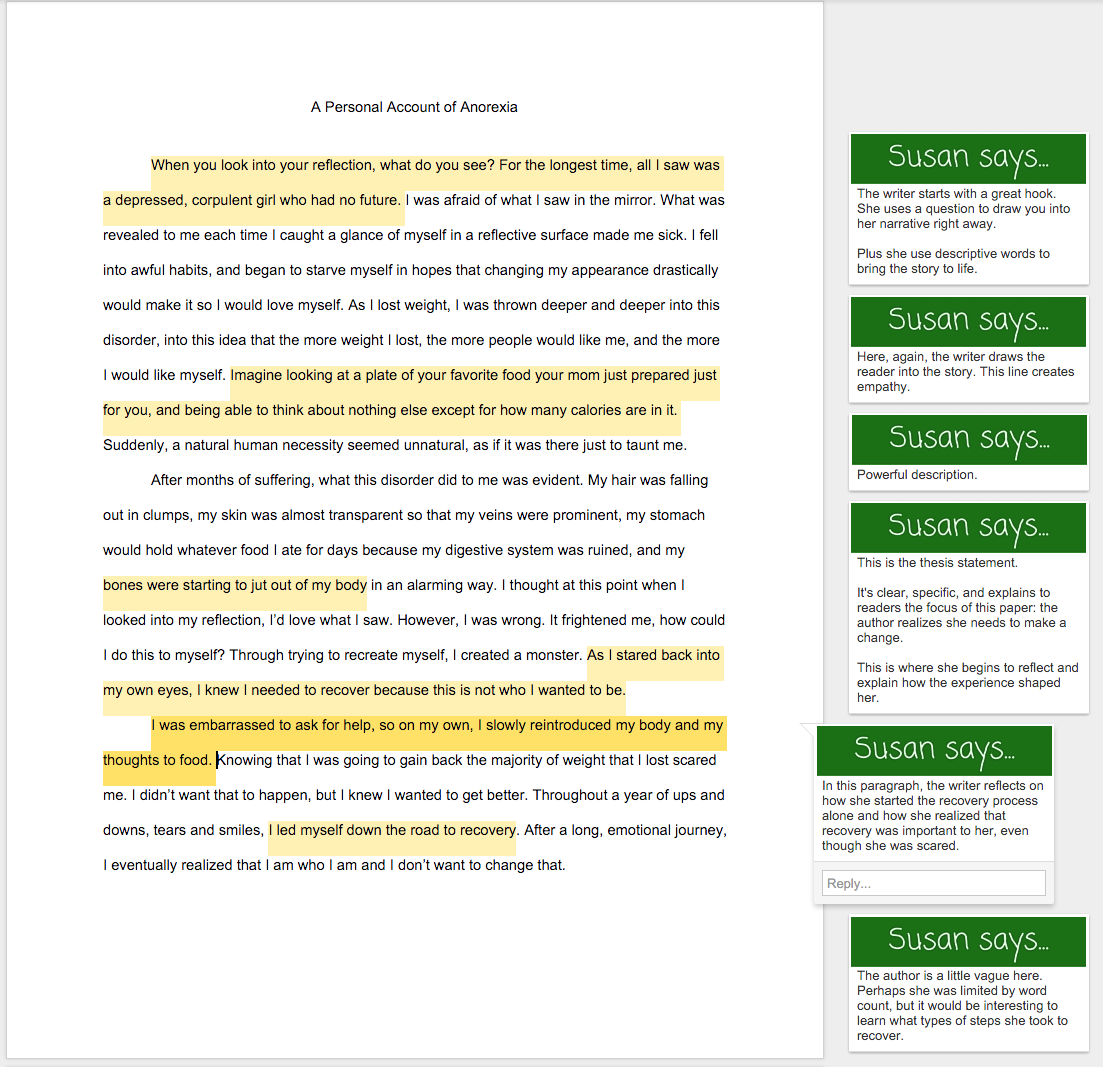 Reflective Essay Example #2: The Pressures of College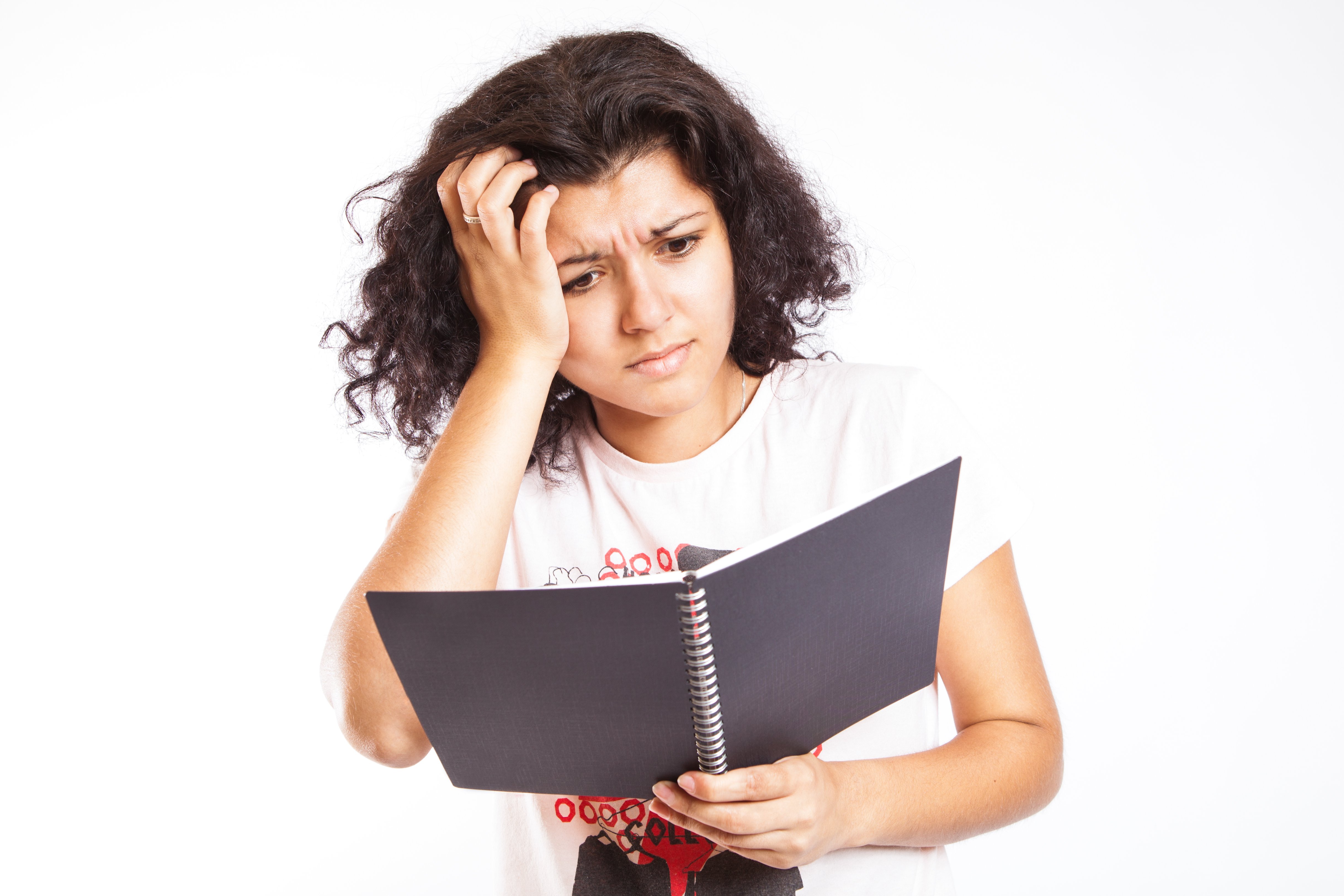 Reflective essay example #2 offers a different take on this type of essay as it includes a response to an article.
The writer of this essay reflects on personal pressures he faces in college and discusses strategies to overcome these pressures.
The Pressures of College
Final Thoughts on Our Reflective Essay Examples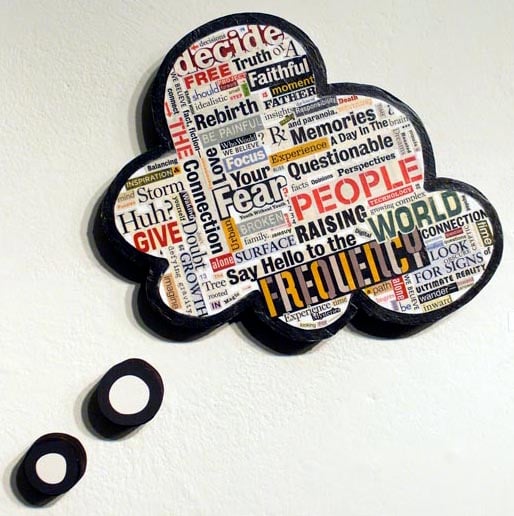 As you can see, like most essays, the reflective essay follows a basic essay format. It has a solid introduction , a clear thesis statement , examples and evidence to support body paragraphs , and a strong conclusion .
Now you know what makes a reflective essay good (thanks to my helpful article and our reflective essay examples).
If you still don't know what to write about, here are 15 topics to inspire you . You can also check out more reflective essay examples. Here's a few worth looking at:
Live Each Moment for What It's Worth
How Did We Get Consumed by Consumer Culture?
My Journey to Find out More about General Anxiety
Proving Anything Is Possible By Losing Weight
If you're already inspired and have a topic in mind but don't quite know how to organize your ideas, try outlining. Use this reflective essay outline to get started .
Now that you're a more conscientious student, after reflecting on your academic career, be proactive. Let a Kibin editor help revise and perfect your paper.
Happy reflecting!
Psst... 98% of Kibin users report better grades! Get inspiration from over 500,000 example essays .

About the Author
Susan M. Inez is a professor of English and writing goddess based out of the Northeast. In addition to a BA in English Education, an MA in Composition, and an MS in Education, Susan has 20 years of experience teaching courses on composition, writing in the professions, literature, and more. She also served as co-director of a campus writing center for 2 years.
essay examples
reflective essay
Reflective Essay

Reflective Essay - Writing Guide with Examples
10 min read
Published on: Sep 21, 2020
Last updated on: Jan 3, 2023
On This Page On This Page
A reflective essay is a unique form of essay writing where you examine an experience and reflect on your own self. Use strong evidence and explain the real or imaginary scene in an interesting manner.
Your first order with us is FREE!
What is a Reflective Essay?
A reflective essay is a type of writing in which the essay writer describes an experience or event that they observe or examine. The word "reflective" means that you look back to the past and analyze them from the present. The writer analyzes the event of the past from the present point of view.
In a reflective essay, the writer must set the direction of thoughts. This essay is about the personal writer's opinions concerning certain subjects.
A reflective essay requires that the essay writer investigate his experience and show how their experience helped him develop a good person. It is based on your own experience that what you have learned.
The essay writers follow a logical and well-organized plan. It is the writer's job to maintain the balance between description and personal feelings.
Write a reflective paper after analyzing the particular event from the outside world and presents it to the audience in a subjective way. It is the best way to describe your own beliefs through essay writing.
Write a good essay; you need to gather and share your personal life experience. It is required to include a detailed description and a summary of the experience. You can also explain your thoughts and emotions in the reflective essay.
A reflective essay contains three types:
Theory-based reflective essay
A case Study
Based on personal experience
The most important thing in a reflective essay is identifying the strong points that you have include in your college essay .
Reflective Essay Format
Here is a format for your ease.
Introduction
Identify the focus
Outline scope
State thesis statement
Main Body Paragraphs
Supporting details
Background information
Summarize the main essay
Restate the thesis statement
How to Write a Reflective Essay?
When writing a reflective essay, your ideas, thoughts, and feelings should be well-organized. A good reflective essay is where you can explain all the events in sequence so the reader easily understands.
In the reflective essay, mention the strengths and weaknesses that you had experienced. Paint a picture in a way so the reader finds it interesting and read the entire essay.
Here are some steps that you need to follow when writing a reflective essay.
Let's discuss them in detail.
The first step in writing a great reflective essay is to choose a good topic. Start selecting the topic by brainstorming and research. A good topic makes your writing phase interesting.
When selecting the topic, make sure that the chosen topic is neither too broad nor too narrow. When selecting the topic, ask yourself how it affected your life, what you feel about it, is the reader likes this topic? These questions help when you create the thesis statement.
When selecting the topic, do the research. Start remembering all the minor details and other information related to the topic. Mind mapping and identifying all the main arguments help the reader follow the evolution of your thoughts and experience.
It is very helpful if you create a chart or table to keep track of all your information. List the main points, specific details that you found to be important.
List the personal experience and beliefs and mention how your response to being shared in the essay.
When you start writing the essay, write the most important lesson you have learned from your experience. The most significant moment becomes the thesis statement of your essay.
When writing the essay, try selecting your questions about your experience that relate to your topic. Answer the questions one by one and make sure that you answer them correctly.
The following are the questions, get an idea from them, and write your own questions.
What did you notice?
What did you feel?
What are the effects that you face after the event?
Despite these questions, you also have to ask yourself about your response and emotions.
A reflective essay is between 300 and 700 words long. Your teacher should verify the length of the essay. If your teacher wants a more word count, then write it according to their requirements.
A reflective essay has the same essay structure as other types of essays. It also includes an introduction, body paragraphs, and conclusion. For a good essay, a proper structure is important.
When you finish your essay, proofread and edit your essay before submitting it. Never submit the essay without proofreading. You can also submit the essay online for proofreading. If you have not proofread and edited the essay, you made a big mistake and ruined all your effort.
Reflective Essay Outline
The structure of the reflective essay is the same as other essays. When you start writing the essay, create the essay outline , and organize your thoughts and ideas. A poor outline makes your writing process difficult, so it is important to create a perfect outline.
An outline works in the entire essay, and it is a good way to arrange your ideas. When creating the outline, you have to know how to write the introduction, body paragraphs, and conclusion of the essay.
A reflective essay also starts with an introduction, like all other essays. An essay introduction should be brief but relevant to the topic. In this part, you can give a general overview of the topic to the reader.
Start your essay with a strong hook statement . The hook statement is the first thing that the reader reads in the introduction part.
In the introduction part, state the thesis statement but don't give too much information in this statement.
Remember that in this part, only give a brief overview and don't write the in-depth information.
Writing the body paragraphs is the hardest part of the reflective essay. Some writers spend a lot of time writing body paragraphs. If the outline is not creating well, then writing the body paragraphs is a time-consuming process.
It is the most important part of the essay and follows the proper chronological order. Describe the main issues in order related to the described event.
The body paragraphs are well-focused, and it is not a summary of your experience. Each body paragraph end with a concluding sentence.
The conclusion is the last part of the essay. In this part, you should provide a summary of the entire essay. Moreover, do not repeat the same point again and again.
Make sure the conclusion of the essay is powerful and encourage the readers to do further research. In this concluding part, restate the thesis statement, and no need to add new ideas.
Reflective Essay Examples
When you write a reflective essay for the first time, you must read the examples. It is a good way to write a well-written essay.
Here are some reflective essay samples that can give you a better understanding of the reflective essay.
Reflective Essay Example for High School
Reflective Essay Example
Reflective Essay Topics
In a reflective essay, you write about your personal experience, thoughts, and significant moments of your life. Choosing the right topic for the essay sometimes becomes a challenging task.
Some writers have all the information, but they are stuck on choosing the right and attention-grabbing topic. For your convenience, here is a list of topics for a reflective essay.
A surprise that you prepared for someone
The first thing you think of in the morning
When someone's words made you cry
When you laughed uncontrollably with someone
Swimming in a mountain lake
The experience of an earthquake or natural disasters
A vacation place that you liked in particular
Crossing a bridge and looking out over the water.
Your favorite persuasive essay topic
Place where you feel safe
Tips for Writing a Reflective Essay
Many professional writers also advise some writing tips and tricks that make your essay a successful one.
When you want to write an effective reflective essay, follow the professional guidelines. We compile a list of tips that makes your writing phase smooth and easy.
Choose the right topic for the essay, make sure that you have enough information
Properly convey your message through the essay
Write the essay with an overall emotion or theme in mind
Try to make the essay credible and informative
Provide your point of view about the related topic
Don't make any grammatical errors
Do not add irrelevant details
Support your thesis statement with strong arguments
Keep it short and to the point
Every student wants to polish their writing skills and wants good grades, so you can easily get help from professional writers.
If you are stuck from where you can get professional writers to help, consult CollegeEssay.org . It is an excellent essay writing service platform that assists you in all types of academic papers.
Place your order now and get your work done by professional writers.
Frequently Asked Questions
How many paragraphs are in a reflective essay.
In a reflective essay, you should follow a 5-paragraph format. However, you can add more paragraphs, and it depends on your chosen topic.
What is the goal of a reflective essay?
Writing a reflective essay aims to explore how they have changed and learned from their experiences.
Barbara P (Literature, Marketing)
Barbara is a highly educated and qualified author with a Ph.D. in public health from an Ivy League university. She has spent a significant amount of time working in the medical field, conducting a thorough study on a variety of health issues. Her work has been published in several major publications.
People also read
Best Reflective Essay Topics & Ideas for Students
Reflective Essay Outline - Samples & Template
Share this article
Keep reading
Advertising
Applications
Assessments
Certificates
Announcement
Invitations
Newsletters
Questionnaires
Food & Beverages
Recruitment
Marketing Examples
Transportation
24+ Reflective Essay Examples & Samples in PDF
Reflective essay outline template.
Reflective Essay About Life Experience
Reflective Essay Template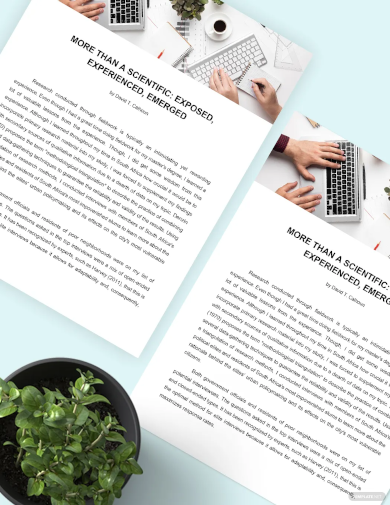 Self Reflective Essay Template
Personal Reflective Essay Template
Personal Reflective Sample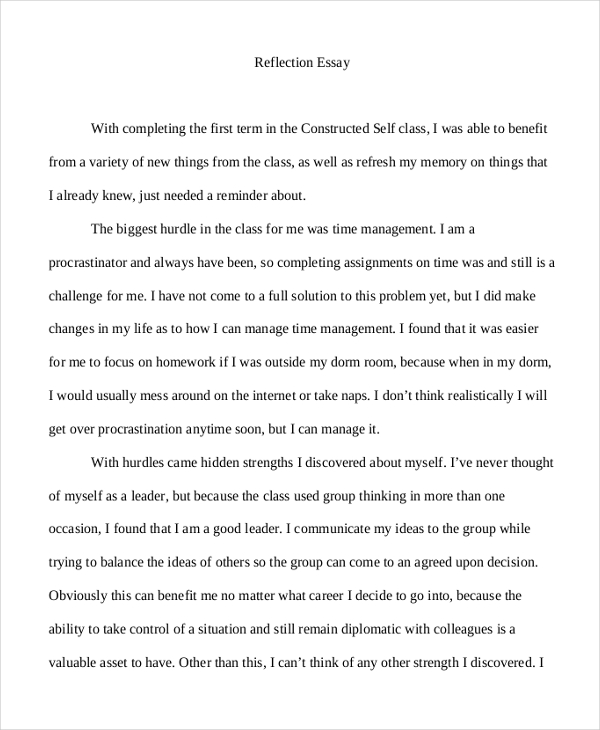 High School Essay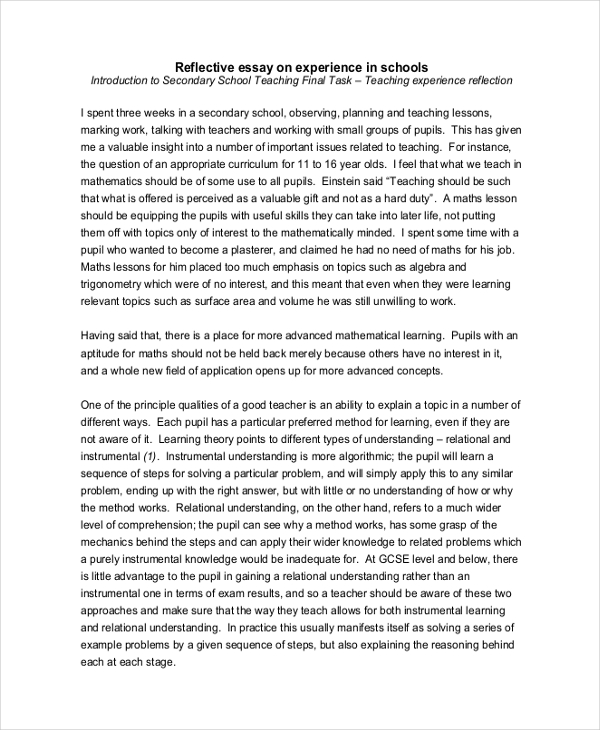 PDFReflective Essay Example Reflective Essay Example Reflective Essay Example
Reflective Essay Outline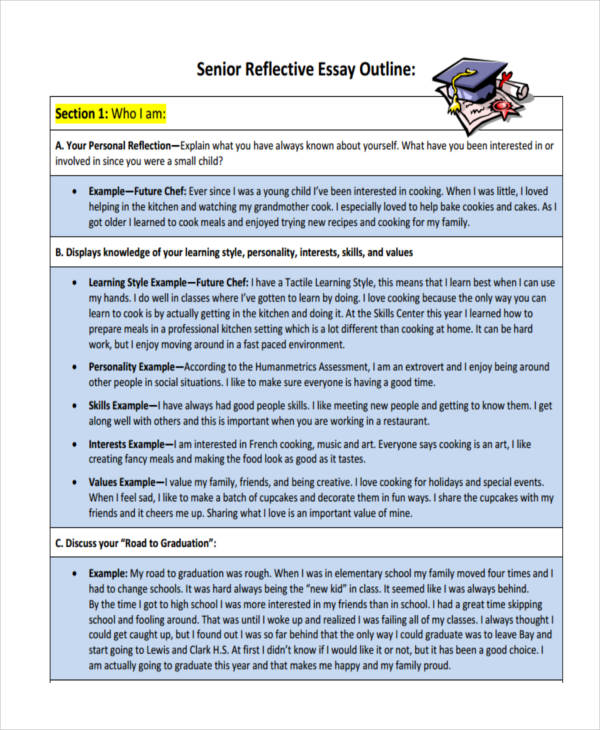 Student Reflective Example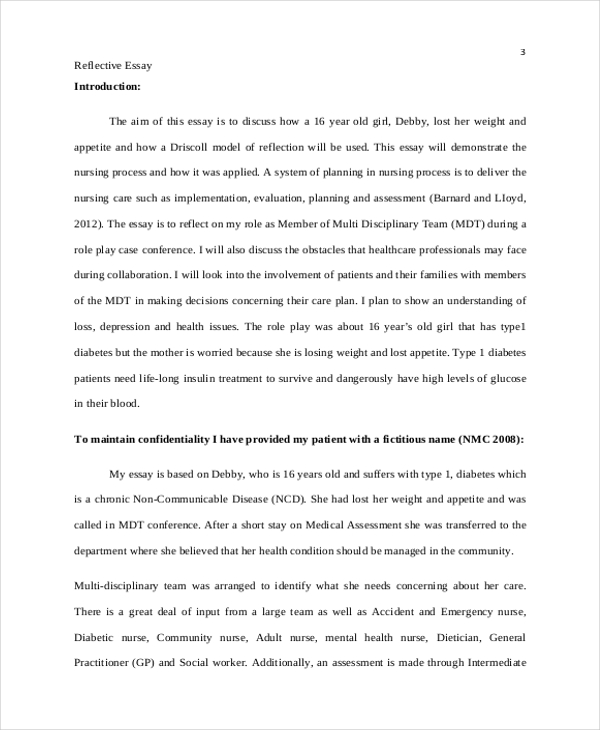 Communication Reflective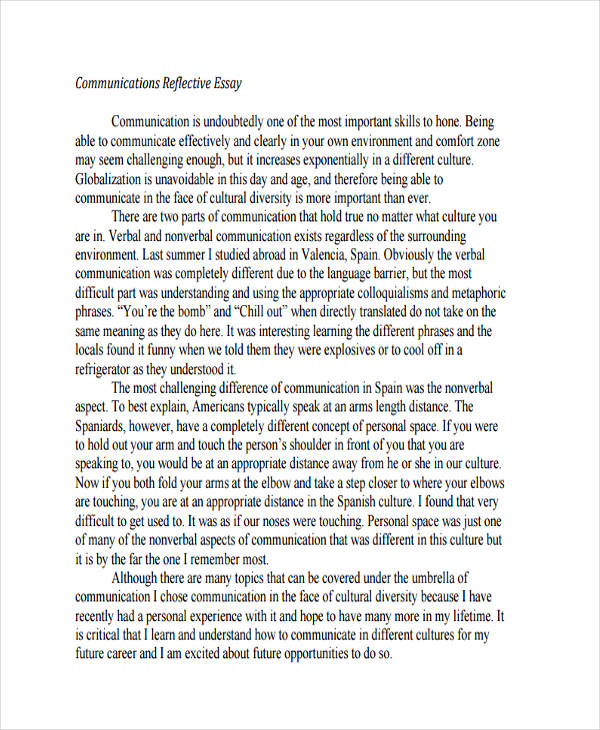 What Is a Reflective Essay?
How to write a reflective essay, final reflective essay.
Internship Reflective Essay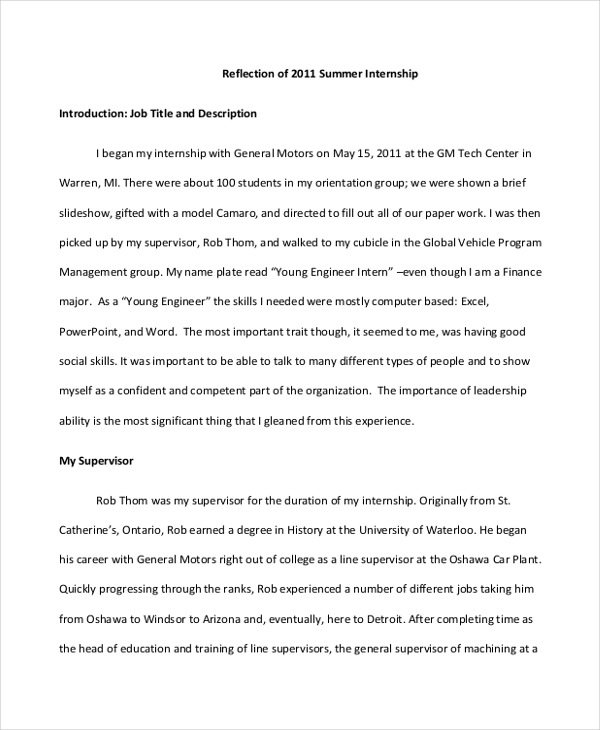 Leadership Reflective Example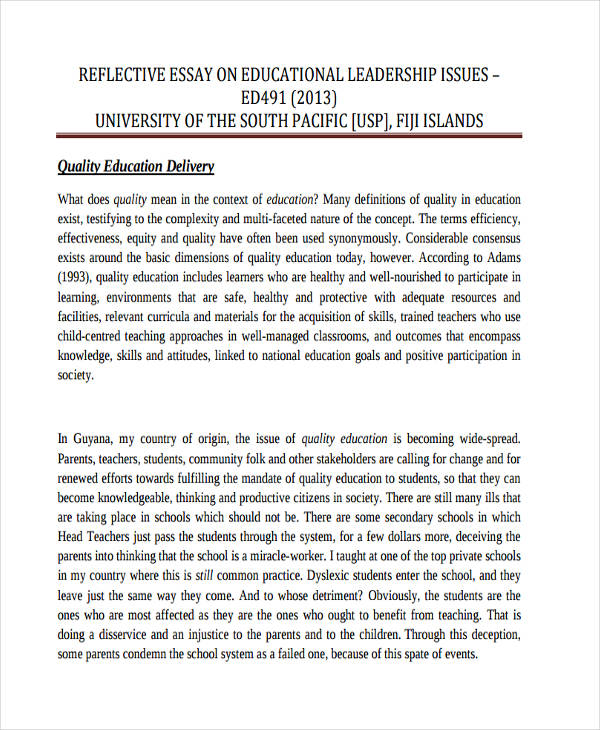 Nursing Reflective Essay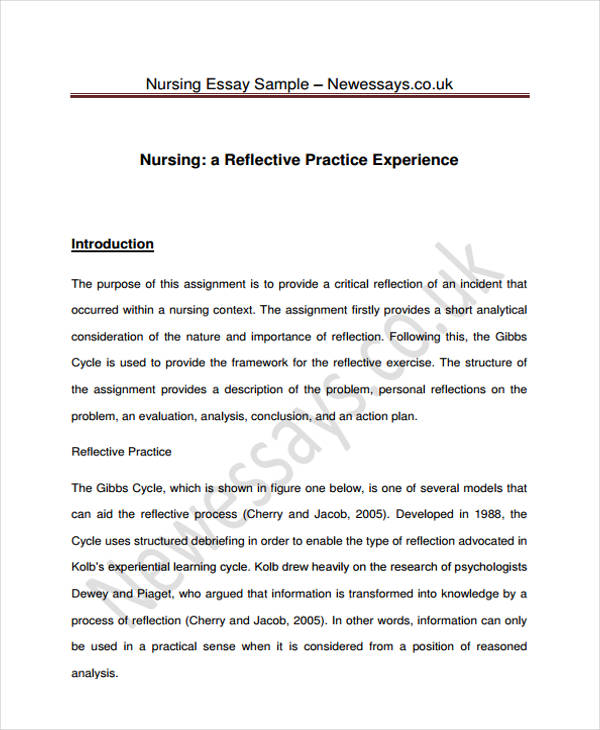 Research Reflective Example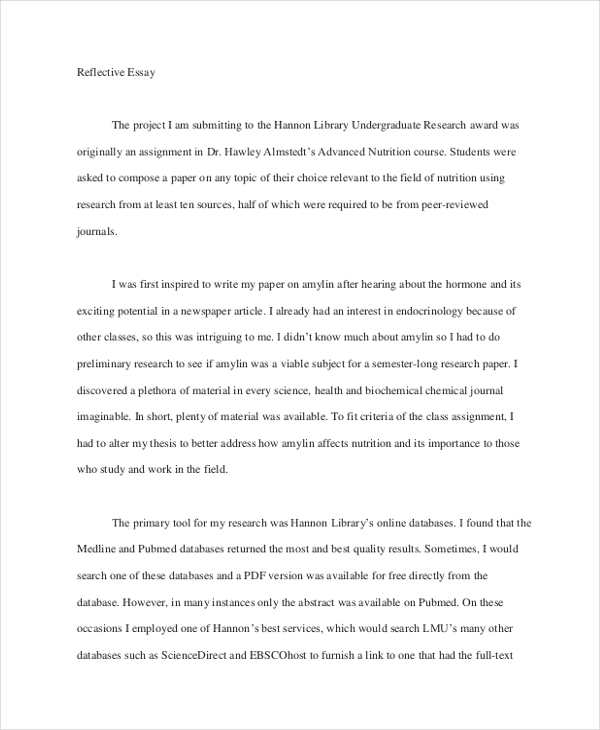 Tips on Writing a Reflective Essay
Importance of a reflective essay, how to start a reflective essay correctly, 1. being catchy is the key., 2. write the thesis statement in one sentence., 3. stick to the first person pov., 4. keep it brief., reflective essay example.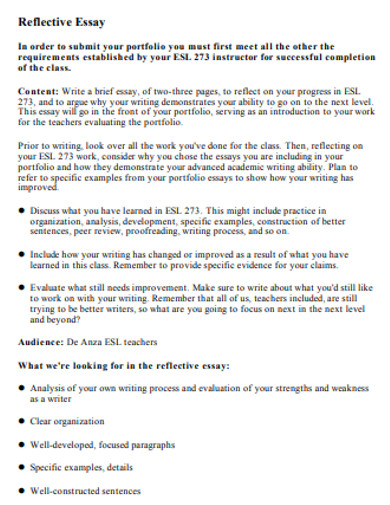 Reflective Essay Assessment
Reflective Essay Format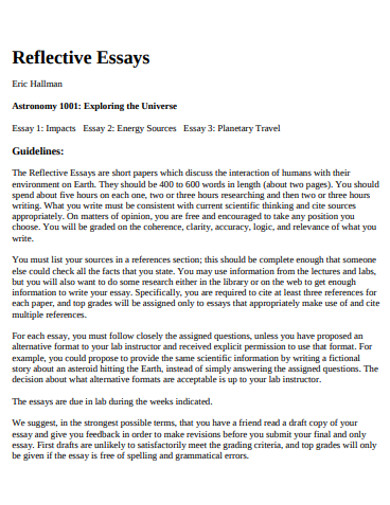 Basic Reflective Essay
Reflective Final Essay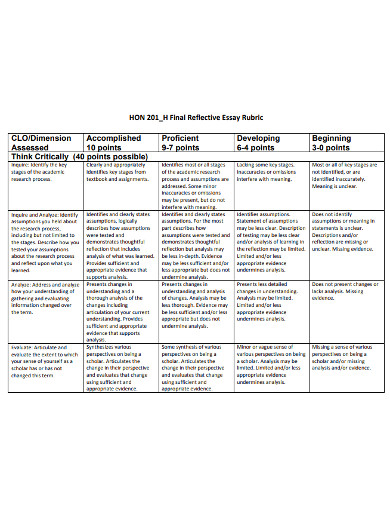 Sample Reflective Essay
Simple Reflective Essay Example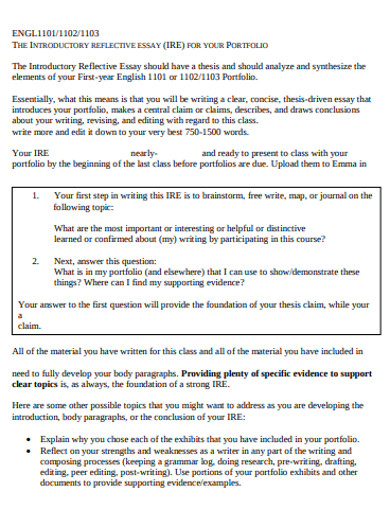 Standard Reflective Essay
Professional Reflective Essay
Sample Reflective Essay in PDF
More Design
6+ literary essay examples, 5+ persuasive essay examples, 5+ student essay examples, 4+ travel essay examples, how to write an essay, what are the parts of an essay, tips for writing an effective essay, argumentative essay examples, 9+ high school essay examples, 7+ descriptive essay examples, 6+ interview essay examples, 6+ informative essay examples, related articles.
26+ Examples of Essay Outlines
22+ Free Essay Examples