24/7 writing help on your phone
To install StudyMoose App tap and then "Add to Home Screen"
Read My Essay
By clicking Read My Essay to me you agree to our Terms
Read new Essay
Read My Essay app on StudyMoose – be your own audience!
Have you ever been in the situation when you asked your friend: "Hey, read me my essay out loud please, I have to be sure that it sounds great!"? Or, when you read your own essay, can you look at it as the audience will? You will probably find it difficult to concentrate on how you spell and stress important words and perfect the timing simultaneously.
Instrument to Read My Essay Out Loud
StudyMoose is here to help! Our Read My Essay is a completely free text to speech online tool. Just copy the text of your paper here, to the website, choose the type of voice that will read it back to you and press the button! Now you can listen to your college essay, research paper or speech like your audience will. You can evaluate the time needed for each paragraph and check if you use all the time you have, need some extra minutes or have some space to add a phrase or two. The timing is very important for public speaking, and there is no other way for the reader to evaluate it than to read the essay aloud – or benefit from the technology already invented by humankind and use text to speech software.
Another benefit of Read My Essay is tapping onto your audial memory. Audial memory – the ability to remember things you heard – is very important for humanity and very ancient. We are more used to remember words we hear than ones we read. Just remember the last earworm your heard in YouTube ad and the time it took to get it out of your head! (Oops… we're really sorry if it starts sounding in your head again.) Hearing your own text helps you memorize it much faster than just looking at the writing. Moreover, you can use our free text to speech reader program to passively learn the text. Just listen to it like to the audiobook while you're cooking, driving or doing something else – and soon you will painlessly remember every word.
The third but not less important benefit of the online text to speech tool is understanding which sentences you can leave in your paper at all! It may sound weird, but not everything you are writing can be later read aloud. There are sentences full of matching consonants, overloaded with unnecessary metaphors that turn them into labyrinths of words, prisons you are trying to escape, that drown you in lengthy and unpronounceable words and take your breath and mind away, so you don't remember your point near the end of it. You know, like this one. You have to take a deep breath to say it. Of course, we are exaggerating here, but still, the closer to the natural speech the text sounds, the easier it will be for the audience to understand its sense.
Text to Speech Converter Making Your Life Easier
Still, you should remember that Read my Essay is just an instrument you can use to "read my essay for free" and benefit from it. You may correct some extra-long and heavy sentences with its help or smooth some sharp edges in your writing – because you will have a fresh look at it after you hear it recited by someone else's voice. But the unique intonations, stresses and emotional hints you put into the text are all yours to make. So, after you have made some basic technical corrections, read your essay out loud by yourself. Add some flavor to the text, crack a joke or be deadly serious where it's necessary. Remember that even the funniest joke, read by the calm software's voice won't get any emotional response from you and may look flat.
Try to iterate reading your writing by yourself and using Read My Essay tool. After each repetition your text will become more and more refined and polished. You will be sure that your timing is perfect. You will use both visual and audial memory to remember your text better. You will make your sentences easy to say in one breath. And you will be just destined to get the best possible grade for your writing and speech!
Read My Essay to Me: Text-to-Speech Tool
Read My Essay to Me is a text to speech tool that transforms any typed text into audio. It is absolutely free.
How many times have you received a bad grade for a silly mistake? You've proofread the text several times, but a sentence or two are inconsistent with the rest of the text. You cannot notice it because you know your trail of thoughts. Reading aloud helps to evaluate the overall text quality. But when you read by yourself, it is hard to focus on the details.
Who will read my essay out loud? If you're looking for a free text-to-speech tool, you're in the right place! Try this "Read My Essay to Me" converter. Choose the voice you love and enjoy!
🤔 How to Use the Tool?
✅ The Key Benefits
🤗 Who Can Use Text to Speech?
🔗 References
🤔 read my essay to me: how to use.
Below is a short instruction that explains how to use the text-to-speech tool above.
Copy the text from your document and insert it into the respective field.
Select the voice you prefer to vocalize your text from the drop-down list box.
Once you've pasted the text and selected the natural reader, press the "Listen" button.
If you need to go back and listen to a different text, there is a special button for this purpose.
💬 What is Text to Speech?
You've probably heard of online and offline tools that can read a text aloud. So, what is Text to Speech in technical terms? Text to Speech (often abbreviated as TTS) is a form of assistive technology . Read My Essay to Me is one of TTS systems used to voice over any printed text online.
The Text to Speech tool works on any personal digital device. There are applications designed for each mobile operating system (that work on iPhone or Android). Alternatively, you can use an online tool in Chrome or any other browser you prefer. These tools can even read web pages aloud.
The computer generates the voice in TTS, but you can select the reading speed and the speaker. There are several variants of male and female voices entitled by the respective names. The voice quality depends on the tool, but many of them sound human. Some even feature a child's voice for you to listen to. There are even robot voices that sound like children speaking.
The tool highlights the words as they are read aloud. It allows you to track the reading and is especially beneficial for foreign language learners.
Some Text to Speech tools can read out loud from an image. This technology is called optical character recognition or OCR. For example, you can take a photo of a street sign or a public notice and listen to it through the TTS app or website.
As we have mentioned before, Text to Speech tool can help people who learn a foreign language. But it can also facilitate the lives of those who have problems with writing, editing, and focusing. According to computer science research , such assistive technology is helpful for people with dyslexia. It motivates them to read by making the process more enjoyable and comfortable. The case study performed during the same research indicated an improved fluency and comprehension in the control group.
✅ Read My Essay: the Benefits

We suggest you try out Read My Essay to Me while proofreading your writing. This TTS tool has critical benefits, notably:
It helps to detect and correct mistakes. It is always better to give your already-written paper to a friend or relative to read it for typos. Imagine you have a friend who always can find a half-an-hour to read your work aloud for you. Amazing, right? How many A+'s have you missed due to poor proofreading? Insert your essay into this TTS tool and listen to it while cooking or cleaning. Your ear will pick the places that deserve corrections.
It helps to evaluate the plot attractiveness or the content consistency. In the course of creating an essay, you get distracted by the need to type on a keyboard or write on paper. You look up the right words and return to the introduction to check your thesis statement . In a word, you do a whole lot of things that distract you from the beauty of the text. The only way to make it sparkle is to reread it.
Still, you are familiar with what you wanted to say. Our mind tricks us into believing that other people will understand us just as intended. But if you listen to your essay read by a different person, you will find many passages that require rewriting .
It shows if the argumentation is clear and sufficiently grounded. In the follow-up to the previous point, argumentation must be complete. Read My Essay to Me can show you where your evidence is insufficient or needs more substantial arguments.
🤗 Read My Essay to Me: Who Can Use the Tool?
Who else should find out how to use a Text to Speech converter? We believe that anyone can find a practical application to this tool, but the following groups of people will find it helpful strait away.
Auditory learners. If it refers to you, 100% that you are aware of it. People with a well-developed auditory perception memorize information better when they listen to it (rather than read, write down, or see it as a phenomenon). Listen to your reading assignment via the tool and upgrade your academic performance!
People with dyslexia. Such people have problems with reading, although they are normally intelligent. They are affected to various degrees. Still, TTS tools can help people with problems in spelling words, low reading speed, "sounding out" words in their heads, or pronouncing them while reading aloud.
People with autism spectrum disorder (ASD) or other emotional disabilities. Autism Speaks reported that almost 25% of people with ASD are low-functioning or non-verbal communicators. They can use TTS as a voice dictation tool for writing assistance or a real-life conversation simulator.
Those who lack time for traditional reading. Have you been assigned a 300-page book by the next week? If it is in the public domain, you can upload it into Read My Essay to Me and listen to it while doing your domestic chores. It will be handy for literature that is unavailable in audiobook format.
❓ Read My Essay FAQ
❓ how can i get my essay read to me.
Copy your essay from the file on your device.
Paste it into the respective field of Read My Essay to Me tool.
Select the voice (male or female in some variations) you'd like to listen to.
Press the button below the text to convert it into an audio version.
❓ How can I convert text to audio for free?
To convert text into audio, you have to have an internet connection and any browser installed on your computer or mobile device. Go to Read My Essay to Me and insert the text in question into the blank field. Press the Read My Essay button to listen to its audio version.
❓ What is the best text to speech tool?
There are dozens of Text-to-Speech tools available for all sorts of mobile devices and computers, including all possible operational systems. Still, the best free TTS tool is Read My Essay to Me. It is relatively simple. It has the widest choice of voices and an unlimited number of words in the text.
❓ Is there a website that will read a text to me?
Read My Essay to Me will read any typed text of any length for you. It is intuitively clear for a user of any experience level. You can choose the preferred voice that will vocalize your essay. You can insert any text, from a one-page paper to a hundred-page book, since words are limitless.
Enhancing the learning process through text-to-speech technologies
What are some types of assistive devices - National Institute of Health
Types of Assistive Technology | Web Access
Strategies for Teachers - Dyslexia Help - University of Michigan
What Is Auditory Learning Style? Definition and Strategies
Speech Recognition
New Player 📣
SpeechNinja - Say What I Type
Sign-In Sign Out
Free Text To Speech Reader
Reads out loud webpages, texts, pdfs & ebooks with natural sounding voices. no need to download or install. simply paste the text (link, or file) and click play..
Reading part /
Support development & get better experience 💎 Click to learn more.
What do you think? Would love to hear your feedback .
Exporting synthesized speech to audio files
Short demo on how recording audio works:
See more here .
Main Features
Ttsreader is a free text to speech reader that supports all modern browsers, including chrome, firefox and safari..
Includes multiple languages and accents. If on Chrome - you will get access to Google's voices as well. Super easy to use - no download, no login required. Here are some more features
Fun, Online, Free. Listen to great content
Drag, drop & play (or directly copy text & play). That's it. No downloads. No logins. No passwords. No fuss. Simply fun to use and listen to great content. Great for listening in the background. Great for proof-reading. Great for kids and more. Learn more, including a YouTube we made, here .
Multilingual, Natural Voices
We facilitate high-quality natural-sounding voices from different sources. There are male & female voices, in different accents and different languages. Choose the voice you like, insert text, click play to generate the synthesized speech and enjoy listening.
Exit, Come Back & Play from Where You Stopped
TTSReader remembers the article and last position when paused, even if you close the browser. This way, you can come back to listening right where you previously left. Works on Chrome & Safari on mobile too. Ideal for listening to articles.
Better than Podcasts
In many aspects, synthesized speech has advantages over recorded podcasts. Here are some: First of all - you have unlimited - free - content. That includes high-quality articles and books, that are not available on podcasts. Second - it's free. Third - it uses almost no data - so it's available offline too, and you save money. If you like listening on the go, as while driving or walking - get our free Android Text Reader App .
Read PDF Files, Texts & Websites
TTSReader extracts the text from pdf files, and reads it out loud. Also useful for simply copying text from pdf to anywhere. In addition, it highlights the text currently being read - so you can follow with your eyes. If you specifically want to listen to websites - such as blogs, news, wiki - you should get our free extension for Chrome
Export Speech to Audio Files
TTSReader enables exporting the synthesized speech with a single click. This is available currently only on Windows, and requires ttsreader's premium - get it here .
Recent Posts
Read about our different products, get the news & tips from our developers. Click here to see more posts.
New ways to contact me, Ronen Rabinovici, developer
By Ronen Rabinovici, developer on February 6, 2023
Nice to e-meet you. I am Ronen Rabinovici, TTSReader's developer. I would like to thank you all for your support! Whether it is joining our premium plan, sending us feedback to make it better, telling friends about it, sharing on social media, or simply using this tool time after time - this gives me great motivation to continue developing it. Since I would like to have more interactions with you, hear from you, and share new developments with you, I opened a new Twitter account where you can follow me and contact me directly.
Continue reading
Read out loud any website directly on TTSReader.com
This is very exciting. Only a few weeks ago we first introduced our new web player - which reads out loud websites - simply by pasting in the website's url. Since then - it has regular users using it daily to listen to online novels, wiki articles, news, professional materials and more. We are very excited, and thank you very much! If you haven't seen it already, here's a link to the webplayer, and here's a screenshot of it reading the Wiki article on the Beatles:
Exciting News! Use Custom SAPI5 Voices on TTSReader
By Ronen Rabinovici, developer on February 5, 2023
Use ANY voice installed on your computer with TTSReader! I was so excited when I found out about this! You can use ANY custom SAPI5 voice installed on your Windows PC with ttsreader.com! 1) Use any voice to enhance the reading experience Why is this exciting? Since you may now use many more voices, including custom / tailored / high fidelity voices you purchased and installed with our simple to use, light weight effective player.
Exciting! New Mobile App
on January 16, 2020
Our best text reader for mobile device Reads out loud written content, plain text, files and web pages. For people who like to listen. Read eyes and hands free. iOS natural sounding voices. Super easy to use. To start simply tap the 'Play' button. That's it. Main features: Editable text Import web pages Shows images Multiple languages and voices
See All Posts
PRIVACY: We respect your privacy - your text is not sent to us unless you chose to use cloud sync. We do use cookies and your local storage to enhance your experience & targeted ads. Read more about privacy here. Copyright (c) 2015 - 2023, Ronen Rabinovici ; all rights reserved. Based on template by Bootstrapious . Ported to Hugo by DevCows . Icons by glyphicons and by font-awesome . Reader BG image includes modification of image by Norman Bruderhofer - Collection of John Lampert-Hopkins, CC BY-SA 2.5 , Link .
English Deutsch español Français italiano 日本語 中國
Bring Text-To-Speech into ANY website. Add our new TTSReader Extension for free.
AVAILABLE FOR PREMIUM USERS
Upgrade to enjoy a premium ad-free experience with all current and future upgrades. Your contribution will directly support development.
Simple & secure payment on the Chrome store.
TTSReader Premium Token on the Chrome Store https://ttsreader.com/upgrade/
100% Satisfaction Warranty!
Full refund for any reason
Sign in / sign up
So we can register your premium & sync your text & reader preferences.
Make sure to RELOAD this page after purchasing and installing the Premium token extension
If you were not directed to the Chrome Store to purchase premium, simply click on the following link:
Thanks for supporting us, and we hope you enjoy your upgrade, and reach great achievements using it!
Refresh this page after purchasing and enabling the premium-token extension.
THIS IS A PREMIUM FEATURE - UPGRADE TO UNLOCK
Securely purchase on the Chrome store
Important: Refresh this page after purchasing and enabling the premium-token extension.
Paste or type text / files into the text-box and click play. That's all the basics.
Select language / voice using the language-voice select options.
Change speech-rates using the rates select options. Speech can be in defferent degrees between very fast and very slow.
Record audio - see more here .
File types: you can upload to ttsreader online text files, pdf files and ebooks of epub format.
File upload - use the upload button or drag files to the box.
Edit text - feel free to edit the text in the box.
Questions? See our FAQ page , or contact us at [email protected]
Upgrade here
Essay Reader: Online Text-to-Speech Tool
If you're a college or high school student, you might constantly struggle with writing assignments. Whether it is homework or a task in the classroom, you can use the essay reading tool to write a better paper.
❓ Essay Reader: How to Use
🤔 Why Using the Tool?
💬 Reading out Loud Strategies
🔍 References
Essay readers are a part of assistive technology. You might be wondering how this online text speech tool works. So, here's how to use it.
Paste your essay to the window. Copy your essay sample (or a part of it) and paste it into the window. Our essay reader allows you to insert up to 5,000 characters at once.
Choose the preferable voice. We have different variations of voices to read your essay. The options include choosing between male and female voices, picking the timbre, and setting the reading speed.
Press the "READ MY ESSAY" button. Once you've clicked it, the tool will read your text for you.
New essay. In case you want to listen to one more essay, press the button below. Alternatively, you can download the audio for the current text using the according link.
🤔 Why Using Our Essay Reader?
How does reading out loud benefit your essay? Reading something aloud makes the text appear differently in our minds. We can see it from different perspectives and identify what is lacking. Most people are used to hearing and pronouncing English rather than reading and writing it.
First, there might be typos or mistakes that are hard to identify. Although we don't intend it, we might also miss a word or write it twice. If we look through the text, we tend to skip those mistakes. On the other hand, if you read it out loud, you'll easily spot them.
It is also easier to check your paper's readability if you read it aloud. Sometimes the sentences and the paragraphs are too long and complicated, which makes them hard to understand. Reading them out loud can help to fix the format, style and make your paper readable.
Your essay should make sense overall. If your essay is very informative or complicated, you might be focusing on delivering your points rather than its readability . So, check if your transitions from topic to topic are smooth and if your explanations make sense by reading them aloud.
Let's find out how you can use our free essay reader to make your paper even better!
💬 Reading out Loud: 7 Best Strategies
If you have already tried reading the paper out loud but still don't identify all the mistakes or typos, you probably have been doing it wrongly. Our mind tends to correct minor errors naturally. We gathered these strategies that you can follow for the best result.
Try reading from a printed copy. It is easier to make notes by hand on a printed copy. These notes can help identify the most crucial parts of your paper so that you can spend more time on them.
Follow the text by pointing at it. Following the text as you read helps to concentrate. Reading significant amounts of texts, you might quickly lose focus. By following the text pointing at it with your finger, you can also focus on grammar.
Don't read too fast. Try not to hurry while reading. The faster you read, the more mistakes our brain misses. Slow reading doesn't mean spending more time. If you read fast, you might need to reread the same passage several times. So, slow reading can save you time.
Read from the end to start. If you want to focus on scanning your essay for mistakes and typos, try reading from the end so you won't focus on the whole paper but each sentence.
Cover everything except for the passage you're working on. If you still find it hard to concentrate on reading your paper, try covering the parts you are not working on at the moment. That can help you concentrate on a specific passage.
Ask someone to read for you. Another option you can use is to ask someone to read it aloud. Another person can take a look at it from another perspective. Since you are the one who is working on the paper, you might get used to it and not see something others see. Try to make notes as they read it for you.
Use technology. Technology helps us with our studying a lot these days. There are online timers, graders, grammar correctors, etc. If you don't want to bother others, you can use text-to-speech technology to read the essay for you. It has a list of advantages. First, unlike humans, it doesn't miss any mistakes. You can also control the speed, the number of reading times, and where to start or to finish.
Online Text-to-Speech Tool: How to Choose?
Here's what you should take into account when choosing an online tool:
Speed control. Can you adjust the speed or pause the reader? It may be crucial, especially if your text is long.
Voice. Can you choose between the voices? Don't they sound robotic? You can also switch between the voices so that you won't get tired of listening to it several times.
Text control. How does the software work? Can you upload the documents? Can you highlight the crucial parts?
Accessibility. Does it work offline? Do you need to download and install it?
Tool speed. How long do you need to wait to hear the result? What's the volume of an essay that the tool can convert at once?
If you are wondering, "Where can I have an essay read to me?" you can check our essay reader out for free and see if it's suitable for you!
✏️ Online Text-to-Speech Tool: FAQ
You can spot typos, misspellings, and mistakes.
You can check the paper's readability.
You can see if it is informative.
Try our essay reader to listen to your essay for free!
🔗 References
Teaching Techniques: Reading Aloud Artfully! | Scholastic
7 Powerful Public Speaking Tips From One of the Most-Watched TED Talks Speakers
Speech synthesis - McGill School Of Computer Science
10 Tips for Reading Aloud with Children
What Are the Benefits of Reading Aloud? An Instructional
Free Essays
Writing Tools
Lit. Guides
Donate a Paper
Referencing Guides
Free Textbooks
Tongue Twisters
Job Openings
Expert Application
Video Contest
Writing Scholarship
Discount Codes
IvyPanda Shop
Terms and Conditions
Privacy Policy
Cookies Policy
Copyright Principles
DMCA Request
Service Notice
The tool available here is designed to turn any text into speech. You can choose the voice type and its timbre to make it sound just the way you like. The tool can be useful for when you need to know how long it will take to red through your speech, how it sounds live, or when you need a quick voiceover.
By Cliff Weitzman
Dyslexia & Accessibility Advocate, CEO/Founder of Speechify
in B2B , Productivity
on June 27, 2022
Table of Contents
Read My Essay is an online text-to-speech tool many people use to hear how their essay sounds. The AI is able to convert text into speech, and it can be more than useful for language learners and proofreading .
Read My Essay: How to use?
Read My Essay is a simple tool you can use to convert your text into speech. Unlike the majority of apps you can find on the market, Read My Essay is an online tool, and you won't need to download anything. And using it is as simple as it can be.
All you need to do is open the web page, paste the text, and choose the voice. There are a couple of different options for the read aloud voices, and they sound quite good. The voices have different names like Andy, Tom, Sophia, James, and others.
As a result, you will need to go through them to hear which one is your favorite. Once you select everything, the only thing left for you to do is hit the "read my essay to me" button. One of the primary reasons users love the website is its simplicity.
It doesn't require any installations, settings, or adjustments, and you can enable it in no time. But text-to-speech readers can offer so much more.
What is text-to-speech?
Text-to-speech is a speech synthesis tool that allows users to convert any type of text into speech or an audio file. The app uses samples of the real human voice and analyzes them to synthesize a natural-sounding speech.
Artificial intelligence , deep learning, and machine learning are all essential parts of the technology. TTS tools and apps are designed to assist people with reading difficulties and improve accessibility across numerous devices.
It is a simple way you can turn any type of text into speech, but it also allows you to hear how your essay sounds. This will allow you to approach the subject more objectively, and let you proofread it with ease.
You can find these tools built-in as a form of assistive technology, and almost every operative system has it today. This includes Microsoft Windows, iOS , Android , macOS, and others. It is just one of many ways to add different options to the program.
At the same time, you can find apps that are designed to be text-to-speech tools, and download them separately regardless of your OS.
Read My Essay benefits
One of the first and most noticeable benefits of Read My Essay is that it can save so much time. It gives you an opportunity to hear your essay from a different perspective, which is a unique chance to see it in a whole new light.
If some part of the text doesn't work, you will have an easier time spotting it once you start listening to the essay. It is also a great way to proofread the text and see whether there are parts of it that require changes.
Having an option to hear any type of written content can also allow you to listen to it while on the go. You can write the essay, put on your headphones, and listen to it when you go out.
Furthermore, since many users prefer listening to the content, using text-to-speech can allow you to multitask. You are free to do anything else, and Read My Essay will allow you to double-check everything.
The tool can be quite useful for those that struggle with reading, and make the entire process a bit faster. So, if you dislike having to go through the entire document word by word, you can always check out Read My Essay and simplify the process.
Finally, Read My Essay can be quite helpful if you are looking to learn about the dynamics of a foreign language, and the app will help you understand how it should sound. It is a perfect option for auditory learners.
Read My Essay to me: Who can use the tool?
Anyone can use Read My Essay as long as they have an internet connection. Since this text-to-speech app is tied to a website, you won't be able to access it without wi-fi or the internet. Otherwise, there are no limitations.
However, the majority of these tools are designed to improve accessibility. Many people have dyslexia or reading disabilities, and having to go through an entire text can be tedious. With text-to-speech converters, they won't need to worry about it.
At the same time, many people use text-to-speech technology with speech-to-text tools. This means that they don't need to type at all, and everything they say will be converted into text. Once the document is finished, they can listen to it without even touching the keyboard.
And it is a nice way to avoid spending a lot of time on finding typos. Those that are not able to type as fast and dislike reading will adore this combination, and it can be a game-changer for so many users. But this doesn't mean you need to use both of these apps.
You can pick whatever you like. And if you plan on using Read My Essay, this is a free text-to-speech software anyone can check out.
Read My Essay: Alternatives
Those that want to get something more out of their text-to-speech app can try a couple of alternatives. And there are pretty good apps out there you can check out.
The first one is TTS Tool. You will see that many people talk about TTS tools, but this is also the name of the app you can find online (with a capitalized T). TTS Tool allows you to export files in mp3 format, and there are numerous languages you can use.
It is still an online website, and it requires an internet connection, and it is not as versatile as some other entries on the list.
Murf AI is another option if you are looking for a voice generator, and it is great. It offers numerous customization options, and you can easily navigate through the app. You can also choose between numerous different voices based on gender and age.
Last but not least is Speechify. This is probably the best option on the list and an incredible alternative for Read My Essay. It is available on all types of devices, as a Chrome extension, and it is flawless.
You can choose between fourteen different languages, accents, and natural voices, and the quality is exceptional. It's easy to use thanks to its intuitive UI, and high-quality voices are undoubtedly the main advantage of the app.
Why use Speechify
The question on people's minds is probably why use Speechify, and the answer is simple. It is the best text-to-speech tool you can find on the market. There are so many customization options and settings you can find, and they will all enhance your experience.
You can adjust the reading speed, language, and so much more. But at the same time, Speechify is so versatile that you will never need another TTS app. It is able to use texts from various different sources.
Whether you want the app to read PDF , epub, or even text from the image , Speechify can do it. And yes, you read that right. Speechify can use OCR to recognize letters from the photo of the page and read the text to you in just a couple of seconds.
It is also available on any imaginable device. You can use it on iPhone, iPad , Mac, PC , Android, and anything else.
How to get started with Speechify
The first thing you will need to do is download the app based on the device you plan on using. What is great is that you can make an account on the app, and sync all devices with it. This way, you can continue reading on another app since it will track progress.
After that, all you will need to do is input the text, and let the app convert the original paper for you. Naturally, you can choose a type of voice you want to use, and one of the best things is that you can check out Gwyneth Paltrow as the voice of the app.
The app is also available in different languages, and you can export the audio once the process is done. Speechify also offers different pricing based on the subscription plan, but you can also use the app for free .
Recent Blogs
Best text to speech software for indie authors, the best dyslexia gift ideas, how text to speech can help people with low vision: the ultimate guide, what is the best text to speech app with multiple languages, top orcam alternatives.
Speechify text to speech helps you save time
150k+ 5 star reviews
Popular Blogs
Speechify vs. pocket, examples of text to speech: how and when to use tts, productivity hacks for notion, duolingo vs. babbel: the ultimate guide, what is a title one teacher, sarah j. maas books in order, wilbur smith books in order, harry potter fan fiction audiobooks & text to speech, what's the meaning of pfh, or per finished hour, listen to reddit. read aloud the front page of the internet., how text to speech is changing the game for students struggling with reading, stranger things book series, cliff weitzman, pick your speechify tribe, learning differences, productivity, professional, teacher or parent.
Take the dyslexia quiz and get an instant score. See if you are dyslexic or not.
Listen and share everything on the go with our Soundbites. Try it for yourself.
Do You Hate Reading?
Excel At Work With Speechify!
How Do You Multi-Task With...
College Student-Athlete Thanks...
Perfect Brian
4 Hour Work Week
Work Revolution
Speechify Will Change Your...
A Real Family & Speechify!...
Speechify Is The Much Better...
Trust YOURSELF!
The Top 3 Signs of ADHD
3 Signs You Have ADHD
Thank You Speechify (from a...
Read Premium Audiobooks
The 7 Habits of Highly Effective People
By: Stephen R. Covey
By: Viola Davis
By: Ian McEwan
Never Split the Difference
By: Chris Voss
Pay Dirt Road
By: Samantha Jayne Allen
It Ends with Us
By: Colleen Hoover
By: Frank Herbert
Extreme Ownership
By: Jocko Willink
By: Stephen King
By: Veronica Roth
Ministers at War
By: Jonathan Schneer
The Love Square
By: Laura Jane Williams
Power Listening
By: Made for Success
A Midsummer's Equation
By: Keigo Higashino
The Enchanted April
By: Elizabeth von Arnim
Worst Fears Realized
By: Stuart Woods
Royals at War
By: Dylan Howard
Pete the Cat: Out of This World
By: James Dean
Silent Thunder
By: Andrea Davis Pinkney
You Truly Assumed
By: Laila Sabreen
Text to speech online
Text to speech for business
Text to speech for schools
Text to speech for iOS
Text to speech Chrome extension
Text to speech for Android
Audiobooks for business & schools
Voiceover generator
Custom voices
Speechify API
Speaking time calculator
Terms & Conditions
Recommended reading
Hoopla and text to speech: What to know
Best-Selling audiobooks available now
Reading time
Better text to speech than macOS built-in text to speech
Best books by Joe Dispenza
The Travels of Ibn Battuta reviewed
Best Jack Reacher books reviewed
Korean text to speech voices
Can I find an online dyslexia tutor?
Reddit textbooks
Audiobooks under 4 hours
How to do a voice over on PowerPoint
Video voice
Alternatives to C-Pen Reader 2
Text to speech on Google Chromebooks
Best books by Shel Silverstein
GMAT Audio Study Material and Prep
Audible vs Kobo: What you need to know
How to use text to speech: Windows 10 and Windows 11
Medical school audio study material & prep
Get through docs, articles, PDFs, email – anything you read – faster.
Choose Language :
Read My Paper to Me. Text-to-Speech Online Tool for Free
Do you find yourself drifting off when reading academic papers? Do you prefer audiobooks? Are you a big fan of podcasts? If you answered 'yes' to these questions, we have great news for you! You came to the right place.
You have probably noticed that reading your work out loud helps you improve. It's easier to find mistakes and decide if your words sound good. However, doing it yourself ruins concentration. What if you miss important details?
If you don't have a friend nearby to help out, you can always use Read My Paper to Me!
🙌 5 Key Benefits
⚙️ How to Use
🎓 Text to Speech in Learning
🙌 Read My Paper to Me: 5 Key Benefits
New perspective
Get a completely different angle on your work. Imagine as though you are listening to a story narrator – does it sound good?
Evaluate your flow
The 'flow' is the sequence of ideas and arguments in your text. Hearing your points presented back to you allows you to evaluate the logic in them. If your ideas are sound, the words will flow seamlessly.
Hear your mistakes
You write a sentence, read it over, and you think it looks alright. Then you say the words out loud, and you realize you've made at least three errors. Listening to your work will help you identify mistakes quickly and easily!
Get ready for your oral presentation
Maybe you don't have an essay to write – instead, you have to give a speech. Hearing someone else read it out to you is extremely important. You'll know immediately if it sounds engaging, and if there are things you need to change!
You don't need anyone else!
Instead of waiting around for a friend to spare you some time, just use Read My Paper to Me. It's fast, it's simple, and it's free!
⚙️ How to Use Text-to-Speech Tool?
It couldn't be easier!
Insert your text. Copy the text you want to be read and paste it into the window. Unlike many other tools that you will find on the internet, there is no word limit.
Choose a voice. Click on the drop-down menu and select your preferred narrator . Each will give your text a slightly different feel!
Listen! When you are ready, press the "Play" button. Now all you need to do is enjoy your experience! Remember, you can pause at any time.
Need to listen to a new text? Press on the "Read New Text" button. You can also delete your first text and replace it with a new one. Both options are available!
🎓 Text-to-Speech Online Tools in Learning
We believe that education should be accessible for all. With the development of the internet more and more learning methods are becoming available. Online text-to-speech tools are one of those methods.
So how are text-to-speech tools revolutionizing learning everywhere?
Well for one, they are opening up new horizons for those who previously struggled with reading texts. For example, people with dyslexia now have a quick and easy way of checking their work for mistakes. There is no more need to struggle in search of the right reading fonts. Now they can easily listen to their words with the press of a button.
Text-to-speech tools change the education system for many more. Those suffering from impaired vision can enjoy texts previously inaccessible. Foreign language learners have a tool to help them practice their listening skills. And the truth is, some of us simply don't have the time to sit down and read. Now even those always on the move can access the wealth of information online. Text-to-speech tools are especially useful to those of us who are auditory learners . If that caught your attention, you might want to refer to the information provided below.
Tips & Strategies for Auditory Learners
Do you remember the questions from the very beginning? Here, let us ask you again – do you find yourself drifting off when reading academic papers? Do you prefer audiobooks? Are you a big fan of podcasts? If you find yourself answering 'yes' to these, we think it is safe to say that you are an auditory learner. What does that mean, you ask?
Every single one of us has a particular learning style that suits us most. Some find it easier to watch documentaries, while others would greatly prefer to read a book. And then some are very good at remembering spoken information. There are very many learning styles and learning style models. However, generally speaking, there are three main ones – visual, kinesthetic, and auditory.
The three styles reflect three of the human senses – sight, touch, and hearing. Though being an auditory learner does not mean that you have particularly good ears. It simply means that you are better at retaining information that you have received through listening.
If you think that this sounds like you, you will find these learning tips particularly helpful!
Record your classes. Next time you go to your lecture or class, set your phone to silent and turn on the recording software. This way you can always get back to it later. Just make sure that it's alright with your teachers first!
Ask questions. This can be intimidating, but asking questions is one of the best ways for auditory learners to remember information. Engaging in conversation will also be a great learning experience.
Use text-to-speech tools. Whether you are proofreading your own work or reading an article, you will find it much easier to listen to the words. You can even comment along as you listen. No one will judge.
Repeat, repeat, repeat! Auditory learners memorize information best after hearing it. Use text-to-speech tools to replay texts back to you several times. This way you will comprehend them way better!
❓ Read My Paper to Me: FAQ
❓ how does reading aloud improve writing.
When you hear your work read to you out loud, you find yourself in the position of your audience. This is where you will figure out if you can connect with your text, or if it still needs work. Reading out loud also allows you to check your rhythm and pace, find skipped words and sentences, and hear mistakes.
❓ Is there a site that reads text to you?
There are plenty of websites online that are made specifically for this purpose. Of course, some are better than others. Some have a wide range of features, while others have only the basics. Some require a subscription to unlock extra options. Only you can decide which site to use.
❓ Are there apps that will read to you?
As with websites, many apps are made for reading texts. There are programs designed for use on your computer, also known as desktop apps. There are also apps that you can find for your tablet or mobile device. You can find both free and paid text-to-speech apps.
❓ What is the best text to speech tool?
You can find a lot of text-to-speech tools on the internet these days. The selection is far and wide – so why should you use Read My Paper to Me? For one, there is no character or word limit. You can have the entirety of War and Peace read to you in one sitting. There is also a large selection of voices that you can use. After all, your auditory experience should be of the highest quality!
📍 References
What makes Text-to-speech technology so effective?
Speech Synthesis for Educational Technology
The Use of Synthetic Speech in Language Learning Tools
What Is Auditory Learning Style? Definition and Strategies
The Auditory Learning Style - ThoughtCo
One account, all of NaturalReader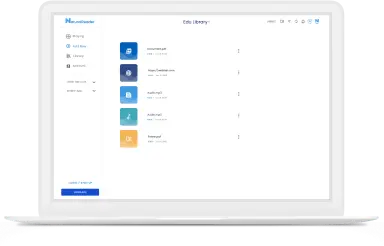 Add members through email or class code, share documents to a class, and manage or delete classes and members
Neural Speech Synthesis uses deep machine learning to study human voices, speech patterns, intonations and other linguistic expressions.
Neural deep learning has allowed AI voices to become extremely natural, and mimic human speech. Many AI voices now can be used in place of human voices depending on the use.
Dyslexia and other reading-based learning disabilities are most common among students. NaturalReader text-to-speech makes learning more accessible by assisting with any reading, taking tests and promoting independence.
For most students, learning does not stop when school ends. NaturalReader EDU enables students to be more independent and assists with learning at home. Whether they're doing homework, reading at home, or just surfing the web, our Chrome Extension and Mobile Application are always available.
Personal use means that only you the individual purchaser may use for your own private listening. Audio files created with the personal-use versions cannot be used publicly (including on websites or YouTube videos), commercially, or otherwise redistributed in any way. Only you may create the audio files for only yourself to enjoy and they cannot be utilized or made available to any other systems or people.
Please keep in mind that 'internal' or 'non-profit' use (such as for messaging systems or training videos) nonetheless requires a commercial license to allow redistribution of the audio content.
For any non-personal use, please check out NaturalReader Commercial, which is a separate application.
- Company Training Videos
- Product Explainer Videos
- Youtube and Podcasts
- eLearning Content
- Advertisements.
Read my essay
Listen to your college essay, research paper or speech like your audience will
Copy the text of your paper here, to the website
Choose the type of voice that will read it back to you
Now you can listen to your college essay, research paper or speech like your audience will
By clicking Read My Essay to me you agree to our Terms
Read new Essay
Read My Essay Out Loud at Graduateway
One of the most common pieces of advice for essay writers is to read paper aloud. Reading your essay has several very important purposes. Some sentences look fine on the paper or on the screen but appear too wordy when you try to say them aloud. Some are just impossible to say with one breath. Several sentences may be completely fine grammatically but sound off when you read essay out loud.
See a short video on how to use the tool:
After the first, technical reading, you may proceed to the refinement. After eliminating all the heavy sentences, you may start putting stress, add emotions, pauses, and make all the necessary marks that will allow you to read your paper in the best way possible. But here comes the tricky part. Our brain tends to memorize repeating actions, so it's hard to read the text with different intonations right after doing it. You need to either let your paper "rest" overnight or ask someone to read it for you for the first time. Of course, not every friend will understand your "Please, read my essay to me!" request. Or, possibly, the paper was finished at night, just before the deadline day, and you need someone to help you right now.
The online essay reader may be your best help in this case. It's a free and easy-to-use service that may help you correct some technical issues and prepare your text for the final reading. It will also help you memorize the text easier, using both your audial and visual memory, listening and reading the text simultaneously.
The online readers may also be used for any texts you want to be read, e.g., turning any of your studybooks into a free audiobook and learning while you are walking or doing other stuff. Some people even say that listening to the material while sleeping makes your subconscious memorize it. If you want to try this unorthodox learning method, the calm online reader voice may be the one you need!
Free Text To Speech Reader
Few of us have programs able to process a file and read it out loud. But there is no need to search for special functions of your laptop or tablet, or even install some expensive or suspicious programs. Asking a friend: "Can you read my text, please?" also isn't always an option, at least not an always available one. Luckily, modern technologies allow you to listen to your papers right from the site. You can do it anywhere, from any device and it is always completely free.
Some people worry if the online essay reader can take their text and use it later without their permission. We can't promise it will never happen anywhere, but our Read My Essay service doesn't memorize your text and definitely doesn't use it for any purpose. We have our own broad database of essay samples though, so if you are still not sure but want to test the reading quality – feel free to use any of it.
The essay reader aloud may also come in handy when you are trying to learn the text (possibly, not yours, but the one you need to know flawlessly). The text to speech service easily turns any of your text files into the audiobook. No more time wasting while walking, cooking or on your way to college: use Read My Essay to learn passively, using all your brain's capability.
The last but not the least important function of text readers is time management. They usually read at a medium pace, mimicking the calm and collected person with all the punctuation marks pronounced as they should be. Therefore, you can use them as a specialized metronome. You will easily understand how much time you have for the introduction, conclusion and each paragraph in between. Usually, the reader's time is strictly limited, so you may choose to omit some parts to squeeze into your reading time or, on the contrary, use extra time to add some facts or arguments to enhance your text.
How to Use Online Essay Reader
We wish it'd be enough to say, "Read essay to me!" like in sci-fi movies (we're working on it though). But now you have to do a few clicks to have your text read. First you have to copy your text to the site. We know it might be a little tricky from the phone or tablet, but this is the hardest part. Then you should choose the voice to read it. You may find the voice that is most similar to yours or, on the contrary, choose the different gender or tone just to change your perspective.
We recommend listening to the reader's version and then read it by yourself to understand the differences. The online reader's voices are sometimes too even and perfect, so you may mimic their style while talking about facts and figures, but you still need some emotionally bright points. These points called anchors shall bring your audience's attention to the subject and show the focal point of your essay. Or, if some of your arguments are emotional, you'll need a human touch to make them sound right.
Also, the perspective change may be a great instrument. Even if you don't need the essay reader and you are sure that your text is perfect, you may listen to it read by the other voice. For example, the male one if you are female, the high-pitched if you have bass and so on. It's very important to understand which part of the essay is truly neutral and which one depends on your personality. Is your essay passionate and suitable for a young person, but not so persuasive when read by an older one? Are you ready to use your personal qualities and style as a part of your essay or do you need it to be equally good, no matter who reads it?
As you can see, an online essay reader, being a simple tool, can be useful in many ways. What's important: it will always be free and ready for you to use. Enjoy the Read My Essay service and be prepared for anything with the most perfect essays possible!

Hi, my name is Amy 👋
In case you can't find a relevant example, our professional writers are ready to help you write a unique paper. Just talk to our smart assistant Amy and she'll connect you with the best match.

Read My Essay to Me: FREE Text-to-Speech Tool
Our online text-to-speech tool transforms any typed text into audio. It is absolutely free!
By clicking Read My Essay to me you agree to our Terms
Read My Essay Out Loud to Me
What is an essay reader tool.
Now let's explain what these tools that read my essay aloud are. The technical term for the app is a text to speech tool, abbreviated as TTS. As assistive technology, Read My Paper to Me will voice over any written text you paste into the provided form.
Another advantage of these tools is that they run on various digital devices, including cell phones, tablets, and PCs. Moreover, specialized apps allow any mobile operating system (typically Android or iPhone) to load the tool. All browsers can open the free essay reader without problems and can even transform entire websites into speech.
Websites like PapersOwl feature various free tools to help clients improve their paper composition skills. They can also write your college essay for a fee. Once you receive the ordered piece, you can check its flow and consistency by uploading it in the field specified for text reading.
If you wonder how the Read Me My Essay app works, you should know that your device will generate the sound through TTS. You can adjust the speed according to your needs and select a speaker. Though some voices are robotic, the quality is superior and humanlike in most cases.
As the machine read essay, words get highlighted. Advanced variants can also read wording from images. This technique is known as OCR or optical character recognition. Overall, these tools assist people in tracking reading and are super convenient for mastering a foreign language.
Why Use Our Essay Reader Aloud?
Some of you may doubt the use of these tools, so we wanted to pinpoint their purpose. According to scientists, reading out loud affects other brain segments and is more objective than reading the text silently. Our minds react to auditory stimuli differently, depending on who reads the material. Thus, we can see the essay from another perspective and identify what is missing.
The key reason to use our Read My Essay to Me is the ability to spot typos and mistakes that slipped through your fingers. For instance, you might have missed a preposition or written the same word twice. When looking at texts, we tend to neglect these errors, which is not the case with speech.
Another advantage of Read My Paper to Me is that it enhances readability. Sometimes, we write lengthy sentences and disregard their complexity. When someone unfamiliar with the topic will read your paper out loud, they might struggle to grasp your points. Long and complicated sentences and paragraphs impede reading, and that's not what you want to achieve with your writing. Hence, you'll get the chance to fix the format and emotional impact to make your work legible and easy to understand.
Any written work must sound logical and have a seamless flow of thought. But even if you pay to do your essay , unintentional mistakes can occur. In the case of complex reports, focusing on delivering your arguments and examples can blur the paper's readability. The TTC will help you improve your transitions and evaluate your explanations.
Finally, the text to speech converter can ease the lives of the disabled. For example, for those who have problems with writing or dyslexia, assistive technology can be of exceptional help. It can make the process more comfortable and facilitate comprehension and fluency.
Online Essay Reader – How to Use?
Advanced essay readers are incredibly practical in this high-tech era. Since this assistive technology is relatively new, we wanted to explain how it works. Below, we list the steps you must take to listen to your essay:
Open our website and find the blank area provided for your essay. Copy and paste or type your text into the window, and the app will read out loud the written piece. Note that you can insert up to 5,000 characters in one go.
Select preferred type of voice. You can choose between a few variations, including male and female voices, and adjust the reading speed.
Locate the button READ MY TEXT and press it. The machine will start producing speech instantly.
If you want to hear it once again, request another reading. Or paste a new essay and repeat the same procedure. You also have the option to download the audio version.
Read my Essay Out Loud: Key Benefits
Using our Read My Paper to Me aid is ideal for proofreading and editing your words. Here are some of the critical benefits:
Error Detection
Our online essay reader helps writers to spot and correct typos and mistakes. PapersOwl is also a website that writes essays for you on any subject matter you need for college. It is a one-stop-shop place for all your academic worries. Now, you no longer have to beg your friend to proofread your papers so you can polish them.
Coherence and Attractiveness
When working on an essay, distractors such as typing, noises, citing, research, and fact-checking might impede the cohesion of the paper. Focusing on one aspect may produce a poor piece in terms of meaning and readability. Since you're multitasking when you write, clicking read my essay is an excellent opportunity to polish your text.
Auditory Learners
Many students prefer to use audiobooks in high school and college. These tools are an ideal solution for auditory learners having problems with visual focus. They can insert almost any text into the online texttospeech app and listen to it while cooking or relaxing. Indeed, these learning machines open a whole new world of possibilities.
Foreign Languages
Typically, you can't learn a language unless you hear it constantly. And besides speaking, the best way to memorize new words and phrases is to listen to them. You can choose the voice in your app depending on your learning style.
Read My Essay to Me: FAQ
Contact our Support Team. We'll take care of you!
[email protected]
Call +1 (343) 222-4444
Contact support
How long it takes to read my essay?
Why is reading aloud important, what is the best online essay reader.
2023 © PapersOwl.com. All rights reserved
We use cookies to give you the best experience possible. By continuing we'll assume you board with our cookie policy.