Deadline is too close?
Order an essay now and get it on time!
How to Write an Essay Fast
With a truly tricky essay, 24 hours might be not enough. However, it might happen that you have less than an hour to craft a classy paper. Take your SATs for example. There, you'll have to fit into a 30-minute time slot. Before you can write an essay quickly, you'll need some committed training or a decent plan. If you didn't have enough time to practice your speed writing skills, don't worry. Because the key is detailed planning.
So what's the fastest way to write an essay? We'll share with you the secrets of how to write essays faster below.
"I need to write an essay fast. Do you have any tips?"
A bunch of the following quick essay writing tips will lead you through this seemingly arduous task. They are the main steps you'd normally take when writing a paper. Before you get to them, we'd like to point out that the most important thing about fast-written essay is careful planning, remembering about time, and sticking to the point.
1. Plan Your Time
How much do you have till you need to have the paper ready? If you have 30 minutes, then consider 10 minutes for outlining, 15 minutes for writing the body of your essay, and 5 minutes for revision. If you have an hour, then redistribute the time accordingly. Remember that you should spend at least ⅕ of your time on structuring, and at least ½ on shaping the paper's body. Don't forget to include revision in your plan.
2. Read Your Essay Question Carefully and Answer It
This step is crucial. If you understand the question vaguely from the beginning, you'll be forced to go back to it when you should be focusing on writing. Come up with a quick answer in your head. This way, you'll have the idea of what to write about. If you have trouble starting, brainstorm: write down anything that comes to mind first, and then choose what fits best.
3. Research to the Point
If you need research, do it. Just look for the most specific information. Search for the key concepts you're definitely going to use in your paper. Remember that you don't have much time on the whole essay, so be brief and concise in your research.
4. Spend 20% of Your Time on Outlining
Start with the simplest: break the essay into 5 paragraphs (a standard), including the introduction and conclusion. Each of them should contain a main point, evidence that supports it, summarizing sentences, and transitions to the next paragraph. Write your thesis statement in the intro. Ascertain that each paragraph's key sentence is connected with the thesis statement. At this stage, all you need is to draft. You'll finalize your sentences later.
5. Write down the Key Sentences for Each Paragraph (before You Write the Rest)
You've drafted them when you did the outline. This time, make sure that your sentences are strong, precise, and don't require further editing. Normally, you won't need more than a couple of minutes.
6. Make the Introduction and Conclusion Solid
You already have your thesis statement in the intro. So, write a hook preceding it — a quote, a relevant anecdote in a sentence or two, or some statistical information associated with the topic. Also, make a transition to the body of your essay at the end of the intro. In the conclusion, re-summarize the thesis statement while linking it to the evidence that you are providing in the body paragraphs. Write a conclusive sentence that would place the information in your paper into a broader context.
7. Spend about 40% of Your Time Writing the Rest
Here, you'll write your supportive statements or provide evidence to your key points. You'll introduce and summarize each paragraph and properly connect the parts of the essay together. That is the main chunk of your writing, for which you'll require up to 40% of your time. There is no need to spend more.
8. Don't Forget about Revision (5-10 Minutes)
This step is essential, so make sure you've left some time for it. During the revision, pay attention to the general structure, thesis statement and the key sentences in each paragraph. Then check if everything in your text is logically connected. Afterwards, see that you have no errors or typos. Voila! Your essay is ready for submission.
We've shared with you some of our own tricks on how to write a good essay fast . They involve carefully planned steps; sticking closely to your time limits; and keeping your research, writing, and revision strictly to the point. Any shift aside from your will only make you waste your time. In the end, if you know how to write an essay in an hour or less, you'll not only deal with the task during your SATs, but you'll be able to save so much of your valuable time during your studies at the college.
Click on a star to rate it!
Average rating 5 / 5. Vote count: 1
No votes so far! Be the first to rate this post.
Author: Patricia Jenkins
Patricia Jenkins is the senior writing advisor at FastEssay blog for international students that seek quick paper assistance. In her blog, Patricia shares useful tips on productivity, writing, research, references. Sometimes Patricia goes off topic by sharing her personal experience peppered with lively humor and healthy irony. View all posts by Patricia Jenkins
Leave a Reply Cancel reply
You must be logged in to post a comment.
How our customers find us
No time to finish your essay.
Get writing help 24/7
College Info Geek
How to Write High-Quality Papers and Essays More Quickly
C.I.G. is supported in part by its readers. If you buy through our links, we may earn an affiliate commission. Read more here.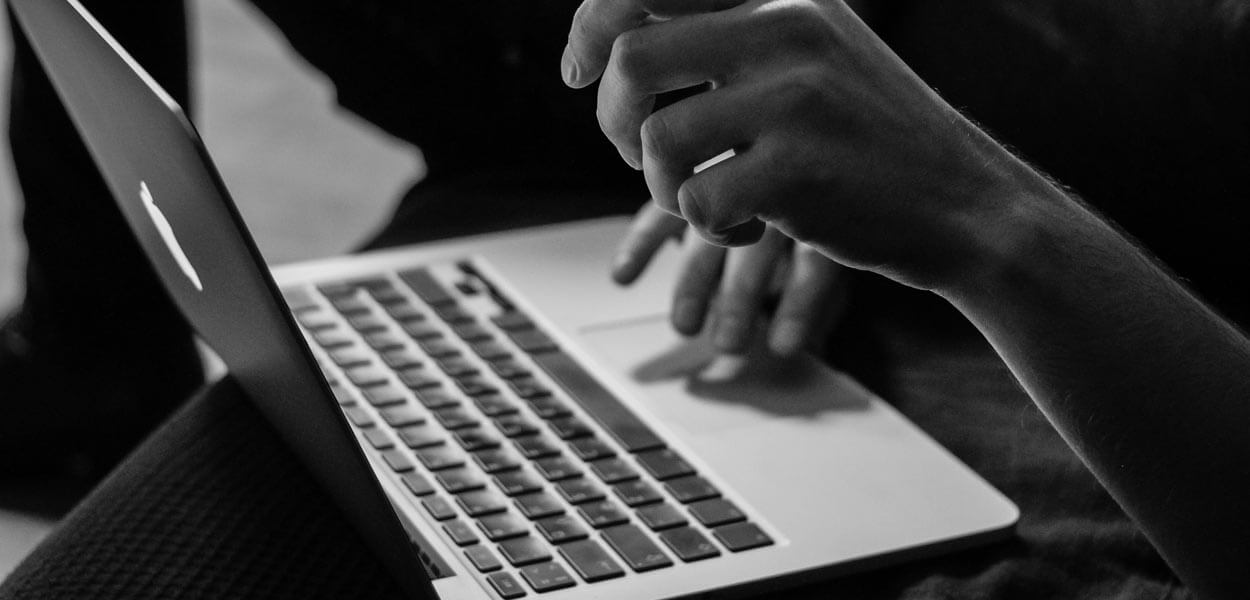 I'm not gonna lie: writing papers can suck. Even as someone who basically writes papers for a living these days (like this article), I still viewed every college paper with a tinge of dread.
After all, writing a paper isn't like working math problems or reading a chapter of a book. As frustrating as those activities can be, they always seemed more finite than the monumental task of "writing a paper." You can't just open the book and start working : you have to brainstorm, research, outline, draft, edit, and add those pesky citations.
As I moved through college, however, I developed a system for cranking out papers in record time. This let me spend more time on things that I enjoyed, such as writing for this blog and taking long walks through the woods. Today, I'm going to share this process so that you too can write papers more quickly (without a decrease in the quality of your writing).
Sound impossible? Read on to see how it works.
1. Understand the Assignment
The ultimate waste of time when writing a paper is to write something that doesn't even answer the question the professor is asking. Don't be afraid to ask the professor to explain any part of the assignment that's unclear.
If the assignment seems vague, it's not because the professor is trying to trip you up. Often, it's that they know their field so well that it's easy for them to think some things are "obvious"…even when they aren't to us non-experts.
Remember: asking for clarification because you don't understand the assignment doesn't make you stupid; what's stupid is to complete the assignment without understanding it.
Yet, when I was an English TA in college, I saw this problem all the time. Students would spend hours researching and writing a paper on a completely different topic than what the professor assigned. It doesn't matter how good a paper is–if it doesn't answer the question, it's going to receive a bad grade.
Best case scenario, the professor is nice and lets you rewrite it, but why do all that extra work? Furthermore, asking the professor for clarification shows initiative –that you care about the assignment. Demonstrating this level of engagement with your assignments can only boost your grade.
2. Research with Ruthless Efficiency
Once you understand the assignment, you need to start researching. But beware! If you're not careful, research can be one of the best ways to procrastinate. "One more source" can easily turn into hours that you could have been writing.
To overcome the temptation to procrastinate on research, I employ my favorite approach for beating all forms of procrastination: setting a time limit. As I explained in my guide to research , you shouldn't spend more than 30 minutes per page of the final paper researching. That is, if the paper is supposed to be 5 pages, don't spend more than 2.5 hours on research (maximum).
Spending any more time than this puts you at a point of diminishing returns. Don't worry about not having enough information. If you find that you need more info after you start writing, you can always do more research . The goal of your initial research session is to give you just enough material to start writing. Get into the library or database, find your sources, take your notes , and then get to writing.
3. Create a Flat Outline
"It's impossible to figure out every detail of your argument before you sit down, look at your sources, and actually try to write. Most students abandon their hierarchical outline soon after their fingers hit the keyboard." – Cal Newport, "How to Use a Flat Outline to Write Outstanding Papers, Fast"
Ever since I learned the traditional method of outlining papers in 8th grade, I felt the system was broken. I never created an outline with bullets and numbers and letters before writing the paper. I always just made one up afterwards because I was required to turn one in with the final paper.
Starting in college, I developed my own outlining technique that was much more effective. As it turns out, my technique wasn't so original after all. As Cal Newport explains, it's called a flat outline . In Cal's words, the flat outline works as follows:
Don't build a hierarchical outline. Instead, list the topics you want to tackle in the order you want to tackle. Revisit the library to find sources for the topics that still need support. Dump all relevant quotes from your sources under the topics. Transform your topic-level outline into your paper. Don't start from a blank screen.
Isn't this so much better? The flat outline works because it mirrors the writing process . No one sits down to write with a perfect idea of what they're going to say. You discover what you're going to say through the process of writing . The flat outline gives you just enough structure to overcome the dreaded "blank canvas" while still leaving room for discovery.
Struggling to write your draft? Here's how to overcome writer's block .
4. Create the Perfect Writing Environment
Okay, so you have a rock solid understanding of the topic, you've done your research, and your flat outline is ready. Now, you need to sit down and write the sucker. But not so fast: where you write makes a difference.
Because after procrastination, the greatest obstacle to writing a paper quickly is distraction. If you don't have an environment where you can focus, you'll waste hours jumping back and forth between the paper and whatever distractions come your way.
To make sure you have the focus of a zen master, you must create a writing environment that enables zen-like focus . For a full guide to creating a distraction-free study space, check out our article on the topic . In the meantime, here's a summary of the best practices:
Go to a studious place. This could be a quiet part of the library, an off-campus coffee shop, or even your dorm room. Wherever you know that people won't distract or interrupt you, that's the place you must go.
Make it comfortable. You won't be able to focus on writing if your chair feels like a bed of nails or the table wobbles. Take care of your base physical comfort before writing anything else. Caveat: don't write while in bed . Your bed is only for sleeping and…you know, that other s-word.
Block digital distractions. Depending on how bad your internet/phone addiction is, this could be as simple as closing unrelated programs and putting your phone in airplane mode or as drastic as installing an app such as Cold Turkey Writer that blocks everything on your computer until you write a certain number of words. If you need the internet to write (maybe you're writing in Google Docs, for example), then you can install an app such as Freedom or SelfControl to block distracting sites.
Assemble your supplies. Sitting down to write and realizing you left one of your sources back in your dorm is a definite productivity killer. Be sure you have your computer charged, sources assembled, and coffee/tea at the ready before your write a word.
Put on your pump up playlist. If you don't find it distracting, then I recommend using music that will get you in the zone to write. I have a few albums on rotation that get me into a mode of writing flow. For example, when writing this article I put on Muse's The 2nd Law . You better believe I felt ready to conquer the world with that in the background. If you're looking for a killer pre-made collection of study music, have a look at Thomas's Ultimate Study Music Playlist .
5. Follow a Standard Structure
Each paper you write should not feel like reinventing the wheel. Your goal when writing a paper for a college class is to fulfill the assignment requirements in a way that goes just above and beyond enough to impress the professor. You're not trying to break new ground in your discipline or redefine the way we use the English language (if you are, then you don't need to read this article).
The way to make sure that you don't get caught up in the structure is just to pick a standard structure for your discipline and follow it. Save the originality for your arguments. So how do you find these elusive standards? Ask your professor. They can point you to some relevant guides or examples.
Also, pay attention to the readings your professor assigns for the class. This should give you some idea of the academic conventions you should follow in your papers. It's easy to go through an article and focus so much on the information that you ignore the structure (which is a good thing–the structure shouldn't distract you). But if you spend a couple reading sessions paying attention to structure, you'll get a feel for how it should go.
If that seems too advanced or too much work, then another option is to Google "SUBJECT NAME paper template". Just be careful about the source–a template from a university is fine; one on some random student's Blogger page, not so much.
6. Focus On Quality Over Quantity
If the paper is supposed to have a final page count of 5-7, you may be tempted to write a paper that's 7 or even 8 pages. After all, more is better, right?
Wrong. Every professor I had in college told me that they would always prefer a good 5-page paper over an okay 7-page paper. Frankly, some topics don't need 7 pages–5 is plenty. If you try to stretch it out, you may end up diluting your argument.
If you're not convinced, consider this: I rarely wrote more than the minimum page count, and I consistently received A's on papers in English, History, Religious Studies, and Education classes.
Knowing this, why would you ever write more than you need to? It's not just a waste of time or effort; it may even be counterproductive .
Of course, your paper has to be good for this to work. For advice on improving the quality of your papers, check out my post on 6 Writing Tips to Make Your Papers 300% Better .
7. Draft and Edit Separately
Editing and drafting at the same time is, like all forms of multitasking , inefficient and ultimately impossible. Don't do it. Write with your full attention and effort, and then edit.
Similarly, never stop to look stuff up when you are writing. If you don't know something, just make a note of it and come back to it later. At best, looking something up takes you away from writing, but even more likely it will pull you into an internet rabbit hole that will really derail the entire writing process.
The goal of writing this way is to keep you in the flow state as long as possible. Because if you can just get to a place of flow, your momentum will be unstoppable.
8. Write the Conclusion and Introduction Last
One of the greatest barriers to starting a paper is coming up with an introduction. If you think about it, this difficulty makes sense: how are you supposed to introduce something you haven't even created?
This is why you shouldn't write the introduction until you've finished the main body of the paper. I know it seems like a counterintuitive approach, but I challenge you to try it. This method avoids what has happened to me more times than I can count: writing the paper and then realizing that my intro doesn't even fit with the final paper.
The same goes for the conclusion. Write it last. After all, how can you conclude when you haven't even finished writing? If you want more advice on the specifics of writing solid conclusions, check out my post on how to write a paper .
9. Don't Edit Alone
When you're writing the draft, you need privacy and focus. But when you're editing, having someone else to look over your work can speed things up. Why? Because you're inherently blind to the mistakes in your writing . You've been looking at the draft so long that mistakes won't jump out at you the way they will to a fresh set of eyes.
When it comes to finding someone to help you edit, you have a few options:
Get a trusted friend to read the paper. Just make sure they don't end up distracting you.
Take the paper to your college's writing center. Don't expect them to be your copy editor, however. More than likely, the writing center staff will have you read the paper aloud to them. This lets you catch the errors yourself while still having the accountability of another person in the room.
Ask your professor for feedback. This won't always be possible, but sometimes your professor will be willing to give you feedback before you turn the paper in, especially if it's a term paper or capstone project. Professors often build this feedback into the assignment by setting separate due dates for a proposal, a draft, and a final version. But even if they don't, it never hurts to ask for feedback . The worst they can say is no.
10. Use a Citation Generator
Adding citations is the worst, especially when you just spent hours writing a paper and are so over it. If you don't want to spend further hours paging through some arcane style manual, do yourself a favor and use a citation management/generation tool.
My favorite is Zotero , which allows you to keep track of research sources and even has a browser extension that will pull the citation info from a library catalog web page. But I also have friends who prefer EasyBib . It doesn't matter which one you use–just pick one and watch your citation worries evaporate.
That being said, it doesn't hurt to glance at your citations before submitting, as these tools aren't perfect (especially when it comes to digital sources).
Bonus Tip: Take a Writing Intensive Class
This tip isn't strictly part of the paper writing process, but it can make a big difference in your writing speed and quality. At my college, the definition of "writing intensive" varied from professor to professor, but it always meant a class with lots of writing, often one (short) essay per week in addition to a 20+ page final paper.
Each of these classes was intense, but at the end I always found myself a better writer. This went beyond just getting faster, although that was a major benefit. I also found that the quality of my arguments and analyses increased, along with massive improvements in my research skills.
If your college offers classes specifically geared to improve your writing, do yourself a favor and take a least one. Strong writing skills are always a benefit, both in college and beyond.
At the end of the day, writing a paper is still a lot of work. But if you follow the process in this article, you'll be able to do it more quickly without a loss of quality.
What tactics do you use to speed up the paper writing process? Share them in the comments below, or discuss them in the College Info Geek Community .
Image Credits: featured
Words with Friends Cheat
Wordle Solver
Word Unscrambler
Scrabble Dictionary
Anagram Solver
Wordscapes Answers
Make Our Dictionary Yours
Sign up for our weekly newsletters and get:
Grammar and writing tips
Fun language articles
#WordOfTheDay and quizzes
By signing in, you agree to our Terms and Conditions and Privacy Policy .
We'll see you in your inbox soon.
How To Write an Essay Fast (Without Losing Quality)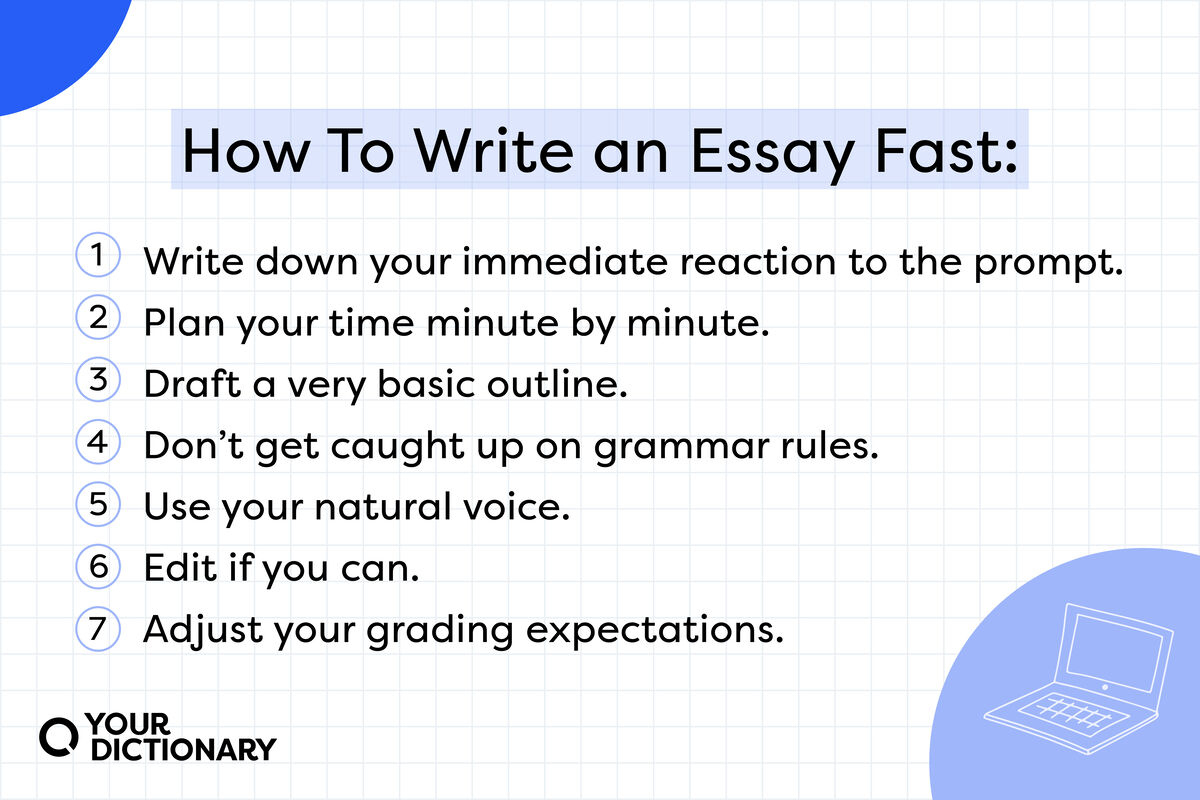 DESCRIPTION Laptop icon with how to write an essay 7 steps
SOURCE redchocolatte / iStock / Getty Images Plus
PERMISSION Used under Getty Images license
Essays on their own can be challenging, but timed essays add a whole other layer of difficulty. Whether you're a high school student or a seasoned scholar, it's easy to panic under pressure and forget all the basics of forming a thesis sentence. Relax! Whether you have a whole month or 30 minutes, you can write an engaging essay worthy of a great grade.
1. Read the Prompt and Write Down Your Immediate Reaction
This seems obvious, but the most important step in how to write an essay fast is to make sure you do actually read the prompt. Then read it again. Make sure you fully understand what it is asking of you. You don't want to get 15 minutes into a draft and then realize that you're not even addressing the themes in Romeo & Juliet or how the concepts of alienation and loneliness affect the characters in Of Mice and Men .
To truly make sure you get it, underline or highlight the main question(s) in the prompt. Take notes about what the question is actually asking you, and write down your immediate reaction to that question.
2. Plan Your Time Minute by Minute
Keep a very basic schedule or agenda in mind for how much time you invest in each part and process of your essay. 
For example, if you have 60 minutes total for your essay, you might follow this schedule:
Will you spend exactly 10 minutes on each section? Probably not, but keeping a basic plan in mind keeps you moving and prevents you from, say, spending 30 minutes on one paragraph.
Ideally, you won't need all that time for each section, but try to stick to that schedule. If you have a shorter time limit, simply shorten each section a little, starting with the intro and conclusion paragraphs (where you don't really need as much time). That might unfortunately mean having to omit certain examples or sentences you had in mind, but don't let yourself linger. Sometimes you do have to kill your darlings.
3. Create a Very Basic Outline To Keep You Focused
There's always time for an outline of your essay . However, unlike your typical essay outline, this doesn't have to be particularly in-depth.
Writing down your thesis sentence , the key sentences for the body paragraphs, and a conclusion sentence ensures that your essay is well-organized upfront.
I. Thesis: This is my main opinion about the given prompt. II. Body Paragraph 1: First supporting argument      a. Idea illustrating that argument      b. Idea illustrating that argument III. Body Paragraph 2: Second supporting argument      a. Idea illustrating that argument      b. Idea illustrating that argument IV. Body Paragraph 3: Third supporting argument      a. Idea illustrating that argument      b. Idea illustrating that argument V. Conclusion: This is a concluding sentence that reiterates my thesis and hints at a larger idea related to the prompt.
4. Write Clearly but Don't Get Caught Up on Grammar Rules
As you get into the actual crux of writing an essay, you should continue practicing good grammar, spelling, and punctuation to the best of your ability. At the same time, try not to get too bogged down in all the rules of a typical essay. 
If each paragraph doesn't have three to five sentences, it's totally fine. If the transitions between paragraphs are weak or nonexistent, don't worry about it.
The key is presenting your thesis, supporting it as best you can, and ending the essay cohesively in the given amount of time. Anything else, while great to have, is extra.
5. Use Your Natural Voice
Even given the above, you can still write with a voice and style that is decidedly your own. Teachers, instructors, and exam evaluators are reading dozens, maybe even hundreds of these essays. Writing with a unique voice can help to break up the monotony for your teacher, and it can help you stand out from the crowd.
6. Edit and Revise With the Time That You Have
The schedule presented earlier included five minutes to edit and revise. You may have more; you may have less. Either way, you'll never have enough time to do a full revision, so focus on small, quick changes over larger changes. Are all the commas and colons in the right places? Did you accidentally misspell a word ? Did you forget to capitalize ?
7. Hand in Your Essay and Adjust Your Expectations for Grading
Once you've handed in your bluebook or paper to your instructor, shake off those timed essay jitters. Keep in mind that teachers read and grade these timed essays with the understanding that they'll be different from a normal essay.
Most of these essays are graded on actual content and word choice. If you did your best to form a coherent argument with solid ideas and examples, you can typically expect a good grade.
What Is a Timed Essay?
You'll encounter timed essays or timed writing in numerous forms throughout your education. 
High school teachers may have timed essays as a component of bigger exams. 
In college, timed essays are common in midterms and finals. 
While essays are no longer a part of the SAT, the ACT includes a 40-minute essay section. 
AP exams also have essay or free response sections that vary in time based on the subject. For example, the AP English exam involves writing three essays in 2 hours 15 minutes.
For instructors, timed essays are an effective way to test your knowledge while forcing you to exercise your critical thinking and general writing skills. Timed essays are also more comprehensive than multiple choice and short-answer questions.
How Much Time Do You Have for Timed Writing?
Most timed essays will give you 30 minutes to one hour, though harsher teachers might give you just 20 minutes. Regardless of time, the writing process is still generally the same. A longer time limit gives you more time to prepare and edit.
How to Write an Essay Fast: Tips and Examples
Almost every student has experienced a circumstance where they had just a few hours before the essay deadline. So, what is the best course of action in this case? We suggest that you should either begin writing right away or seek professional assistance. Hiring a pro to write your essay is an easy way out. You can just order essay , and in a blink of an eye, your piece is ready to be sent out on time. But, if you want to write it yourself, then you need to know how to write an essay quickly.
Tips on How to Write an Essay Fast
The essay writing process isn't simple. Especially when you want to do it quickly under the pressure of upcoming deadlines, but don't panic! Whether you're wondering how to write an essay in a day or just an hour, you can still write an engaging and good essay fast. Here are some tips to help you write a paper faster:
Make a plan for your writing process - The first and most important thing to do is to understand a thesis statement, spend 10-15 minutes planning your essay, and brainstorm some ideas about your main point.
Start essay writing - Start with a hook in the introduction; add three body paragraphs and explain your major point. Make a clear image of your ideas in the conclusion.
Edit your paper - Always keep the last 5 minutes for proofreading your essay; slowly read complex sentences to avoid any grammar mistakes; after editing, give the appropriate title to your work.
These are some useful short tips to do a paper fast. But if you don't feel like doing any writing, you can use the help of qualified essay writers to get yourself a solid essay.
How Can You Write an Essay as Fast as Possible?
We discussed a few tips to write an essay fast, but they may still not be enough for everyone to do their essay quickly. There are many reasons why it can get difficult: you struggle to understand the essay topic and the main idea of it, you lack motivation, you overthink an essay prompt, you get constantly distracted, etc. Sometimes we all feel that way, and it's normal, but to make writing your last-minute essay easier, we should overcome those feelings.
So, let's dive deeper into how to write an essay fast to help you with the paper you completely overlooked.
Get Rid of Distractions and Plan Your Time
One of the reasons why you can't focus on writing is a constant distraction. Our digital gadgets distract us not only from the essay writing process but from many important things in life. So when you need to focus, set your mind on it and keep the electronic devices away from the working space.
The next step is to manage time. If you want to learn how to write essays quickly, you need to know how to divide the time left correctly. If you have only 2 hours before your deadline, it's crucial to distribute it accordingly. You have to do it in three main parts: outline, body paragraphs, and conclusion paragraphs. Besides that, keep extra 10 minutes for proofreading and revising your essay. Spend 25 minutes on essay structure and half of your 2 hours on shaping the paper's body. Usually, body paragraphs are needed most of the time, but distribution is on you. Spend more of it on the part you struggle to write.
Write First Ideas Which Spring up in Your Mind
While reading an essay question carefully, start making a note of the very first ideas that pop up in your mind. This way, you'll have a view of what to write about. Then start analyzing the thesis statement, highlight the major points of the key sentences you want to discuss and then choose which ideas fit best to them.
Don't overthink the statement. To write essays faster, you need to have a concise view of what you are writing about from the very beginning. You don't have much time, so do not spend any of it on overthinking.
Elaborate a Plan to Write an Essay Fast
If you have ever had only an hour left to write your essay or are now in that situation, you're lucky to be here reading this. It's entirely possible to do your paper in an hour, and we'll show you an essential step-by-step plan on how to write an essay fast.
But before planning the whole essay, you have to choose your topic. This is a no-brainer, but people are often stuck at this point. If you have the freedom to choose your own topic, determine the kind of theme you are familiar with and can discuss without having to spend much time on research. But if you have several topics, choose the one on which you can deliver a more in-depth analysis.
Now let's move to the next steps on how to plan the process to write an essay fast.
Conduct a Research
Conducting research may seem difficult when you have an hour for the whole essay, but don't worry. You can manage that too! You already have the topic and the thoughts around it, and now you need a little research. So be brief and concise, look for the specific information that you're definitely using in your paper, and don't waste time on general concepts. To write an essay fast, you have to conduct research faster.
While searching on the internet, save bookmarks of your needed pages. This will serve not to start looking for the information all over.
Do these tips to write an essay fast make enough sense for you yet?! Anyways, don't pressure yourself! If it's manageable for others to write essay fast, then it is for you too. So read through carefully, act according to this plan, and you'll make it.
Make an Outline
Before you start writing:
Create an outline of your ideas, and organize your thoughts around the theme.
Write down your words on paper and determine how they are logically connected.
List your ideas and relate them to the larger concepts.
This way, you can have a general structure for your paper and step forward to write an essay fast. Regardless of how much effort and time you put into the work, it's useless if you can't organize your thoughts.
Now that you have an essay topic and the main idea around it, you can think of creating the thesis statement. Refer to the outlines you noted and try to express the major points of your essay with them. The statement will have two parts - outlining the topic and outlining the objective of your essay.
Now you are one step closer to mastering how to write essays quickly. Several steps to go, and you're all done!
Write a Draft with Key Sentences for Each Paragraph
You should develop your arguments in the body and turn every idea you outlined before into separate paragraphs. Remember that each of the sections should have the same format. Start to incorporate your primary ideas into the opening sentence. After that, add your secondary supporting ideas to it. Also, do not forget to use proper sentence format.
You should clearly explain your topic in key sentences to strengthen the arguments. Every paragraph should contain supporting evidence, main points, and summarizing sentences.
Does it seem easier now to write an essay fast? Then, let us make it completely manageable for you with further steps.
Want to research how Steve Jobs revolutionized the world?
Discussing how Steve Jobs shaped modern technology makes a perfect research paper. Our writers are ready to make it even more perfect!
Intro: Start with a Hook
After finishing the previous steps, then it is time to write an introduction. But how will you introduce something that hasn't been created yet? It may be unusual to write the beginning after you've already got the middle part, but it makes sense. Now that you have your thesis and arguments on paper, you can take the interesting elements and turn them into an attention-grabbing intro. Write a hook preceding it - it can be statistical information, a dialogue, a relevant anecdote, a quote, or just some fact, but it has to tie in with your thesis.
Also, if it's more comfortable to think of the hook first and then about the other parts, you're free to do so. Starting with the hook can help your creative process, but don't think too much about it. This way is more adjustable when you don't need to search for 'how to write an essay quickly' and have enough time to spend on it.
Make a Strong Conclusion
Writing the conclusion paragraph is an important part of making a clear expression of everything you wrote above that. It is your opportunity to reinforce the thesis. Restate the arguments to leave the reader with something interesting to think about. It should be 3-5 strong conclusive sentences that place the whole information into a broader context. Don't forget to avoid introducing new points or ideas in your conclusion,
The introduction and conclusion is often the hardest part to write. So, you should save both for last, especially when you want to write an essay fast. It will take all of your time if you start thinking about them in the beginning when you haven't discussed any arguments yet. When you have the body paragraphs of your essay, it should be much easier to write a summarized conclusion and introduction.
Suppose you understand easier from listening than reading. In that case, you can check a video of useful tips to write an essay fast on EssayPro's Youtube channel and carefully plan your paper from it.
Check Everything
If you just typed 'how to write an essay quickly' and now reading this, then you already know you have to review your paper besides how much time you have before the deadline. So you always have to keep extra minutes to revise your work.
Check if there are any grammatical errors, if the paragraphs are in order - the main argument should be the first and last paragraph in your body, or if your work makes sense at all. These little elements affect the quality of your essay, especially the one you're writing in an hour.
This is the ultimate guide and your last step in learning to write an essay fast. Just don't panic and set your mind on doing it properly.
However, If you want to do your next paper more carefully, check how to write a personal essay to learn everything you need to know about it.
Video on How to Write an Essay Fast
Check the video on how to write essay asap from EssayPro:
How to Write 500 Word Essay Fast
The essay writing process isn't so easy, especially when you want it done quickly. But it doesn't mean it's impossible. For example, have you ever wondered how to write a 500 word essay fast? If you are reading this article, you already have the answer. The previous examples we examined about writing papers faster are also adjustable to 500-word essays.
Let's do a small recap! First, decide on an interesting topic you want to write about, but don't overthink it. Instead, choose the one you know more about. Secondly, make a quick, basic outline of your thoughts and thesis statements. Then start working on your body paragraph, and lastly, do your introduction and conclusion. You can read above how to do each of these steps very easily.
In addition, you might be writing an SAT paper. In this case, you can apply these tips to the writing process with specific needs. Check how to write an SAT essay for more detailed information.
How to Write a Research Essay Fast
If you ever looked up 'how to write a research essay fast' and couldn't manage to find the solution through research, then we're here to help you out.
While writing a research paper requires a lot of effort—from developing a compelling thesis to locating relevant literature—doing so may be more fun if you select a topic you are passionate about. In addition, you have an opportunity to consider other people's discoveries and draw your own conclusions about what they signify.
Most essays have specifics that should be considered to be worth a good grade. If you don't know these needs, it can be difficult for you to complete the task properly. So then, what's your answer to it? Are you just sitting there wondering, 'who can write my research paper ?' If you still haven't found the way, click on it, and there is your solution.
Pros and Cons of Writing an Essay Fast
As with everything else, writing your paper fast has its positive and negative sides too.
Let's start with the cons:
When writing fast, you may not leave yourself the time for proofreading and editing the work, which will lead to not a very good essay and a satisfactory grade.
Knowing that the deadline is coming closer can pressure you while preventing the creative process which can be destructive for your essay.
Time spent on each part of the paper may not be enough or correctly distributed, which can mess with essay structure.
Pros of writing essay fast:
The positive side of writing an argumentative essay fast is that now you know how to do it and don't need much time to waste.
You are always on time for deadlines when you know how to write a good essay fast.
Improves your time management skills.
So, It's entirely possible to write a good essay fast. For example, if you need to know how to write a process analysis essay , consider what we have already discussed above, and just like that, you are left with a great piece in a very short period!
There are many reasons why you can't finish your paper before the deadline. But it's not the end of the world, right? That's why essay writing services provide support for students. When you are in a position where you need to get your paper done fast by a professional, you can turn to EssayPro's cheap essay writing service. It's not a problem you have to worry about.
It doesn't matter if you need, for example, descriptive or expository essays, EssayPro's experts can provide both for you. You're just one click away from your perfect paper!
Need urgent writing assistance?
Contact our experts to get a perfect paper tailored to your requirements!
Related Articles

Make sure there's no plagiarism in your paper
Write your essays better and faster with free samples
Generate citations for your paper free of charge
How to Write an Essay Fast: Student Guide
Updated 23 Sep 2022
Compositions are a form of written work aimed at presenting thoughts and knowledge in a cohesive manner. If you're wondering how to write an essay fast, bear in mind that you should study the issue of research thoroughly ahead of time. We all have different skills when it concerns writing tasks, but we all need help with academic papers such as professional essay writing service . Some people can focus immediately and write an essay fast, without any preparations or an outline, while others cannot do it without careful planning. If you struggle while composing your own paper quickly and feel like you need help with an essay , here are some useful tips.
Tips and Tricks of Fast Essay Writing
One may cope with tasks that involve a great deal of writing easily when one knows little tips and advice. For many students, speed is the main limitation. Every student aims at getting enough experience on how to write an essay in an hour. You must show interest, learn those tricks that would help in getting much-needed results. Only then a quality essays become achievable in a short period.
These tips are very precious and may work for anyone, regardless of educational establishment - college or university. These ideas may help identify loopholes in knowledge, as well as teach you how to write essays faster. Let's get on with these 15 essential tips.
Tip 1 — Ditch the ink and get your laptop!
Technology has proved itself as one of the most important advancements over time. It helped shorten the time spent on certain activities, like writing. Nowadays, an average student types faster than he writes. Except for handwritten submissions, typing on a computer is a good tip when talking about how to write a good essay fast. Give your pen a break, start typing!
Tip 2 — Get rid of distractions!
Ever notice how the top distractions we have around us these days are no longer people? For those serious about learning how to write an essay fast or how to title an essay keeping all your social media gadgets away when working on an essay would be first resolution. Right from the start, set your mind by focusing on what is at hand. Get all distractions away from yourself. Be determined to make this work.
Tip 3 — Review your mindset about writing
One tends to achieve more within minutes when the right mindset towards task is present. Be positive as well as goal oriented. Suddenly, you may discover that you simply breeze through this process like making cotton candy. Set your mind towards achieving much in short term by knowing how to write an essay fast. Sometimes, it is not about resources or time schedule – just check and reset mindset for better results.
Tip 4 — Always draft an essay
Always create outlines for any paper. Think about a perfect structure for assignment. Be sure that an argumentative thesis is ready as it is important part of drafting. Thesis should help with structure, paragraph formation and conclusion making. Retain your tips on how to write a paper fast, you should be familiar with these basics of preparing an essay.
Tip 5 — Learn from experience
It's very useful, searching online for previous examples based on your topic or similar papers. This gives an idea about draft the written assignment. By going through the samples others have prepared, even if it may take some time, discover new and interesting ways of expressing ideas. This would not only help now but prepare to write essays faster for other future assignments.
Tip 6 — Don't underestimate good preparation
Make sure that you eliminate all potential distractions, and have everything important, like a piece of paper or a computer. Make yourself comfortable. If you prefer working in silence, consider visiting library. If one likes background noise, turn on some fast music or try working in a cafe.
Tip 7 — Choose an interesting topic
For a successful composition, have a clear image of the topic. Better to decide on it earlier. Writing is easy when it concerns someone's interests. Choose something that will pique curiosity (if there's a choice). Also, select a particular topic as soon as possible so that there was time for changing it. Check our list of argumentative essay topics for help. Start by formulating your own opinion on the matter. By narrowing focus, it will be easier to structure your paper.
Tip 8 — Have a clear understanding of the subject
Always understand your chosen topic. For example, if you write an essay fast based on the novel 'Frankenstein,' read this book first.
Do not collect large quantity of information for a two-page essay. If not confident about requirements, ask your teacher.
Tip 9 — Make time for research
Take notes while preparing but do it organized in order to find information you need more easily and faster. While searching for evidence on the Internet, save bookmarks of pages in advance not to be distracted by repeated searches later. Now it's time to review any specific instructions for creating an essay. Double-check if correct sources were found or suitable evidence was collected. If required essay should be descriptive, visit how to write a profile essay for more help.
Need fast writing assistance?
Connect with our top writers and receive a paper sample crafted to your needs.
Tip 10 — Structure thoughts logically
Do you need to walk a dog soon? Is there dinner at home waiting for you to cook it? Take care of your obligations fast before writing. Do not be distracted by any worries while composing. After finishing all important chores, you will be free to focus only on assignment. The more organized and focused you are, the sooner this moment will come. It is the fastest way to write a college application essay .
Tip 11 — Formulate thesis properly
There are several options to consider when you formulate thesis. Figure out what you or reader would like to discover in the text. Do not complicate and start with simple questions: who, what, why when, where.
Branching is another way of formulating your thesis. Present your theme in tree form. Put down main idea in the center of a sheet, then "branch off" additional ideas or thoughts from it.
Try brainstorming. Start jotting down everything that you already know as well as what should be learned about topic. Do not make any corrections - just state all thoughts on paper. Review ideas and distribute them into different categories. It frequently helps brainstorm before writing an outline, since one can understand chosen topic more thoroughly.
Tip 12 — Pay good attention to body paragraphs
This stage is carried out quickly enough when you have a good plan. Main part usually includes not less than 3 paragraphs. These paragraphs should develop each level of thesis and argue the statement. Each paragraph should have introductory sentence on the subject. It explains the essence of paragraph that follows. For example, when writing an essay on resources during World War II, consider indicating: "Women were an important part of the workforce in World War II, as they mastered new professions previously practiced only by men."
Each paragraph should contain supporting example. So, if you create essay about World War II resources, you might say: "During the war, many women became welders, which clearly demonstrates the change in gender roles at work." But you always need to remember about imagination while writing a creative essay .
Tip 13 — Introduction and conclusion make your last stage
If you are still wondering how to write an essay quickly, reversed order is a great option. These are the most difficult and time-consuming parts of any composition. As an essay writer, you should know that introduction should become a guide, and catch your reader's attention. The conclusion reminds about arguments as well as main points raised in text.
Conceptualize introduction creating inverted pyramid format. Start with broad introductory statement and narrow it down until you explain thesis itself. Specify your thesis at the end of final paragraph.
Tip 14 — Use transitions
In a good essay, paragraphs should be linked. Such transitions demonstrate coherence of your ideas and thoughts, show clear relation to the thesis. Transitions should be placed at the end of one paragraph or included in introductory sentence of the next one.
Tip 15 — Check composition
Do all of your arguments have a clear expression? Slowly read through each word of your essay. If you are satisfied with what you see, then your work is finished! Now you are fully informed on the top 10 easy essay writing tips, which you should use no matter what assignment you are working on.
How to write an essay fast and what's the most difficult aspect of writing an essay? First of all, it may be difficult to come up with a title for your composition. If one can determine a topic, it is easy start writing, and create a final title later. You should keep in mind that there are three parts in any composition: introduction, body, and conclusion. Do not forget to do thorough research and explore various ideas.
A Few Concluding Remarks
Fast writing may be excellent writing too! And it's one of the goals we strive towards at EduBirdie.com. We work together as a team to make sure that we are able to practice to our client the very same things we suggest. If we can write any essay within 3 hours, you can too. It can be any type of essay — contrast, persuasive or argumentative. You may even ask for thesis paper! Take all tips into consideration but also keep aiming to be faster and better or contact Edubirdie and ask essay writer for hire .
Hire writer
Was this helpful?
Thanks for your feedback, related blog posts, how to write an essay introduction: practical tips to improve your writing.
To create high-quality academic papers, learners should know their structure and have exceptional writing skills to produce a compelling essay intr...
How to Write a Perfect Body of an Essay: Best Tips
Most students struggling with essays on any topic may have the same questions about the structure, formatting, and methods to use when writing thei...
Receive regular updates, discounts, study guides and more
You have subscribed to EduBirdie news.
Thanks for subscribing!
Check your inbox to verify your email.
EXPLORE Coupons Tech Help Pro Random Article About Us Quizzes Contribute Train Your Brain Game Improve Your English Popular Categories Arts and Entertainment Artwork Books Movies Computers and Electronics Computers Phone Skills Technology Hacks Health Men's Health Mental Health Women's Health Relationships Dating Love Relationship Issues Hobbies and Crafts Crafts Drawing Games Education & Communication Communication Skills Personal Development Studying Personal Care and Style Fashion Hair Care Personal Hygiene Youth Personal Care School Stuff Dating All Categories Arts and Entertainment Finance and Business Home and Garden Relationship Quizzes Cars & Other Vehicles Food and Entertaining Personal Care and Style Sports and Fitness Computers and Electronics Health Pets and Animals Travel Education & Communication Hobbies and Crafts Philosophy and Religion Work World Family Life Holidays and Traditions Relationships Youth
HELP US Support wikiHow Community Dashboard Write an Article Request a New Article More Ideas...
EDIT Edit this Article
PRO Courses New Guides Tech Help Pro New Expert Videos About wikiHow Pro Coupons Quizzes Upgrade Sign In
Premium wikiHow Guides
Browse Articles
Quizzes New
Train Your Brain New
Improve Your English New
Support wikiHow
About wikiHow
Easy Ways to Help
Approve Questions
Fix Spelling
More Things to Try...
H&M Coupons
Hotwire Promo Codes
StubHub Discount Codes
Ashley Furniture Coupons
Blue Nile Promo Codes
NordVPN Coupons
Samsung Promo Codes
Chewy Promo Codes
Ulta Coupons
Vistaprint Promo Codes
Shutterfly Promo Codes
DoorDash Promo Codes
Office Depot Coupons
adidas Promo Codes
Home Depot Coupons
DSW Coupons
Bed Bath and Beyond Coupons
Lowe's Coupons
Surfshark Coupons
Nordstrom Coupons
Walmart Promo Codes
Dick's Sporting Goods Coupons
Fanatics Coupons
Edible Arrangements Coupons
eBay Coupons
Log in / Sign up
Education and Communications
College University and Postgraduate
Academic Writing
How to Write an Essay in Under 30 Minutes
Last Updated: February 18, 2023 References Approved
This article was co-authored by Arash Fayz . Arash Fayz is the Co-Founder and Executive Director of LA Tutors 123, an academic consulting and private tutoring company based in Los Angeles, California. Arash has over 10 years of educational consulting experience, managing the tutoring of students of all ages, abilities, and backgrounds to score higher on standardized tests and gain admission to their target schools. He has a BA in Applied Mathematics and Computer Science from the University of California, Los Angeles. There are 13 references cited in this article, which can be found at the bottom of the page. wikiHow marks an article as reader-approved once it receives enough positive feedback. This article has 23 testimonials from our readers, earning it our reader-approved status. This article has been viewed 583,206 times.
If you're taking your SATs this year, you may be preparing to write a solid essay within the 30 minute time limit. Or you might be trying to improve your writing speed to complete essay exams faster and more efficiently. Writing a five paragraph essay in under 30 minutes can seem daunting, but with the right planning and time management, it is certainly achievable.
Sample Essays
Planning the Essay
For example, you may get a prompt in the form of quotation: "Time has a doomsday book, on whose pages he is continually recording illustrious names. But as often as a new name is written there, an old one disappears. Only a few stand in illuminated characters never to be effaced." Henry Wadsworth Longfellow [3] X Research source
You may then receive a question attached to the prompt: "Are there some heroes who will be remembered forever? Or are all heroes doomed to be forgotten one day?" Plan your response, and then write an essay to explain your views on this issue. Be sure to support your position with specific points and examples. You may use personal examples or examples from your reading, observations, or, knowledge of subjects such as history, literature, science. [4] X Research source
For example, you may brainstorm the Longfellow quote/question by thinking of personal examples of heroes who are remembered or forgotten, such as family members, friends, teachers, or peers who have acted as heroes to you or to others. Or you may focus on a historical figure who seems to be a forgotten hero or a decorated hero.
This essay question is asking for two sides of the discussion, the forgotten hero and the remembered hero. Your thesis should discuss both sides and choose one side to argue for or against.
You may choose to spotlight a historical figure who encountered opposition and challenges in her life, such as the suffragette Susan B. Anthony. Anthony worked tirelessly for decades to get the government to recognize women's right to vote, and was often derided by the government and by individuals within her own organization. She is a good example of a hero who was not recognized as a trailblazer until late in her life, though she is now remembered as a heroine in history. Try to refer back to the quotation in the essay prompt in your thesis, if possible, to show you have read the entire question.
A possible thesis statement could be: "Though Longfellow argues that names, or heroes, may be forgotten over time, one historical figure, Susan B. Anthony, was derided in her lifetime for her beliefs but is now remembered as a heroine of her time."
Introduction: Your beginning paragraph should contain an engaging first sentence and your thesis statement. Some writers find it easier to write create a temporary introduction and revise it once they are finished with the essay. This will ensure the introduction is cohesive with the rest of the essay.
Conclusion: This paragraph should summarize your main argument and restate your thesis. You may also want to include last thoughts around the essay question.
Writing the Essay
Try to spend two to three minutes on each body paragraph. Then, take three minutes on your conclusion paragraph and go back to your introduction. Spend the last three minutes revising your introduction so it matches the tone and perspective of the rest of your essay.
An interesting or surprising example: This could be a personal experience or a key moment in the life of the historical figure you are discussing in your essay. For example, you may discuss Anthony's childhood as a Quaker and her later adoption of more casual dress and growing interest in social reform at the age of 26. [9] X Trustworthy Source University of North Carolina Writing Center UNC's on-campus and online instructional service that provides assistance to students, faculty, and others during the writing process Go to source
A provocative quotation: This could be from a source you used for your essay or one that feels relevant to your topic. For example, you may use a well known quote from Anthony, such as: "Cautious, careful people, always casting about to preserve their reputation and social standing, never can bring about a reform. Those who are really in earnest must be willing to be anything or nothing in the world's estimation, and publicly and privately, in season and out, avow their sympathy with despised and persecuted ideas and their advocates, and bear the consequences." [10] X Research source
A vivid anecdote: An anecdote is a very short story that carries moral or symbolic weight. Think of an anecdote that might be a poetic or powerful way to start your essay.
A thought provoking question: create a question that will get your reader thinking and engaged in your topic. For example: "Did you ever wonder how women received the right to vote in the United States?"
Body paragraph 1: You may start by discussing Anthony's early successes. Look at the establishment of the Women's Loyal National League in 1863 by Anthony and Stanton. As the first national women's political organization in the United States, it had a membership of 5000 and provided a platform for women to speak out on issues like slavery and women's right to vote. [12] X Research source
Body paragraph 2: You may discuss Anthony's mid career struggles. Look at the split in the women's movement in May 1869, with the establishment of the National Woman's Suffrage Association (NWSA) by Anthony and Stanton, and the rival American Woman Suffrage Association (AWSA). Note how after the Civil War, Anthony devoted her time and life to the suffrage movement, assuming leadership of the NWSA in 1890 and continuing to advocate for women's rights. Anthony also remained unmarried, which gave her an advantage under the law, as married women at the time were not permitted to sign official documents and had to defer to their husbands. [13] X Research source
Body paragraph 3: You may discuss Anthony's later life, including her many speaking engagements throughout the United States on the need for women's suffrage and equal rights. Though Anthony died in 1906, and did not live to see the passing of the Nineteenth Amendment of the Constitution, affording women the right to vote in the United States in 1920, her forty years of tireless work paved the way for the legal precedent and gave women a strong sense of empowerment and equality. [14] X Research source
For example, you may restate your thesis: "Throughout her life, Susan B. Anthony's sacrificed her time, energy, and personal livelihood to advocate for women's rights, proving that though many heroes may be forgotten, their actions will live on in history."
Editing the Essay
For example, an essay on Susan B. Anthony could have the title: "An Unsung Heroine" or "Susan B. Anthony: An Advocate for Change".
Community Q&A
You Might Also Like
↑ Arash Fayz. Test Prep Tutor. Expert Interview. 1 November 2019.
↑ https://libguides.newcastle.edu.au/essay_planning/essay-planning
↑ https://resources.warburg.sas.ac.uk/pdf/emh823b2778298.pdf
↑ https://www.hunter.cuny.edu/rwc/handouts/the-writing-process-1/invention/Writing-a-Response-or-Reaction-Paper
↑ https://writingcenter.unc.edu/tips-and-tools/thesis-statements/
↑ https://kidshealth.org/en/teens/test-terror.html
↑ https://writingcenter.unc.edu/tips-and-tools/introductions/
↑ https://writingcenter.unc.edu/tips-and-tools/should-i-use-i/
↑ https://www.rochester.edu/sba/
↑ https://www.jscc.edu/academics/programs/writing-center/writing-resources/five-paragraph-essay.html
↑ https://repository.library.georgetown.edu/bitstream/handle/10822/553350/laCossJoanHarkin.pdf
↑ https://www.womenshistory.org/education-resources/biographies/susan-b-anthony
↑ https://www.britannica.com/biography/Susan-B-Anthony
About This Article
In order to successfully write an essay in under 30 minutes, you need to plan it out and work efficiently. Take a good 10 minutes to plan out the essay and come up with a thesis statement that will convey your argument and help guide your essay. It may seem like a large chunk of your time, but it will save you from having to rewrite or restructure your essay later on. Then, take 15 minutes to write your introductory paragraph, body paragraphs, and conclusion. Use the last 5 minutes to proofread your essay and look for spelling, punctuation, or grammatical errors. Don't worry about coming up with a title until you're finished. It will be much easier then. For tips about how to edit an essay you write in under 30 minutes, keep reading! Did this summary help you? Yes No
Reader Success Stories
John Smythe
Apr 8, 2017
Did this article help you?
Luis Gudino
Nov 15, 2017
Kiriyana Chernishov
Jan 10, 2018
Ima Harbingerofdeath
Jan 25, 2017
Dec 5, 2017
Featured Articles
Trending Articles
Watch Articles
Terms of Use
Privacy Policy
Do Not Sell or Share My Info
Not Selling Info
Don't miss out! Sign up for
wikiHow's newsletter
How to write a 3,000 word essay in a day
by Laura Brown in Study Tips
Updated 7 March 2023
So you've left your 3,000 word essay until the last minute? Not ideal, but don't stress. You can make it happen by following our steps.
Credit: Prostock-studio, mialapi, Olga_Shestakova – Shutterstock
We know. You had every intention of getting your essay done before the deadline, but sometimes life gets in the way.
Writing 3,000 words can take anywhere between six and 24 hours depending on the topic. But, with our tips, you can easily get the essay done within a day.
Get your head down and you could meet the deadline, and even produce an essay you're proud of. Best of all, you can adapt our tips for a 2,000 word essay, a 4,000 word essay, or whatever length – all in a day!
Take a deep breath. Remain calm. Here's how to write an essay fast.
How to write an essay quickly
"Fail to prepare? Prepare to fail". We've all had it said to us, whether it be from a lecturer or a well-meaning parent.
If you're reading this guide, we suspect you haven't entirely embraced that mantra. But, there are a few things you can do the morning before deadline day that will make your day of frantic essay-writing run smoothly. 3,000 word essay, here we come.
Eat a good breakfast
Fuel your body and mind with a healthy breakfast, like porridge . Its slow-release energy means you won't have a mid-morning slump over your laptop – something you can't afford right now!
Not into porridge? It's far from the only brain food that will help you write an essay. Check out our list of the best foods for brain fuel to see what else will get you off to the best start (and keep that flying start going).
Although you might be tempted to mainline coffee into your veins, try to avoid too much caffeine early on . Caffeine is basically the opposite of slow-release energy, and you'll find yourself crashing after a few hours.
Pick your workstation and equipment
Choose a quiet area where you won't be disturbed. You'll know whether you work better in the library or at home, but don't choose somewhere you've never been before. Make sure you'll be comfortable and able to focus for as long as possible.
Be organised and bring two pens, a bottle of water, your notes and some snacks to use as mini-rewards . These will keep you going without having to take your eyes off the screen (apparently dark chocolate is a great option for concentration!).
Get rid of social media and other distractions
Credit: PIMPAN - Shutterstock
Procrastination is a student's worst enemy (besides a hangover ). Turn off your phone (or place it face down on silent) and resist the urge to check social media.
Don't trust yourself? Temporarily deactivate your accounts or get a friend to change your passwords for 24 hours.
Plan a schedule and set yourself time management goals
Time management is pretty important when you have to write an essay in a day.
Assign yourself chunks of time to reach certain milestones. This breaks down the big daunting task and provides extra motivation every time you tick off one of the relatively easy mini-tasks.
Let's say it's 9am and your essay is due first thing tomorrow morning. If you're wondering how to write essays faster, here's a feasible 14-hour timeline that you can follow (remember this is just a brief summary of each stage – we go into more detail below ):
9am – 9.30am: Choose your essay question and decide on your overall argument
9.30am – 11am: Write a plan and outline of your essay (breaking it into mini-essays)
11am – 11.45am:  Flesh out your introduction
11.45am – 1pm:  Research quotes and references to back up your arguments
1pm – 1.45pm:  Lunch break
1.45pm – 6pm: Write the body of the essay
6pm – 6.45pm: Dinner break
6.45pm – 10.30pm: Edit, improve and meet the word count
10.30pm – 11pm: Print (if needed) and get everything ready for the morning.
Remember to schedule in a few short 10-minute breaks (one every 45–60 minutes or so should do the trick). Giving your brain a rest is key to keeping your overall productivity levels up, and stretching or doing some brief exercises will also help.
Choosing a question and planning your essay
Choosing an essay question and how to answer it
Time: 9am – 9.30am
If you've been given a choice of essay questions, choose the one you have the most knowledge about, or have strong opinions on.
After all, this isn't the time to learn a new topic from scratch. No matter how much easier the question seems, 24 hours isn't long enough to learn anything in detail.
What's more, questions that seem easy at first glance are often the hardest of all.
The very fact that they're short and worded in a very straightforward way means you're probably expected to construct a much more original and complex essay to respond to it.
Deciding how to answer the question
Next, decide on your approach . How are you going to tackle the question? It's your essay and, as long as you keep relating your arguments to the question, you can take it in any direction you choose.
It helps to come up with a quick answer in your head. This gives you a general idea of what to write about and means you won't need to keep rereading the question.
This will help you understand the question better and avoid you having to keep referring back to it later on (when you should be concentrating on writing the body of your essay).
If you're finding it difficult to work out your argument, write down all the ideas that come to mind. From this, you'll see a theme start to emerge.
Planning your essay
Time:  9.30am – 11am
Once you've decided on your approach to answering the question, you should be able to form a pretty solid plan for the body of the essay.
Write out three to five key points that you want to make in your overall argument. Underneath each one, use bullet points to list all the information, supporting arguments (and, better still, any rebuttals you have to popular counter-arguments) or quotes you already have for each point.
Start with the most obvious or all-encompassing argument . This will allow you to progressively go into more detail on each of the smaller arguments – one of the keys to a good essay.
Once you've done this, actually writing the essay should just be a case of bulking out each point and filling in the gaps.
This method is perfect for writing against the clock . It will keep you on track with the essay, and avoid you from feeling confused about what to write next.
And yes, we realise we haven't got around to finding quotes and references yet. But stick with us, there's a good reason for this.
How to write an essay introduction quickly
Time: 11am – 11.45am
Writing all 3,000 words in one go is not easy, so anything you can do to break up the workload is a positive step.
As your intro is unlikely to need many (if any) quotes, it's a good place to start. As soon as you've planned your essay, you'll be able to get a sense of achievement by writing the introduction.
This way, when you sit down after lunch to tackle the main body of the essay, you'll have already knocked a couple of hundred words off the word count.
Don't worry too much about making it sound amazing at this point. Just get stuck into introducing your argument and telling the reader how you'll support it. You can go back and improve it later on when you're at the editing stage.
Create a mini-outline in your introduction so you signpost exactly what it is you're planning to argue.
And don't use the introduction as a space to throw in random references to things that are vaguely relevant, especially if you're just doing it to hit the minimum number of references required. When in doubt, leave it out.
How to find sources for your essay
Time: 11.45am – 1pm
Now it's time to gather the all-important information and quotes to support your arguments.
It's important to limit the time you spend on this to avoid getting distracted by irrelevant info. However, the essay will be easier to write if you're well-informed on the topic, so don't scrimp on the research either.
Choose the keywords you're searching for wisely, and copy and paste any key ideas and quotes you find into a separate 'Research' document.
If you're using reference books rather than online resources, give yourself an extra 10 minutes to get anything that looks useful from the library. And, although it sounds obvious, remember to use the index.
Where to look for quotes online
Google Scholar is a great place to find direct quotes without spending time going through endless paragraphs.
Of course, your best bet will be any references that you've picked up in your lecture notes . Even if you haven't noted down the names, look through the lecture slides (if your lecturer is kind enough to put them online) and see if they contain any gems.
Go straight to the source and check to see whether the lecturer has published a list of advised reading on your module's online platform .
While you gather quotes, keep a note of your sources and format them for your bibliography.
This helps you avoid any risk of accidental plagiarism, but compiling your list of citations as you work saves having to do them all at the end (the last thing you want after writing 3,000 words).
Extra referencing tips
Say you're reading a text by Author A, which includes references to quotes by Authors B, C and D. Rather than referencing the text by Author A, use the quotes from Authors B, C and D and use the bibliography from Author A to find the references to use for B, C and D.
Aside from being how you're supposed to reference anyway, it has the added benefit of adding three sources to your bibliography instead of just the one.
Also, if you're using Microsoft Word (2007 or later) to write your essay, make use of the automatic referencing system .
Simply enter the details of sources as you go along, and it will automatically create a perfect bibliography or works cited page at the end. This tool is amazing and could save you a lot of extra work typing out your references and bibliography.
Writing your essay
Time: 1.45pm – 6pm
You've had your brain-fuelling lunch , and now it's time to write the 3,000 word essay. With your detailed plan, it should just be a case of expanding on the points you've already listed.
If you struggle to word your ideas in an eloquent way, focus first on getting all of your content down.
You can refine the wording at the editing stage , and it's much easier to think about style once you've typed up everything you want to say first.
While your essay plan should see you through, there's nothing to say that more ideas won't occur to you as you go along.
Unless they absolutely have to be included, jot them down on a notepad. They could come in handy if you need to make up the word count later.
How to reach the word count
Use the research you gathered earlier to support the key ideas you set out in your outline, but don't ramble for the sake of it. Try to be concise and have faith that the strength of your arguments will take you to around 2,500(ish) words.
Imagine your essay is a bit like a kebab stick: the meat is your essential argument and you surround each chunk with vegetables (quotes and remarks) to make the full kebab... We can't wait for dinner at 6pm.
If you're struggling to reach the word limit, don't panic .
Pick out a single point in your argument that hasn't been fully built upon yet, and head back to your research. There will almost certainly be an additional quote or two that you could throw in to make your point even clearer.
Of course, if you're using a lot of quotes from other sources, make sure you paraphrase your main arguments to give the essay your own voice and make it clear which words are yours and which are someone else's. Plagiarism is serious and all your hard work could be completely discounted if you don't cite properly!
Your conclusion shouldn't take too long at all. You're basically summarising the arguments you've spent the last few hours detailing, and explaining how they all tie together to support your overall response to the essay question.
Editing your essay to perfection
Credit: Atanas Bezov - Shutterstock
Time: 6.45pm – 10.30pm
We've allowed 3 hours and 45 minutes for editing your essay, which might sound a bit excessive. For some of you, it will be.
If you're blessed with the ability to write immaculately and at speed, you may not need this long to edit your essay.
Although, as we touched on earlier, not everyone can get their ideas written down and do it eloquently all in one go. If this is you, then take the time to refine what you've produced and make sure it gets full marks for written communication .
However long you're taking, you should still check that your essay flows nicely.
Are your paragraphs linked? Does it all make sense? Do a quick spell check and make sure you have time for potential printer issues (if your uni still requires you to provide a paper copy). We've all been there.
A lot of students overlook the importance of spelling and grammar. It differs from uni to uni, subject to subject and tutor to tutor, but generally your writing style, spelling and grammar can account for up to 10% – 20% of your grade .
Finally, ensure that all the points you wanted to explore are on paper (or screen) and explained fully. Are all of your facts correct? Make things wordier (or more concise, depending on your circumstance) in order to hit your word limit.
Time to get started
While starting essays a day before the deadline is far from recommended and unlikely to get you the best grades , this guide should at least prevent tears in the library (been there) and the need for any extensions.
Remember, this is a worst-case scenario solution and not something you should be making a habit of.
Exams coming up? You may want to bookmark  how to revise in one day too...
what are other people reading?
Best study snacks to help you revise
How to choose a university and the right degree
10 ways to take better lecture notes
How to get a first class degree
Free money cheat sheet.
Weekly deals, guides + free cheat sheet. Privacy policy
This is genuinely brilliant I have been in this situation a few times and this is exactly the best process I wish I had seen this as an undergraduate. I think actual writing time is a bit optimistic in truth it would be an all-nighter and I have always worked better with less food. A belly full of porridge would send me back to bed but I'm a hefty bloke and missing a meal wont kill me.
Anyway, back to the dissertation, 14000 words to go, still have 5 weeks though.
me reading this, is me procrastinating my assignment that was due 3 days
Jake Alexander Murray
This is one excellent article! I've referred back to this specific website (article) over for the past 2 years and it works wonderfully! Thank you for updating it!
For one of my finals, we actually have to write a 3500 words essay in 24 hours... We will get the topic at 10am on a Tuesday, and have to hand it back at 10am the day after... so, it's not a bug, it's a feature
some great tips
Here goes nothing! 3000 words in a day (and maybe handing it in a day late if I cant finish in time and copping the 5% deduction).
This is bullshit. I have a 10,000 word essay due tomorrow. I fucked up by leaving it to the last minute, but the time required to research the content spans a couple of weeks.
I am a medical student, and I have to write an essay about cancer. God knows how I even got into medical school.
Literally a God send! Just written out my plan for my essay on the political implications of the Italian Renaissance- Really don't want to start but I have a plan now and feel more motivated. Kind of.
Jake Butler
You can do it!!!
But I have only 6hours left to complete my essay, and it must be a very long one. What should I do? I got the outline, but seems not provide plenty information to write. God...I'm panic, procrastinated and stressed. ;|
Honestly, I can't get anything done without the thought that it needs to be in!
Did most essays last year within the last week and passed with flying colours... The one I took my time over and worked on for over a month I had to re-submit because I failed first time.
With the flood in Cumbria this year it's been easier to stretch myself out a little rather than drag myself through 16 hour periods of writing each day as we were given extentions. Hopefully, these ones will be graded even higher because although there's still pressure, I am able to re-write them in a more academic style (yay thesaurus!!!)
I'm doing this now. I'm so scared I wanna cry.
Doing this right now have 1 more week to do 10000 words. Done most of the prep, with kids, work etc...goodness knows how it's going to get done...but it will. Hard part will be editing
deadline in a couple days, going to bash it out tomorrow using this, fingers crossed it works!!
16,000 words 6 days. 3 night shifts. Urgh. Thanks for this though!
Will use this guide twice until friday! then no lectures till 21st, Challenge accepted!
I thrive on pressure and find it easier to write and concentrate within the last 24hrs before submission. Remember " Anything is Possible"! You can do it. MSc essay completed within 2 days fully researched and handed in with 10 minutes to go. Received a Merit grade! Push yourself!
could have started earlier and got a distinction* / 1st class
Doing this right now... the feeling of freedom once you've finished the essay though... and then instantly forgetting half the stuff you wrote about!
I do that all the time LOL
Yes this guide is Awesome! thanks.
scribbledoutname
Oh, and thanks, this is really helpful >:)
Challenge accepted.
Ask us a question or share your thoughts!
Tweet @savethestudent - Facebook Message - Email
Summer School 2023 is filling up fast. Enrol online now or call +44 1865 954800 to book your place

20 Top Tips for Writing an Essay in a Hurry
In an ideal situation, you'd have all the time in the world to write a great essay, but sadly it doesn't always work out that way. There will always be times when you're required to write an essay uncomfortably quickly, whether because of a tight deadline imposed by a teacher, or because you've been so busy that the essay has ended up being put off until the last minute. However, it is possible to produce a good piece of work even when very pushed for time, and in this article, we're going to show you how.
1. Adopt the right mindset
Before you start writing, it's crucial to get yourself into the right mindset. You may be experiencing feelings of panic, feeling as though you don't have enough time and you can't do it. You may feel defeated before you've even begun. To be successful, however, you will need to banish these negative feelings . It's vital to be positive, to try to relish the challenge, and to adopt a 'can-do' attitude. If it helps, imagine it's a battle that you're going to win. Give yourself a pep talk, and keep the end goal in mind: you're going to do a great job and impress your teacher. You're going to prove to yourself that you can take on this challenge, enjoy it, and write an essay in record time. Take a deep breath, remain calm, and start to attack the work systematically and logically.
2. Switch off your phone and social networks
The last thing you need when you only have a couple of hours to write an essay is to get distracted by your phone or social networks, which have a habit of eating away at your time without you even realising. Procrastination isn't an option at this late stage, so it's time to ban yourself from your phone, Facebook, Twitter, WhatsApp, iPlayer, YouTube, and anything else you think might distract you. Sit somewhere quiet and put a Do Not Disturb sign on the door. If it helps, install a full-screen text editor onto your computer, such as Darkroom , to force yourself to look at your essay and only your essay. You can also get browser apps that keep you off social networks for a time period of your choosing.
3. Type your essay rather than handwriting it
Most young people these days type faster than they write by hand, so unless you've been told that you must handwrite your essay, type it. This will make it much easier to edit what you've written and change things around, and you'll be able to get more words in through typing quickly. It's probably also going to be easier for your teacher to read a typed document than your handwriting, and you won't suffer an achy arm that could slow you down, so that's an added bonus.
4. Read the question carefully
When you're in a rush, it can be easy to skim over the question and think you've understood it – only for you to realise, after writing most of the essay, that you got the wrong end of the stick and it's too late to change it. This is particularly hazardous when you're under pressure, because your brain has a tendency to see what it wants to see; it may tell you that the title is asking a question that you want to answer , while the reality might be subtly but crucially different. So, start by reading the question very carefully and ensuring you've completely understood what it's asking you to do. If it helps, underline key instructional words in the title, such as "compare" or "analyse". This forces your mind to focus on the right kind of task, so you write the essay with this in mind.
5. Get your books ready
Prepare your workspace by opening the books you'll need to use on relevant pages, or putting Post-It notes in them to mark where relevant information is. This means you won't have to keep wasting precious time hunting through books to find the information each time you need to refer to it.
6. Sum up your argument in a sentence
To get yourself thinking clearly about what you're going to be writing, see if you can sum up what your argument is going to be in a single sentence – a bit like an ' elevator pitch '. If you can't do this, the chances are that you don't quite know what you want to say, with the result that you may end up waffling in your essay, thereby wasting valuable time. It's important to set out with a clear idea of what your argument is, because then everything you write subsequently will be working towards the goal of getting this particular argument across. Of course, don't spend too long on this and end up with not enough time to write the actual essay!
7. Write your notes directly into the document
When you're in a hurry, your notes can double up as an essay plan, killing two birds with one stone. Start by typing your essay notes directly into the document you've created for your essay. This could be bullet points or one-sentence summaries of what you want to write in each paragraph. For each point, also include a line or two on what evidence you're going to use in support. Once you've done this, organise the notes into a sensible structure by dragging and dropping paragraphs into an order you think works. This becomes your detailed essay plan.
8. Then rewrite your notes into an essay with an argument
You now have the outline of your essay in note form. You can now turn your notes into an essay by rewriting them into academic prose, complete with 'filler' sentences that glue it all together and help build your argument.
9. Save the introduction and conclusion for last
Perhaps surprisingly, the introduction and conclusion of an essay are often the hardest bits to write. So, save these for last. By the time you've written the body of the essay, the task of writing the introduction and a summarising conclusion should be much easier, as you'll already have spent plenty of time on your argument and you'll be very familiar with it.
10. Do the references as you go along
If you're required to add references and a bibliography to your essay, do these as you go along to save time. Each time you quote someone, add in a footnote saying where the quote is from, and at the same time, copy and paste the details of the book into a bibliography at the end of your document.
11. Proofread as you go along
Save time on proofreading by checking over each sentence or paragraph for spelling, grammar and typos as you write it. When you've finished writing, it's still worth having a quick final read through your essay for a sense check and to ensure that it flows well – but this should take less time now that you've already checked for errors.
12. Don't be tempted to copy and paste
The internet is full of resources that probably exactly match what you're going to be writing about, and when you're in a hurry, there can be a strong temptation to copy and paste useful paragraphs into your essay. Don't ever do this! Plagiarism is not only immoral, but it also means that you won't learn the topic in as much depth – and the whole point of writing an essay is to consolidate what you've learned and prepare you adequately for future exams. Teachers can use Google too, and if they suspect that you've stolen someone else's work by copying and pasting something off the internet, all they need to do is type one of 'your' sentences in Google and they'll instantly find where you've got it from. It's normally easy to spot copied work, because the style will be different from the rest of the essay. It's just not worth the risk, as you'll lose your teacher's trust and this will probably be reflected in the quality of the reference they give you for university.
13. Try not to over-quote
A common tactic by students pushed for time is to use too many quotes – or very long passages – from other people (scholars, sources and so on) to bolster the word count and reduce the amount of writing they actually have to do themselves. Try to avoid doing this if you can; it's a transparent tactic and shows that you haven't fully mastered the subject yourself, so you have to resort to hiding behind the words of others. The vast majority of the writing in the essay should be your own. Short quotes here and there, accompanied by your commentary on them, are a good thing; lots of long quotes that take up much of the essay, with little explanation from you, are not.
14. Keep your style concise
You're not going to have time for long-winded sentences, so keep your written style as concise as possible. There's nothing wrong with being short and to the point in your sentences, providing it adequately conveys what you want the essay to convey. Being economical with words will ensure that you express yourself clearly as well as saving you time, so it's a good idea all round.
15. Try a change of scene
If you're struggling to concentrate on writing your essay in your normal work space, a change of scene might be just what you need to focus your mind. If you normally work at home, try heading to the library or a local coffee shop to see if you can work any better there. If you're distracted by noise at home, try some noise-cancelling headphones or simply put some music on.
16. Take a break (but only if you feel you need one)
It sounds counterintuitive when you're pushed for time, but taking short breaks from time to time will stop you running out of energy and keep you focused. If you have two hours to write the essay, for instance, take a break for five minutes after you've worked for an hour. That said, if you're really 'in the zone' and working efficiently, and you don't feel you need a break, just work straight through and take advantage of your spate of productivity for as long as it lasts.
17. Don't bother with the usual tricks
Many students try to trick their teacher into thinking that their essay is longer than it really is by widening the margins, selecting a bigger font and using wider line spacing. Your teacher will see straight through this, and it might irritate them – so don't bother!
18. It's OK to use Google for quick research
While Google is no substitute for reading what you've been told to read, it can be useful for quick definitions or getting to grips with something you're struggling with at the last minute. Don't rely on it, by any means, but if you're writing your essay and haven't quite understood something in class, a quick Google search should enable you to acquire the level of understanding you need.
19. Keep hydrated and fed
Make sure you drink plenty of water while you're writing, as this will help you stay alert. You may also want to equip yourself with some snacks to keep you going, as this can make the process of writing an essay more bearable as well as maintaining your energy levels.
20. Reward yourself
Give yourself something to look forward to once you've finished the essay, as this will help to motivate you to complete it. It could be a chocolate bar, the promise of watching an episode of your favourite television show, or an evening out with friends – anything that will provide sufficient incentive to get your essay finished. You've worked intensively and have a great essay to show for it, so you deserve a reward!
Image credits:  typing
Leave a Reply Cancel reply
Your email address will not be published. Required fields are marked *
Save my name, email, and website in this browser for the next time I comment.