The Year of Endurance
Hope and uncertainty amid a pandemic that wouldn't end.
In 2021, the pandemic forced us all to think hard about who we do and don't trust
Introduction by david rowell.
As a nation, we are supposed to be built around trust. Look at the back of the bills in your wallet. "In God We Trust."
Trust the system.
Trust yourself.
Trust but verify.
Trust your instincts.
Love may be the emotion we like to think ultimately propels us, but it's trust that informs how we go about our daily lives. And yet. Our level of trust, our very foundation, has been crumbling for a long time now. Scandals, abuse and corruption in the major pillars of our society — religious institutions, education, business, military, government, health care, law enforcement, even the sports world — have made us a wary people.
When the pandemic came, first as murmurs that were easy to tune out, then as an unbounded crisis we couldn't tune into enough, our relationship to trust was newly infected with something we didn't fully understand. And before long, who and what we trusted — or didn't — in the form of elected leaders, scientists and doctors became one more cause of death here and all over the world. In this way, distrust was a kind of pandemic itself: widely contagious and passed by the mouth.
As the first American casualties of covid-19 were announced, President Trump kept insisting it would disappear "with the heat" or "at the end of the month" or "without a vaccine." Like a disgraced, fringe science teacher, he entertained this idea at one coronavirus news conference: "I see the disinfectant that knocks it out in a minute, one minute. And is there a way we can do something like that by injection inside, or almost a cleaning?" With leadership like this, the country was receiving an injection — of chaos.
The pandemic ripped through the rest of 2020, and America was not only more splintered than ever, but also a dangerous place to be. Some politicians declared to the public, "I trust the science," as if that were an unprecedented and heroic stance.
As we navigated our way into 2021, questions about what to believe led — painfully and predictably — to doubts about the most reliable way we had to stay safe: wearing masks. With the return to schools looming, the debate about masks and children — masks as protectors, or masks as educational folly — played out like a plague of rants. No one seemed to trust others to do the right thing anymore, whatever that was. By summer's end, trust felt like the latest variant to avoid.
Trust takes lots of forms, but can we actually see it in a photograph the way we can identify a cloud or a wave, or an overt moment of joy or sadness? The photo essays that follow capture a full tableau of human responses in year two of the pandemic — trepidation, but also a sense of renewal; celebration, but caution as well. And despite rancor and confusion still being in as steady supply as the vaccine itself, the permutations of trust have their own presence here, too, if we're open enough to seeing them.
When Jay Wescott went on tour with rock band Candlebox, he was documenting one of the many performing acts that returned to the road this summer, after the long hiatus. On tour there's a lot variables you can control, and just as many, if not more, that you can't — and in the time of covid, control and trust form their own essential but perilous interplay. The picture of the band's drummer, Robin Diaz, who is vaccinated but unmasked, setting up his kit in such proximity to road manager Carlos Novais, vaccinated and masked, not only captures that still-odd dynamic that goes into making any live performance happen right now; it is also a welcome contrast to all the images of masked and unmasked protesters screaming at each other about what and whom to trust. On tour with Candlebox, Westcott observed how trust is carrying the band forward, creating harmonies on and off the stage.
Much farther away, in Michael Robinson Chavez's pictures from Sicily, we bear witness to religious celebrations as part of saint's days, which were canceled last year because of the pandemic. The celebrations resumed, though stripped down, this September, with vaccines readily available, but then, as Chavez notes, the people of Sicily were vaccinated at lower numbers than those in other regions of the country. In one image, we see a tuba player, his mask down below his chin as he blows his notes out into the world. Behind him are masked adults and maskless children. And, perhaps all through the festival, a trust in God to watch over them.
Lucía Vázquez trained her lens on the eager crowds of young women who descended upon Miami, a city known for its own style of carnival-type celebrations, though decidedly less holy ones. These women have left masks out of their outfits and are trusting something not quite scientific and not quite political, but more personal: their guts. Such a calculation comes down to a conviction that either you won't get the coronavirus, or, if you do, you'll survive. It means placing a lot of trust in yourself.
As a visual meditation, the pictures in this issue offer a portrait of a historical moment in which trust and distrust have defined us. Ultimately, the photographs that follow, reflecting various realities of the pandemic, are tinted with hope that we can reclaim our lives. Not exactly as they were in the past, but in a way that still resembles how we had once imagined them for the future. These images remind us that even in our fractured, confused and suffering world, it remains possible that where we can find trust again, we can be healed.
Ready to Rock
Unmasked fans and mayflies: on tour with the band candlebox, text and photographs by jay westcott.
I n February 2020, after a dear friend passed away (not from covid), all I could think about was getting on the road with a band so I could lose myself in the work and create something that would bring joy to people. The world had other plans, though.
Sixteen months later, I headed out on tour with Candlebox. Almost 30 years has passed since the Seattle hard-rock group released its debut album and saw it sell more than 4 million copies. Frontman Kevin Martin and his current lineup invited me along to document the first part of their tour. I packed up my gear, drove west, and met the band at Soundcheck, a rehearsal and gear storage facility in Nashville, as they prepared for the tour.
Whenever people learn that I photograph musicians, inevitably they ask me what it's like on a tour bus. I tell people it's like camping with your co-workers from the office where you all sleep in the same tent. For weeks on end. That sours their midlife fantasies about digging out that guitar from the garage and hitting the road to become a rock star.
The people who do tour and play music, build the sets, mix the sound, sell the merch and lug the gear night after night are some of the hardest-working people I've ever met. They are a special breed of artists, deep thinkers, poets, masters of their instruments. Music has the ability to make you move and stop you in your tracks, to change your mood, make you smile, cry, think. The goal is the same: Put on a great show. Every night. Play like it could be your last show.
It's easy to sit back and armchair quarterback on social media about the risks of holding festivals and rock concerts amid the pandemic, but this is what people do for a living. Few people buy albums or CDs or even download music anymore. It's all about streaming and grabbing viewers on social media now. Touring and merch sales are about the only way musicians have to make money these days. Music is meant to be performed in front of people, a shared experience. With everybody on the bus vaccinated and ready to go, we headed to Louisville for the first of a 49-show run.
The crowd of mostly older millennials and GenXers were ready for a rock show. They knew all the words to the hits in the set — especially Candlebox's mega-hit from the '90s, "Far Behind" — and were into the band's new songs too. It felt good. Then came the mayflies, in massive swarms.
The next stop on the tour was a festival along the Mississippi River in Iowa. I was up early, and as soon as we pulled in you could see mayflies dancing in the air all around us. As the day wore on, the flies intensified, and by nightfall any kind of light revealed hundreds upon hundreds of them, dancing in their own way like the crowd of unmasked fans below them. Also there were Confederate flags everywhere. Boats tied together on the river flew Trump flags in the warm summer breeze.
I was asleep when we crossed the river and made our way to St. Louis, the third stop on the tour and my last with the band. A great crowd: Close your eyes and you can easily picture yourself at Woodstock '94. But it's 2021 and Kevin Martin and company are still here.
Jay Westcott is a photographer in Arlington.
'He Gave Me Life'
A cuban single mother reflects on isolation with her son, text and photographs by natalia favre.
S ingle mother Ara Santana Romero, 30, and her 11-year-old son, Camilo, have spent the past year and a half practically isolated in their Havana apartment. Just before the pandemic started, Camilo had achieved his biggest dream, getting accepted into music school. Two weeks after classes began, the schools closed and his classes were only televised. A return to the classroom was expected for mid-November, at which point all the children were scheduled to be vaccinated. According to a UNICEF analysis, since the beginning of the pandemic, 139 million children around the world have lived under compulsory home confinement for at least nine months.
Before the pandemic, Ara had undertaken several projects organizing literary events for students. After Havana went into quarantine and Camilo had to stay home, her days consisted mainly of getting food, looking after her son and doing housework. As a single mother with no help, she has put aside her wishes and aspirations. But Ara told me she never regretted having her son: "He gave me life."
Natalia Favre is a photographer based in Havana.
Life After War in Gaza
A healing period of picnics, weddings and vaccinations, text and photographs by salwan georges.
A s I went from Israel into the Gaza Strip, I realized I was the only person crossing the border checkpoint that day. But I immediately saw that streets were vibrant with people shopping and wending through heavy traffic. There are hardly any working traffic lights in Gaza City, so drivers wave their hands out their windows to alert others to let them pass.
Despite the liveliness, recent trauma lingered in the air: In May, Israeli airstrikes destroyed several buildings and at least 264 Palestinians died. The fighting came after thousands of rockets were fired from Gaza into Israel, where at least 16 people died. Workers were still cleaning up when I visited in late August, some of them recycling rubble — such as metal from foundations — to use for rebuilding.
I visited the city of Beit Hanoun, which was heavily damaged. I met Ibrahim, whose apartment was nearly destroyed, and as I looked out from a hole in his living room, I saw children gathered to play a game. Nearby there is a sports complex next to a school. Young people were playing soccer.
Back in Gaza City, families come every night to Union Soldier Park to eat, shop and play. Children and their parents were awaiting their turn to pay for a ride on an electric bike decorated with LED lights. In another part of town, not too far away, the bazaar and the markets were filled ahead of the weekend.
The beach in Gaza City is the most popular destination for locals, particularly because the Israeli government, which occupies the territory, generally does not allow them to leave Gaza. Families picnicked in the late afternoon and then stayed to watch their kids swim until after sunset. One of the local traditions when someone gets married is to parade down the middle of a beachfront road so the groom can dance with relatives and friends.
Amid the activities, I noticed that many people were not wearing face coverings, and I learned that the coronavirus vaccination rate is low. The health department started placing posters around the city to urge vaccination and set up a weekly lottery to award money to those who get immunized.
I also attended the funeral of a boy named Omar Abu al-Nil, who was wounded by the Israeli army — probably by a bullet — during one of the frequent protests at the border. He later died at the hospital from his wounds. More than 100 people attended, mainly men. They carried Omar to the cemetery and buried him as his father watched.
Salwan Georges is a Washington Post staff photographer.
Beyond the Numbers
At home, i constructed a photo diary to show the pandemic's human toll, text and photographs by beth galton.
I n March 2020, while the coronavirus began its universal spread, my world in New York City became my apartment. I knew that to keep safe I wouldn't be able to access my studio, so I brought my camera home and constructed a small studio next to a window.
I began my days looking at the New York Times and The Washington Post online, hoping to find a glimmer of positive news. What I found and became obsessed with were the maps, charts and headlines, all of which were tracking the coronavirus's spread. I printed them out to see how the disease had multiplied and moved, soon realizing that each of these little visual changes affected millions of people. With time, photographs of people who had died began to appear in the news. Grids of faces filled the screen; many died alone, without family or friends beside them.
This series reflects my emotions and thoughts through the past year and a half. By photographing data and images, combined with botanicals, my intent was to speak to the humanity of those affected by this pandemic. I used motion in the images to help convey the chaos and apprehensions we were all experiencing. I now see that this assemblage is a visual diary of my life during the pandemic.
Beth Galton is a photographer in New York.
Finding Hope in Seclusion
A self-described sickle cell warrior must stay home to keep safe, text and photographs by endia beal.
O nyekachukwu Onochie, who goes by Onyeka, is a 28-year-old African American woman born with sickle cell anemia. She describes herself as a sickle cell warrior who lives each day like it's her last. "When I was younger," she told me, "I thought I would live until my mid-20s because I knew other people with sickle cell that died in their 20s."
The Centers for Disease Control and Prevention describes sickle cell anemia as an inherited red blood cell disorder that causes those cells to become hard and sticky, and appear C-shaped. Healthy red blood cells are round and move through small blood vessels to carry oxygen, whereas sickle cells die earlier and transport less oxygen. The disorder can cause debilitating pain and organ failure.
In June 2020, Onyeka began preparing her body for a stem cell transplant — a new treatment — and underwent the procedure in April. She is now home in Winston-Salem, N.C., recovering from the transplant. Despite the positive results thus far, Onyeka's immune system is compromised and she is at greater risk of severe illness or death from viruses.
I asked about her life during the pandemic. She told me: "My new normal includes video chat lunch dates. I have more energy now than ever before, but I have to stay indoors to protect myself from airborne viruses, among other things." Onyeka believes she has been given a new life with endless possibilities — even though she is temporarily homebound.
Endia Beal is an artist based in Winston-Salem, N.C.
Baker's Choice
A fun-loving, self-taught baker decides to open her shop despite the pandemic, text and photographs by marvin joseph.
T iffany Lightfoot is the owner and founder of My Cake Theory, where she merges her love of fashion with her gifts as a baker. Undaunted by the pandemic, she opened her first brick-and-mortar shop on Capitol Hill last year. Lightfoot, 41, combined the skills she learned as a student at the Fashion Institute of Technology with dozens of hours watching the Food Network and YouTube videos — and spun her self-taught baking into a business. With these photographs I wanted to show how much fun she has baking — while building a career she clearly loves.
Marvin Joseph is a Washington Post staff photographer.
Leap of Faith
Despite low vaccination rates, sicilians resume religious parades, text and photographs by michael robinson chavez.
T he island of Sicily has been overrun and conquered by numerous empires and civilizations. The year 2020 brought a new and deadly conqueror, the coronavirus. The lockdown was absolute — even church doors were shut tight. But in 2021, Sicilians brought life and traditions back to their streets.
Saint's days, or festas, are important events on the Sicilian calendar. Last year, for the first time in more than a century, some towns canceled their festas. The arrival of vaccines this year seemed to offer hope that the processions would once again march down the ancient streets. However, a surge in summer tourism, while helping the local economy, also boosted the coronavirus infection rate.
Sicily has the lowest vaccination rate in Italy. Nevertheless, scaled-down celebrations have reappeared in the island's streets. In the capital city of Palermo, residents gathered for the festa honoring the Maria della Mercede (Madonna of Mercy), which dates to the 16th century. Children were hoisted aloft to be blessed by the Virgin as a marching band played in a small piazza fronting the church that bears her name. Local bishops did not permit the normal procession because of the pandemic, so local children had their own, carrying a cardboard re-creation of the Virgin through the labyrinth of the famous Il Capo district's narrow streets.
As the fireworks blossomed overhead and the marching band played on, it was easy to see that Sicilians were embracing a centuries-old tradition that seems certain to last for many more to come.
Michael Robinson Chavez is a Washington Post staff photographer.
Defiant Glamour
After long months of covid confinement, a fearless return to 2019 in miami beach, text and photographs by lucía vázquez.
O n Miami Beach's Ocean Drive I've seen drunk girls hitting other drunk girls, and I've seen men high on whatever they could afford, zombie-walking with their mouths and eyes wide open amid the tourists. I've seen partyers sprawled on the pavement just a few feet from the Villa Casa Casuarina, the former Versace mansion.
I've seen groups of women wearing fake eyelashes as long and thick as a broom, and flashing miniature bras, and smoking marijuana by a palm tree in the park, next to families going to the beach. I've seen five girls standing on the back of a white open-air Jeep twerking in their underwear toward the street.
My photographs, taken in August, capture South Beach immersed in this untamed party mood with the menace of the delta variant as backdrop. They document young women enjoying the summer after more than a year of confinement. Traveling from around the country, they made the most of their return to social life by showing off their style and skin, wearing their boldest party attire. I was drawn to the fearlessness of their outfits and their confidence; I wanted to show how these women identify themselves and wish to be perceived, a year and a half after covid-19 changed the world.
Lucía Vázquez is a journalist and photographer based in New York and Buenos Aires.
A Giving Spirit
'this pandemic has taught me to be even closer to my family and friends', text and photographs by octavio jones.
M arlise Tolbert-Jones, who works part time for an air conditioning company in Tampa, spends most of her time caring for her 91-year-old father, Rudolph Tolbert, and her aunt Frances Pascoe, who is 89. Marlise visits them daily to make sure they're eating a good breakfast and taking their medications. In addition to being a caregiver, Marlise, 57, volunteers for a local nonprofit food pantry, where she helps distribute groceries for families. Also, she volunteers at her church's food pantry, where food is distributed every Saturday morning.
"I'm doing this because of my [late] mother, who would want me to be there for the family and the community," she told me. "I've had my struggles. I've been down before, but God has just kept me stable and given me the strength to keep going. This pandemic has taught me to be even closer to my family and friends."
Octavio Jones is an independent photojournalist based in Tampa.
First, people paused. Then they took stock. Then they persevered.
Text and photographs by anastassia whitty.
W e all know the pandemic has challenged people and altered daily routines. I created this photo essay to highlight the perspectives and experiences of everyday people, specifically African Americans: What does their "new normal" look like? I also wanted to demonstrate how they were able to persevere. One such person is Maria J. Hackett, 30, a Brooklyn photographer, dancer and mother of a daughter, NiNi. Both are featured on the cover.
I asked Maria her thoughts on what the pandemic has meant for her. "Quarantine opened up an opportunity to live in a way that was more healthy while taking on much-needed deep healing," she told me. "It was my mental and emotional health that began breaking me down physically. ... I put things to a stop as my health began to deteriorate. I decided I will no longer chase money — but stay true to my art, plan and trust that things will come together in a healthier way for us. I focused more on letting my daughter guide us and on her remaining happy with her activities and social life."
"Enrolling her in camps and classes like dance and gymnastics led me to develop a schedule and routine," Maria explained, "opening room for me to complete my first dance residency in my return to exploration of movement. I made time to share what I know with her and what she knows with me."
Jasmine Hamilton of Long Island, 32, talked in similiar terms. She too became more focused on mental health and fitness. She told me: "The pandemic has demonstrated that life is short and valuable, so I'm more open to creating new experiences."
Anastassia Whitty is a photographer based in New York.
About this story
Photo editing by Dudley M. Brooks and Chloe Coleman. Design and development by Audrey Valbuena. Design editing by Suzette Moyer and Christian Font. Editing by Rich Leiby. Copy editing by Jennifer Abella and Angie Wu.
More From Forbes
22 remarkable professional photo finalists of 2022 sony world photography awards.
Share to Facebook
Share to Twitter
Share to Linkedin
Rock and Faith, Professional competition, Portraiture, Shortlist
The World Photography Organization has released the striking finalists and short-listed images in the Professional category competition for the 2022 Sony World Photography Awards Photographer of the Year — photos that were chosen from more than 156,000 submissions, a new record in the history of the prestigious award now in its 15th year.
Evocative portraits, wild foxes at night, the aftermath of wildfires and unforgettable photos of the U.S. Capitol riot are among the finalist competing this year for the free-to-enter Professional competition honoring the technical excellence and a fresh perspective on contemporary subjects by some of the world's most talented photographers.
The 2022 Sony World Photography Awards rewards the photographers' body of work of several images in 10 categories: Architecture & Design, Wildlife & Nature, Creative, Documentary Projects, Environment, Landscape, Portfolio, Portraiture, Sports and Still Life.
"The Sony World Photography Awards 2022 finalists and shortlisted shots are as diverse, challenging and, I believe, as powerful as ever," said jury chairperson Mike Trow. "The standard of work in the Professional competition surprised me in its depth and variety. At points, we all may have felt that the ongoing Covid crisis meant that the world had shut down, but when reviewing these projects it is clear nothing could be further from the truth."
Best Tax Software Of 2022
Best tax software for the self-employed of 2022, income tax calculator: estimate your taxes.
The winning Photographer of the Year 2022, chosen from the Professional finalists, takes a $25,000 prize and, along with the winners of other World Photography competitions, will be announced on April 12.
A selection of images by finalists and shortlisted photographers will be exhibited at London's Somerset House from April 13 to May 2, 2022.
The photo above is one of' Rock and Faith' by Areshina Nadezhda, a visual story dedicated to the Old Ritualist settlements in Russia's Altay mountains. The members of these communities profess the 'true faith', a form of worship that existed before reform was introduced to the Russian Orthodox Church in the 17th century.
Kuarup , Professional competition, Sports, Finalist
The Kuarup is a ritual of the Xingu Indigenous Brazilian to honor the illustrious dead. It serves as the farewell and closing of a mourning period.
The celebration takes place once a year in different villages and lasts for three days. The highlight of this celebration is a competition of a martial art called Huka-huka, similar to the Greco-Roman wrestling fight, which has competitive symbolism that shows the strength and virility of young men. This photo is one of series taken during a Kuarup celebration in the Afukuri village of the Kuikuro ethnic group. This year's ritual honored those who died from 2020 to 2021. Four of five were victims of Covid-19.
Wildlife And Landscapes
The Fox's Tale, Professional competition, Wildlife & Nature, Finalist
"Over eight months, I spent almost every night sitting at the window of my cottage in the middle of the forest – where wild animals live almost as neighbours of the villagers," the photographer explains. "The young vixen appears in the village after dusk and goes around for an hour and a half. I named her Roxy. She always surprises me, showing a new side and I have had to solve many technical and physical challenges in the process of photographing her. During lockdown, both sides were forced to adjust: man to the wilds of the forest; animals to the human environment.
Tree, Professional competition, Landscape, Finalist
"The 'Tree' project was born of the Covid-19 lockdown," the photographer explains. "Unable to photograph people, I turned to my love of trees, inspired by my home county of Wiltshire, where the distinctive landscape features many knolls with lone trees raised above the horizon line. I chose to photograph against dusk skies and lit the trees with drones to create an otherworldly impression."
Absolute Beginner, Wildlife & Nature, Professional competition, Finalist
"This image is part of the 'Absolute Beginner' series "documenting the tragic beauty of disruptions to nature happening before our eyes," the photographer says. "The shots, taken in my local area, are meant to draw attention to the esoteric signs that nature gives us at every step."
Red Beds, Professional Competition, Landscape, Shortlist
Developed during the Jurassic and Tertiary period, this is a red rock system in the Himalayan orogeny. With the uplift of the Earth's crust, the hillside retreated – mainly colapsing. The remaining red sandstone formed after long-term weathering, exfoliation and water erosion, resulting in strange rocks and stones.
Human Activities
Insurrection, Professional competition, Documentary Projects, Finalist
Following a 'Save America' rally held by President Donald Trump, a mob of thousands of his supporters descended on the U.S. Capitol and fought their way into the building on January 6, 2021.
Jacob Chansley, also known as the Qanon shaman, cries "Freedom" inside the U.S. Senate chamber in Washington, D.C.
Bushmeat Hunters, Professional competition, Portraiture, Finalist
Expert bushmeat hunter Nkani Mbou Mboudin returns home with an antelope he just shot in the forest near his village close to Lastoursville, Gabon. This village survives on fishing and bushmeat.
Gabon has a sustainable bushmeat culture, largely because of its small population and large protected habitats.
This photo is one of a series of bushmeat-hunter portraits taken in Guyana, Gabon, the Democratic Republic of Congo and the Republic of Congo. These men are seen in an age-old act, bringing animals they have hunted back to their villages. Some of these men are hunting on behalf of other, wealthier men while others are hunting for their families. In all cases, little of what they hunt is consumed in the village. Bushmeat commands a high price, which increases as it gets to major cities.
Tokyo Twenty Twenty, Professional competition, Sport, Finalist
The Tokyo 2020 Olympics and Paralympics were postponed for a year and held under highly unusual circumstances. Athletes and media were kept inside a bubble and tested every day, with no fans to witness the greatest sporting show on earth.
This photo appears in a series the photographer took trying to find unique and challenging angles to minimise the visual impact of not having crowds, fans or atmosphere and also to illustrate the beauty and strength of the athletes. "It was perhaps the most challenging Olympics I have ever been part of," Pretty said, "and I can only imagine what a roller coaster of emotions the athletes were experiencing."
Loyal Fans, Professional competition, Sports, Finalist
Fans of the football club Bohemians Prague 1905 are among the most loyal in the Czech Republic. They've helped the club financially when it was struggling to survive. Their loyalty, zeal and devotion to the club didn't waver even when spectators were banned from watching football matches due to the Covid pandemic. Not wanting to miss a home match under any circumstances, they brought ladders and watched the matches over the wall of the football stadium.
Olympic Wrestling, Professional competition, Sport, Shortlist
"Capturing the wrestling finals at the Tokyo 2020 Olympic Games in August 2021 was one of the highlights of my Games coverage," Kanaris said. "It's one of the original sports from the ancient Olympics and it's a great show of strength, toughness, resilience and skill."
Traditions And Expressions
Caryatis 2021, Professional competition, Portraiture, Finalist
The Caryatis series is a study of Greek women's traditional costumes deriving from different periods in Greece's rich history. This project evolved from Tatakis' previous work, Ethos, which looked at Greek traditions and customs. Each photograph is meticulously staged: Postures, attitudes and even hand placements are all typical of the area from which the costume originates.
Unintended Expression, Professional competition, Portraiture, Shortlist
The "Uninterested Expression" series reflects a person's inner world that can be communicated without words or objects. The portraits don't capture the image the person wants to present to the world but, rather, leaves the viewer to interpret what is happening.
Kabul Street Portraits, Professional competition, Portraiture, Shortlist
"At the beginning of 2021, I started to photograph people in the streets of Kabul," the photographer explains. "Foreign forces were to leave Afghanistan later in the year, and the portraits focused on those who would remain – predominantly, Afghans who sold goods or services in the streets and earned little.
"Everyone I photographed had different expectations for the future. No one expected to be living under the Taliban's strict Islamic rule by the year's end. However, on 15 August 2021, the Taliban seized Afghanistan's capital, and it instantly transformed the portraits into images of a bygone era – one meant to provide hope for Afghans, but which ultimately failed many of them."
By September, nearly the entire country risked sinking into poverty, according to the United Nations, which warned of a "rapid, catastrophic deterioration in the lives of Afghanistan's most vulnerable," including many of those who made a living in the streets.
Endangered Planet
Nemo's Garden, Professional competition, Environment, Finalist
According to the Intergovernmental Panel on Climate Change (IPCC), the desertification wrought by climate change in recent years has already extensively reduced agricultural productivity in many regions of the world.
Agriculture represents 70% of freshwater use around the globe and with the world's population projected to increase to 10 billion by the end of the century, it has become imperative to find alternative and ecologically-sustainable methods of cultivation.
Nemo's Garden is the world's first underwater greenhouse, offering a possible solution.
This completely self-sustainable project explores an alternative farming system that could be implemented in areas where environmental or geo-morphological conditions make the growth of plants almost impossible. The encouraging results of the last few years, where more than 40 different species of plants have been successfully cultivated, gives hope to a sustainable agricultural system.
The Nemo's Garden biospheres seen here from the water surface are located 40 meters off the Noli shore, a small village on the Ligurian coast. Their depth lies between six and 12 meters to enable the plants to draw light for their development. The core of the experiment is to grow terrestrial plants underwater.
Exotic Appetite: Inside the Italian Exotic Animal Trade, Professional competition, Wildlife & ... [+] Nature, Finalist
It's common to think that 'wet markets' exist only in Asian countries. But in Italy, there are also fairs at which thousands of exotic animals are displayed and sold for huge profit.
At these fairs, the animals — including snakes, birds, insects and reptile — are exhibited like goods to be sold to collectors as well as to families. They're often stressed, kept in plastic trays the same size as the animals they contain, and available for anyone to touch. Among the stands, it's not uncommon to find animals that are solitary by nature, forced to live in groups, as well as animals with a strong social nature isolated in plastic boxes.
There's also the question of potential risks to human health.
Markets for wildlife and exotic animals create multiple health risks as they bring together animals from different environments in uncertain health conditions and place them in highly stressful circumstances — a perfect match for diseases and pandemics.
The Long Days of Hanau, Professional competition, Documentary Projects
The racist attack on February 19, 2020, in Hanau, Hessen, shook German society. In the following weeks and months, while the city was still reeling from the shock, solidarity groups and initiatives began forming to support the survivors of the attack. This photograph of one of the survivors appears in a series to bring intimate access to the families and friends affected.
Professional competition, Portfolio, Finalist
The photo is one of a selection of images taken over recent years evoking quiet, isolated, reflective moments during the pandemic.
Migrantes, Professional competition, Portraiture, Finalist
Carlos Soyos, 34, a migrant from Guatemala City, Guatemala, and his son, Enderson Soyos, 8, at the El Buen Samaritano migrants shelter in Juarez, Chihuahua, Mexico on April 28, 2021.
They had been in Juarez for 20 days and traveled by bus. "I want to go to the USA to get medical treatment for my son," Carlos said. "In Guatemala, I couldn't get good treatment because I didn't have the money to pay for it."
Enderson is autistic with West syndrome, tuberous sclerosis. They tried to cross the border once and were caught by border patrol, fingerprinted and deported. "I am going to New York to meet my wife," he said. His wife and two daughters, age 12 and 6, are already in there.
The image is one of a series of self-portraits of migrants in Mexico as they wait to cross the U.S. border. The life of a migrant at the border, waiting for the right moment to cross into the United States, is often in flux.
"To capture a piece of this uncertain journey," Ferguson said, "I mounted a medium format camera on a tripod with a cable release and then stepped back, allowing the migrants to choose the moment of capture and give them agency in the process of documenting their lives."
The Children of the Financial Collapse in Venezuela, Professional competition, Documentary Projects, ... [+] Finalist
The Children of the Financial Collapse in Venezuela series depicts scenes of the desperation and abject poverty of Venezuelan immigrants in Colombia.
Venezuela's economic collapse has left many with no access to emergency aid, shelter, clean drinking water or food. Children pay the highest price.
More than 8.5 million people have crossed the border into Colombia and are in urgent need of help.
Portfolio Entry, Professional competition, Portfolio, Shortlist
The image appears among a set of ten images taken between 2020 and 2021 covering a variety of topics: immigration along the U.S.-Mexico border, the aftermath of Hurricane Ida and fires on the West Coast among others.
Francisco Antonio Navarro, 34, an asylum -seeking migrant from Honduras, cradles his nine-month-old daughter, Megan, from the early-morning cold and wind as they await transport to a processing center after entering Texas via a raft across the Rio Grande River on March 25, 2021.
Over 750 migrants crossed into the U.S. from Mexico in La Joya and nearby areas early morning on March 25, agents on the scene said, and slept along a border road next to farmland for hours before being transported to a Border Patrol processing facility.
Francisco and this family were eventually granted asylum and currently reside with relatives in Mississippi.
Painful Death of Birds, Professional competition, Environment, Shortlist
In recent years, thousands of migratory birds in Iran's Miankaleh Wetland have died from an unknown cause. This image is part of a series on the efforts by environmental groups to collect and bury birds.
Transforming the landscape
Nur Sultan, Professional competition, Architecture & Design, Finalist
Kazakhstan renamed its capital Nur-Sultan in honor of its former president, Nursultan Nazarbayev, who resigned in 2019 after holding power for three decades. Formerly known as Akmola ('white tomb') and later Astana ('the capital'), the city was first designated as the capital by Nazarbayev in 1997, replacing Almaty.
Until then, it was only a remote corner of the former Soviet Union, a region known for its icy climate and for hosting one of Stalin's notorious Gulags. Conceived by Nazarbayev, Nur-Sultan was designed to befit a country rich in minerals and oil. He recruited the talents of renowned architects such as Sir Norman Foster and over time constructed a city of concrete and glass, full of impressive futuristic buildings, huge shopping centers and sports halls.
What was once a forgotten and inhospitable territory is today a city of 800,000 inhabitants, as incredible and eccentric as any of its wealthier neighbors.
Condensed Urban Landscapes, Professional competition, Architecture & Design, Shortlist
Every city has its own unique history and personality. The photographer combines the diverse impressions, discoveries and events of a place into one picture.
The compositions are inspired by vedute of the 17th and 18th centuries, but in a contemporary reality that includes objects of street art, public art, advertising signs and shopping areas as symbols of everyday urban life.
Using digital collage techniques to merge a large number of individual images, cityscapes turn into something between documentation and staging. All single photos were taken in Spain, Malaysia, Singapore, Vietnam, Morocco and Germany.
Editorial Standards
Reprints & Permissions
Ten examples of immersive photo essays
Marissa Sapega
Photo essays are one of the most powerful forms of storytelling in the last century. From the great depression photographer W. Eugene Smith to the photojournalism of National Geographic or Life Magazine , the best photo essays entertain, educate, and move readers more than words alone ever could.
But photo essays have changed. Over the last decade, web publishing technologies — including web browsers and file formats — have improved by leaps and bounds. A good photo essays today is more than a collection of images. It's a truly interactive, immersive, and multimedia experiences.
In this guide, we introduce 10 stunning examples of visually arresting interactive photo essays to fuel your creative juices.
Now, let's set the scene with a short introduction to immersive, interactive photo essays on the web.
Publish stunning photo essays for free. Build immersive photo essays with Shorthand. No code, no credit card, and no commitment required. Start publishing.
The rise of immersive, interactive photo essays
What is an immersive, interactive photo essay? Let's take these terms one at a time.
An immersive photo essay uses rich media and story design to capture and keep the reader's attention. Immersive content is typically free of the most distracting elements of the web, such as pop-ups, skyscrapers, and other intrusions on the reading experience.
As a basic rule of thumb, immersive content respects the reader's attention.
An interactive photo essay is one that allows the reader to control how the content appears. It may include interactive elements, like maps and embedded applications.
More commonly, modern interactive photo stories use a technique known as scrollytelling . Scrollytelling stories allow the reader to trigger animations and other visual effects as they scroll. Many of the examples in this guide use scrollytelling techniques. Read more scrollytelling examples .
Until relatively recently, immersive, interactive photo essays could only be created with the help of a designer or web developer. But with the rise of digital storytelling platforms , anyone can create compelling, dynamic stories without writing a single line of code.
If you're looking to learn more about how to create a photo essay — or are looking for more photo essay ideas — check out our introduction to photo essays .
Photo essay topics
If you're looking for photo essay examples, chances are you're looking to create a photo essay for yourself. If you're just getting started, you might want some guidance on exactly what kinds of topics make for great photo essays.
More experienced photographers — feel free to skip this section. But for those who are just starting out, here's a quick list of classic photo essay subject matter, for all types of photo essays.
Local events. A great way to start out is photograph local events in your community, such as a high school fundraiser. A bonus is that you'll have a ready
Historic sites. Another classic photo essay topic is an exploration of a historic site. This could be a building, a monument, or even just a specific location that has significance.
Profile of a person. A great way to get to know someone is to profile them in a photo essay. This could be a family member, friend, or even just someone you've met.
Animals in captivity. Another popular subject matter for photo essays is animals in captivity, whether that's at a zoo or elsewhere.
A day in the life. Have you ever wondered what it's like to live someone else's life for a day? Why not find out and document it in a photo essay?
Street photography. Another great way to practice your photography skills is to head out into the streets and photograph the everyday lives of people around you. The world has plenty of photo essays of cities like New York and London. But what about street photography in your own backyard?
Still life photography. Still life photography is all about capturing inanimate objects on film. This could be anything from flowers to furniture to food. It's a great way to practice your photography skills and learn about composition
Landscapes . Landscape photography is one of the most popular genres, and for good reason. There are endless possibilities when it comes to finding interesting subjects to shoot. So get out there and start exploring!
Abandoned buildings. There's something fascinating about abandoned buildings. They offer a glimpse into the past, and can be eerily beautiful. If you have any in your area, they make for great photo essay subjects.
Lifestyles. Document someone who lives a lifestyle that's different from your own. This could be a portrayal of an everyday person, or it could be someone with an unusual job or hobby.
Social issues. Take photos depicting significant social issues in your community, remembering to respect your subjects.
Ten inspiring photo essay examples
Pink lagoon and peculiar galaxies — July's best science images
In Pink lagoon and peculiar galaxies , Nature present a mesmerising series of images from the natural world. Highlights include:
a blink-and-you'll-miss-it photo of rare albino orcas performing feats of synchronized swimming;
an arresting aerial view of the aftermath of the flash floods in Germany; and,
a scarlet gawping Venus flytrap sea anemone.
The best part? Nature publishes similarly powerful photo essays every month, showcasing some of the best and most creative photography of the natural world anywhere on the web.
Vanishing Lands
Vanishing lands — an ominously interesting photo essay from media company Stuff — opens with a bucolic visual featuring meandering sheep flanked by breathtaking mountains that blur into obscurity.
Soon, more awe-inspiring photos of breathtaking New Zealand farmland appear, accompanied by expressive prose whose tone matches the visuals' stark beauty.
In this unflinchingly honest photographic essay, Stuff takes the viewer behind the scenes with a day in the life of a high country sheep farmer facing an uncertain future. One stunning photo fades into the next as you scroll through, broken only by the occasional noteworthy quote and accompanying narrative.
Olympic photos: Emotion runs high
This emotionally wrought sports story from NBC begins with a close-up of an anxious Simone Biles, her expression exemplifying the tension and frustration echoed on so many of her fellow athletes' faces.
The subtitle puts it perfectly: "The agony—and thrill—of competition at the Olympics is written all over their faces."
Devastation, disappointment, and defeat take centre stage in this piece — but not all the subjects of the photos in this compelling photography essay depict misery. Some of the images, like that taken of the gold medal-winning Russian artistic gymnasts, manage to project the athletes' joy almost beyond the edges of the screen.
The NBC editors who created this visual story chose to display the series of photos using the entire screen width and limit the copy to simple captions, letting the visuals speak for themselves. The result is a riveting montage of photographs that manage to capture the overarching sentiment of the 2020 Olympic Games.
James Epp: A Twist of the Hand
In A Twist of the Hand , the Museum of Classical Archaeology at the University of Cambridge have produced a gorgeous photo essay. This online art show showcases artist James Epp's installation, combining photographs of the exhibit with images of museum prints and authentic artefacts.
As you scroll down, close-up shots of the installation make you feel like you're physically wandering among the ancient sculptures, able to examine hairline spider cracks and tiny divots marking the surface of every antiquated figure. In between the photos—and often flanked by museum prints—are James Epp's musings about what inspired him to create the pieces. It's an absorbing virtual gallery that will no doubt inspire real life visits to the exhibition.
The Café Racer Revolution
Though it's a cleverly built piece of interactive content marketing , Honda's " Café Racer Revolution " is also a great photo essay. Alongside information about the latest and greatest motorcycles Honda has to offer, it details the history of the bikers who sought to employ motorcycles (specifically "café racers") as a way to forge an identity for themselves and project a "statement of individuality."
Scroll down, and nostalgic black-and-white photos give way to contemporary action shots featuring fully decked-out motorcyclists on various Honda models.
Dynamic photos of bikes rotate them 360 degrees when you mouse over them, and text superimposed over flashy shots rolls smoothly down the screen as you scroll. This photo essay will stir a longing to hit the open road for anyone who has ever dreamed of owning one of Honda's zippy bikes.
Built to keep Black from white
In Built to keep Black from white , NBC News and BridgeDetroit have built a stunning narrative photo essay that encapsulates the history of Detroit's Birwood Wall — a literal dividing line intended to separate neighborhoods inhabited by people of different races.
The piece begins with a brief history of the concrete barrier. Between paragraphs of text, it weaves in quotes from residents who grew up as the wall was erected and a short video. Animated maps highlighting the affected neighborhoods unspool across the screen as you scroll down, accompanied by brief explanations of what the maps represent.
In the series of photographs that follow, contemporary images transition into decades-old shots of the wall when it was newly constructed. This is followed by images of original real estate documents, resident portraits, and additional animated maps — each considering the issue from different angles.
The piece ends with an interactive display of how Detroit's racial makeup has changed over the past several decades, from majority white to black, and how the wall has impacted the lives of its residents who lived (and died) within its borders.
The story of Black Lives Matter in sport
The BBC pairs illustrations and bold imagery in this photo essay on how athletes participated in the Black Lives Matter movement . At the start, a narrow column of text leads into an iconic image of American football players kneeling during the pre-game national anthem in a solemn protest against police brutality.
The first excerpt, a summary of Trayvon Martin's death in 2012, draws you in with piercing prose capped off with photographs that bleed into one another. Every account in the photo essay follows this layout.
WaterAid Climate Stories
Climate change affects everyone on the planet, but some people are feeling the effects more than others. WaterAid's scrollytelling photo essay illuminates the plight of individuals living in areas where extreme weather conditions — caused by climate change — have drastically impacted the water supply and environment, endangering their livelihoods and ability to survive.
This climate change story starts with an engrossing video that provides an up-close and personal look at the devastation that climate change-induced droughts have wreaked on people and the environment. As you scroll down, images of massively depleted bodies of water with superimposed text and quotes unfold before your eyes. It's an efficient way to drive home the critical message WaterAid wants to convey: climate change is real, and it's harming real people.
Each extreme weather story focuses on an individual to help viewers empathise and understand that climate change has real, drastic consequences for millions of people worldwide. The piece ends with a call to action to learn more about and financially support WaterAid's fight to assist people living in the desperate situations depicted in the essay.
28 Days in Afghanistan
In this piece, Australian photo-journalist Andrew Quilty tells the story of the four weeks he spent in Afghanistan . He captures daily events ranging from the mundane—like a casual visit to his barber—to jarring. More than one photo documents blood-spattered victims of violence.
Viewers must scroll through the piece to follow Andrew's daily musings and the striking photos that accompany them. His photo essay is a powerful example of how scrollytelling is transforming the art of long-form journalism .
La carrera lunática de Musk y Bezos (Musk and Bezos' lunatic careers)
Billionaires Elon Musk and Jeff Bezos are angling to conquer the final frontier: space.
El Periódico captures their story via a whimsically illustrated photo essay, filled with neon line drawings and bold photos of the massive spaceships, the hangars that house them, and footprints on the moon. La carrera lunática de Musk y Bezos describes the battle between the two titans' space companies (Blue Origin and SpaceX) for the honor of partially funding NASA's next mission to the moon.
As you scroll down, white and fluorescent yellow words on a black background roll smoothly over images. The team at El Periódico slips in stylistic animations to break up the text—such as rocket ships with shimmering "vapour trails"—then ups the ante with a series of moon images that transition into portraits of the 12 U.S. astronauts who visited the celestial body.
The photo essay ends with the question: "Who will be the next to leave their footprints on the dusty lunar soil?" At the time of publishing, NASA had not yet decided between the two companies. (Spoiler alert: SpaceX won .)
Marissa Sapega is a seasoned writer, editor, and digital marketer with a background in web and graphic design.
Publish three free stories with Shorthand
Create and share beautiful web content for free. No code, no credit card, and no commitment required.
lol Badge Feed
win Badge Feed
trending Badge Feed
Browse links
© 2023 BuzzFeed, Inc
Consent Preferences
Accessibility Statement
11 Of The Most Interesting Photo Essays
The photo editors of BuzzFeed take a look at all of the best photo collections from this week.
1. "23 Super-Creepy Pictures of Forgotten Olympic Villages" —BuzzFeed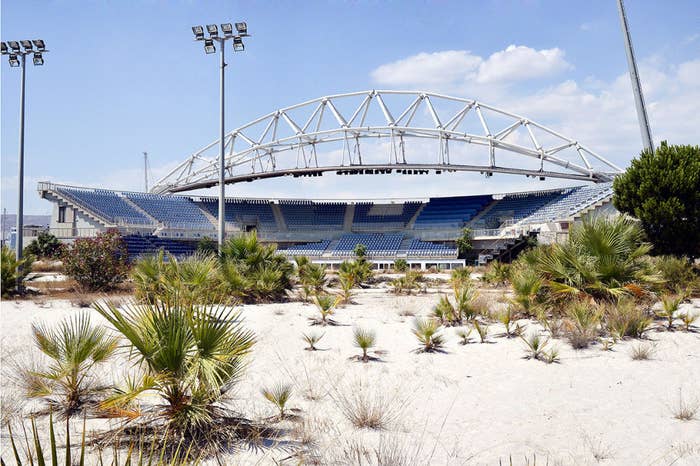 "Olympics time is here! Hosting cities pour tons of money into building massive structures in order to host the games . But what happens to them once all the hubbub dies down? This essay is such an interesting look at these spaces when left to the wild." —Dennis Huynh, design director, BuzzFeed News
2. "These Women Are Using Photography to Cope With the Aftermath of an ISIS Massacre" —BuzzFeed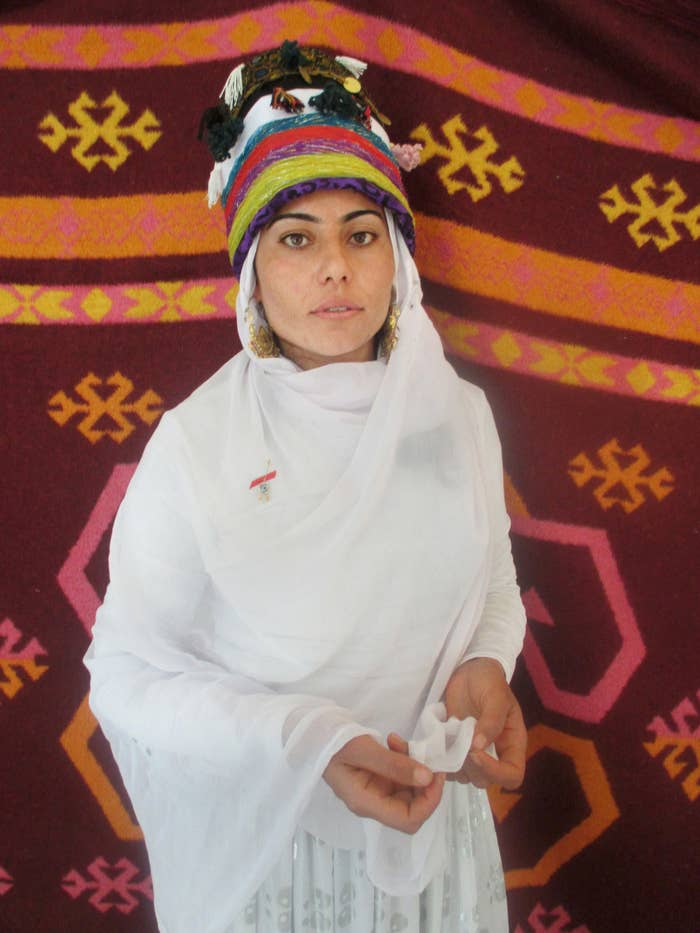 "Oh, how truly powerful photographs can be, and this photo series proves just that. UNICEF gave cameras and tutorials to 25 young Yazidi women so they can photograph their community as they learned to cope with the aftermath of an ISIS massacre. With this medium, they weren't just given the voice to tell the world their story, but also empowered them to have personal goals and aspirations. After all, they were allowed to keep their cameras." —Anna Mendoza, photo editor, BuzzFeed Australia
3. "At the Front in a Scarred Fallujah" — New York Times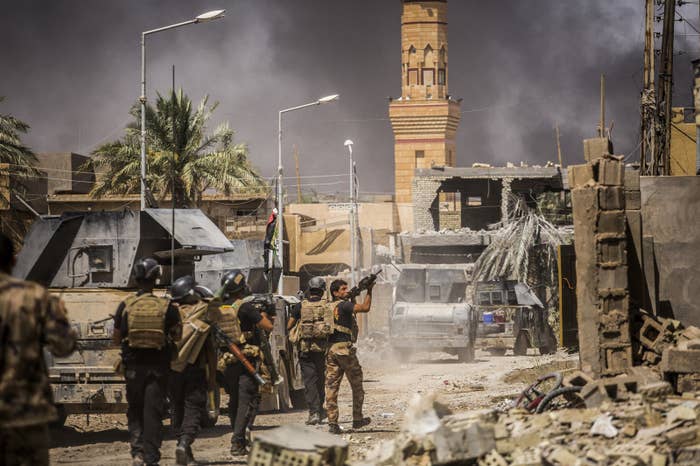 "It is important to see what war looks like in some ways. For all the rhetoric about the war on terrorism that is thrown about in the US, there is relatively little visual coverage about the frontlines in the Middle East. Denton's photographs show that the war in Iraq, which has waxed and waned in popularity and our consciousness for the past 13 years, is still ongoing, still brutal, and still very relevant to our stated goals even as the enemy has changed." —Kate Bubacz, senior photo editor for BuzzFeed News
4. "Learning Life Lessons by Faking One's Own Funeral" — The Atlantic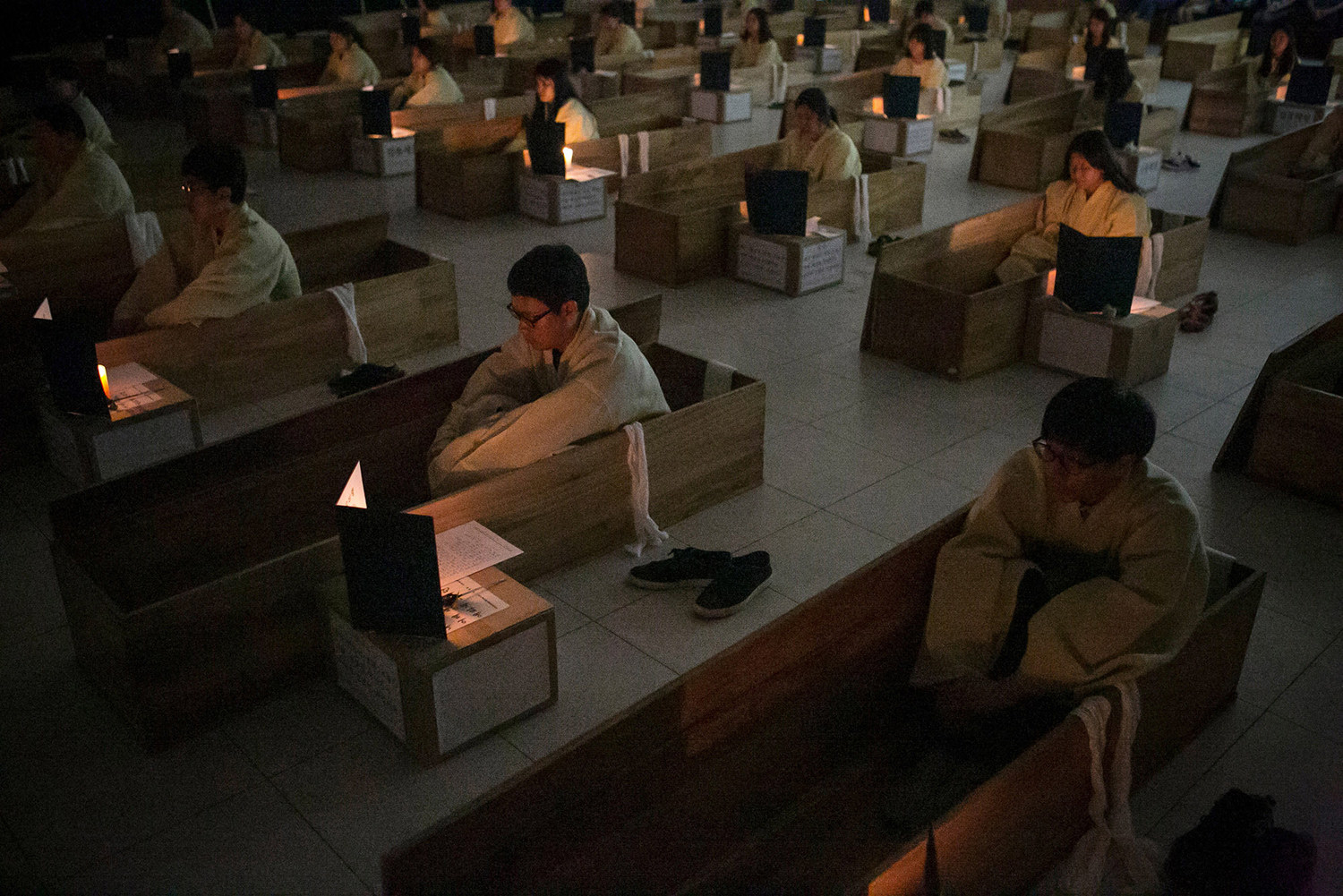 "There's probably nothing more natural to living than contemplating your own death. In South Korea, a trend has emerged called 'Happy Dying' in which participants are invited to write their own eulogies and wills, crawl into their very own coffin and essentially, well, die. After 30 minutes of 'death', they crawl out of the coffin and apparently feel much better about their lives. Neat." —Gabriel H. Sanchez, photo essay editor, BuzzFeed
5. "These Beautiful Photos of Subway Stations Will Transport You From Your Daily Commute" — Atlas Obscura
"I love subways/metros like Oprah loves bread! Chris Forsyth images of metro stations in Canada and around Europe show how cool and mod the architecture of those massive spaces can be make make me want to book some tickets." —DH
6. "A Death in Manila" —Reuters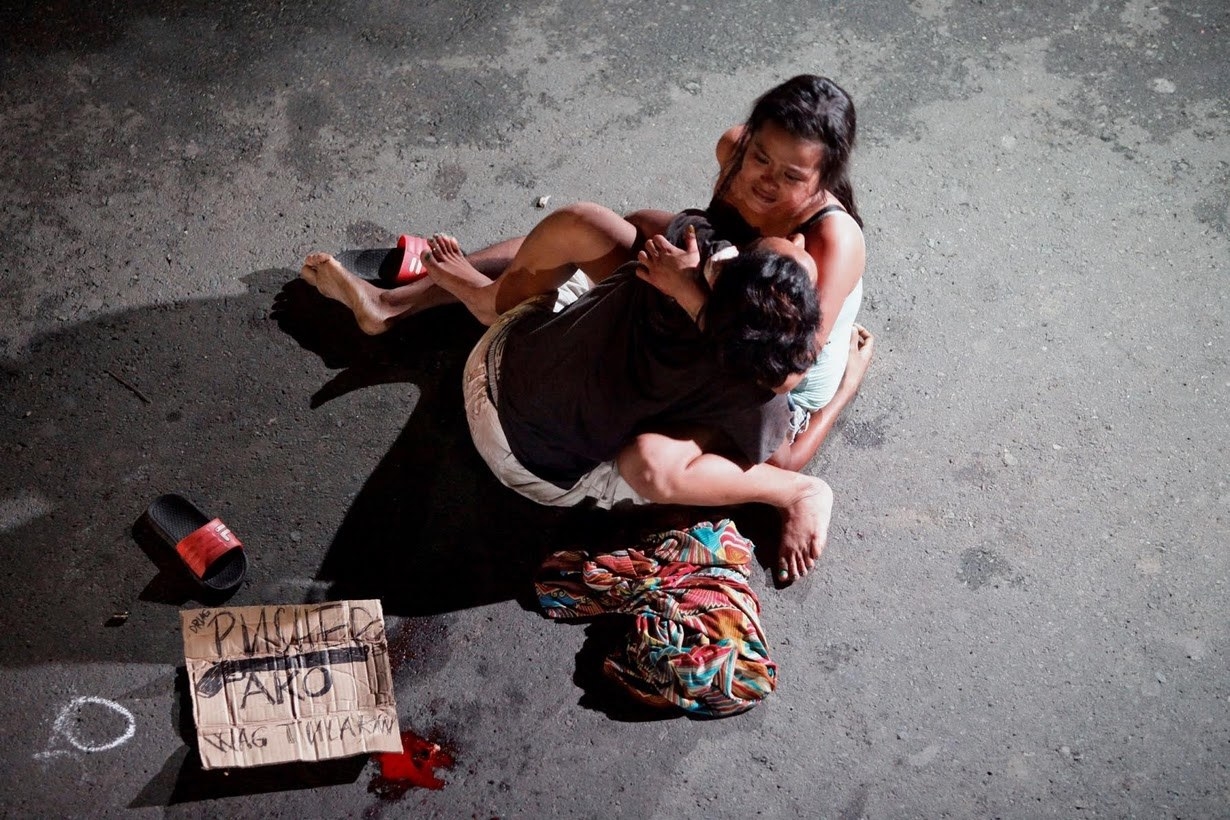 "Of the 300 suspected drug dealers found dead since Rodrigo Duterte assumed presidency in the Philippines, this photo of Jennelyn Olaires cradling the body of her husband stood out among the rest. The new president, notoriously known as 'the punisher', called this 'melodramatic', with the media hyping it up as if it was Michelangelo's Pieta. 'War on Drugs' was his campaign battle cry and this photo perfectly summed up what he has done, directly or indirectly, in his first 30 days." —AM
7. "The Trans Community of Christopher Street" — The New Yorker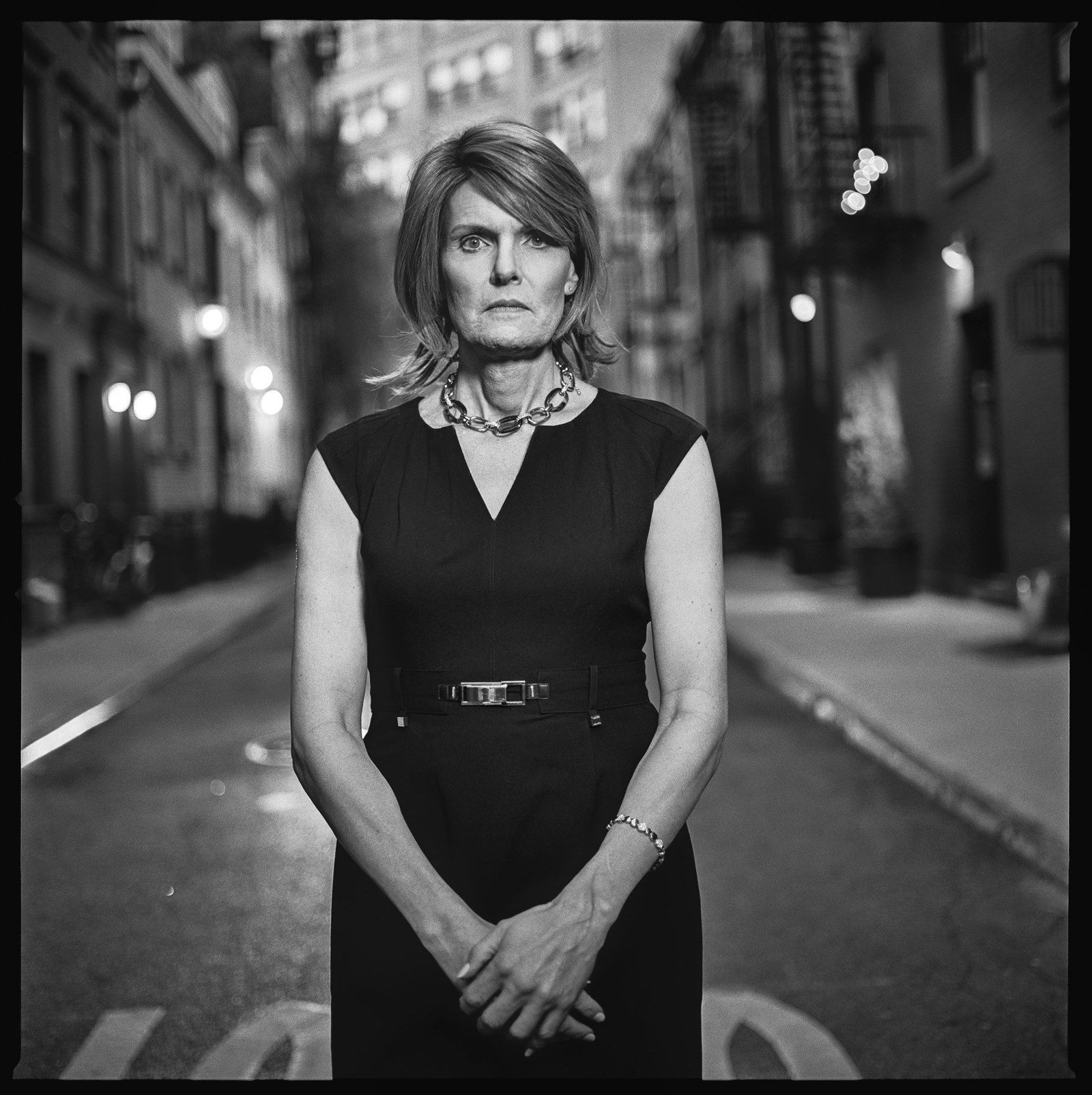 "These portraits have a dignity and an intimacy about them , each face strikingly beautiful in its individuality. I was so moved reading stories and seeing the variety of faces that all turn to Christopher Street for a sense of community." —KB
8. "International Garden Photographer of the Year Macro Art Winners" — The Telegraph
"These extreme close-up shots of plant life highlight just how alien planet earth can look. Out of context, these seed pods and surfaces of leaves appear like the aerial terrain of a remote exotic planet. The competition is in association with the Royal Botanic Gardens, Kew, in the UK, and will be touring in exhibitions all over the world. The overall winner was 'Embryo' (above) by George Pantazis with a photo taken in his garden in Limassol, Cyprus." —Matthew Tucker, picture editor, BuzzFeed UK
9. "People Really Open Up in the Summer': the North Korean Seasons" — The Guardian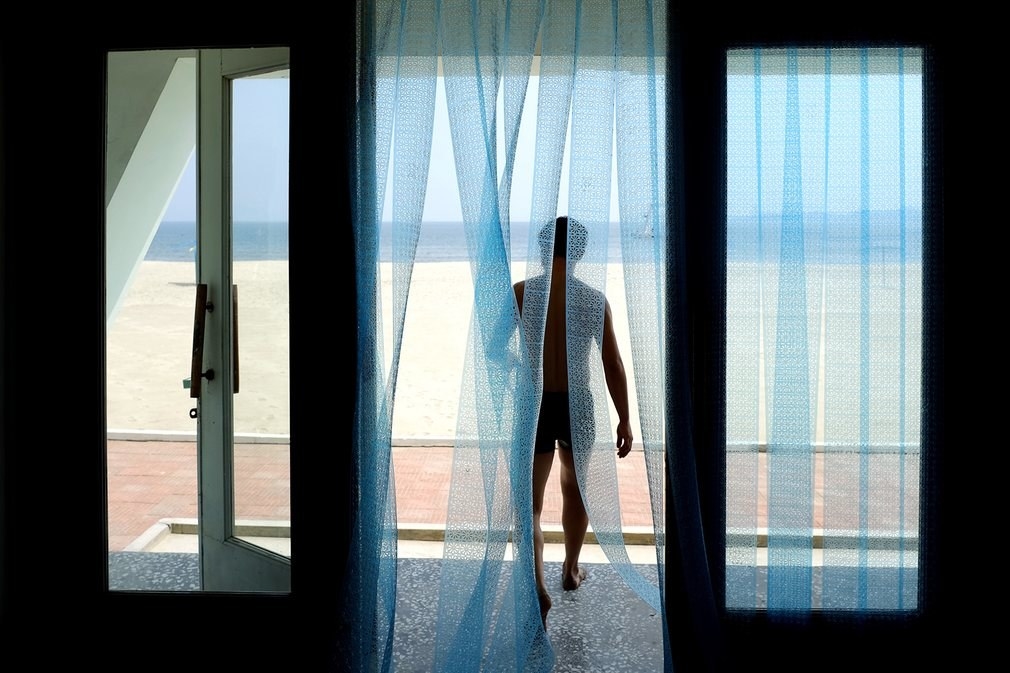 "Could it be true? Is this possibly the most secluded beach vacation getaway in the world? No one thinks of North Korea as a summer holiday destination. But with a brand-new airport recently completed near the resort town of Wonsan (apparently, it's popular with locals), it may just be the next hot ticket among foreign travellers." —AM
10. "Photographing the Mirage of the American Dream in Las Vegas" — Time Lightbox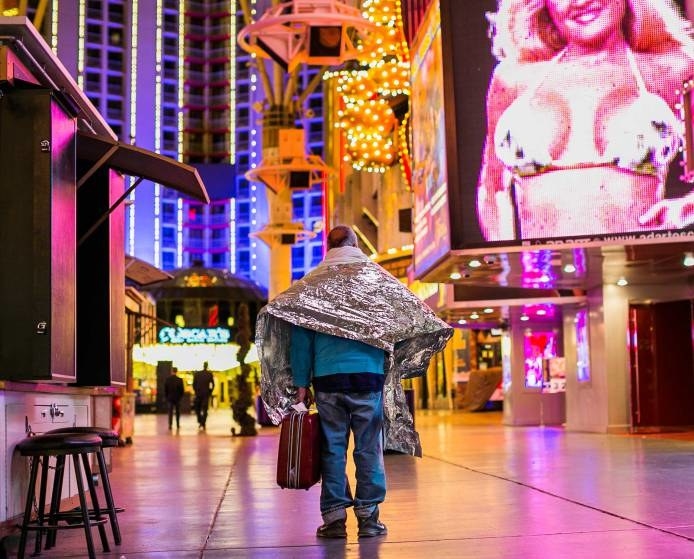 "The party's been raging strong in Las Vegas for decades — but if you look closely, as Swiss photographer Christian Lutz does in his new photo book Insert Coins , you'll see the cracks and faults of a city with a reputation for sin. Here, Time shares a comically distressing look at Las Vegas when the party is over." —GHS
11. "Aging Inmates: Photographer Shines Light on Loneliness and Isolation" — National Geographic Proof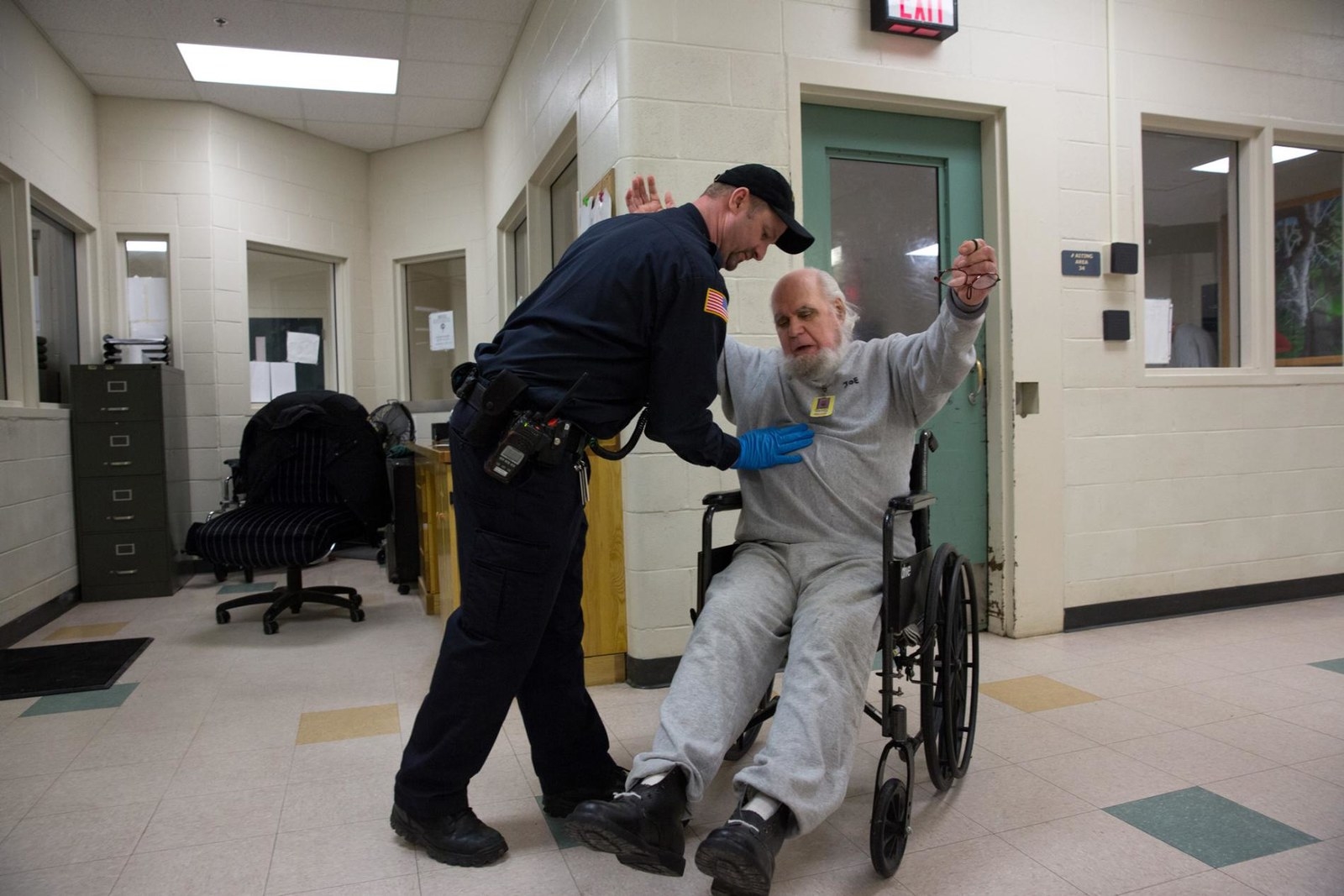 " Jessica Earnshaw's work on aging in prison is breathtaking in its scope and its ceaseless attention to the humanity of the inmates. This is a very different look at prisons that is worth giving attention to." —KB
Share This Article
Buzzfeed daily.
Keep up with the latest daily buzz with the BuzzFeed Daily newsletter!
The 10 Best Photo Essays of the Month
This month's Photojournalism Links collection highlights 10 excellent photo essays from across the world, including Tomas Munita 's photographs from Gaza and Israel, made on assignment for the New York Times . The work, coinciding with the first anniversary of last year's 50 day war between Israel and Palestinian militant groups, consists of eight innovative stop-motion-sequences which take us to the streets, hospitals, and homes on both sides of the conflict, and provide an immersive glimpse of how the two groups of communities are coping, one year after.
Tomas Munita: Walking in War's Path (The New York Times )
Brent Stirton: Tracking Ivory: Terror in Africa | Ivory's Human Toll (National Geographic) Two strong sets of images for National Geographic magazine's latest cover story.
Lynsey Addario: Inside the Democratic Republic of Congo's Diamond Mines (TIME LightBox) Terrific set of images looking at Congo's diamond mining communities.
Andres Kudacki: Spain's Housing Crisis (TIME LightBox) Powerful three-year project on the country's home evictions, now on show at Visa pour l'Image photojournalism festival.
Mary Ellen Mark: New Orleans (CNN Money) The legendary photographer's final assignment, done ahead of Hurricane Katrina's 10th anniversary.
Daniel Etter: Hands Across Water (Al Jazeera America) Moving series on a small Sea-Watch ship, with a rotating crew of just eight volunteers, trying to save refugees and migrants in the Mediterranean.
Sergey Ponomarev: On Island of Lesbos, a Microcosm of Greece's Other Crisis: Migrants (The New York Times ) Dramatic photographs of refugees and migrants arriving to the Greek island.
Allison Joyce: Child Marriage Bangladesh (International Business Times) Heartbreaking pictures of a 15-year-old Bangladeshi girl's wedding | See also Joyce's other Bangladeshi child marriage series at Mashable .
Andrea Bruce: Romania's Disappearing Girls (Al Jazeera America) The Noor photographer's work shows how poverty and desperation drive Romanian girls into the arms of sex traffickers.
Matt Black: Geography of Poverty: Chapter 2 | Chapter 3 (MSNBC) Second and third chapters of the Magnum photographer's ambitious project mapping poverty around the U.S.
Mikko Takkunen is an Associate Photo Editor at TIME. Follow him on Twitter @photojournalism .
Introducing TIME's Women of the Year 2023
TIME Turns 100
Column: The Death of "Dilbert" and False Claims of White Victimhood
For People with Eating Disorders, the Buzz About Ozempic Is a Nightmare
The Parent Files: How Parenting Helped Marie Kondo Make Room For a Little Mess
Your Houseplants Have Some Powerful Health Benefits
Why You Should Report Your Rapid Test Results
The 5 Best TV Shows Our Critic Watched in February
Why Spy Agencies May Lose Sweeping Surveillance Powers
Contact us at [email protected] .

The best comparison site outhere
The 10 Best Photo Essays to Buy – February 2023 edition
Looking for the best photo essays.
Discover now our comparison of the best Photo Essays. It is never easy to choose from the wide range of offers. On the market, you will find an incalculable number of models, all at different prices. And as you will discover, the best Photo Essays are not always the ones at the highest prices! Many criteria are used, and they make the richness and relevance of this comparison. To help you make the best choice among the hundreds of products available, we have decided to offer you a comparison of the Photo Essays in order to find the best quality/price ratio. In this ranking, you will find products listed according to their price, but also their characteristics and the opinions of other customers. Also discover our comparisons by categories. You won't have to choose your products at random anymore.
Amazon Kindle Edition
Darling, Anne (Author)
English (Publication Language)
86 Pages - 07/21/2014 (Publication Date)
Sanders, Donald (Author)
34 Pages - 08/09/2013 (Publication Date) - CreateSpace Independent Publishing Platform (Publisher)
🎈Ships from Korea, Republic of
📆Release Date : 2020.07.10
🎵516p Photobook
📌100% Original Brand New Item. Sales volume is reflected in the HANTEO and GAON Charts.
Watcha (Author)
Korean (Publication Language)
312 Pages - 02/16/2023 (Publication Date) - blackD (Publisher)
It is shipped from Korea, South
It will be counted in Hateon & Gaon Chart
100% Original & Brand New Item
Free tracking code
Audio CD – Audiobook
DAY6 YOUNG K PHOTO ESSAY SEASON 2 (Publisher)
Harris, Mark Edward (Author)
260 Pages - 09/18/2017 (Publication Date) - Routledge (Publisher)
84 Pages - 02/14/2022 (Publication Date) - Pacinoire Publishing (Publisher)
Hardcover Book
Story Culture (Author)
353 Pages - 02/16/2023 (Publication Date)
What is the purpose of a comparison site?
When you search for a product on the Internet, you can compare all the offers that are available from the sellers. However, it can take time when it is necessary to open all the pages, compare the opinions of the Internet users, the characteristics of the products, the prices of the different models… Offering you reliable comparisons allows us to offer you a certain time saving and a great ease of use. Shopping on the Internet is no longer a chore, but a real pleasure! We do everything we can to offer you relevant comparisons, based on various criteria and constantly updated. The product you are looking for is probably among these pages. A few clicks will allow you to make a fair and relevant choice. Don't be disappointed with your purchases made on the Internet and compare the best Photo Essays now!
Last update on 2023-02-15 at 11:09 / Affiliate links / Images from Amazon Product Advertising API
15 Essays To Read Again in 2022
A list of our staff's favorite essays from the past year that they did not commission themselves, or that they think cover a topic that deserves a second look.
As we prepare for 2022, we wanted to share with you a list of our staff's favorite essays from the past year that they did NOT commission themselves or that they think cover a topic that deserves a second look.
Why I Stopped Writing About Syria, by Asser Khattab
Riada Asimovic Akyol, Contributing Editor
Among so many informative, eloquent pieces published in New Lines this year, this one I think I will actually never forget. It hit so many buttons and allowed so many people to be seen like never before. I caught myself nodding so many times while reading it, and I know a lot of people from the Balkans could understand what Asser was sharing. Others could learn with humility. The way he wrote about growing up "surrounded by people who have never experienced the joy of peaceful tranquility," thinking that was the normal , and both the vulnerability and confidence with which he wrote about different challenges, as well as his human and professional yearnings and aspirations, were powerful and inspiring. Many conversations in open, and behind closed doors, will from now on be held, with employers, between employees, among friends, across the borders thanks to Asser's piece. I am thankful for New Lines for publishing it.
How Arabs Have Failed Their Language, by Hossam Abouzahr
Kevin Blankinship, Contributing Editor
After the requisite boilerplate about how hard it is to choose favorites, about how every essay adds something to knowledge, etc., let me say that his is the piece I liked most from 2021. The reason is that it surprised me. It surprised me not because it was new to me: As an Arabic professor, I've heard who knows how many catfights about "diglossia," namely high versus low (colloquial) varieties of Greek, Chinese, Serbian and other languages. What surprised me was how fresh the wounds are. For a quarrel looping back a thousand years, when Arab linguists tried to check "pollution" from non-native speakers, especially Persians, by setting up rules of grammar, I was stunned to see how much it agitates today. Abouzahr's essay came out and so did the partisans. Formal Arabic is the Arabic of Islam, some said: the Arabic of the Qur'an, of classical poetry. But, said others, colloquial Arabic is the Arabic of hearth and home, of jokes and secrets, of friendship. Could it not, I thought as I watched the skirmish, be both? In the spirit of Christmas, isn't there room for all the Arabics at the inn? A naïve thought that softens the majesty, the Whitman-like container of multitudes and, what's more, one that misses how real language is used by real people and how it can't be everything to everyone. Oh, well, let the fight go on, then.
The ISIS War Crime Iraqi Turkmen Won't Talk About, by Hollie McKay
Courtney Dobson, Senior Editor
In this essay, Hollie McKay reports on women in Iraq who have been "disappeared" by the Islamic State group, the group's use of rape as a weapon of war and how minority communities struggle to heal and come to terms with the stigma associated with sexual violence. It is a haunting piece, but McKay masterfully conveys the anguish and pain that comes with sexual violence, not just for the victim, but also for their loved ones trying to help. "Through the gap in the door flap," McKay writes, "I noticed that scores of men and boys had lined up outside, maintaining a respectful distance from the distraught women but with curiosity etched into their sun-kissed faces. They wanted to be involved somehow, to be part of the healing process, to remind us that men were not the enemy — twisted men were the enemy. These were the fathers and brothers and sons, the nephews and neighbors." McKay's essay resonates for communicating the universal need for support, connection and justice, while also laying bare why these don't come easily. Published a few months after New Lines launched, this essay left a deep impression on me.
How I Escaped China's War on Uyghurs, by Tahir Hamut Izgil
Rasha Elass, Editorial Director
When we launched New Lines we wanted to cover themes and stories from beyond the geographic Middle East. The oppression of the Uyghurs in China struck me as an underreported story in mainstream media because it hardly featured first-person voices from the Uyghur community. So I got to work and found Tahir Hamut Izgil, a Uyghur poet who tells a story with moving prose and nuance. His essay about the chilling effect of a document that the Chinese authorities require members of the Uyghur community to fill out is both simple and profound, capturing a Kafkaesque reality that is often lost in the daily coverage of foreign affairs. Months after we translated and published Izgil's essay, other media outlets followed suit. To us this is a triumph, evidence that we are already creating new lines in international reporting.
F ull essay
A Castle in the Air: Trekking the Secret Mountain Paths of Yemen, by Tim Mackintosh-Smith
Anthony Elghossain, Contributing Editor
Mountain men tell their stories. In Yemen, some folks speak of "an ancient city" atop a mountain. "What," asks Tim Mackintosh-Smith after hearing them, "is really at the top of Jabal Balq?" To answer this question, he quests through myth, memory and the mind for a "castle in the air." Is it a place? Maybe. Is it a journey? Yes. Having always gotten along with and been fascinated by folks in the mountains and hills, I was interested in reading this piece as soon as it was in our pipeline. And I loved how our writer came back for some "unfinished business." Writing is about the quest. So, too, is life. Our writer captured those truths in this piece.
After America: Inside the Taliban's New Emirate, by Fazelminallah Qazizai
Hassan Hassan, Editor in Chief
My choice of a favorite essay is to illustrate part of why we established New Lines in the first place. It was a dispatch by Fazelminallah Qazizai from a Taliban-held area, published four months before the Taliban would take over the country as fast as their trucks could drive through towns and provinces. If you read that story, nothing about what happened in the summer would come as a shock to you. After the Taliban's takeover, it was easy for journalists to go through their old notes and write compelling stories about what they had witnessed in the months and years before, to make sense of what unfolded. It is harder to do that before the event, and Qazazai did just that. He also did it really well. The piece should be a template in how dispatches should be done. Qazazai was not parachuted into the country to come back with a piece from there. He is an Afghan journalist who actually knows the terrain, the society and history, and who goes to a Taliban area and eloquently captures and reconstructs the situation there.
The Key to Understanding Iran Is Poetry, by Muhammad Ali Mojaradi
Tam Hussein, Contributing Editor
Muhammad Ali Mojaradi in his essay is right: The key to understanding Iran is poetry. In Shiraz and Isfahan you see beggars recite Hafez and children hawking for money with birds picking couplets from small envelopes trying to tell your fortune. Perhaps it's just Frank Miller's "300" or the politics of the region that makes its peoples appear to have a culture built on hate and cruelty. But that is far from the truth. It has ambiguity built in, abundant variations on love, mysticism and much, much more. It just gave me an appreciation as to how all-encompassing Persianate culture is, including Iran, central Asia, Afghanistan and the subcontinent.
The Wandering Alawite, by Adnan Younes
Faysal Itani, Associate Editor
This was, as far as I'm aware, the best if not the only piece by a constituent of Syria's mass murderer about his and his coreligionists' implication in Bashar al-Assad's crimes. I think it took tremendous intellectual courage to reflect on what drew Syria's Alawites to support this regime, but it also posed an uncomfortable challenge to readers who understandably deplore any and all support for the war criminal Assad. It was difficult to write and difficult to read, because of its ability to humanize and contextualize horrible choices by Assad's supporters and detractors alike. It was a tragic story in the most literal and compelling way.
A Multigenerational American Story of Immigration and Return, by Rasha Elass
Ola Salem, Managing Editor
A topic we often visit at New Lines is identity. Over the past year, we've run a number of first-person pieces looking at how environment and ancestry have shaped writers' identity and how the answer is usually far more complex than a quick answer to the question, "Where are you from?" One story I found to be particularly fascinating was Rasha Elass's piece in which she wrote about her Syrian great-grandfather who moved to America, carved a life for himself and later created a family of his own, only later to uproot his children and move back to Syria and face an attack from the French.
Gone to Waste: the 'CVE' Industry After 9/11, by Lydia Wilson
Chris Sands, South Asia Editor
The legacy of 9/11 has dominated my life and career. As a journalist for local newspapers in the U.K. in the weeks and months after the attacks, I saw and heard the racist backlash against British Muslims. Later, as a young reporter in the Middle East, I witnessed the daily indignities Palestinians suffer under Israeli occupation. But it was while living in Afghanistan for almost a decade that I came to understand the true folly of the countering violent extremism industry — a money-making enterprise perpetuated by governments, international NGOs and private companies in the guise of curbing Islamic militancy. Lydia Wilson's article brilliantly details how this house of cards was built to ignore the social ills and legitimate political grievances that lie at the root of what was once called the "war on terror."
The Bandit Warlords of Nigeria, by James Barnett
Kareem Shaheen, Middle East and Newsletters Editor
One of the things I was looking forward to the most when we started New Lines was giving the space to writers to explore stories that haven't been told in the mainstream media. Too often, the rich tapestry of our lives and societies are obscured rather than illuminated. This piece is a fascinating investigation into an untold story that has long been neglected in favor of the "sexier" stories of Boko Haram extremists in Nigeria. It is about the farmer-herder conflict that has cost tens of thousands of lives, has been exacerbated by climate change and is destabilizing important parts of Africa's most populous country. The color and fascinating exchanges in the piece, chronicled through Barnett's exclusive access to the bandit warlords, make this unique investigation shine.
Where the Russian Gulag Once Thrived, Life Remains Isolated, by Owen Matthews
Michael Weiss, News Director
Believe it or not, one of our best essays this year grew out of the field research journal for a forthcoming spy novel. Owen Mathews spent 10 days touring the remains of the Gulag Archipelago — the slave-labor camps Stalin built to punish to send his enemies (and quite a lot of his friends) in the Russian Arctic. Whole communities and cities sprung up around these grim "colonies" of the 20th century, which helped industrialize the Soviet Union at the price of around 6 million souls. As one might expect, this architecture of atrocity has been left to rot or freeze or be swallowed up by the taiga. Matthews, an accomplished historian and biographer, travels to parts unknown and unremembered with an eye for detail and — no small trick given the circumstances — a sense of humor.
How an Email Sting Operation Unearthed a Pro-Assad Conspiracy—and Russia's Role in It, by Michael Weiss and Jett Goldsmith
Brian Whitaker, Contributing Editor
A moment of light relief in the weird world of conspiracy theorists. Paul McKeigue is a university professor who denies the Assad regime's chemical attacks in Syria and claims that those who died in them were executed by rebel fighters in a gas chamber. He got the gas chamber idea from an American who had a dream about it after eating anchovy pizza shortly before going to bed. McKeigue considers himself a smart guy, so when a mysterious emailer contacted him using the name "Ivan," he assumed "Ivan" was working for Russian intelligence and began passing him information – mainly about people who disagreed with his conspiracy theories. But "Ivan" was neither Russian nor an intelligence agent – the professor had been caught in a sting.
An Elegy for Afghanistan, by Habib Zahori
Lydia Wilson, Contributing Editor
The piece is everything I want an essay to be: personal, informative and visceral, communicating a raw experience while simultaneously expressing far bigger themes about humanity and war. We published it at a time when all eyes were on Afghanistan, after the Taliban took control once coalition forces had withdrawn. For me it's pieces like this that really cut through the immense amount that was being published at that time on this subject; it was so well written and based on so much personal and intimate knowledge. And his love for Afghanistan – and the heartbreak of that love — came through powerfully.
In Search of African Arabic, by Vaughn Rasberry
Faisal Al Yafai, Executive Editor
It was always going to be difficult to choose one essay over the others, and many of the choices of the team could easily have been my first picks. But Vaughn Rasberry's essay on the influence of the Arabic language in Africa stands out for me because it explores such a rarely considered subject.
Rasberry believes, as I do, that African histories cannot be told without understanding the role of Arabic in shaping the political, social and literary environments of many of the countries and civilisations of the continent. The flip side is also true: that the Arab world cannot understand itself without reference to the African continent.
As Rasberry points out, there is a vast corpus of literature in African countries written in Arabic, much of it under-explored – some, no doubt, still undiscovered. Hidden histories of the African continent and the Arab world are in those texts, waiting to be sought out. Without it, both regions will only know half of their own stories.
Six Year Prison Term for Singer Saad Lamjarred Divides Public Opinion
The age of conspiracy theories — with gabriel gatehouse, before print or copyright, authors had to guard their own works, a ukrainian garden tells the story of a violated country, the moral affirmations of louis armstrong, 'you people': race, culture and religious differences are false flags, sign up to our newsletter.
Will be used in accordance with our Privacy Policy