Descriptive Essay on My Pet
I love animals. I think our life would be incomplete without our pets. I also have one. My pet is a dog named Tipsy. Tipsy is an adorable brown dog that has a few black spots spread across his body and tail. Tipsy is a kelpie crossed with a border collie, and he has fluffy velvety ears. Even though Tipsy has a very strong body frame, he has a very gentle face and is always a friendly dog to those whom he knows. If a stranger approaches out house, however, Tipsy can get very aggressive. He always barks loudly to attract our attention to the approaching stranger. There is one thing that I especially like about having this pet – I know that my little friend will always be there for me to protect me or my family. Therefore, in some way, Tipsy gives me a feeling of protection.
Tipsy loves many things. Among these is to nuzzle his wet nose in my hands and in the hands of my parents and siblings. He craves attention most of the time because he is scared of being abandoned or ignored. I actually came across Tipsy while he was still a puppy. It appears his owner had abandoned him on the road. I found him wandering in our neighborhood. I informed my parents about the puppy. I wanted to keep him. They communicated with the local authorities so the authorities could allow us to adopt the pet.
Tipsy loves food, especially bones. Once we have fed him his regular food, we always give him a few bones on which to chew. Tipsy can actually spend whole afternoons chewing bones because he loves them so much. Whenever Tipsy is worried, he looks at us with desperate eyes that appear as if he is sad. He does so while wagging his tail from one side to the other. Whenever we see him exhibiting these signs, we immediately prepare a quick meal and some bones for him to eat.
Tipsy has also made it a habit to play with our cat, Toppy. Sometimes, Tipsy plays with and pours out the cat's water, something that always leaves the cat giving him a vicious glare. Sometimes, the cat even meows as if to let Tipsy know that he is not very impressed with Tipsy for pouring out his water. Whenever my dog plays with the cat's water, I see him lifting his head as some of the cat's water pours out from his tongue, like the way water drops from a waterfall.
Tipsy also likes the chipping sound made by the birds that reside on the trees in our compound. Whenever Tipsy hears these sounds, he raises his ears and points them towards the direction where the chirping sound is originating. One can always observe the way his eyes light up with excitement whenever the birds begin making their soothing noises.
Believe it or not, but Tipsy actually helps me to stay fit. As you know, all breeds of dogs need everyday walks so that they stay not only happy but healthy as well. That's how it works for us! But the reality is that I get too lazy more often than not, and I am sure a lot of people feel the same way. If it sounds like you, the best thing is to get a dog. You will have a faithful friend, just like I have my Tipsy, and it will be dragging you out your house and making you walk, run, move around the neighborhood every single day. As you can see, owning a dog is possibly the best fitness trainer that you can ever imagine.
It's no doubt, looking after a dog is a huge responsibility. However, when you just take into account all the advantages of owning a dog, you realize that even chewing on your favorite pair of shoes or destroying your new sofa is nothing as compared to a wide range of positive emotions that your pets bring into your home.
My Pet descriptive essay writing tips: Since this is a description essay, one is supposed to describe the unique characteristics of one's favorite pet. In the case of an example given above, the author is talking about his dog. Since most dogs have a name, it is prudent that one begins this description by providing the name of the dog followed by the species to which the dog belongs. Once this is done, you can begin describing the things that the dog likes and those that it does not appreciate. For instance, in this essay, the writer has described the way the dog loves food and what it does whenever it needs to eat some food.
The other important rule for a descriptive essay is that you have to show instead of simply telling your story. Make sure to use figurative and descriptive language to build multicolored images with the help of your text. Choose metaphors and similes.
Ready to pay for essay help online? Don't hesitate to contact the AdvancedWriters writing service now. Our skilled and proficient writers and editors will check your project, detect every error out there, and polish up your text to make it suitable for the submission. Also, you're welcome to order a custom essay written from scratch for you exclusively.
←&nbspCritical Essay on The Scarlet Letter Cause and Effect Essay on Bullying&nbsp→
275 words/page
12 point Arial/Times New Roman font
Free bibliography & reference
Double spacing
Free formatting (APA, MLA, Chicago, Harvard and others)
Free title page

24/7 writing help on your phone
To install StudyMoose App tap and then "Add to Home Screen"
Save to my list
Remove from my list
Every day there are animals that are abused and neglected by heartless individuals. We live by the quote, "A dog is a man's best friend". But how is it that one can do such horrid things to a best friend? Puppy mills, animal hoarders, and careless owners are only a few of the biggest contributors to this horrifically criminal act. It breaks my heart to drive to school everyday and be greeted by an animal out on the road flatter than a pancake, or just roaming around looking for scraps of food and darting away anytime a little kid sticks its head out and shouts, "Oh, what a cute doggy!" And around where I live it is, sadly, an everyday scene.
My next door neighbors, whom I classify to be careless pet owners, exemplify what I see everywhere. Their house is falling apart on top of them. The sewer tank leaks and feeds the steroid-like pricker plants that cover most of the backyard.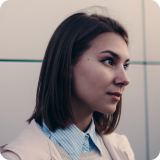 Proficient in: Animals Are Our Best Friends
" Thank you so much for accepting my assignment the night before it was due. I look forward to working with you moving forward "
They have 3 puppies of different breeds, from the same mother. I know, it sounds improbable, but I had seen the mother a few times before, when I drove past their house. Let me tell you, she was not the cutest dog on the planet! Anyhow, after discovering my neighbors had puppies in their backyard, it came to mind that I had not seen the mother dog running around for the last few days. I asked with concern, "Where is their mother?" My neighbor replied with, "She died".
By clicking "Check Writers' Offers", you agree to our terms of service and privacy policy . We'll occasionally send you promo and account related email
You won't be charged yet!
I found that statement hard to believe. She was so protective that I found that statement very hard to believe. That claim seemed to be vastly illogical.
So anyway, for the past 3 months; give or take; my family and I have been setting out fresh water everyday, because we know that they hop the wall either to explore or leave us "little presents" all over the front yard. Two of the puppies have long fur, which has become matted in several places around their bodies. In addition, on a regular basis; my mom has to cut the prickers that have become entangled in their little paws, around their lips, and buried in their belly. It is very traumatizing to have to see them live in this… well I guess you could consider it to be a sewer pit.
Over the summer I had volunteered over at the community animal shelter out of my desire to help out with the animals. Upon my arrival to Pet Guardian Angel, what I thought was going to be a very rewarding experience; where I felt that I was contributing to a good cause, became to be very disheartening. There were so many animals stuck in cages, in their own filth, terrified of human contact and so needy of the human contact they were afraid of. The smell of ammonia made my eyes water and made me feel slightly unwell for several hours after I left the premises. I wondered what the chances were that these helpless beings would find a loving home out here, where the bulk of their peers lived in the same ugly circumstances. Not very good. I left depressed and uncertain if I wanted to come back, but feeling guilty for considering not going back.
I feel a great passion for dogs, in particular, who, through no fault of their own, live in filth and know no human kindness for their entire lives. I also feel a great sense of futility. This won't change until people change their hearts and stop thinking of just themselves, and start unselfishly putting the welfare of the helpless first.
Puppy Love. (2017, Feb 11). Retrieved from http://studymoose.com/puppy-love-essay
"Puppy Love." StudyMoose , 11 Feb 2017, http://studymoose.com/puppy-love-essay
StudyMoose. (2017). Puppy Love . [Online]. Available at: http://studymoose.com/puppy-love-essay [Accessed: 2 Mar. 2023]
"Puppy Love." StudyMoose, Feb 11, 2017. Accessed March 2, 2023. http://studymoose.com/puppy-love-essay
"Puppy Love," StudyMoose , 11-Feb-2017. [Online]. Available: http://studymoose.com/puppy-love-essay. [Accessed: 2-Mar-2023]
StudyMoose. (2017). Puppy Love . [Online]. Available at: http://studymoose.com/puppy-love-essay [Accessed: 2-Mar-2023]
If You Need Love, Get A Puppy Pages: 7 (2042 words)
Puppy Mill Solution Pages: 8 (2250 words)
Puppy Mills vs Animal Rights Pages: 8 (2116 words)
Should Puppy Mills Be Shut Down? Pages: 2 (546 words)
A Critical Analysis of Two Short Stories Referencing a Dog George Saunderss Puppy and Anton Chekhovs The Lady with the Dog Pages: 2 (382 words)
Exploring Love Through Minding Theory and Triangular Theory of Love Pages: 5 (1217 words)
Love of God and Love of People Pages: 2 (510 words)
Love in L. A. and The Love of My Life Pages: 3 (894 words)
Plato's idea of what we love, how we love Pages: 5 (1297 words)
First Love - Love Poetry Coursework Pages: 5 (1205 words)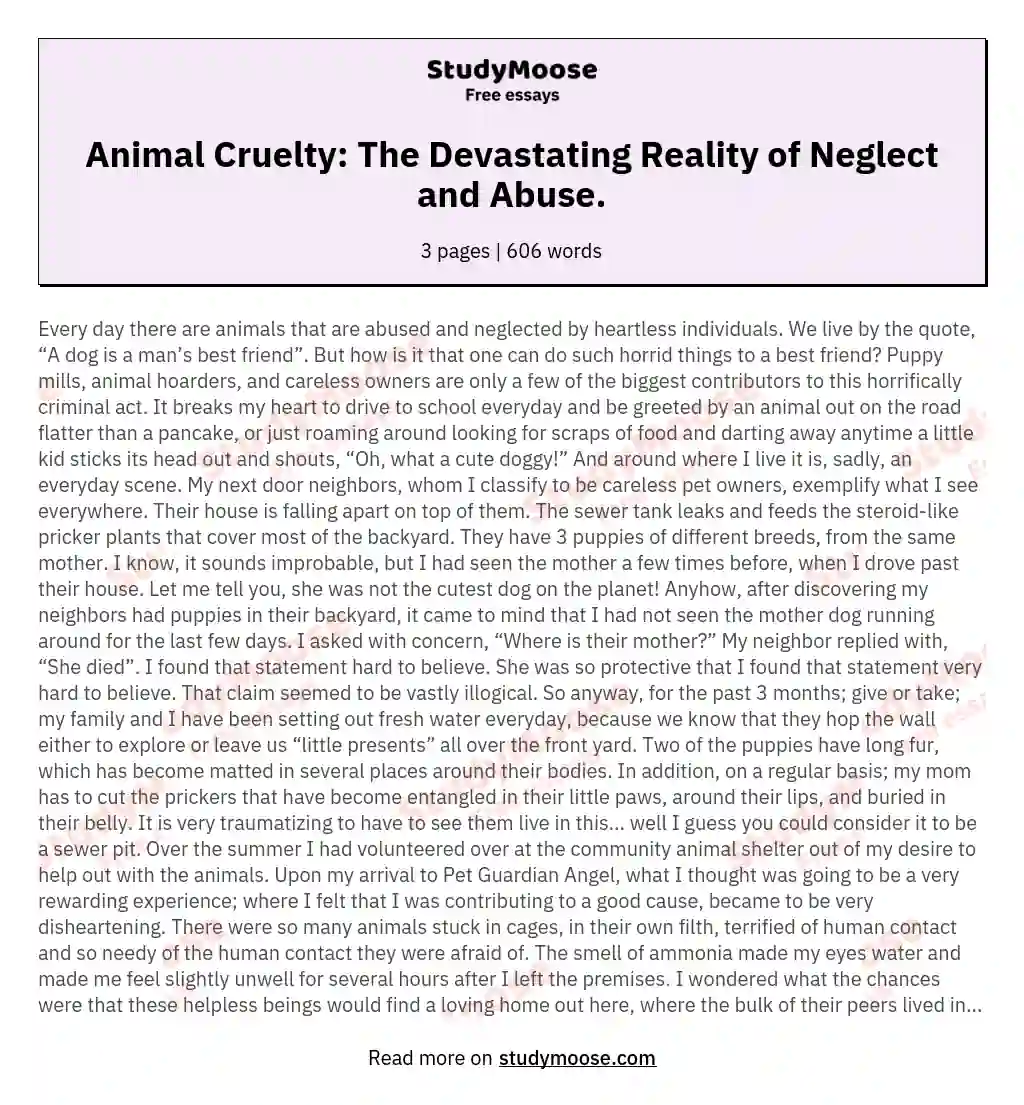 👋 Hi! I'm your smart assistant Amy!
Don't know where to start? Type your requirements and I'll connect you to an academic expert within 3 minutes.

RESEARCH PAPERS AND ESSAYS
ESSAY TOPICS
PRESIDENTS OF THE UNITED STATES
Joseph Robinette Biden
Donald Trump
Barack Obama
States Ranked by Size & Population
States Ranked by Date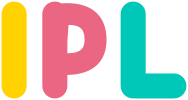 Descriptive Essay On My Dog
Animal symbolism in john steinbeck's of mice and men.
Animals, what are they? One may receive a very scientific definition, perhaps explaining that they are something like a living organism that can eat living substances, and that they have complex or intricate body systems. When people describe them, many say that they are foolish little creatures whose purpose only serves as maybe to work or even possess a friendship with humans in some cases. But what if there was really more than meets the eye, an even deeper connection that many fail to see on a day to day basis? Nature and animals are both crucially important aspects in Of Mice and Men. This can be seen constantly throughout this novel in which both animals and nature alike relate to people and even occasionally foreshadow
Essay Summary In A Dog's Purpose
The book, A Dog's Purpose, follows a dog who searches for his unique purpose in life. The canine experiences reincarnation four times, and in every one of his different lives, he tries to accomplish making his human happy. In his first life, he is Toby and lives in the Yard with a woman called Señora. Toby adjusts to his life in the Yard and assumes his purpose is to make Señora smile. He comforts her and takes pride in being her favorite. Soon, Toby makes a trip to the veterinarian's office and is abruptly put to sleep because of his size.
Luv's Diapers Research Paper
I was walking through the baby section at Wal-mart and it brought back memories of the last two summers with my two year old twin niece Bailey and nephew Dakota. I keep Bailey and Dakota during the summer because they live two hours away and I don't get to see them very often. Bailey and Dakota are hyper and very energetic. They like to run like wild banshees when allowed to play outside. Dakota loves playing in the mud, dirt, and sand with his trucks. Bailey will run in circles, do summersaults, and loves to swing and slide, but doesn't like the dirty play, such as playing in the dirt and mud. While they stay with me I purchase their diapers, so I have chosen two different brands Huggies and Luv's to compare. I like Huggies
Essay On Goldendoodle
Dogs are really cute pets, let alone a goldendoodle. A goldendoodle dog is mix breed between a golden retriever and a poodle. It usually has the color of a golden retriever with the fur of a poodle. No wonder goldendoodle has been popular for people wanting to have a pet.
Personal Narrative: How Having A Dog Changed My Life
Dogs have long been known to make great companions. I have heard from many people who own a dog that a dog is capable of boosting your mood and your health. But is it true? I didn't know if it was all true until my sister surprised us with two tiny dogs. After having our dogs for several months I noticed it does change our lives in many ways. For me, my dogs changed it by showing me how to care for them. They also taught me how to understand them and how to love them even when they're annoying and clingy. Having a dog teaches us patience, commitment, and selflessness. Caring for a dog takes a lot of responsibility and commitment. We also learn to be less focused on ourselves and be more patient, as pets can sometimes test our patience. Owning a dog can actually have a special impact in our lives.
La-Nee Davis Research Paper
La-Nee Davis remembers as a young girl always having a dog in the house. Her daddy was a dog lover and would oftentimes bring in strays that he found on the street. They had German Shepherds, Pitt Bull mixes and many other breeds. As an adult, her love for dogs has not waned. This is evident when she views the commercials on TV of how animals are abused and neglected, it hurts her heart.
Hachiko The Story Of A Loyal Dog Essay
Humans and animals are loyal, friendly, and understanding species which allows them to understand each other. People and animals are like no other, they can share a special bond and learn to love one another other. But, there are reasons why they are so loyal to one and other, why they are friendly to one and other, and why they understand each other. These bonds are often unbreakable.
Speak Book Report
Have you ever thought about your mental, social health and your mental growth? In the book Speak by Laurie Halse Anderson, it is brought up that the people who are around the main character, Melinda, affect her mental, social health, and her mental growth. How family and friends or even the people we hardly know can make an impact on our lives in both negative and positive ways. Melinda demonstrates this throughout the entire book. "I bet they'd be divorced by now if I hadn't been born. I'm sure I was a huge disappointment. I'm not pretty or smart or athletic. I'm just like them— an ordinary drone dressed in secrets and lies. I can't believe we have to keep playacting until I graduate. It's a shame we can't just
Bailey Marie Storey Research Paper
Born to a loving young couple, looking up at the doctor not knowing how the world works. Just coming out of the womb and being laid onto her mother 's arms, so harmless, so unknowing, so curious. That is Bailey Marie Storey. Many others have been in the exact same position but, there 's a 99.99 percent chance you will never walk the same footsteps as her. The life that each and every person lives is different. Some can end quickly, whiles others can change in an instant. Moments that are spontaneous, not planned, and never taken for granted are the life changing memories that you can never get back. Those moments are called life.
Shorkie Research Paper
The Shorkietzu got no hunch of their petite size and, stances like a big guy. With a stranger approaching, this dedicated buddy would bark relentlessly just to alert you. Though they can never make it to a watchdog for being tiny; still got all the qualities that attributes to an excellent one. You can always call a playful Shorkietzu an energy bomb; who loves to be around the children and grown-ups. Not only they enjoy playing with the kids, but also keep an eye on them to make sure they are safe and sound. Of course at the end of the day, they would secure their place in the owners' lap cuddling and dozing.
Evergreen Kennels
When Fido is rolling around in the grass at the dog park, he's not trying to make your life as a dog owner more difficult. He's actually trying to keep himself clean. Instead of making your dog dirtier in an attempt to get cleaner, why not treat him to a day at the spa? In addition to boarding, Evergreen Kennels in Churchville, New York, has a full-service dog grooming shop where Fido can have a brush-out and bath, nail trimming, ear cleaning, and haircut.
Brianna Gutierzer's Magical Abilities And Talents
Brianna Gutierrez-Diaz wand was perfect for her magical abilities and talents. If you go to Hogwarts, you will of course need a wand. But remember,"The wand chooses the wizard." It will include a wood type, a core, length, and flexibility. The wand will choose someone based on their personality. So, she started searching. Brianna decided on a wood and length to try first, she chose 2 wands before she found the perfect one. You can't always find your perfect wand on the first try. Alder wood chose Brianna because of her personality. Alder means you are a loyal, helpful friend. Yes, she can be stubborn at times but so can everyone else. The length of her wand was the perfect fit for her. After she decided on how long the wand needs to be, she
Personal Narrative Essay: My First Dog
Shortly after my sixteenth birthday, something terrible happened to me. But, first let's start at the beginning. When I was five years old my parents got me the best gift a little girl could ever ask for, a puppy. My dad came into the house with what I thought was a black jacket in his arms. I was wrong, after he came into the kitchen the "jacket" popped it's little head up, it wasn't a jacket, it was a puppy. We named that little black fur ball with white paws Bailey. Bailey was my first dog, and she was perfect. On all those hot summer days she would chase us all around the house outside, she would never get tired. Bailey was my best friend, we even shared the same birthday.
Descriptive Essay On Golden Retrievers
The eyes of the Golden Retriever are quite impressive and the emotions of the dog are reflected in them. Looking into the eyes of this dog is like looking right into its soul. It uses its eyes to communicate its feelings to a human being. The eyes of this dog are capable of touching the hearts of almost everyone, whether he or she is a lover of dogs or not.
Marshall From Paw Patrol Character Analysis
"No job is too big, no pup is too small." A character that I am similar to is Marshall from Paw Patrol. First, he is a dog that can do anything. Second, Marshall and I are both extremely clumsy. Last, we are both very caring towards others. As can be seen, Marshall and I are very similar, and I have been told a million times that I remind people of Marshall from Paw Patrol.
More about Descriptive Essay On My Dog
Related topics. Descriptive Essay On A Puppy
Descriptive essay on kitten.
Joy and happiness rushed through my body. She was my kitten that I could take care of, that I would play with. Maybe I couldn't take her to the vet, and maybe I wouldn't be able to buy her food, but I sure wouldn't let anything bad happen to her. I started to feel really mature because of that, I was also still very happy. My mom then showed me the cage that she was going to stay in until she was older, so that she couldn't get hurt or wander away. Her and our other cat, Homer, are both outdoor cats, so they get treated like royalty. She had a massive litter box, a nice soft blanket to sleep on, and newly purchased metal food and water bowls, all in one cage. She also had blankets that we would put on the sides of her cage at night to keep her warm. We then went back into the yard to play with the kitten a little more. This is it, I thought. I finally have my own kitten again. I ran my fingers across the grass as she followed them. She jumped in between my legs and then went right under them. We then looked over and saw Homer, sitting up tall, and ready to show the kitten who is boss.
Descriptive Essay About My Dog
My first dog was named Toby, he was a very white, ball of fluff. He blended in with the shiny white crispy snow on December 25, 2006. My sisters and I were on our way home from my dad's house when all of a sudden we pulled into my mom's house. On Sunday, December 25, 2006, Toby was waiting at our house. We all got out of the car on that cold snowy day and walked on the slippery sidewalk. The snow was like a chilling carpet on the bottoms of our feet. My mom opened the door with a camera so my sisters and I knew something was up. A shocking step in the house and we saw a very fluffy dog, we were very excited. He was like a deer in headlights. There was a bunch of screaming and yelling going on at that moment between the three of us. We
When my sister and I got home and there was a tiny crate in the corner of the living room. I asked my mom, "Are we getting a puppy today?" "I guess you'll have to wait and see" she said.
Yakima Research Paper
At last we made it. We were at the place. I was jumping with excitement. Then we went in the place there was 5 puppies in the house. They were so fuzzy. Since we took them outside one of them followed me and my dad. That's how we pick out our puppy. On the way home, we were passing him around so everyone would see him. When it was my turn he fell asleep on my lap. My mom said to just leave him on my lap so he wouldn't wake up.
Personal Narrative: Hershey
She was a lot of fun to play with and she was very energetic. We did not get her that day, but the employees told us that the dog we were interested in was going to be at Petsmart the next day. We went to Petsmart and we were going to make the final decision if we were going to get her. My sister and I really wanted her but my dad was hesitant about the idea of getting her. He did not know if we were ready for another dog. My sister and I really wanted her so we exclaimed " we will do everything to take care of the dog!"
Personal Narrative: Moving To Virginia
When they told me about adopting a furry little creature, I was completely ecstatic; I loved dogs and had wanted one ever since I first tried to pet one on the street. This time, I was completly fine with my parents making a decision for me; now this was the best surprise. So a week later, I convinced my parents to visit the nearest dog shelter. As we entered, we saw about 20 enclosure each containing a dog. None of the dogs looked or sounded alike; some were fluffy, spotted, tiny, or even bigger than me. We walked down the hall of dogs and I spotted a furious, little puppy. I read the card on the front of the gate and found that this adorable dog was a poodle and his name was Gucci; the dog was also only a year and two months. But the most interesting part about the small puppy was not on his information card. Instead, it was on his front left leg; his leg was encased in a bright red cast, so he was healing from a broken leg. Soon after, my parents and I realized that Gucci was healing from something much worse than a broken leg.
New Puppies
Dog trainers all have these 3 things to say about the introduction of a new puppy and an existing dog:
Ella's Memoir: A Short Story
I turned the doorknob to a beautiful land of...PUPPIES! They were in every corner in the house. My mom told me to pick out one that will grow not that big. I saw this little black ball in the corner of my eye. It was a miniature pinscher puppy. I wanted it. No other puppy. I wanted that one. I told my mom and she said it was the perfect one. we told the old lady that owned the dog house and she said that we could keep him. I asked her if it wa sa girl or a boy. The old lady said it was a boy. We took the BOY puppy to the car while my cousins picked out theirs. They came out with the same one! But it wa a different one of course but same breed. We all drove to our to my grandma's house to eat dinner and play with our new puppies. On our way we named them my puppy got named Jackson. My cousin's puppy got named Damian. When we got to my grandma's house we started playing with Jackson and Damian. My dad picked up Jackson and rolled onto his back. Jackson started licking my dad on the cheek. I quickly grabbed the camera and took a
Personal Narrative-Before I Got My Dog
My new dog was staring blankly at me wondering when I would pick him up and take him home. I was at a ranch near Los Angeles, it was a humid day. The ranch had a large field and a small house probably enough for 3 people. The ranch smelled awful from all the animals and waste. Questions were racing through my mind. " How would I know which one to pick?" "How would the dog react if I try to take him?" I thought about the questions my Mom would ask me if I chose one. "Are you sure that's the one you want?" " There are many more to choose from." We found the man that was keeping the puppies. He looked like he just got done working since he was covered in dirt head to toe.
Getting Dodger Research Paper
I felt shaky, and excited at the same time, because I was going to have a chance of having a dog. As I felt my nerves starting to tremble, me, my sister, my mom, my dad, and brother hopped into the car. We were rushing to get to Santa Monica to go meet some dogs at Much Love Animal Rescue. As we were on the road, I was thinking of the dogs my mom had shown me on the website. "Flower, a pitbull mix, Lance, a beagle whippet, and Thor, a papillon and shi tzu mix." I nodded my head.
Lucy-Personal Narrative
Lucy was a little curly-haired girl, she was usually well behaved but sometimes her desire to discover new things got the best of her. She had a large house out in the country and lots of clothes and toys, this was mainly because her parents were always working. Although Lucy had a wonderful nanny who was always available to play with her and attend to her every need, she wished she had a real companion. One day,on her parent's day off, Lucy and her mom and dad decided to go out and do some shopping. As they walked by the pet shop, Lucy put her face up against the glass and stared at the puppies inside the window. Lots of little puppies came and put their faces up to Lucy's, she smiled. But then she noticed the littlest of all the dogs sitting over on a blanket looking longingly over at his siblings. As she stared into his warm brown eyes, she knew she had found her companion. It was time to
Personal Narrative-Targeted Girl
It was a scorching hot day in July, my friend and I were cruising on the country out near her house, when we spotted an extra-large box near the side of the road. We pulled over to investigate and we were shocked to find four small puppies in the box. There were two tan colored females, one black male, and one brindle male. The puppies were filthy and whining. It was no question that we would not leave the precious puppies there. We decided quickly to load the box in the back of her car and head to town. We managed to find homes for three of the puppies. The last puppy went home with me. He was the cutest and the smallest of the liter. He was dirty and smelled bad but I was determined to find him a home.
Getting Lucky Research Paper
She thought of Plan B, asking her friend if we could "mock-trial" her puppy for a day to prove to our parents that we were capable of taking care of one. The following week, we were running around our backyard with a little friend of our own. With the company of our parents, we took him for a walk and played around with him until he got tired and fell asleep in our arms. You could see our entire family's faces lit up by the presence of this happy, goofy creature. After the puppy was gone, we wanted to talk to our parents about how they think it went. To our surprise, they didn't have the reaction we thought they would. They explained how we had spent the most ideal day possible with a pet. We didn't have to clean up an ounce of poop, didn't have to wake up to puppy cries early in the morning, didn't have to scrub the mud out of his fur or even feed him. We were upset, but we understood where they were coming from. We then realized that we had to prove to them that although we were just kids, we had the determination to take care of and be responsible for a dog on our own. We had to prove to them that we would stick through the good and the not-so-good
Our New Chip : A Short Story
A couple hours later, It was time to go. The breeder pulled out the forms and my parents signed them. "Ok, now we need the money." the breeder said. "You already paid part of it, so this is the last payment. It is four-hundred dollars in cash." "In cash?" my dad asked. "Oh no," I thought. "My parents might have just skimmed over the forms before we went." I really, really wanted to take this puppy home, were so close to leaving!
I looked at my dog and made eye contact with his large brown eyes. Time seemed to slow down as I read his eyes like an open book. I still remember the look today, while I was laying on the couch next to him. It was the most terrifying sight I've ever seen. My dog, my best friend, and the only thing to trust me with everything calmly could show that he had accepted death. For me though he was still could wagging his tail for us. The night I saw this was October 22nd at 8:02 PM. This dog changed my entire perspective on life. He was a dog that could instantly make a room bloom as a flower would, but with joy. He loved life and those around him and that caused us to love him so much.
Related Topics
Personal Narrative: My Puppy
Show More My Puppy "Hanna, get ready, we're going to see your uncle." said my mom. I was extremely excited, my uncle was selling English Mastiff puppies and I wanted one very bad. They were so cute, I begged and begged my parents for one, but they said no every single time. I even did chores for weeks on end that my parents didn't ask me to do, just so I could possibly have a chance to get the puppy . The puppy I wanted was the biggest male of the litter, he was a beautiful tan color with black around his snout. Quickly, I got ready and we drove to Odessa, Texas, where my uncle lived. Once we arrived, I jumped out of the car and ran to the door. From outside I hear little barks, and I knock on the door. My uncle arrives to the door and greets my parents and I. After saying hello to my uncle I run to the puppies and immediately find the puppy I wanted. At that exact moment my mom walked through the door with a huge smile on her face, then told me we were getting the puppy. I was ecstatic, I got up, hugged her, then thanked her about 1 million times. My mom continued to smile and told me to get the dog so …show more content… They brought you into this world, so the least you can do is thank them and appreciate them for everything that they do. There are many ways you can show love and appreciation to your parents. For instance, you can help out around the house, make dinner, or even simply telling them that you love and appreciate them. Parents teach us so many things, such as what's right from wrong, how to treat people, and so much more. Parents are very meaningful, without them you wouldn't be alive. To tell the truth, I never realized how much my parents do for me and my siblings until just recently. I wish I would have realized everything my parents do for me and my family sooner, just so I could have shown more
Related Documents
Reflective essay: a day at the iowa state fair.
Since both of my lambs were the same breed, and they both got first you have to back in the show ring to see how would be first and second overall of that breed. I had to go get my cousin Mitchel who also showed sheep, because I had them at the same time. So we quick run back to the entrance of the show ring. My dad got the chance to talk to me for a little bit and he said to me, "Great job. You are doing great.…
Personal Narrative: My Life As A Dog
He always loved to cuddle me and would get so excited to see me that he would hyperventilate. I never planned to attend, let alone compete, in dog shows. I hadn't even owned a dog before! So when my Great-aunt Margaret…
The Day I Got My First Puppy Essay
This automatically filled me up with excitement and made me realize how much I wanted a dog and for how long. Then I knew that the day was finally going to come. Back and forth, my family was throwing out ideas of what puppy it should be, "What about a husky?" my dad said. We all thought that huskies would be a perfect pet until they were going through pictures of puppies being sold on the internet when all of the sudden they landed on a picture of some English bulldogs being sold. We opened up the picture and BAM just like that without hesitation we knew this was the dog we were going to get.…
Personal Essay: Relationships And Domestic Pets
I have always had a love for animals since I was a boy. I can remember wanting a dog my entire life and my parents telling me "No" because of the huge responsibility of owning a pet. I can appreciate the fact that my parents understood that having a pet is like a job and at a younger age most kids aren't ready to take on such a heavy work load. With that said, I waited until I was ready to take care of a dog and found Henry around my 25th birthday. (I'll be 32 in August).…
Personal Narrative: Cocker Spaniel
When I got into the car after school, I saw his sweatshirt start to move, which was weird because he was wearing that sweatshirt. All of a sudden I see my dad grow a second head but this head was a puppy head. The dog was in his shirt to stay warm i'm guessing, but it was really weird. We went to the store and he left me alone with this month old puppy that I didn't even know so I started petting her and she was really nice and gave a bunch of kisses. Later that night when we got home we decided a name for this new puppy and that name was…
Personal Narrative Essay: The Story Of A Dog
She was the sweetest dog you'd ever meet, though I was young when we had her so I don 't remember much. When we moved out to New Mexico in 2004 she came with me and my mom, which must 've really been hard for both of them since we were driving from florida. While my dad was still working in Florida and trying to sell the house he would video chat with her and she'd bark and wine. Around 2006 she had a bad hip and was half blind and deaf but still such a great dog. Then one saturday morning I woke to find out she had been hit by a truck chasing dogs out.…
Personal Narrative: Good And Bad Memory
The other side was black with a carved out skull right above his name, because when we got Bronx, hhe grew fast and we needed a real collar for him, so we got a black one with white skulls. So that's where the little white skull design came from. On that same side with his name, the name was the royal blue color, the same as the ribbon. A lot of my memory box has to do with mini reminders of my dog on it. Like how we identified him when he was born, and what his first collar looked like.…
Personal Narrative: My Dog Of My Life
When my aunt brought home her first dog, Rayner, when I was six years old, I immediately felt a dog of our own was a necessity; however, my little brother Riley had just been born and my family felt that, to my great anguish, a dog was too much to take on. So, I continued my wait, forever searching for the perfect dog for our family. The arrival of my aunt's second dog, Macey, gave my nine-year-old self an increased feeling of desire for a dog to call my own. But to my great dismay, my mom and dad still saw the timing as imperfect. For the next four years, I continued to write a dog on the top of my Christmas list, and continually pined my parents for my own "Rayner and Macey".…
Personal Narrative: Adopting A Dog
ADOPTING A DOG I'm so excited! Today is the day, my parents finally let me pick any new pet from the pet store around the corner. Every time when I used to walk to school and back to my home sweet home. I use to watch the animals through the window glass of the side of the pet store dying to have a cute little adorable animal so I can play with and have fun, and always have company that actually makes me feel better when i'm down. But My parents always said " A pet would have to be taken care of by a person who is right for the job, a person who has a lot of responsibility." Of course, it would take a lot of responsibility i'm a responsible person that's for sure.…
Budweiser Commercial Analysis
The thing that makes these commercials different from the rest is that they make viewers feel a positive emotion towards the brands that will later subconsciously influence their buying decisions and that is why these two advertisements are some of the most successful commercials in Super Bowl history. For anyone who has not seen the Budweiser "Puppy Love" commercial (Link 1), it is clearly about a puppy. The commercial shows a heartwarming story of a puppy escaping his pen and running to go play with the large Clydesdale horse on the next farm over. The owner of the farm is a…
Related Topics
English-language films
John Steinbeck
Ready To Get Started?
Create Flashcards
Mobile apps
Accessibility
Facebook
Twitter
Cookie Settings